* Saturday December 31 2011:
"I cannot hide behind the composition. With any standard repertoire, students walk up to me and sing it as many people before them have sung it, and it's a safe bet. The audience knows what to expect from Dichterliebe or from a Winterreise, or from Dowland songs, even. There's other singers that have done it before us, and if I do it as they do, it's not a bad thing. But the difficulty is that then I hide behind the established standard, I don't come up with something individual, and that's the nice thing behind pop music. The interpretation is not about technical perfection, it stands and falls with the character of the singer, with an individual singer who has to sing it as if he or she really means it.

"That's an important lesson for classic music singers ... Be the music you sing, and don't fulfill standard expectations of an audience."
German countertenor Andreas Scholl, quoted in this article by Anastasia Tsioulcas, National Public Radio, Dec 29 2011.
* I had a great Christmas, with the family, in Sydney. Since then I've had people to stay here in Kangaroo Valley, where the house has recently been furnished with a new roof, skylights, whirlygigs etc. A coupla weeks ago I also acquired a new chick: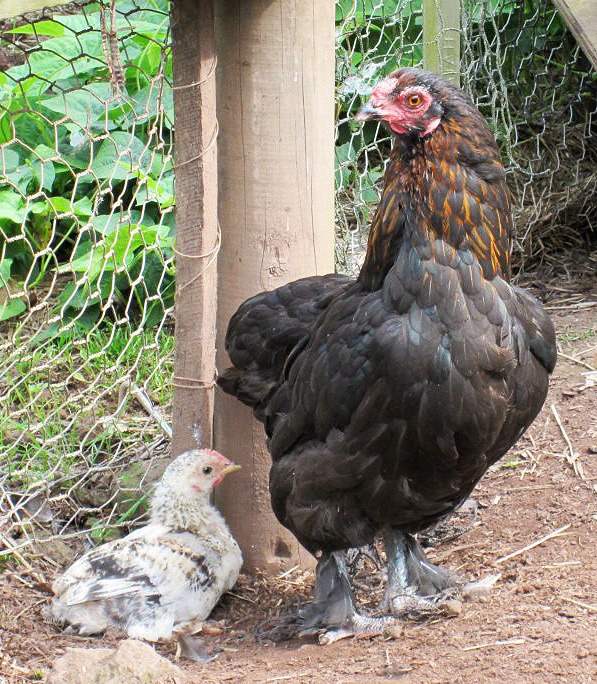 Cute, huh? Until I know what sex it is, its name is Oigle. The black chook is its mother, Zorro.
---
* Thursday December 22 2011:
Obama spoke of suffering, sacrifice, loss and pain -- but only for Americans and their families. He did not say a single word -- not one -- about the hundreds of thousands of Iraqis killed by this "extraordinary achievement", this "success".
So writes Chris Floyd in Empire Burlesque, Dec 17 2011 (see here (the website of the Irish Anti-War Movement)).
He goes on (excerpts):
In March 2003, the United States of America launched an entirely unprovoked act of military aggression against a nation which had not attacked it and posed no threat to it._This act led directly to the deaths of hundreds of thousands of innocent people. It drove millions more from their homes, and plunged the entire conquered nation into suffering, fear, hatred and deprivation.

This is the reality of what actually happened in Iraq: aggression, slaughter, atrocity, ruin. It is the only reality; there is no other. And it was done deliberately, knowingly, willingly. Indeed, the bipartisan American power structure spent more than $1 trillion to make it happen. It is a record of unspeakable savagery, an abomination, an outpouring of the most profound and filthy moral evil.

Line up the bodies of the children, the thousands of children -- the infants, the toddlers, the schoolkids -- whose bodies were torn to pieces, burned alive or riddled with bullets during the American invasion and occupation of Iraq. Line them up in the desert sand, walk past them, mile after mile, all those twisted corpses, those scraps of torn flesh and seeping viscera, those blank faces, those staring eyes fixed forever on nothingness._This is the reality of what happened in Iraq; there is no other reality ...

The Iraq War has not ended. Not for the dead, not for their survivors, not for the displaced, the maimed, the lost, the suffering, not for all of us who live in the degraded, destabilised, impoverished world it has spawned, and not for the future generations who will live with the ever-widening, ever-deepening consequences of this irrevocable evil.

[more]
The liars who launched this war - in Australia as well as America, Britain and elsewhere - walk free, living lives of luxury. Not one has faced retribution.
* Although my ex-wife Ann (left) and I were divorced many years ago, we have spent Christmas together, with our kids, ever since. We will this Christmas, too. Click on the photo to see us on our wedding day back in 1969 ...

I've just found a poem copied out in 1967 by my paternal grandmother Adeline in a letter to my brother Jerry:

Not till the loom is silent and the shuttles cease to fly
Will God unroll the pattern and explain the reason why
The dark threads are so needful in the Weaver's skillful hand
As the threads of gold and silver for the pattern He has planned

Adeline was deeply religious, as you can see. She was born in the Irish market town of Limavady, where the music of that most beautiful song Danny Boy was collected. In this shot, taken at her favourite grandson's post-wedding party, she is on the left. My maternal grandmother, Grace, is in the middle.
---
* Monday December 12 2011:
I've recently been "tweaking" other people's arrangements of songs that the Thirsty Night Singers are about to start learning. Sometimes the original is for four voices, or six, or eight. I expand or reduce it to the Thirsties' seven voices, at the same time changing things in order to take advantage of one of our strengths or avoid one of our weaknesses. Some songs have been so extensively re-arranged that there's hardly a trace of the original. Our new repertoire includes Blackbird, Danny Boy, Freddie the Fish, God Only Knows, In My Life, Lollipop Man, Over the Rainbow and Yesterday. Lollipop Man is by Peter Wesley-Smith and me. So too is Freddie the Fish, originally written for the choral piece Who Killed Cock Robin?, which subsequently made its way into Several Australian Conservation Songs. A one-page arrangement, for six voices a cappella, of the first verse can be freely downloaded here.
Lollipop Man, written in 1991, was banned for years because it's about, some say, oral sex (although others, including the lyricist (brother Peter), dispute that (but, anyway, what's wrong with a song about oral sex?)). Then President Clinton, bless 'im, put oral sex onto the front page of every newspaper in the world, so songs about it, which this isn't - well, isn't necessarily - suddenly became acceptable. The Song Company, which had previously rejected the song 'cos it was dirty, they said, started singing it everywhere they went, happy now to emphasize the oral sex aspect - sheeesh ... Anyway, even if the words are dirty, the music is sparklingly clean.
* More about the environmental and human rights disaster that is West Papua under Indonesian occupation:
Freeport's Mt Ertsberg mine is the second largest copper mine in the world, and also contains the largest proven gold deposit in existence, valued in excess of $US 40 billion. The latest estimate for the Mt Grasberg lode is one billion tonnes of ore and it is expected to have a thirty year life. The region around the mine is closed off to outsiders, as well as to the traditional land owners who have been dispossessed. Freeport has concessions totalling 3.6 million hectares in West Papua following the recent granting of a 2.6 million hectare concession ... The Freeport company is Indonesia's largest taxpayer. Henry Kissinger, former US Secretary of State, sits on the board of directors of the parent company, Freeport McMoRan, USA, based in New Orleans. (In 1993, the US Environmental Protection Agency released its 1993 pollution statistics for the entire USA. For the second year in a row, Freeport-McMoRan was the largest polluter of land, air and water, both in terms of volume and toxicity, in the whole of North America) ...

[more]
Justice for the Timorese?
"Victims of past crimes, while acknowledging the importance of friendship and reconciliation with Indonesia, express dissatisfaction with the lack of justice and accountability for individuals who perpetrated serious crimes committed during the occupation," said Louis Gentile, the UN's top human rights representative in East Timor ...

[more]
The above is from an article in the Jakarta Globe, Sept 2 2011.
---
* Wednesday December 07 2011:
36 years ago today, Indonesia, with the blessing of US President Gerald Ford and US Secretary of State Henry Kissinger, invaded East Timor. Read about the US involvement in the National Security Archive here.
The Australian Labor Party, at its Annual Conference, has passed the following resolution:
West Papua
More than a decade after the end of the Soeharto regime, the situation in West Papua remains cause for serious concern. The 2001 Special Autonomy provisions have not succeeded in meeting local development and other priorities, regular reports of human rights violations by the Indonesian security continue to be received, access by human rights organizations and the media is restricted, non-violent expressions of local opinion are violently repressed. West Papua is no longer a taboo subject in Indonesia but a mainstream national concern. In October, twenty years after the notorious 1991 Santa Cruz massacre in East Timor, Indonesian security forces accompanied by armoured vehicles broke up the 3rd Papuan People's Congress that called for independence. Troops fired live rounds killing six people and arrested 300 delegates, 6 of whom have been charged with treason. In moves condemned by the Church as 'heavy-handed', police and troops then ransacked several Catholic institutions, including the School of Philosophy and Theology in Abepura, in search of wanted Papuan Congress members.
This Labor Conference therefore
1. Expresses its deep concern over the long-running unsettled situation in West Papua and continuing violations of human rights, including freedom of expression and association;
2. Welcomes the Indonesian President's announcement of 9 November 2011 that his government is willing to conduct a dialogue with Papuan Leaders;
3. Calls for independent observers, including from Australia, to be invited to observe and report on the President's dialogue process;
4. Calls for unrestricted assess to West Papua by the media and human rights organizations;
5. Calls for those responsible for human rights violations and for the killings and violence during the recent Papuan People's Congress to be tried;
6. Calls for those arrested following the recent Papuan congress and others already in detention following the peaceful expression of their political views to be immediately released;
7. Asks for an independent progress report on the situation in West Papua to be provided to the next Federal Conference.
This is a welcome development! Nothing is likely to come of it, of course, but every little bit helps. It seems that West Papua is at last becoming a pebble in Indonesia's shoe, as ex-Foreign Minister of Indonesia Ali Alatas once described East Timor.
STOP PRESS:
Apparently that resolution was not passed. The final version was as follows:
Australian Labor Party National Conference, Sydney, 2011
RESOLUTION ADOPTED ON PAPUA

This Labor Conference
1. Expresses its continuing concern over violent incidents in the Papuan provinces;
2. Welcomes the Indonesian President's announcement of 9 November 2011 that his government is willing to conduct a dialogue with Papuan Leaders;
3. Calls on the Australian Government to monitor closely the situation in the Papuan provinces including progress on the President's dialogue process, and for the Australia Embassy to maintain its program of periodic visits;
4. Supports increased access to the Papuan provinces by the media and human rights organizations;
5. Calls for those responsible for human rights violations and for the killings and violence to be tried;
6. Calls for the release of any person arrested solely for the peaceful expression of their political views; and
7. Asks for an independent progress report on the situation in the Papuan provinces to be provided to the next Federal Conference.
So it's back to the old softly-softly approach - don't say or do anything that might upset the murderers of the TNI, or that might put undue pressure on SBY to find a solution to the problems in West Papua. Look at #5: "Calls for those responsible for human rights violations and for the killings and violence during the recent Papuan People's Congress to be tried". This has become: "Calls for those responsible for human rights violations and for the killings and violence to be tried" - in other words, let Indonesia blame the West Papuan freedom fighters while ignoring abuses by its own "terrorists in uniform".
* As the Thirsty Night Singers wind down for the year, I'm re-arranging Peter's and my song Lollipop Man for us to sing next year. I'm also fiddling with (stuffing up?) a Daryl Runswick arrangement of Lennon and McCartney's Blackbird, originally made for The King's Singers. Have just heard that next year the ABC will be recording soprano Karen Cummings and pianist Sally Whitwell performing some of my songs. And another prominent soprano will be recording my song Tommy Tanna.
* For anyone interested, the course of treatment I'm going through for an potentially-nasty medical condition seems to be working! I am, though, getting a few side FX (mainly skin eruptions that require daily attention - nothing to worry about).
---
* Saturday December 03 2011:
As expected, the Indonesian military in Timika, West Papua, broke up a peaceful independence demonstration with gunfire, killing several people and showing that they haven't learnt a thing from their experience in East Timor.
"The preamble to the 1945 Indonesian Constitution mentions expressly, that independence is the right of all nations, and because of this colonialism must be swept away, it is consistent with the principles of justice and humanity. Consequently, the people of Papua cannot be blamed in accordance with any law for wanting to celebrate their national day."
So writes Papuan activist Forkorus Yaboisembut from his prison cell in Jayapura. Read about his struggle here (Detained Papuan Leaders Speak Out by Alex Rayfield in New Matilda, Nov 30 2011).
Read Noam Chomsky: Remember the Santa Cruz massacre by Prodita Sabarini, The Jakarta Post, Sydney | Fri, 12/02/2011.
---
* Monday November 28 2011:
28 November 2011

The Hon Kevin Rudd MP
Minister for Foreign Affairs
Parliament House
Canberra
ACT 2600

Dear Mr Rudd,

I am writing to you concerning increasing tension in West Papua[1], presently focused on the 1st December which is West Papuan national flag day. Fifty years ago on the 1st of December 1961, in the then Dutch colony of West New Guinea, The West Papuan flag, called the Morning Star was flown for the first time officially beside the Dutch Tricolour. The Dutch were finally about to give the West Papuan people their freedom. However, it is one of the great tragedies that at their moment of freedom it was cruelly crushed and West Papua was basically handed over to Indonesia in 1963.

The West Papuan people raise their flag as an act of celebration but also of protest against the injustices they suffer under Indonesian rule. We believe that the West Papuan people will celebrate the 50th anniversary of the first flying of their flag with peaceful rallies in various parts of the territory on the 1st December. We are concerned that the security forces will use any rallies as an excuse to crackdown on the West Papuan people.

One of the most famous West Papuan political prisoners is Filep Karma who was arrested on the 1st December 2004 for being part of a rally where the Morning Star flag was raised. In May 2005, a court sentenced Filep Karma to 15 years jail on charges of treason against the state. Amnesty International considers Filep Karma to be a prisoner of conscience who has been detained solely for the peaceful exercise of his right to freedom of expression.

Because of the dangerously deteriorating situation in West Papua we urge you to use your good offices with the Indonesian Government asking that it controls its security forces in West Papua, urging that the security forces should be kept in their barracks during any West Papuan celebrations on the 1st December as a way of avoiding possible bloodshed.

We also urge you to ask the Indonesian Government to allow full and free access of journalists to Papua and to send Australian embassy staff to monitor and observe events on December 1.

Yours sincerely

Joe Collins
Secretary
Australia West Papua Association (Sydney)
* Last night the seven-member Thirsty Night Singers sang at a private function in Kangaroo Valley, earning themselves an enthusiastic reception! Click here for a photo, taken last night, of four members of the group: me (at left), then Patsy Radic (wearing a Freddie Mercury moustache), Peter Stanton and Nadia Intihar. Members of the group not pictured are Nell Britton, Janette Carter and Peter Morgan. Photo by Louise Morgan.
Yesterday afternoon I went to a concert at Bundanon by new music group Halcyon. Soprano Alison Morgan and mezzo Jenny Duck-Chong were joined by soprano Belinda Montgomery, mezzo Jo Burton and harpist Genevieve Lang in a program of Australian and English music, some by friends of mine ...
---
* Friday November 25 2011:
Music and politics
English guitarist, producer and composer David Randall (Faithless, Slovo) is interviewed in the October 2011 edition of New Internationalist magazine. He is asked "You've said that music and politics are 'natural partners'. In what way?" His response:
Music, like all culture, is a reflection of society with all its diversity and contradictions. All music is political, in some sense. Every time we watch a Beyoncé gig, an episode of American Idol or a music video on YouTube, we are being invited to internalise a set of values and ideas about what is cool, what is sexy, what is 'normal' and what matters. There's an ideological component and therefore political ramifications to all music and culture. Music is shaped by changes in economics and technology, which are both affected by political struggle. But occasionally, music can also play its part in progressive attempts to change the world. It can inspire and help to cohere people around political demands and the belief that a better world is possible.
Randall is musical director and composer for the film Rebuilding Hope.
---
* Thursday November 24 2011:
Today is the twentieth anniversary of the death of "the greatest rock singer of all time", Freddie Mercury. The vocal group I sing in and direct, The Thirsty Night Singer, will be singing his most enduring hit, Bohemian Rhapsody, at Kangaroo Valley's Friendly Inn tonight. I fear that this gig is getting a tad out of hand: it was meant to be a chance for us to get a bit more experience singing to a live audience rather than be a fully-fledged performance event, but I'm hearing rumours of people trying to book non-existent tickets, of scalpers offering counterfeit tickets at $100 each, of plane loads of Thirsties fans arriving from places as far afield as Fiji, of all accommodation within a fifty-kilometre radius booked out, of an OKVP movement (Occupy Kangaroo Valley Pub movement) starting today, of all local police leave having been cancelled, and of a squad of riot police being sent from Sydney, just in case ...
* Congratulations to Australian composer Brett Dean, who has been awarded the Chamber Music Society of Lincoln Center's 2010-2011 Elise L. Stoeger Prize. This is a $25,000 cash award given every two years in recognition of significant contributions to the field of chamber music.
* The situation in West Papua lurches from one crisis to the next. There's an excellent article on the current crisis in today's New Matilda: Why Now? A West Papua Backgrounder by Jim Elmslie.
* Have been too busy to blog for a while, so you've been spared my comments on some of the momentous events that have occurred during the past few weeks! A couple of things, but: [a] I miss Flash every day and every night. It's remarkable how a dog can become such an important part of one's life and how painful it can be when his time has come. [b] The medication I'm on has produced virtually none of the expected side FX. There was a rash on my face early on, and a few pimples (at my age!), but that has mostly cleared up. I might not be looking good but I'm feeling better than I deserve to be and there's every indication that the treatment is working ...
---
* Sunday November 13 2011:
From Big change or a lot of hot air? by Richard Dennis, The Canberra Times, Nov 12 2011:
Australia is now one of the wealthiest countries in the world living at the wealthiest point in world history. In turn, our greenhouse gas emissions are among the highest in the world. If we, as a nation, believe that we cannot afford to do more to tackle climate change then it is virtually inconceivable that anyone else in the world could either ...

[more]
Read more here.
---
* Tuesday November 8 2011:
Faces appeared to me moments before the New York City police arrested us Thursday in front of Goldman Sachs. They were not the faces of the smug Goldman Sachs employees, who peered at us through the revolving glass doors and lobby windows, a pathetic collection of middle-aged fraternity and sorority members. They were not the faces of the blue-uniformed police with their dangling cords of white and black plastic handcuffs, or the thuggish Goldman Sachs security personnel, whose buzz cuts and dead eyes reminded me of the East German secret police, the Stasi. They were not the faces of the demonstrators around me, the ones with massive student debts and no jobs, the ones whose broken dreams weigh them down like a cross, the ones whose anger and betrayal triggered the street demonstrations and occupations for justice. They were not the faces of the onlookers - the construction workers, who seemed cheered by the march on Goldman Sachs, or the suited businessmen who did not. They were faraway faces. They were the faces of children dying. They were tiny, confused, bewildered faces I had seen in the southern Sudan, Gaza and the slums of Brazzaville, Nairobi, Cairo and Delhi and the wars I covered. They were faces with large, glassy eyes, above bloated bellies. They were the small faces of children convulsed by the ravages of starvation and disease ....
from Finding Freedom in Handcuffs, a powerful article by Chris Hedges, Truthdig, about the concerns of the OWS movement. Read the whole article here.
---
* Monday November 7 2011:
Yesterday our old dog Flash died. Click on the photo at left to see a larger version of him on security watch at Road Ends (photo taken earlier this year by Ann Wesley-Smith).

Flash had been blind (cataracts) for several months, and had crippling arthritis, but seemed generally to enjoy his life. On Saturday, however, he wasn't interested in his dinner (he who loved his dinner - and breakfast and lunch and any snack he could find - so much). Yesterday he was in physical pain, couldn't move his back legs, and was still not eating anything. His tail, however, still gave a lazy thump of welcome to anyone enquiring after his welfare. But it was clear, after we discussed his situation with a local veterinary surgeon, that his system had started shutting down. He was 11 1/2 years old, which is just about the maximum for a big dog, and he was not going to get any better, so we reluctantly decided that the time had come for an injection that would end his suffering.

Flash was a magnificent dog greatly loved by family, friends, WWOOFers and all others who got to know him. He has been an essential part of the character of Road Ends since we chose him - a skinny, neglected puppy - at the local pound and gave him a good home. He will be hard to replace.
* Today is the 40th anniversary of the raising of the Larrakia flag to claim Darwin. Anthropologist Bill Day has written a one-page account of the historic event. To read it, click here.
---
* Friday November 4 2011:
"We will have a robust continuing presence throughout the region, which is proof of our ongoing commitment to Iraq and to the future of that region, which holds such promise and should be freed from outside interference to continue on a pathway to democracy."
US Secretary of State Hillary Clinton, quoted in Tom Engelhardt's introduction to Ann Jones' Me and OFAC and Ahmed the Egyptian - One Citizen's Misadventure in Securityland, Thurs Nov 3 2011
Outside interference?
American author William Blum is an indefatigable chronicler of USA foreign interventions. In an article - It Doesn't Matter To Them If It's Untrue. It's a Higher Truth. - dated yesterday, published in Information Clearing House, Blum also quotes Clinton:
We came, we saw, he died.
US Secretary of State, Hillary Clinton, giggling, as she spoke of the depraved murder of Moammar Gaddafi.
Imagine Osama bin Laden or some other Islamic leader speaking of 9-11: "We came, we saw, 3,000 died ... ha- ha."
Later in the same article he writes:
The Iraqi Lullabye
On February 17, 2003, a month before the US bombing of Iraq began, I posted to the Internet an essay entitled What Do the Imperial Mafia Really Want? concerning the expected war. Included in this were the words of Michael Ledeen, former Reagan official, then at the American Enterprise Institute, which was one of the leading drum-beaters for attacking Iraq:
If we just let our own vision of the world go forth, and we embrace it entirely, and we don't try to be clever and piece together clever diplomatic solutions to this thing, but just wage a total war against these tyrants, I think we will do very well, and our children will sing great songs about us years from now.
After a year of the tragic farce that was the American intervention in Iraq I could not resist. I sent Mr. Ledeen an email reminding him of his words and saying simply:
I'd like to ask you what songs your children are singing these days.
I received no reply.
Has there ever been an empire that didn't tell itself and the world that it was unlike all other empires, that its mission was not to plunder and control but to enlighten and liberate?
Songs? Anything by right-wing American country singer Toby Keith, perhaps. Something designed by the propaganda machine to take attention away from politics, crimes against humanity etc. Nothing by The Dixie Chicks.
William Blum is the author of Killing Hope: US Military and CIA Interventions Since World War II, amongst other books. Noam Chomsky (currently in Sydney) described it as "Far and away the best book on the topic." Chomsky is the recipient of the 2011 Sydney Peace Prize. To read his 2011 City of Sydney Peace Prize Lecture, delivered to a full house at Sydney Town Hall on Wed Nov 2, click here.

* Another favourite American commentator of mine is Paul Craig Roberts. In an article titled Western Democracy: A Farce And A Sham, he writes (excerpt):
Consider that the entire Western world is outraged that the Greek prime minister announced that he is going to permit the Greek people to decide their own fate instead of having it decided for them by a handful of banksters, politicians, and bureaucrats living it up at taxpayer expense at "talks" in the French resort of Cannes on the Mediterranean ...

Greece is to be looted ... The Greek people sense that the EU "bailout" is not bailing out Greece. It is bailing out the French, Dutch, and German banks at the expense of the Greek people. The Greek prime minister, watching his party's support and power crumble, announced that he would let the people decide in a referendum. After all, allegedly that's what democracies do. But it turns out that "we have freedom and democracy" is not supposed to be taken literally. It is merely a propagandistic slogan behind which people are ruled through back-room deals decided by powerful private interests. The Greek prime minister's announcement that he would put the back-room bailout deal to a referendum shocked the EU hierarchy, Washington, and investors. Who does this Greek guy think he is permitting the people, who bear the cost of the deal, to have a say in it? Who let this Greek guy out of his cage? This is not the way democracies are ruled ...

[more]
Looks like Greece is toast ...
---
* Tuesday October 25 2011:
The Thirsty Night Singers' bracket at last weekend's Kangaroo Valley Folk Festival was well received. Very well received, in fact. Our final song - Philip Lawson's arrangement of Freddie Mercury's Bohemian Rhapsody - scored us whoops, cheers and offers of marriage! (I turned most of the proposals down, but I'm still considering a couple of 'em) It's not only a big sing but also probably the most difficult piece of music I've ever tackled as a choral singer - but we pulled it off. Well, more-or-less. Well, OK, there were a few fluffs - but what are a few fluffs amongst friends, especially when the overall picture is so grand? It's the favourite song of a lot of people, yet one rarely hears it live these days. Partly as a result, our performance hit the spot. We've sung it to an audience just once before - at a private function back in August. This was, then, our first rendition of it in public.
I had a call this morning from the private secretary of a Saudi Arabian sheikh who'd heard about our performance and wants us to repeat it, for a fabulous fee, at his birthday party in Jedda next month. I told him that we're pretty busy then but that I would consider it and get back to him. Gee, I don't know ... it's a long way to go for just one song, and I would have to organise someone to feed the chooks ...
* Last year I had a problem in my right lung which necessitated surgery plus follow-up treatment. Although I feel perfectly well, it seems that the problem has returned, so tomorrow I'm starting a new course of treatment. I'm assured that the prognosis is good and that there's nothing for anyone to worry about.
* from a press release by The Australia West Papua Association (Sydney):
CHOGM leaders should condemn the brutal crackdown on the West Papuan people
24 October 2011

AWPA is calling on the CHOGM leaders (who will meet in Perth) to condemn the brutal crackdown on the West Papuan people.

In a bid to make CHOGM relevant the Commonwealth leaders will discuss a special eminent persons' report on renewing the organisation. Prime Minister Julia Gillard said talks will focus on "the role of the Commonwealth in the age in which we live and how we can strengthen it for the future".

The report warns the Commonwealth must "focus fresh attention on violations of human, political and civil rights if it is to continue to command attention on behalf of its member states and retain the respect of its own people".

Joe Collins of AWPA said "obviously CHOGM will focus on its own member states however, many of the CHOGM countries are regional neighbours of Indonesia and some like Australia and New Zealand help train and aid the Indonesian security forces. Human rights should be universal, and organisations such as CHOGM should make a statement of concern about the human rights situation in West Papua. If enough pressure is put on Indonesian it may hold its military to account for human rights abuses."

Background

At the end of the 3rd Papua People`s Congress the delegates raised the West Papuan national flag, the Morning Star flag. The security forces immediately began fireing live rounds to disperse the assembly. Six people were killed. Up to 300 hundred were arrested and many were beaten by the security forces with batons, bamboo poles and the butts of their rifles. Six delegates have been charged with treason.
* There's an enormous amount of stuff going on at the moment (OWS, for example, and NATO's assault on Libya) that's crying out for comment - but I'm too busy right now to write about it. Will have to leave that to others for a while ...
---
* Thursday October 20 2011:
photo by
Bridget Elliot

Last night I went to Sydney to hear the Sydney première of Missa Solis - Requiem for Eli by Nigel Westlake (left), played in the Concert Hall of the Sydney Opera House by the Sydney Symphony Orchestra with singers Cantillation and boy sopranos Neil Baker and Liam Crisanti: what a work! It was big, powerful and moving, filled with colour, light, and trademark Westlake riffs. No-one does a climax better than Nigel, especially ones that come from nowhere and hit you in the guts, the music then abruptly changing direction. The piece was a compelling listening experience from beginning to end - not surprisingly, the audience loved it, giving it a standing ovation, even cheering the composer (who conducted it) as he came back for his many curtain calls.

The main work on the program - the second half of the concert - was Beethoven's Egmont - Incidental music, Op.84, narrated by Eddie Perfect and conducted by Richard Gill. I didn't stay for it. Having been overwhelmed by the freshness and contemporary sounds and textures of Westlake, the thought of stodgy old Beethoven was too much for me. Don't get me wrong: I'm a fan of Beethoven - of course - but there are times when doing yet another performance of one of his pieces is grossly inappropriate. I was outraged that the SSO should say, in effect, "That first half was all very well, but now we're going to play you some real music, something written in Europe two hundred years ago." Nigel Westlake is a Sydney composer of international stature, and this work is a major achievement. It should have been given pride of place in a major concert in his home town, not shoved on in the first half of a 6.30pm Wednesday night concert as the support act for Beethoven. No wonder Australian composers have such a hard time in this country when classical orchestras, choirs and other ensembles, and/or their managements, pay such little respect and give such little notice to their composing colleagues.
That said, I'm looking forward to seeing, later this week, the Opera Australia production of Richard Mills' opera Love and the Nightingale. But OA putting on an Australian work is an exception to the general rule. As far as I can see, next year's program reverts to standard fare without anything local intruding into OA's comfort zone.
---
* Tuesday October 18 2011:
I pay tribute to English composer David Bedford, who has died of lung cancer aged 74. From an obituary by Keith Potter, Oct 4 2011:
(He) employed a wide range of styles and media in a half-century career that saw him move from young iconoclast to eclectic purveyor of music for all seasons and needs. In 1963, as a recent student of Luigi Nono in Venice, he wrote Two Poems for Chorus, settings of Kenneth Patchen texts. It remains one of his most compelling works, with a recording on Deutsche Grammophon's Avantgarde label. Bedford's later works retain some notational flexibility and an open mind on instrumentation. "Cans of dog biscuits are just as good as maracas," he suggested ...

[more]
* I've started on a piece for toy piano, but with various interruptions coming up it will be a while before it is finished.
* The vocal group I sing in and direct, sort of - The Thirsty Night Singers - is performing at the Kangaroo Valley Folk Festival this coming Saturday (4.45pm October 22 in St Joseph's Catholic Church - people have already started queuing up, with sleeping bags, blankets, thermosses of hot soup, and so on, to get the best seats (OK, OK, I know that "thermosses" is not a word - but what is the plural of "thermos"?)). Our bracket will consist of most of the following songs:
Hey Ho Cook and Rowe
Short People
And So It Goes
Shut the Gate
I Will
Mad World
A-Rovin'
In This Heart
Teach Your Children
The Father's Song
Bohemian Rhapsody
The Irish Blessing
Peggy Seeger
Randy Newman
Billy Joel
Ann North'n'me
Lennon'n'McCartney
Roland Orzabal
traditional sea shanty
Sinead O'Connor
Graham Nash
Ewan MacColl
Freddie Mercury
traditional Irish
Bohemian Rhapsody and Teach Your Children were arranged by Philip Lawson of The Kings Singers, who will be performing in the Concert Hall of the Sydney Opera House on Thurs Feb 16 (book here). Unfortunately, however, Mr Lawson - who, like me, studied composition at the University of York in England - will have left the group by then. When he joined the group he replaced founding member Simon Carrington, who arranged the version we're singing of Randy Newman's Short People. And So It Goes was arranged by Kirby Shaw, I Will by Dan Davison, and In This Heart by Anonymous and Naomi Crellin. Anonymous also arranged The Irish Blessing. I'm responsible for the arrangements of Hey Ho Cook and Rowe, Shut the Gate, Mad World, A-Rovin' and The Father's Song.
Talking of Naomi Crellin, she's a member of the brilliant Australian a cappella jazz vocal group The Idea of North, which I've put on a coupla of times in Kangaroo Valley. Actually, she's on maternity leave at the moment, having been temporarily replaced by Joy Hague (on Oct 9 she gave birth to Zoe, with mother and daughter apparently both doing well). Naomi is an outstanding composer, arranger and performer. Most of the songs on the group's latest CD - Extraordinary Tale - were arranged by her (it's a superb CD - buy it here).

Naomi graduated with a Bachelor of Music in Jazz Voice from the Elder Conservatorium at the University of Adelaide (where I studied before going to York). She plays a wide range of musical instruments including piano, cello and oboe. A founding member of two vocal groups in Adelaide, she produced CDs for both groups and toured widely both within Australia and in Europe. She won the Young Australian Composer of the Year Award (1996) and Best Undergraduate Vocalist Award (2001) from the Elder Conservatorium. She has also studied voice, conducting, piano and jazz ballet, and has taught piano, vocal and choral students for several years.

[more]
---
* Saturday October 8 2011:
The Man Who Never Died is the title of a new "definitive, well-illustrated" biography by Bill Adler of legendary Swedish-born American songwriter and labour hero Joe Hill (pictured at left). According to the publisher, "Adler's book contains explosive new evidence pointing to his innocence of the crime for which he was executed nearly a century ago". I've ordered it here. Will blog about it ...

Many folk performers, including black American activist, actor and magnificent singer the late Paul Robeson, used to sing about Hill, who was a member of the Industrial Workers of the World (IWW, also known as the Wobblies). Robeson was a childhood hero of mine. He became the first person to sing at the Sydney Opera House when he gave an impromptu concert for the workers building it.

Listen to Robeson's rendition here (YouTube).
* Farmyard news: Today I let the chooks out - all except Fluffy, my very first chook, who was sitting in one of the nesting boxes. Later, suspecting that she was broody, I went back to see her - but she wasn't there. I assumed she'd finished laying and had scurried out after the other chooks, but she is nowhere to be found. Must've been eaten by something. Poor old Fluffy! And poor old Zorro, who was her best friend and who is now moping around the pen in mourning ...

Before this tragedy I went to the Kangaroo Valley market and acquired three handsome young ducks, who all seem very happy with their new home. I just hope that they stay on the dam all night and don't meet poor Fluffy's fate. (later: safe and sound!)

* For Naomi Klein's take on Occupy Wall Street, read her article Occupy Wall Street: The Most Important Thing in the World Now (Oct 6 2011).
---
* Friday October 7 2011:
Like many others, I pay tribute to the achievements of Apple co-founder Steve Jobs, who died a couple of days ago. Computing devices have changed the world and how we react with it. Jobs' contribution was to imbue them with style, good design, and ease of use, and to get them out to a world previously content with the grey blandness of the PC.
I like this tribute by Sandeep from a company called Monsoon:
I first worked with a Macintosh when I was editor of my high school newspaper, using a program called Aldus Pagemaker to organize stories about football teams and Key Club fundraisers. Even though our newspaper wasn't particularly good (even for a high school newspaper), the experience made me fall in love with writing. Back then though, I lacked the discipline to really work at it.

When I got to college, I tried acting for one semester, thinking that I'd become a writer/actor. Two months into my first acting class, I performed what was supposed to be a depressing monologue about a suicidal teenager. My acting was so bad that the class laughed hysterically, thinking that I was trying to be funny in some sort of a pre-hipster, ironic way. I wasn't.

So I stopped trying to act. I graduated college and started a company, getting swept up in the dot-com boom. But through all of it, I never lost the bug. These days, I use the hours outside of work or family, when I have them, to write comic strips and short animations. Many of my friends are the same way, using their free time to make music, edit video, or dream up new technologies on computers - awesome machines that serve double duty for the left and right sides of their brains.

I don't believe this would have been possible without Apple. Without Steve Jobs, I think the PC would have taken another decade to become more than spreadsheets and games. You can talk about his attitude, Eastern tendencies, respect for graphic design, or love of art ... whatever it was, it imbued his technology and fed our creative spirits.

For those of us who failed early at artistic endeavors, the tools we now have at our disposal allow us to continue creating long after we've started companies or taken day jobs in other fields.

Like everyone else, I love the beautiful toys. But I'm mostly grateful to Steve Jobs and Apple because I'm not sure I'd still be creating without them.
Steve Jobs indeed "fed our creative spirits". That, to me, is his main legacy.
* The Monthly magazine has chosen 20 Australian Masterpieces Since 2000, the choice in "Classical Music" being James Ledger's 2009 orchestral work Chronicles. I like Andrew Ford's citation:
It has been a good start to the twenty-first century for Australian composers and correspondingly hard to pick a single masterpiece. Anyway, how do you compare Ross Edwards' Clarinet Concerto to Liza Lim's Cy Twombly-inspired piano suite The Four Seasons? Or the public ritual of Peter Sculthorpe's Requiem and the private whimsy of Richard Mills's fourth string quartet, Glimpses from My Book of Dada? But James Ledger's orchestral work Chronicles seems to do everything right. The beginning is slow, taking its time to establish tone and mood as it draws its listeners into an intensely personal expressive world. Once in that world, everything changes. It is as though we are being confronted by the sonic equivalent of distorting mirrors. The music becomes bolder, lurching between gestures that are by turns surprising, alluring, rhetorical, majestic and reassuring. Chronicles may last only 20 minutes, but partly because the pacing is so assured it seems like music on a grand scale. It is a piece of emotional extremes in which everything is in balance. By the end, even the surprises seem to have been inevitable. Chronicles was first performed in 2009 by the West Australian Symphony Orchestra under its principal conductor, Paul Daniel.
Congratulations, James!
---
* Tuesday October 4 2011:
Lottie Lyell as Doreen and Arthur Tauchert as the Bloke
in the film directed and produced by Raymond Longford
and filmed by Arthur Higgins

Have been busy, mainly working on last Saturday night's Ninth Annual Kangaroo Valley Buster Keaton Silent Movie Show, which went really well. As usual, pianist Robert Constable came over from Auckland to accompany silent movies. This year there were two: Buster Keaton's hilarious comedy Sherlock Jr. (1924) and scenes from the 1919 Australian film The Sentimental Bloke, which featured a live actor - Earle Cross - and a song - The Curse of an Aching Heart - sung by Patsy Radic and The Thirsty Night Singers. Robert's playing, particularly for Sherlock Jr., was simply magnificent. Our version of the Bloke - (Peter Wesley-Smith edited the film and selected stanzas from the original C. J. Dennis poem to be read at particular places) - was a delightful combination of media. I have no doubt that with a little bit of tweaking, this piece would be a hit at festivals, and could tour the land as a separate show. You mark my words!

from an email from a satisfied audience member:

I trust everyone enjoyed the well-attended evening as much as (we) did. Every year there is a special something added to the Buster formula, which maintains the interest. This year it was the addition of an Aussie classic (nicely edited by Peter Wes so it didn't drag) and the perfectly pitched accompaniment of Earle Cross's reading (there couldn't be a better voice for the purpose, could there?) Thank you, Earle.

Also, Martin, please congratulate Robert for another masterly performance at the keyboard. Sherlock Jr was such a clever piece of nonsense, enhanced, as always, by Robert's fantastic improvisations. His accompaniment to The Sentimental Bloke was, if anything, even more impressive, with evocative wisps of familiar melodies dancing around the images. Perhaps I wasn't the only one to want an encore of the Thirsties' song ...
The show was a fund-raiser for The Kangaroo Valley-Remexio Partnership, which sets up projects in East Timor. See the program hand-out here. The previous weekend, the group staged a highly-successful Trek for Timor, which raised money for solar lighting systems in houses in the Remexio district of East Timor (these make a big difference to the lives of people who have never had electricity, allowing, for example, students to read and do their homework after dark). If you would like to contribute, the easiest way would be to do a direct deposit into the Trek for Timor account, Commonwealth Bank, Nowra, BSB: 062585; account number: 10702027.

* Chook news: a couple of days ago poor Vera died. She'd had problems a few weeks ago (see here), but it seemed she'd recovered without further intervention. The end was a shock, for it came quite suddenly. The other chooks - particularly Chuck and Dave - are still in mourning.

* We had four young German WWOOFers the other day ("WWOOFers" take their name from the organisation WWOOF - "Willing Workers On Organic Farms" - that facilitates people (mostly young, mostly from overseas) working in exchange for bed and board). Nice kids, it seemed - three girls and a boy, all fresh out of school. I told them that they were welcome to use our internet connection for emails, but when one of them skyped to her mother while I was asleep, causing a massive hike in our internet usage, I re-iterated emails only, please (we have a slow, expensive satellite connection which had already exceeded its monthly limit). Well! How dare I restrict their internet usage! It was like I'd denied them a basic human right. They mostly ignored me from then on and made arrangements to leave as soon as possible. I was happy to see them go ...

* Now that the Buster Keaton show is over, I have no further excuse not to get the garden planted, which I plan to do this week.
---
* Wednesday September 21 2011:
Commentator Tom Service, writing today in The Guardian, says:
There may or may not be a hidden back-story to the LPO [London Philharmonic Orchestra] saga - pressure perhaps to take action against the musicians by the orchestra's backers. But the point about all this is that whatever you think about the Israel Phil's concert at the Proms and the protests ... there's a bigger question about music and politics at stake. You can't separate the two, and the attempt to try is itself political. To pretend that the performance, reception, and composition of music are activities that exist in a separate realm from the social and political realities of the world is a dangerous, utopian fantasy. If it were true, music (classical music especially) would only ever have the possibility of being an aesthetic entertainment, as opposed to the foment of ideas, emotions, and poetry that it really is ...

[more]
I assume that the players used the LPO name in the sense of "I'm a musician and I play in the LPO" rather than "my views are endorsed by the LPO". Their crime seems to be their attack on the use of the Israel Philharmonic Orchestra as a propaganda tool. Would there have been the same reaction from the LPO management had they attacked the use of the Libyan Philharmonic Orchestra as a propaganda tool? I imagine not. Rather than huffing and puffing and spouting stern stuff about the suspensions sending "a strong and clear message that (the musicians') actions will not be tolerated", Mr Walker should have issued a statement saying that the LPO did not endorse the musicians' views or actions, then invited members of the orchestra to debate the issue. Apparently English democracy stops at the door of the LPO rehearsal room.
I like this Letter to the Editor, Tuesday 6 September 2011:
As someone who is Jewish, I was proud to take part in the protests at the Royal Albert Hall against the Israeli Philharmonic Orchestra. Those who proclaim that politics and culture don't mix, when they keep silent as the Freedom Theatre in Jenin is under constant attack by the Israeli military, its premises ransacked and two workers detained without trial, are a prime example of western hypocrisy. Culture, art and sport cannot be divorced from their social context. When I took part in demonstrations in 1970 against the Springbok rugby tour, this same argument was used. The BBC's attitude to broadcasting the all-white South African cricket team then was exactly the same as it is today towards Israel's cultural ambassadors. However, the Guardian and Daily Telegraph's cricket correspondents, John Arlott and Jim Swanton, took a principled stance, refusing to commentate for the BBC. The reason why Israel funds and subsidises artists, musicians and writers to travel abroad is stated in the contract that they sign. The artist agrees they will "promote the policy interests of the State of Israel via culture and art". Who would now say that it would have been wrong to mix politics and culture and disrupt the Berlin Philharmonic Orchestra and the performances of their famous conductor, Wilhelm Furtwangler, when they toured in the 1930s?_

Tony Greenstein
Jews for Boycotting Israeli Goods
The artist agrees they will "promote the policy interests of the State of Israel via culture and art". That says it all, really.
See more letters here.
My so-called "political pieces" have got me into trouble with the censor on numerous occasions. For example: I was once (early 90s) composer-in-residence with a choir in Albury, New South Wales. They asked me to speak about my involvement with East Timor (the subject of many pieces of mine), and booked a room, as they always did for such lectures, at the local university. The day before the lecture, the university discovered that it was about East Timor - and promptly withdrew permission! Another example: in 2007 I attended the Asia Pacfic Festival in Wellington, New Zealand, where there was to be a performance of my piece Papua Merdeka. The Indonesian Embassy saw the title, assumed, correctly, that it was about freedom for the indigenous people of West Papua, and told the organisers that they would withdraw their financial contribution to the festival if my piece wasn't dropped. Read about it here.
---
* Monday September 19 2011:
Last Friday's Guardian (UK) newspaper included an article by Stephen Bates titled Orchestra suspends four musicians who opposed Israeli musicians' concert:
The London Philharmonic Orchestra has suspended four musicians for nine months for using its name when they called unsuccessfully for the cancellation of a concert by an Israeli orchestra at the Proms.

The move follows the indefinite suspension of an unnamed LPO violinist after she allegedly launched an anti-Israel "rant" when Israeli musicians appeared at the Royal College of Music before the concert at the Royal Albert Hall earlier this month.

In a statement, Tim Walker, the LPO's chief executive, and Martin Hohmann, its chairman, said the suspensions sent "a strong and clear message that their actions will not be tolerated ... the orchestra would never restrict the right of its players to express themselves freely, however such expression has to be independent of the LPO itself.

"The company has no wish to end the careers of four talented musicians but ... for the LPO, music and politics do not mix."

[more]
---
* Monday September 19 2011:
Have just heard that Brisbane composer Stephen Stanfield has died, age 45.
---
* Sunday September 18 2011:
I went to Sydney on Friday to hear cellist Rachel Scott play - and sing - my new little piece Waltzing with Wally at one of her Bach in the Dark concerts. She'd been complaining ever since she got it about how difficult it was but in the end she performed it beautifully, as she does all my cello music: after a bit of huffing and puffing she sits down and gets on with it!
For most of the rest of the program, Rachel was joined by marvellous cor anglais-player Rachel Tolmie. They played my Intervention, in which I wrote a melody to be played above the second Minuet in Bach's Cello Suite #1. And Ms Scott performed my Uluru Song, which she has performed over 300 times in many parts of the world. They repeated the program last night, and at Robertson (not far from Kangaroo Valley) this afternoon. I was placed in an exquisite dilemma: SHE (Seven Harp Ensemble) was playing my Alice in the Garden of Live Flowers this afternoon in Campbelltown, near (really part of) Sydney. Which concert to go to? In the end I regretfully decided that I should get on with urgent tasks at home and go to neither ...
From an email received today about last night's concert:
Thought 'Waltzing with Wally' exceptional! Powerful. Anguished. Beautiful. Its title poetic and deeply moving. Ironic too, HEE HAW indeed!
From another one came this comment:
(Am) completely inspired by your music, and Bach. And the combination of both of them.
Lots of other people also seemed to enjoy it.
* Tonight I watched, on television, the Bob Connolly-Sophie Raymond film Mrs Carey's Concert. Brilliant! I knew some of the people in the film, and had worked with Mrs (Karen) Carey at MLC School in the 90s (they performed a piece of mine in the Sydney Opera House), so I had a personal interest. I would've loved it even without that connection, for the film was superbly filmed and put together. Recommended!
Sophie Raymond is the daughter of the sister of the ex-husband of the sister of my ex-wife - she's practically family!
---
* Tuesday September 13 2011:
From an article in yesterday's Sydney Morning Herald called Leaks reveal it's past time to speak for West Papua by Jennifer Robinson:
Having been unjustifiably targeted on the ''WikiLeaks Threat'' list in secret US documents leaked in February, I was somewhat surprised to be left off the Indonesian intelligence watch list leaked last month about West Papua. I mean, every man and Naomi Robson was on it. And I've been acting as lawyer to exiled Papuan independence leader Benny Wenda far longer than I've acted for Julian Assange ...

The conflation of human rights and politics in Papua is not the sole realm of the Indonesian government. The Australian and US governments are equally guilty. I was also given a stern warning by an Australian diplomat that my human rights work risked ''becoming a political football'' for our government and that I was to ''keep [my] head down''. I soon learnt this was characteristic of the spineless and reactionary approach Australia takes to foreign policy on Papua. Similarly, a 2006 US embassy cable published by WikiLeaks condemns claims of genocide, gross human rights violations and environmental destruction in Papua as ''dramatic and vague'' ...

[more]
That's Jennifer Robinson at left and Julian Assange at right. The responses from readers are particularly interesting. This one, for example, from Mekong in Laos:
Years ago I worked with an aid project and traditional fishers in Indonesia. In Biak the atmosphere was tense and depressed. The rooms next to mine were occupied by Malaysian loggers looking to gain concessions to drop trees in Biak's remarkable forest. Like Jennifer I was pursued by a local and demurred for the same reason as Jennifer: too many spies. At 3 am he took me to the edge of town where the stench of rotting bodies was overwhelming. Seven young men who he told me opposed Biak's forest destruction had been executed after being badly beaten. Not a pretty sight by torchlight. Later with my colleagues we did a circuit of the island. I noticed that there were more graves than houses in many of the villagers. I asked my Indonesian sidekick to create a diversion which she did. The graves the Papuan women told me were of those killed by the Indonesian military in partnership with the loggers. Later back in Biak i again noticed the air of depression, and degradation; the fact that Papuans were relegated to menial jobs. Resource stripping is rife. BP is in there along with Australian mining companies. I met the man who delivered Freeport gold to Soeharto's house in Jalan Cendana. He, a man of great disillusionment, told me the 'tribute' amounted to around 3 kilos per month and he had been doing it for two years. Go figure.
Indonesia was eventually forced out of East Timor, mainly though the relentless pressure applied by activists world-wide. West Papua seems an even harder mountain to climb, but if more and more people like Ms Robinson stand up to be counted then, well, who knows?
---
* Monday September 12 2011:
Have just come across some photos that Tim Lumsdaine took at the Kangaroo Valley Arts Festival earlier this year. Here's me, at left, on stage with members of The Song Company after their performance of several of my Conservation Songs. Click on the photo to see, from left to right, baritone Mark Donnelly, me, bass Clive Birch, musical director Roland Peelman and soprano Anna Fraser (the unseen members of the group were soprano Susannah Lawergren, mezzo Lanneke Wallace-Wells and tenor Richard Black. A marvellous bunch of singers!

For other Lumsdaine shots of the festival, including some of some of the other performers, click here (flickr).

* I don't, as a rule, get carried away watching sport on television. Occasionally, however, I get excited: watching Sam Stosur's awesome win this morning of the US Open final (tennis) was a buzz, as was the Swans' win in the second semi-final of the Australian Football League and several performances in the recent World Athletic Championships.
---
* Sunday September 11 2011:
I remember very clearly the day, ten years ago, when we watched with horror the attacks on the World Trade Center in New York. I also remember thinking that here was an opportunity for America to refrain from lashing out in anger but, instead, to try hosting a world peace conference where all parties could bring their grievances to the table so that at least they would be aware of each other's position. Naive, I know - but the consequences for America since 9/11 have been disastrous in just about every area. Doing nothing, or negotiating with the Taliban, would have been better than invading Afghanistan, Iraq and Pakistan with the loss of countless lives, including many more American lives than were lost on 9/11.
Noam Chomsky, as usual, nails it. See his article Noam Chomsky on the Dangers of American Empire and Why the US Continues to be Bin Laden's Best Ally - Chomsky reflects on 9/11 and the killing of Osama bin Laden:
A number of analysts have observed that although bin Laden was finally killed, he won some major successes in his war against the U.S. "He repeatedly asserted that the only way to drive the U.S. from the Muslim world and defeat its satraps was by drawing Americans into a series of small but expensive wars that would ultimately bankrupt them," Eric Margolis writes. "'Bleeding the U.S.,' in his words." The United States, first under George W. Bush and then Barack Obama, rushed right into bin Laden's trap... Grotesquely overblown military outlays and debt addiction... may be the most pernicious legacy of the man who thought he could defeat the United States" -- particularly when the debt is being cynically exploited by the far right, with the collusion of the Democrat establishment, to undermine what remains of social programs, public education, unions, and, in general, remaining barriers to corporate tyranny.

[more]
* My cello piece for Rachel Scott has evolved a lot since last I blogged. It's now called Waltzing with Wally, and is a tribute to our donkey, Walnut (left), who died on Jan 1 this year. This is a most unlikely subject, I'll admit, for a piece derived from a Bach Prelude, but I came up with an exuberant waltz - based on the Bach - that kept reminding me of Walnut (lovingly known as Wally) as a young donkey skipping across the lush green fields of Kangaroo Valley. In revisions I made to make the piece more playable (and more singable), I also made it a little more donkey-like. I'm currently trying to add a bray on the cello. Difficult. Might not be able to do that convincingly enough.

There are many ways, of course, to compose music. Sometimes I will start with bar 1 then compose bar 2, and so on till the piece is finished. In this case I kept experimenting, playing with my basic material, hoping it would lead somewhere. Suddenly an idea came which then determined what was to stay, what still needed to be composed, what character the material needed to have, and so on. The idea came from the music itself - it was not imposed, as perhaps it would have been had I determined, from the start, that I was going to compose a piece about a donkey based on some Bach-inspired snippets. This piece could have been about something entirely different, or about nothing. The starting point was completely abstract: the opening of the fugue in the Prelude from Bach's Suite No. 5 in C Minor for solo cello. Here:


Here's part of the waltz theme (voice on top, cello underneath):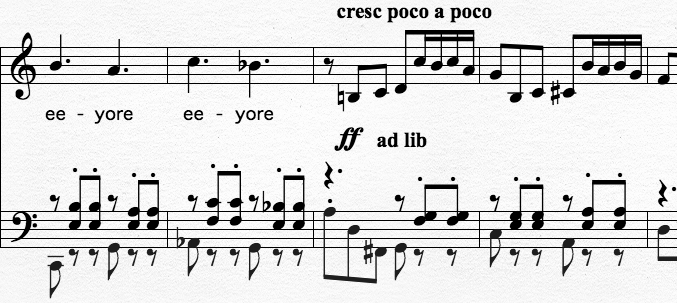 Following Bach's lead, the cello's top (A) string is tuned down to G, giving different resonances from normal and enabling chords that otherwise would be difficult or impossible.

* Talking of animals meeting their Maker, I lost a chook (hen) yesterday. The day before I had a crook chook (sick hen), called Vera, whose symptoms my chook book told me meant that she was probably egg-bound and that I should insert a vaselined finger into her cloaca in the hope that I would be able to ease the egg out. I did so - but there was no egg there. I'm keeping her warm, making sure she has ample food and water, and hoping that whatever is ailing her will fix itself. I like to let the chooks out during the day to forage. But yesterday one - Baker - did not return, almost certainly the victim of a fox or of a large contented bird of prey that I saw on a tree near the chook pen. Chook-keeping has, like everything else, its downs as well as its ups, the ups including little packets of golden goodness delivered every morning. We are now down to a family of six: black chook Zorro, white chook Fluffy, three Isa Browns Beaver, Vera &amp Chuck, and rooster Dave.
---
* Saturday September 3 2011:
I finished the cello piece at about 3am this morning then emailed a pdf of it to cellist Rachel Scott (right). She says she likes it, and thinks it's very do-able, but thinks it "bloody hard" (a lot of my music is, apparently, but performers usually conquer the problems). In the Bach in the Dark concert in Sydney On September 16 &amp 17, Rachel will play the Prelude from Bach's Suite No. 5 in C Minor for solo cello, then immediately play my piece, which is based on/was inspired by/is related to in some way/is a deconstruction of Bach's piece. I listened to various performances of the Bach on YouTube (I liked Yo Yo Ma's version best, although I thought it was a bit up and down) and downloaded the score (ain't the internet wonderful?), then looked for motifs that I could dwell on, and expand, and use to compose something new. Well, newish. No doubt Rachel will find a few problems with it over the next few days - clumsily-written sequences, for example, that I will try to fix. After the first performances I'll probably tidy it up some more before I pronounce it finally finished. The piece doesn't, as yet, have a title. And did I say it's for singing cellist? Rachel plays and sings my Uluru Song so well that I couldn't resist trying more of the same.

Click on the photo for a larger shot.
---
* Tuesday August 30 2011:
Have been off the air of late, trying to write a solo cello piece for cellist Rachel Scott. You know how it is: sometimes things flow, other times they push into dark corners from which there's no escape ... It's to be performed on a Bach in the Dark concert in Sydney On September 16 &amp 17 (details here).
I've also been organising the Ninth Annual Kangaroo Valley Buster Keaton Silent Movie Show, which is coming up on Saturday October 1 in Kangaroo Valley Hall (details, on the flyer by Diana Jaffray, can be seen here). Pianist Robert Constable will, as usual, tinkle the ivories providing musical accompaniment to, this year, Keaton's hilarious comedy Sherlock Jr. (1924). We will also be showing scenes from the 1919 Australian film The Sentimental Bloke. This show - a highlight of Kangaroo Valley's cultural life - raises funds for education projects in East Timor, sponsored by local support group The Kangaroo Valley-Remexio Partnership. Another fund-raising event - the 2011 Trek for Timor - is coming up on Sept 24. This will enable the group to instal more solar lighting systems in houses in the Remexio district of East Timor (already over five hundred of these have been supplied and installed, making a big difference to the lives of people who have never had electricity). If you fancy a stroll (14km), or a brisk walk or run (50km), through the beautiful scenery of Kangaroo Valley, at the same time raising money for an excellent cause, click here. If you would prefer to stay in bed and send money instead, you could do a direct deposit into the Trek for Timor account, Commonwealth Bank, Nowra, BSB: 062585; account number: 10702027. Thanks!
As it happens, the afore-mentioned Rachel Scott is a great suporter of the East Timorese people, having gone there to teach classroom music at least a couple of times. She plays several pieces of mine, including Uluru Song and the audio-visual piece Welcome to the Hotel Turismo, composed in 2000 after twenty four years of Indonesian occupation of East Timor had been brought to an end.
* From the New Zealand Herald, today:
West Papuans have asked our leaders for help. Maire Leadbeater wonders if they will listen
The Melanesian people of West Papua, neighbours to Papua New Guinea, say they belong to the Pacific region and that it is their home geographically, ethnically and culturally. But since Indonesia took control of the territory in 1963 they have been excluded from regional meetings.
Next week, Papuan representatives will try to be heard from the margins of the Pacific Island Forum when the heads of state meet at the SkyCity Convention Centre.
The forum leaders used to make a reference to the ongoing human rights abuses in West Papua in their annual communiques but for the past four years they have sidestepped the issue altogether.
Unfortunately, this is not a sign that the situation has improved for West Papua. Documents leaked recently to Australian newspapers show how the Indonesian Kopassus Special Forces run a vast network of spies to maintain their control of the region. Foreign activists, journalists and politicians are also monitored, and signing a letter or filing a TV report can be enough to warrant inclusion on the "enemy" list ...
[more]
Maire Leadbeater is a champion of oppressed people everywhere. I met her a few years ago when she put on a performance in Auckland of my audio-visual piece Papua Merdeka (this piece had previously been banned from the Asia-Pacific Festival in Wellington as a result of pressure from the Indonesian Embassy there).
* Apropos the recent celebrations to mark the 45th anniversary of the beginning of Australia's Land Rights movement, here's a photo taken by Arthur Palmer in 1972 or so of my activist brother Rob ("Wes") with Vincent Lingiari (right), who led the walk-out of Gurindji people off Wave Hill Station in the Northern Territory in 1966: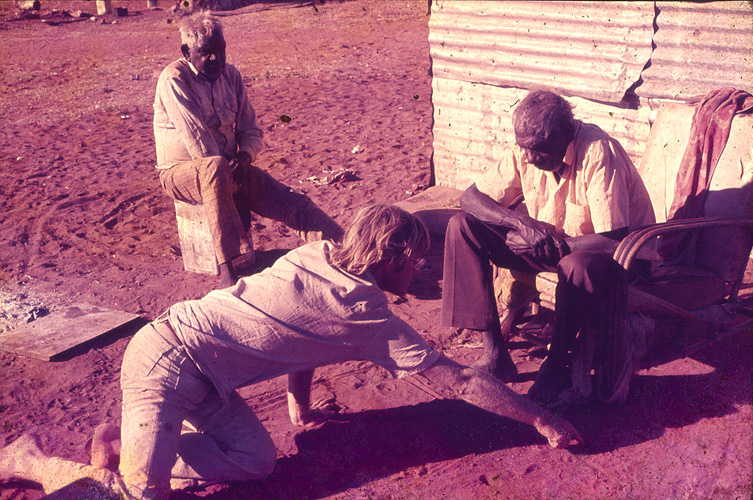 Rob's probably carrying on about something or other, as he does, or they're playing marbles, or he's looking for a sixpence, or he's just drawn a line in the sand, or something ...
---
* Sunday August 21 2011:
From From songs of the sea to jazz and electric by Gillian Wills, The Australian, Aug 5 2011:
SOMETIMES you just have to reinvent paradise. Already a rewarding event in a tropical setting, it is gratifying that Piers Lane, director of the Australian Festival of Chamber Music, keeps forging new developments at the annual event ...

As part of the Concert Conversations series was a performance of electric, atonal Weapons of Mass Distortion, by this year's composer-in-residence Martin Wesley-Smith, after which he was delighted by the number of audience members who lingered to discuss the work ...

[more]
* Last night The Thirsty Night Singers, at a private function in Kangaroo Valley, gave their first rendition of an arrangement by Philip Lawson of Freddie Mercury's Bohemian Rhapsody. It's a big sing, and probably the most difficult tenor part I've ever tackled, but we pulled it off, I think. Well, we made a few fluffs, but the audience loved it. Most of 'em, anyway, judging from their comments. The rest of the program went well. Someone wrote in an email received this morning: "We were still bubbling with appreciation at breakfast today."
* From my disreputable past:
The other day I came across a website called TOM MIX AUS MUSIC which makes available "Rare and obscure vinyl mixes converted for download." Download No.179 is of the first LP that my old folk group The Wesley Three put out on CBS way back in the early 60s. The blurb:

The Wesley Three comprised of twin brothers Peter and Martin Wesley-Smith and Keith Conlon, all from Adelaide. They were a stylish, Kingston Trio-like ensemble, which attracted public attention through appearances on the national TV talent quest Showcase 1965. They recorded two albums in quick succession for CBS and enjoyed a brief burst of national folk singing success. Their hit single was Little Tommy which was backed by Bound For South Australia. The single got to #14 in South Australia in 1965. Interestingly, Little Tommy, written by Martin Wesley-Smith, was covered by American group The Serendipity Singers.

An "LP" (long-playing record) was a large black flat round double-sided disc made of vinyl that contained encoded music in its grooves. We made three other LPs for CBS, including City Folk (more folk songs), The Wesley Three presents, in story and song, "Banjo the Singing Rabbit" and "Mister Thwump" (for children), and Leaning on a Lamppost (a selection of vaudeville songs). The group folded in 1970 when Peter left Adelaide to study in Hong Kong.
* According to an article - Howard 'called in US favour' to charge Hicks - by Natalie O'Brien in today's Age, ex-PM John Howard, "as he sought re-election in 2007, called in a political 'favour' from the US government to get any charge possible laid against (Australian terrorist suspect) David Hicks, a former Guantanamo Bay chief military prosecutor has claimed. Jason Leopold, of the internet publication Truthout, says he has material, including documents from the office of the former vice-president Dick Cheney, stating that Mr Howard met Mr Cheney in Sydney on February 24, 2007, and told him the Hicks case had become a 'political threat' to his re-election campaign."
If this is true then any respect I might have had for Mr Howard (actually, none) will vanish. To play with a man's life like this, for personal gain, is despicable - but not, perhaps, surprising: this is the man who lied about "children overboard" as an election ploy (a successful one). As it happens, and as I write this, truckies are descending on Canberra demanding an end to the Gillard government. The main reason? That the government is illegitimate because Gillard lied, saying that there would be no carbon tax implement by any government she led. I hold no brief for the current PM, but I don't think she told a real porker on this occasion: the reasonable assumption was that she would lead a Labor government whereas she ended up as boss of a fragile coalition with the Greens and independents. By the truckies' logic, Howard's government after the "children overboard" election was illegitimate too. Opposition leader Tony Abbott, who is supporting the truckies in his ever-desperate efforts to become the Prime Minister of this country, has clearly promised them something to their perceived advantage. But he too is a liar: he admitted not so long ago that no-one should believe anything he says, just what he writes. This is similar to Howard's distinction between "core promises", which were ones he intended to implement, and "non-core promises", which were not to be believed. Mind you, one didn't know till after the event if a promise was core or non-core ...
---
* Saturday August 20 2011: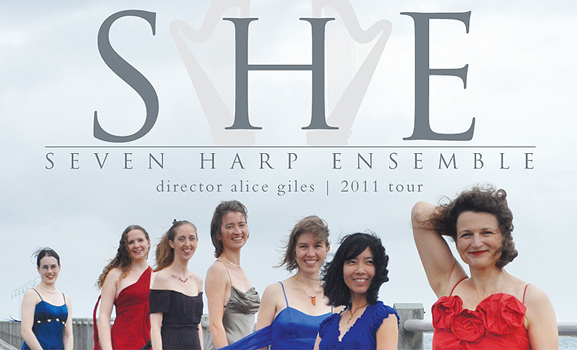 SHE, led by Alice Giles, will be touring to Melbourne, Barwon Heads, Albury, Wagga Wagga, Leeton, Canberra and Campbelltown (Sydney) during September. For details call 0430 101 002.
---
* Tuesday August 16 2011:
A Sydney concert of electroacoustic works, including my audio-visual Papua Merdeka, for bass clarinet and sounds &amp images from computer, that was originally scheduled for 6pm Thurs Sept 1 has been moved to 7pm Thurs Sept 8. Also on the program: an electroacoustic work by Kirsty Beilharz (right) called Prism and two works by Jon Drummond (left): Breath Resonance, for bass clarinet and "interactive electroacoustics", and a work of electroacoustic multichannel sound diffusion called Mare Vaporum. 7pm Thurs Sept 8, Bon Marche Studio, Bon Marche Building, UTS, 755 Harris St, Sydney. Admission by donation at door (no reservations). Enquiries: Kirsty Beilharz. Download the concert series poster here (pdf, 140KB).

The bass clarinettist will be Ros Dunlop, who premiered Papua Merdeka in 2005 in the USA. She also plays other audio-visual pieces of mine, including the East Timor pieces X, Welcome to the Hotel Turismo and Tekee Tokee Tomak. And Weapons of Mass Distortion too. This is about propaganda, official lies etc, especially those that led to the invasion of Iraq in 2003.
---
* Monday August 15 2011:
The Thirsty Night Singers will be performing this weekend at a private function in Kangaroo Valley. We will sing two brackets:
A-Rovin' (sea shanty)
The Shoop Shoop Song (Rudy Clark)
Short People (Randy Newman)
Teach Your Children (Graham Nash, of Crosby, Stills, Nash &amp Young)
In This Heart (Sinead o'Connor)
Bohemian Rhapsody (Freddie Mercury of Queen)

Shut the Gate (North/Wesley-Smith)
And So It Goes (Billy Joel)
Hey Ho Cook and Rowe (Peggy Seeger)
Father's Song (Ewan MacColl)
I Will (Lennon &amp McCartney)
Mad World (Roland Orzabal)


encore:
The Irish Blessing
Six of those songs we've never performed in public before. The most challenging, most daunting, is Bohemian Rhapsody: we're going to have to bluff our way through a couple of passages, but some of it is sounding good, and it's such an impressive song, much loved by all, that I think (I'm hoping) that we'll be forgiven!
The only Australian song is Shut the Gate, a kids' song by Ann North and me. There should be more, I admit. We actually sing a high percentage of Australian material, but not on this occasion.
---
* Sunday August 14 2011:
Every now and then I try to catch up with recent Australian music - an impossible though (mostly) enjoyable task. The other day I bought a double CD of music by Melbourne composer David Chesworth called Badlands, played by the David Chesworth Ensemble. The first CD is all very well: pleasant, imaginative minimalist pieces based on excerpts from Carl Orff's Musica Poetica, which Chesworth heard on the soundtrack of the film Badlands. But I've been really taken by the second CD, which seems like an extended mostly-electronic rumination on Badlands Suite 4, although there is no mention of it in the CD notes. It's repetitive, with subtle, almost-imperceptible changes occurring so that after a while you realise that the music is now different but you're not sure quite how it changed. Intriguing stuff.
* Found this today on facebook: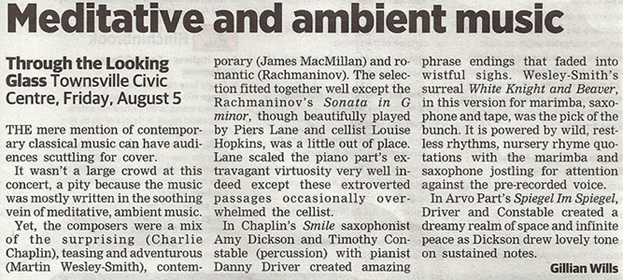 ---
* Saturday August 13 2011:

From Woody Guthrie's song Pretty Boy Floyd:

Yes, as through this world I've wandered
I've seen lots of funny men;
Some will rob you with a sixgun,
And some with a fountain pen.

And as through your life you travel,
Yes, as through your life you roam,
You won't never see an outlaw
Drive a family from their home.

These verses are quoted in an article by Phil Rockstroh called Life in an Age of Looting in Information Clearing House.
---
* Friday August 12 2011:
The other day I found this photograph of a dead robin [right] on a blog archive by Mouse (aka Kimy) called mouse medicine (April 10 2007). It's a reference to my a cappella choral piece Who Killed Cock Robin?.

Mouse writes: this poor robin was found lying on the ground yesterday, perhaps our heavy april snow played a role, alas, who killed cock robin?

While Who Killed Cock Robin?, a conservation piece, is specifically about the dangers of DDT and other pesticides, it is also, by extension, about other man-made environmental hazards such as Agent Orange, which is still causing birth defects in Vietnam after its use in a war which finished 36 years ago, and depleted uranium, still being used in America's current wars (Afghanistan, Iraq, Pakistan, Libya ...). On the Who Killed Cock Robin? web-site, I've collected links to various devastating articles about these and other catastrophes. For example, Robert Koehler wrote, in The Huffington Post of August 9 2010: "Along with whatever else we did to Fallujah ... we also, apparently, nuked the city, leaving a legacy of cancer, leukemia, infant mortality and genetic abnormality ..." Read the article here.
---
* Wednesday August 10 2011:
Click here to read my blurb for the Australian Festival of Chamber Music.
* Some quotes from English poet, short-story writer, and novelist Rudyard Kipling (1865-1936):
from The Young British Soldier:
When you're wounded and left on Afghanistan's plains,
And the women come out to cut up what remains,
Jest roll to your rifle and blow out your brains
And go to your gawd like a soldier.
| | | | |
| --- | --- | --- | --- |
| | from Epitaphs of the War: | | If any question why we died, tell them because our fathers lied. |
from The Naulahka:
Now it is not good for the Christian's health to hustle the Aryan brown,
For the Christian riles, and the Aryan smiles and he weareth the Christian down;
And the end of the fight is a tombstone white with the name of the late deceased,
And the epitaph drear: "A Fool lies here who tried to hustle the East."
They come from an article - They Died in Vain; Deal With It - by one of my favourite American activist pundits, Ray McGovern.
Kipling also wrote: "Afghanistan is where the great powers go to die ..." Yep, the Persians, the British, the Russians, the Americans ...
* One of the best commentaries I've seen on the London riots comes from 24-year-old English blogger Laurie Penny, who describes herself as "24, journalist, author, feminist, reprobate". From yesterday's blog Panic on the streets of London:
Most of the people who will be writing, speaking and pontificating about the disorder this weekend have absolutely no idea what it is like to grow up in a community where there are no jobs, no space to live or move, and the police are on the streets stopping-and-searching you as you come home from school. The people who do will be waking up this week in the sure and certain knowledge that after decades of being ignored and marginalised and harassed by the police, after months of seeing any conceivable hope of a better future confiscated, they are finally on the news. In one NBC report, a young man in Tottenham was asked if rioting really achieved anything:

"Yes," said the young man. "You wouldn't be talking to me now if we didn't riot, would you?"

"Two months ago we marched to Scotland Yard, more than 2,000 of us, all blacks, and it was peaceful and calm and you know what? Not a word in the press. Last night a bit of rioting and looting and look around you."

Eavesdropping from among the onlookers, I looked around. A dozen TV crews and newspaper reporters interviewing the young men everywhere ...

There are communities all over the country that nobody paid attention to unless there had recently been a riot or a murdered child. Well, they're paying attention now ...

... my city is burning, and it will continue to burn until we stop the blanket condemnations and blind conjecture and try to understand just what has brought viral civil unrest to Britain. Let me give you a hint: it ain't Twitter ...

Now is the time when we make our choices. Now is the time when we decide whether to descend into hate, or to put prejudice aside and work together. Now is the time when we decide what sort of country it is that we want to live in. Follow the #riotcleanup hashtag on Twitter. And take care of one another.

[more]
* I like Ms Penny's blog of Tues July 19 titled Of Pies and Circuses. Some excerpts:
Like everyone else, when I saw young comedian Jonnie Marbles lobbing a foam pie in Rupert Murdoch's face, as the elderly oligarch attempted to distance himself from years of criminal newsgathering, police corruption and government complicity, I felt like I was dreaming ...

The man who owns and dictates the news on three continents played to the crowd as a doddering, out-of-touch gentleman executive who had absolutely no idea why he had had back-door access to Downing Street for decades, no idea why his journalists illegally hacked the phones of grieving relatives and a murdered teenager, no idea why his newspapers seem to have bought and paid for the Metropolitan police ...

The moral panopticon of the Murdoch press, manufacturing consensus for thirty years of war and the pursuit of profit with pictures of tits and celebrity chitchat, has been exposed as a circus of lies and corruption, lubricating politicians into lazy complicity, putting government ministers on its payroll to do its bidding, turning the police force into a bunch of hired lackeys and the justice system into a mercenary sham, pilfering the still-warm bodies of slaughtered soldiers and strangled schoolgirls for a story, any story. Murdoch is eating humble pie (I wish I'd been the first to make that pun) with or without Jonnie Marbles. Can you tear your eyes away, even for a second? No, nor can I ...

The hacking scandal has made it almost to the doors of Downing street, but in the meantime, on the quiet, the agenda of Murdoch's tame cabinet is being signed and delivered. It cannot be permitted. If we believe in a fairer, more honest world, we can't allow ourselves to be entirely distracted by the circus.

[more]
If the Murdoch press in London had publicised the problems facing poor young black people, say, instead of, or even in addition to, pursuing "profit with pictures of tits and celebrity chitchat", perhaps the riots currently tearing England apart would not be happening.
---
* Monday August 08 2011:
Am back home after a most enjoyable stint as Composer-in-Residence at the Australian Festival of Chamber Music in Townsville. I pay tribute to Artistic Director Piers Lane, General Manager Sue Hackett, staff members including Alycia Stanley and Amy Zaghini, interns including Elle Graham, the Volunteers, the Artists - especially those who played my music! - and the Audience. Such good organisation, such efficiency, such charm, such good humour, such good music-making ...
The final pieces of mine to be played were a collection of kids' songs, sung by the Belgian Gardens State School Choir directed by Malcolm Cook, and the first performance of a new version of my kids' piece Pip!, with Damien Beaumont doing the narrating/singing/acting. Delightful! A gratifying finale to my involvement in this year's AFCM.
* A couple of performances coming up:
1. Percussionist Alison Pratt will be performing For Marimba &amp Tape on Wed 17th and Thurs 18th August at WAAPA in Perth as part of a program that the student percussion group Defying Gravity is presenting. She wrote "I really enjoy playing it!" - it seems to me that if a performer enjoys playing something then the odds are that the audience will enjoy it too.
2. At 7pm on Thurs Sept 8 at the University of Technology, Sydney, Ros Dunlop is playing my audio-visual piece Papua Merdeka, for bass clarinet with sounds &amp images on computer. It's about the plight of the indigenous West Papuans in what used to be their own land.
---
* Friday August 05 2011:
Today at the Australian Festival of Chamber Music here in Townsville, percussionist Timothy Constable, on marimba, and alto saxophonist Amy Dickson played my piece White Knight &amp Beaver. Fantastic! The concert concluded with the Rachmaninov Sonata in G minor for piano and cello, Op.19, a popular work played superbly by Piers Lane (piano) and Louise Hopkins (cello). A hard act to follow - or, in this case, precede. I doubt if anyone even recalled my piece after that performance ...

The artists here, in no particular order, are Piers Lane (piano, Artistic Director); The Goldner String Quartet (Dean Olding, violin, Dimity Hall, violin, Irina Morozova, viola, and Julian Smiles, cello); John &amp Richard Contiguglia, piano; Danny Driver, piano; Daniel de Borah, piano; Phillipa Candy, piano; Philippe Graffin, violin; Jack Liebeck, violin; Victoria Sayles, violin; Rivka Golani, viola; Simon Oswell, viola; Louise Hopkins, cello; Michael Goldschlager, cello; Kees Boersma, double bass; George Golla, jazz guitar; Vernon Hill, flute; Michael Collins, clarinet &amp piano; Brian Cathlove, clarinet; Matthew Wilkie, bassoon; David Nuttall, oboe; Amy Dickson, saxophone; Sarah Wilson, trumpet; Ben Jacks, horn; Peter Luff, horn; Jason Redman, trombone; Tim Constable, percussion; Bree van Reyk, percussion; Damien Beaumont, narrator; Lisa Gasteen, soprano; Louise Page, soprano; Sharny Russell, jazz singer; Diana McVeagh, musicologist/author.
---
* Thursday August 04 2011:
What a lovely festival this is! A lot of concerts, some extraordinary artists, enthusiastic audiences, superb organisation, pleasant town, balmy weather - if you love a diet of classical chamber music, with the occasional bit of spice from a more recent work, then this is for you. I've been flat out attending rehearsals, adjusting parts, going to concerts, and so on, generally enjoying myself. My involvement so far has included being part of a panel discussing "Changing Popularity" with Diana McVeagh, chaired not by Damien Beaumont, who had to be at a rehearsal at that time of Stravinsky's The Soldier's Tale, which he was narrating, but by Festival Artistic Director Piers Lane. Yesterday morning I was part of one of the daily Concert Conversations, in which Piers chats to artists about their background, musical training etc. This preceded one of my major events here: performances of two of my pieces. Young percussionist Timothy Constable nailed For Marimba &amp Tape! This is not an easy piece, but he played it beautifully. Then English clarinettist Michael Collins played my audio-visual Weapons of Mass Distortion, about propaganda, official lies etc, especially those leading to the 2003 invasion of Iraq. This piece replaced Merry-Go-Round, which for various reasons couldn't make it to the stage. Michael first looked at the part on Monday, we went through it with the backing track on Tuesday, and we rehearsed it at 8am yesterday morning: note perfect! He's a brilliant sight-reader (and, as it happens, an excellent pianist and conductor). The audience was particularly appreciative of this piece (apart from a couple of people who apparently complained to management about this wicked intrusion of politics into music), many commenting on how moving it was. I was particularly pleased that the piece made such an impact at 10 in the morning in the "Grand Ballroom" of Jupiters Casino, with people sitting at tables drinking coffee and munching sandwiches - not ideal conditions for this sort of thing.
After that I attended a rehearsal of my kids' piece Pip!, with Damien Beaumont (narrator/singer/actor), English violinist Victoria Sayles, Kees Boersma (double bass) and Michael Collins, again, this time playing piano. Saturday's performance will be the first of this new version (previous versions were for violin/viola, trombone and live electronics, and for singer/actor/narrator and orchestra).
This morning I listened to the Belgian Gardens State School Choir, under the direction of Malcolm Cook, rehearsing my kids' songs Freddie the Fish (from Who Killed Cock Robin?), My Dog Has Fleas, Lost Snail, The Garbage Men (and Women), and I'm a Caterpillar of Society (Not a Social Butterfly) (from Boojum!). Piano accompaniment by the AFCM's Artistic Director Piers Lane. Delightful! [later: apparently Kees Boersma's double bass is joining in with My Dog Has Fleas on Saturday's concert] Then there was a rehearsal of my White Knight &amp Beaver, for marimba (Tim Constable) and alto saxophone (Amy Dickson). Needless to say, they are performing it beautifully. It will be performed at 5.30pm tomorrow in the Civic Theatre.
I'll write up a more complete report on the festival when it's all over, but for now let me mention the Festival volunteers who are providing transport for artists between the hotel and the rehearsal and performance venues. It seems that there are cars and vans constantly traversing Townsville: all you have to do, wherever you are, is raise your right hand and at least two vehicles will scream to a halt to take you to wherever you want to go. It's a superb service which helps make working here pleasant and efficient.
---
* Sunday July 31 2011:
Am in Townsville, for the Australian Festival of Chamber Music. I've just heard a brilliant performance of George Crumb's Vox Balaenae (Voice of the Whale), played by Vernon Hill (flute), Julian Smiles (cello) and Daniel de Borah (piano), accompanied by an underwater film of humpback whales. Beautiful, moving, seemingly profound ...
For various reasons two pieces of mine that were scheduled to be performed here are now off the menu (I must say that this is very disappointing). I'm hoping that For Clarinet &amp Tape will be replaced by For Marimba &amp Tape (it's essentially the same piece): outstanding young percussionist Timothy Constable, who first played the piece when he was 15 or so, thinks he can get it back up in time, so I spent today turning the clarinet part into the marimba part. The other piece, Merry-Go-Round, is harder to replace. Am working on it ...
Tomorrow I'm on a panel with musicologist and author Diana McVeagh (expert on Elgar and Finzi), chaired by ABC-FM presenter Damien Beaumont, discussing Changing Popularity - "two eminent musicians discuss how public appreciation of performers and composers and their works changes as time goes on"
---
* Sunday July 24 2011:
The other day I came across a Brisbane-based contemporary music performance group called mac ensemble, with "mac" standing for "musicians against complacency". They claim that they are "against complacency in all facets of human existence", including:

Complacency in society: We live in a world where we are so encouraged to become complacent - accept things for what they are and make minimal efforts to change the many ingrained habits that are having a damaging effect on our planet, our society, and our futures. It takes courage to break this mould, but we believe that music can be a powerful catalyst for change.

Mmmmmm, interesting, I thought. Up my alley. Then I read, in a blurb for a concert - Generation Next - they were doing in Campbelltown (near Sydney) last night:
We live in a fragile world. If human activity continues to heat the earth to the point of a 6-degree temperature rise over the arctic circle, then half the world's permafrost will likely thaw, releasing millions of tons of methane gas into the atmosphere. The resultant damage would be both catastrophic and irreversible.

Welcome to our 'Grand Hotel Abyss', our 'Restaurant at the End of the Universe'! Observe from the comfort of your seat this unfolding tragedy. Are we listening to the soundtrack of nature's impending destruction, or are we distracting ourselves with our fascination with sound? Of course the question is really: what role can art music play for the current world-in-crisis? With these complex questions in mind, four Brisbane composers set nature poetry to new music. In addition we will hear the works of Sofia Gubaidulina, Giacinto Scelsi, Stuart Saunders Smith and Beat Furrer, composers with a special relationship to instrumental possibility and the natural world at large.
I want to hear this, I thought, so I drove the 115km to the Campbelltown Arts Centre to this New Music Network concert. Well ... I must admit I was disappointed. I applaud these young musicians' efforts, but from what I saw and heard, art music can play no role for the current world-in-crisis. The program was a disparate collection of pieces, most of them pretty unattractive to a general audience's ears (I make no value judgement here), with, as far as I could hear, little or no connection to the concert's theme. Gubaidulina's piece The Vision of Saint Hildegard, for example, sets the following text:
God, who called everything into existence through his will, has created it so that his name be recognised and honoured. Not only the visible and transitory, but he makes known that it reveals the invisible and eternal. Thereafter he shows his face, that you look.
So we, and plants, and wombats, are here so that God's name be recognised and honoured? What an appalling reason to create a universe! What is the "it" in "he makes known that it reveals the invisible and eternal"? His name? How does it do this? I've heard his name, but I've never seen the invisible. How does God reveal his face? What is his face? I've never seen it. This whole passage is, to me, nonsense. Gubaidulina (whom, incidentally, I met, years ago) might have a "special relationship to instrumental possibility and the natural world at large", whatever that means, but it is not revealed in this piece (scored for solo soprano and sung by Tabatha McFadyen, pictured above left). My most pertinent question: why program this piece in a concert whose raison d'etre is to ask what role it is that "art music" can play for the current world-in-crisis? Unquestioning acceptance of ancient religious dogma represents, for me, the epitome of complacency in society. It is one of "the many ingrained habits that are having a damaging effect on our planet, our society, and our futures." Why include this piece in this concert?
I liked some of the pieces, disliked others (one intensely). And I was impressed by the musicianship of the young players. I encourage them to keep going, and to develop their world view. But I can't see myself looking to them, for a while yet, for answers ... But wait: I see now that the program states that the answers "are not contained within this concert ... Music is an art that is not in the habit of answering questions." Oh. I was hoping for a bit more. Music does not have the answers, then, but apparently it can be "a powerful catalyst for change." I venture to suggest that if that's the case, then it's popular music that has that potential, not so-called "art music". This is arguable, of course, and all very complicated, too much so to be discussed in detail here ...
* At the recent Australasian Computer Music Conference at the University of Auckland, New Zealand, I attended a session where Argentinean composer Ricardo Dal Farra asked what contribution electroacoustic music can make. He is currently organising a multi-disciplinary conference at Concordia University in Montreal, Canada, for November 4 &amp 5, 2011:
The BALANCE-UnBaLANCe 2011 conference will seek to bring artists together with scientists, economists, philosophers, politicians, sociologists, engineers, management and policy experts with the intent of engendering a deeper awareness and creating lasting intellectual working partnerships in solving our global environmental crisis.

Using art as a catalyst, BALANCE-UNBALANCE will explore intersections between NATURE, ART, SCIENCE, TECHNOLOGY and SOCIETY as we move into an era of both unprecedented ecological threats and transdisciplinary possibilities. (It) will call for two days of reflection, debate, and the promotion of projects and actions regarding the environment and our human responsibility at this defining moment in our history ... One of the main goals of this conference is to develop the role of the arts and artists in dealing with environmental challenges.
Check out the conference website here.
* After last night's concert I stayed up to watch Australian cyclist Cadel Evans ride a superb time trial to win the Tour de France. Magnifique!
* When one is divorced, does a niece become an ex-niece? Or is it a case of once a niece always a niece? If so, I have at least three nieces and three nephews on my ex-wife Ann's side (none at all on my side, so I'm grabbing all the nieces and nephews I can). My oldest niece, then, is the beautiful Bessie Nunes (married to Johnny, whose parents are East Timorese). The other day they became proud parents of Sabian Cruz Nunes, making me, I think, a sort of granduncle-by-ex-marriage. Congratulations Mum'n'Dad! Welcome Sabian!
---
* Friday July 22 2011:
Personal stuff, for friends: that's my son Jed and his wife Sally at left. The shot was taken in Sydney a week or so ago at a night out to celebrate grandson Bassy's 11th birthday. Click to see a larger collection of Wesley-Smiths: Bassy, my daughter Olivia, grandson Oskar, Jed, Sally, daughter Alice and ex-wife Ann. I recently spent a few days in Sydney at home with Oskar &amp Bassy as Jed &amp Sally took a few days off. While I was away, heavy rains deluged Kangaroo Valley (and many other places), prompting many Daily Telegraph readers to claim that this proves that anthropogenic global warming is "crap". Record high temperatures in the USA, however, have simply been ignored.

I'm getting ready for the Australian Festival of Chamber Music in Townsville (July 29-Aug 6). Hardly a day goes past when I'm not required to do something urgent e.g. today it transpired that a performer couldn't open a data CD I'd sent that contained rehearsal audio files. I made mp3 versions and emailed them, solving the problem (I hope). ABC FM presenter Damien Beaumont is getting into the narration and characterisations of Pip!, a kids' piece receiving its first performance in a new version for narrator/singer, violin, double bass &amp piano. The Belgian Gardens State School Choir, under Malcolm Cook, is busy rehearsing a bunch of my kids' songs, including I'm a Caterpillar of Society (from Boojum!).
---
* Saturday July 16 2011:
Blogger David Swanson, of War Is A Crime.org, points out (Murdoch Has Blood on His Hands, July 14 2011) that Article 20 of the International Covenant on Human Rights says:
1. Any propaganda for war shall be prohibited by law.
Murdoch's support for the Iraq War extended to producing support for that war from every one of his editors and talking heads ... open-and-shut case against Murdoch as war propagandist ... John Nichols describes (here) three ... warmakers:

When the war in Iraq began, the three international leaders who were most ardently committed to the project were US President Bush, British Prime Minister Tony Blair and Australian Prime Minister John Howard. On paper, they seemed like three very different political players: Bush was a bumbling and inexperienced son of a former president who mixed unwarranted bravado with born-again moralizing to hold together an increasingly conservative Republican Party; Blair was the urbane 'modernizer' who had transformed a once proudly socialist party into the centrist 'New Labour' project; Howard was the veteran political fixer who came up through the ranks of a coalition that mingled traditional conservatives and swashbuckling corporatists.

But they had one thing in common. They were all favorites of Rupert Murdoch and his sprawling media empire, which began in Australia, extended to the 'mother country' of Britain and finally conquered the United States. Murdoch's media outlets had helped all three secure electoral victories. And the Murdoch empire gave the Bush-Blair-Howard troika courage and coverage as preparations were made for the Iraq invasion. Murdoch-owned media outlets in the United States, Britain and Australia enthusiastically cheered on the rush to war and the news that it was a 'Mission Accomplished.'

Bribery is dirty stuff. So is sneaking a peak at the private messages of murder victims. But there's something even dirtier: murder, murder on the largest scale, murder coldly calculated and played out from behind a desk, in other words: war.

[more]
This is precisely what my 2003 audio-visual piece Weapons of Mass Distortion, for clarinet and sounds & images on computer, is about. And the 2005 vocal piece doublethink.
The Murdoch issue should be huge in Australia at the moment, given that he controls most of our media. But given that he controls most of our media, it isn't. We can read about it in the Fairfax press, and hear about it on the ABC and SBS, but one searches in vain for even a mention of it in the Daily Telegraph.
* I came across this clipping the other day: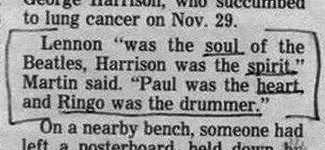 * The Gillard government's carbon tax is the big issue in Australia at the moment, with potential anti-Labor voters being whipped into a frenzy by the Right. I've enjoyed reading a blog - Heathen Scripture, by Geoff Lemon (July 14 2011). Excerpts:

Far from being objective carriers of information, media outlets have been trying to manufacture furore. "Families earning more than $110k will feel the pain of the carbon tax," warned the Herald-Sun, straightfaced. "Households face a $9.90 a week jump in the cost of living." ... (I) found myself more than a little surprised when a Herald-Sun [Murdoch paper] commenter ... said "Somebody needs to assassinate Julia Gillard NOW before she totally destroys our way of life."

Just... hold up a minute. Ten bucks a week? Our way of life? Aside from incitement to murder a head of government being ever so slightly illegal ... the response just doesn't make any sense. Here is legislation that might make some things marginally more expensive. Probably not much. It isn't going to drive industries offshore, because things like power generation and mining Australian resources kind of have to be done in Australia ...

... let's never hear any talk of ABC bias ever again, because the Sun has well and truly picked its horse on this one. Any online article on the tax was headlined by a video of the lovely Andrew Bolt, telling us it was "the greatest act of national suicide we've ever seen." Funny, I thought that was when they gave him a TV show. There was also a great line about "so-called solar energy" - because now solar energy is just a theory too. Like gravity, or Adelaide ...

Let's get one thing very clear. Australians, en masse, are enjoying a better standard of living than has ever been enjoyed in this country's history. And not just marginally, but by a huge degree. Really, along with a few other developed countries, we are enjoying a better standard of living than any group of people has in human existence ... To your mind, you have a right to live like this, purely because you're lucky enough to have lived like this. Well, you don't ... Remember that you live in a country where drinkable water comes out of a tap inside your goddamn house, and where the power runs 24 hours a day. This in itself is a goddamn privilege ... you do not have a right to this way of life. No-one does. We just have the extreme good fortune of enjoying it, and that won't last forever. We should appreciate it while we can.

Perversely, part of me wants to see what would happen if the sea levels rise a couple of metres, the coastal cities get swamped, the rainfall dries up, the power goes out, the militias take to the streets. Part of me would love to see these squawking indignant right-to-luxury dickwipes learning how to live in the dust, scraping out dried plants from the earth and hoarding their remnants from the Beforetime. It'll be a sight if it happens. Dirty red skies will rise up from the ground each morning like a curse. The only creatures that seem to thrive, the cockroaches and carrion birds, will swarm black against the sand and the sunset, rasping dry songs with their throats and with their legs. The water will be gone. The world will not remember ice floes. And for her sins, for ten dollars a week from each and every one of us, Julia Gillard will hang from the garret at the gates of Troy.

There were some excellent responses from readers. In response to the irrational hysteria from the Right, Horace Copes writes:

Over the last few days it's felt like we're on the verge of civil war - and over what - trying to clean up the air. Brilliant writing. Thank you.

Exactly. seymorebutts87 quotes Dr Martin Luther King, Jnr:

"You don't have to see the whole staircase, just take the first step."

culturesniper writes:

Um. Have you completely forgotten that wee little hung parliament? ... Yes, Julia Gillard promised there would be no carbon tax under a Labor government. I remind you: we do not have a Labor government. We didn't elect a Labor government. Because we didn't elect anyone at all. The greatest swing was towards the greens. To me, this suggests a significant turn to environmental concerns in the Australian consciousness. The Labor-Green coalition ... (has) introduced a carbon tax. Get your head out of the Telegraph and around how politics actually works.

Here's what Nick says:

... how do you convince the rest of the world to do anything when you lack the courage to lead-to do nothing yourself, whilst demanding that others change their ways. This legislation is extremely important at a global level; The Economist magazine this morning has not only backed this plan but clearly points out that the provinces in China that are looking at trialling the Chinese ETS, and in South Korea who are looking at legislating one, will be closely watching the outcomes of our scheme. Now, South Korea and China are two massive manufacturing and export nations: you cannot possibly argue that pushing them towards action is not prudent global policy; even if it costs you and (me) $10 per week. Moreover, Australia may be a 'small player' in the world of global emissions, accounting for around 1.5% of global emissions; about the same as France, Briton, and South Korea; would you argue in a GLOBAL solution that they should abstain from action because they too are not a majority emitter? If that is the case then suddenly we have circa. 6% doing nothing ... your arguments are repetitive rhetoric pulled from shock-jocks and News Ltd. columnists, and they are a misappropriation of fact. You claim to support the bigger picture ... but you completely fail to see the bigger picture of our domestic policy. I'm going to go out on a limb here: this 'tax' will reduce Australia's emissions; it will give us far more potent bargaining power at future conferences like Durban; it will not ruin the economy, rather help develop new industries; and it will not break anyone's bank. Like the GST, you won't even notice it. But, the world will notice it; capital investment will notice it; power generators will notice it; airlines will notice it; and the decisions of the future will be shaped from today, from this piece of legislation. Stop being so selfish and exert a bit of prudence: the world certainly needs it right now ...

In a recent exchange on facebook, Aldo Di Toro wrote:

... The whole point of a carbon tax is to proceed from a fossil-fuel world to an environment friendly world. India, France, Taiwan, New Zealand, Republic of Ireland, Denmark, South Africa, Japan have carbon tax laws ... no one seems to mention how many trillions of dollars and pounds and euro have been/are still being spent by 'THE COALITION OF THE WILLING', NATO AND OTHER INTERNATIONAL STATUTORY GROUPS TO CREATE THEIR 'PEACE MISSIONS' AND WARS TO SECURE THE FLOW OF THESE FOSSIL FUELS AS ENERGY. On Aug 1, the US will no longer be able to borrow money. That's it. Party time over. People will turn back and finally wonder where the money went and hopefully realise that Bush, Howard, Blair, Berlusconi & Co spent it all on blood and oil. I would have much rather have had Gillard's Carbon Tax 10 years ago. This is how an adult America should have behaved -- not as an vendetta-seeking adolescent. This carbon tax is brilliant! Full of incentives to move finally to hybrid cars, for instance, through tax credits and low tax on energy-efficient and eco-friendly industries. Cap and trade credits could prove a hindrance by dirty/greedy business people on the market however the Treasure Wayne Swan has already announced increased funding for regulatory bodies to investigate and crack down on this type of illegal profiteering. We'll have a varied tax rate on the different types of fuels. Propane (a by-product of natural gas), for instance, emits less CO2 and carbon monoxide than say, coal. Also as the technologies for systems and materials increase so the tax rate should decrease. As the rest of the world wakes up to this amazing, inevitable package and joins us (hopefully asap!) -- the tax rate should in turn decrease and become loosely uniform on a global scale. Yes, Australia should join New Zealand and lead the way here for Oceania and the true South Pacific, Indian and Great Southern Oceans ... we might be the 'arse-end of the world' but at least we'll have a beautiful, sexy and, most importantly, clean arse ...

And so it goes, which is the title of a Billy Joel song that The Thirsty Night Singers are going to sing at the Kangaroo Valley Folk Festival on October 22.
---
* Friday July 15 2011:
I must admit that while I don't usually experience schadenfreude (pleasure derived from someone else's misfortune), I'm experiencing huge dollops of it while witnessing Rupert Murdoch's troubles over the phone-hacking scandal in England. This man has had - still has - far too much influence on politics. Over the years I have been sickened watching political leaders in Australia, Great Britain and the US falling over themselves to gain his approval. He has used his enormous power for his own ends in ways that have subverted the democratic process, an example being his broadcasting, over and over, of the lies that led to the invasion of Iraq. His Sydney rag The Daily Telegraph is little more than a propaganda sheet that is currently campaigning against the Gillard government's carbon tax and pushing for elections so that the disgraceful Tony Abbot can kill the tax and, with it, any hope that we might be able to ameliorate anthropogenic global warming. His empire should be broken up and he should be forced to retire. At 80 years of age, with untold wealth, a gorgeous-looking young wife, and a young family, who wouldn't relish the prospect of putting one's feet up?
---
* Monday July 11 2011:
Am back home after several days in Auckland for an informative and enjoyable Australasian Computer Music Conference. Lots to do here, including clearing up the debris left after a couple of severe wind storms that happened while I was away. Accumulated mail included a letter from Sydney University telling me that the Sydney Conservatorium of Music's 101 Compositions Project, of which I was to be a part, has been postponed:
The 101 Compositions Project has been running successfully since 2009. We are hoping that this innovative and exciting project will continue until the celebration of the Conservatorium's Centenary in 2015, but unfortunately at this time we cannot provide you with any further certainty regarding the continuation of the 101 Compositions Project ... In the meantime, as you have not entered into a contract with the University of Sydney in respect of the 101 Compositions Project, I regret to inform you that ... the University hereby revokes the offer to you to participate in this project ...
There you go. Pick on the lowest of the low, in this case on poor downtrodden composers - who were, anyway, being paid a pittance for their pieces. My understanding is that I did enter into a contract with the University of Sydney: an oral contract, which can be just as valid as a written one.
All this is to do with the University not renewing the contract of the Conservatorium's Dean, Professor Kim Walker. This is a subject I know very little about so I can't join in the conversation. Not a bad thing, probably: the last time I commented on-line about a Conservatorium Dean - Professor Sharman Pretty - I was threatened with a defamation action.
---
* Saturday July 09 2011:
Excellent performance of my piece For Clarinet &amp Tape yesterday at the 2011 Australasian Computer Music Conference in Auckland, New Zealand. It's not an easy piece, but local clarinettist Bridget Miles nailed it, giving it an intensity that was thrilling. I was reminded again of how well the old Fairlight sounds stand up after all these years (28, to be exact) and of how contemporary electroacoustic music has mostly eschewed regular rhythmic pulse in favour of arhythmic sounds and textures. For Clarinet &amp Tape is old-fashioned in that regard, but it's the exploitation of pulse, and of fast cross-rhythms, that gives it a lot of its appeal. To me, anyway.
The conference has been a great success - superbly organised, a good collection of papers, some marvellous music, nice people - and very enjoyable. A big pat on the back to John Coulter for organising it and to the support staff, including Angie Kim, provided by the Music Department of the University of Auckland. It has renewed my interest - and faith - in electroacoustic music.
I will write more about the conference when I get back home.
* While I've been away, New South Wales - including Kangaroo Valley - has been hit by high winds that have done a lot of damage as well as causing sustained power outages. Everything is now in order, thankfully, for my return tomorrow. So I'm told.
---
* Saturday July 02 2011:
Last Sunday I went to Canberra for the first performance, by Alice Giles, of my piece Aurora Wynnis, for speaking/singing harpist, electric harp, lever harp, live electronics and visuals. The previous couple of weeks had been spent working on the images (supplied by various photographers), re-sizing them, choosing which images went where, then sequencing them using the application Adobe Director. It all took a long time, as these things usually do (that's partly why I haven't blogged for so long). In the end, after a lot of hassles, I got it all working. My job during the performance was to cue the images, manually, to specific points in the score. No stuff-ups! Alice performed it beautifully, and it seemed to be well received by the audience, even though the images were projected smaller than I had wanted.
On the Saturday the day before, Alice did an interview with Andrew Ford on the ABC's The Music Show during which she performed part of Aurora Wynnis. You can listen by clicking here and clicking on LISTEN NOW (but hurry 'cos it won't be up forever). Alice's Antarctic blog is a good read. See here.
* On Tuesday I'm going to Auckland for the 2011 Annual Conference of the Australasian Computer Music Association, where I'll be chairing a couple of sessions and having an old piece - a sort of heritage piece - of computer music being performed (For Clarinet &amp Tape [1983], the clarinet part to be played by Bridget Miles). The main organiser is Dr John Coulter, who's a Senior Lecturer at the University of Auckland. I wrote a program note about For Clarinet &amp Tape:
Bridget Miles,
clarinet

Since 1998, Bridget has been Associate Principal Clarinet/Principal Bass Clarinet of the Auckland Philharmonia Orchestra ... [more]

In the early 80s I was experimenting with the portamento controls in the MCL (Music Composition Language) of a Fairlight CMI (Computer Musical Instrument) at the Sydney Conservatorium of Music. It was quite tricky getting it to send a note on a downward trajectory to land at a specified time on, say, an Eb, but eventually I worked it out. By then I found I'd composed a pleasing passage that contained the promise of more, so when I was able to get back to it (I was busy with other things at the time) I extended it. That became my modus operandi: whenever I had some time I would add a bit more until, eventually, I had a piece underway.

After a while I noticed that one of the horizontal parts was developing a clarinettish quality, so I thought I would drop that part from the final mix and have it played live by a clarinettist - by American clarinettist F. Gerard Errante, I thought, who had been pestering me for a piece for some time. Music minus one. For clarinet and tape. So it went for a year or more. Eventually it was coming to an end, and I was wondering how to finish it. At that time the performance group Flederman was about to embark on a tour of the USA with a program of new Australian pieces, but several of them hadn't materialised in time. Desperate, they asked me if I had anything. No, sorry, I don't. "Well what about that thing we've heard you working on in the Electronic Music Studio?" That's for clarinet and tape, and you don't have a clarinet. "No" they said, "but we've got a marimba - will that do?" I looked at the clarinet part, realised that it would work on marimba, quickly finished the piece, replaced some of the clarinettish sounds with marimbaish ones, copied out the solo part, and gave it plus a mix of the computer part, on magnetic tape, to Graeme Leak, Flederman's percussionist. Within three weeks or so For Marimba & Tape had been premiered in Las Vegas! Later on I completed the clarinet version, which Gerry Errante premiered in Sydney. Since then it has been played many times on numerous other instruments e.g. bass clarinet (John Anderson, Harry Sparnaay) and recorder (Ian Shanahan).

In 1986 or so, just as I was thinking that I was beginning to master the CMI IIX, the Series III came out, in all its 16-bit glory. But Fairlight dropped its MCL, leaving me to choose, on the one hand, between a powerful MIDI sequencer that did everything I needed it to but with 8-bit sounds, and, on the other, finding a new way of working with 16-bit sounds. I have never, since then, found a satisfactory substitute. With Fairlight having released its new CMI-30A, with its powerful Crystal Core media processor (CC-1) but, again, no MCL, I've renewed my search.
I also had to write a bio of myself, one appropriate to the occasion:
In 1962-3, when Martin Wesley-Smith was at school in Adelaide, he would go to the Elder Conservatorium at the University of Adelaide and stand outside the room occupied by Dutch electronic music pioneer Henk Badings, listening to the weird sounds pouring out. He later enrolled to study composition at the Con, studying initially with Peter Tahourdin (subsequently with Peter Maxwell Davies, Sandor Veress and Jindrich Feld). In 1969, local businessman Derek Jolly purchased a Moog Synthesizer Mark III and invited Tahourdin to conduct an electronic music class using it. It was the first practical Electronic Music course in Australia. Wesley-Smith was in that class, composing the first piece - Vietnam Image - to emerge from it. He later studied at the University of York in England, returning to Australia in 1974 to establish the Electronic Music Studio at the Sydney Conservatorium of Music.

In 1980 the Studio acquired a Fairlight CMI, which Wesley-Smith used to compose such pieces as For Marimba & Tape and White Knight & Beaver. He founded the eclectic collective watt, a group that put on numerous concerts of new music - charting the development of new music technology over that time - until its demise twenty four years later. He specialised in audio-visual works, typically using nine computer-controlled slide projectors on one screen in such works as Wattamolla Red and Snark-Hunting 2. For four years in the late 70s-early 80s he organised the music for huge collaborative multimedia events at Wattamolla Beach in Sydney's Royal National Park, working with Ian Fredericks, artist George Gittoes and others. He also wrote children's songs at that time for popular children's television programs such as Playschool.

Many of his A-V works have a political bent, mainly concerning the invasion of East Timor by Indonesian soldiers in 1975. In 1978 watt presented Kdadalak (For the Children of Timor) [1978] at Takemitsu's "Music Today" in Tokyo. A more recent Timor-inspired work, Welcome to the Hotel Turismo, was composed in 2000, the year Wesley-Smith resigned from the Sydney Con in order to move to Kangaroo Valley to pursue composition and other interests full-time. Other A-V pieces (for, these days, computer and data projector) include Quito, for The Song Company with sounds and images on computer, Weapons of Mass Distortion [2003], about propaganda, especially that that led to the invasion of Iraq, and Papua Merdeka [2005], about the plight of indigenous West Papuans under Indonesian rule.

In 2010, his choral music-theatre piece Boojum! was produced in Chicago by Chicago Opera Vanguard.
I suppose that if you live long enough then it's inevitable that you become part of history. It's amazing to me how far we've come, in terms of technology (of course) but also in the technical expertise of young people, since I used to stand outside Henk Badings' studio, listening in awe to the sounds he was making. I believe I played a small but effective part in the evolution of electronic music and audio-visual composition in this country, doing what I could to encourage and facilitate students - often against appallingly conservative institutional resistance - to come to terms with new technology and to use it for their own musical expression.
* Let me briefly comment on the case of Dominique Strauss-Kahn and the appalling treatment he suffered in recent weeks in New York. At no stage was there a presumption of innocence - quite the opposite, in fact. The man might be something of a sleazebag, but [a] who's to say? (I don't believe anything about this case anymore), and [b] if he is then so what? He might be guilty of abhorrent attitudes to and behaviour with women, but that's not a capital offence. Except in extreme circumstances it shouldn't be the cause of the destruction of the man's career. I wouldn't be surprised if powers-that-be (e.g. Sarkhozy, the Obama administration) wanted him, for various reasons, neutralised. Now that he is no longer a threat politically, and at the IMF, he can be allowed to ride off into the sunset, and into obscurity. Goodbye, DSK. Let that be a warning to others who might think about meddling with the world financial order.
---
* Wednesday June 15 2011:
The Thirsty Night Singers at last night's concert Music from/about/for Timor-Leste
l to r: Janette Carter (alto - ooops! Off-camera ...), Peter Morgan (bass), Nell Britton (soprano), me (tenor),
Patsy Radic (alto), Peter Stanton (bass) &amp Nadia Intihar (soprano). Photo: Beatriz Wagner.
The Thirsties sang three songs (Hey Ho, Cook and Rowe, She Wore a Black Ribbon and The Fighters Who Fell) plus an encore (Shut the Gate). Clarinettist Ros Dunlop played three of my audio-visual pieces: X (1999), Weapons of Mass Distortion (2003) and Papua Merdeka (2005). Timorese singer/songwriter/guitarist Ego Lemos, with guitarist Mark Lucas, sang two brackets of original songs. It was a great night, with what seemed a very happy audience.
see the program here
---
* Wednesday June 8 2011:
Last Saturday's Sydney Gay &amp Lesbian Choir concert in the Sydney Town Hall was totally excellent, not just musically but as a social and political event. The choir is non-auditioned, so one might expect it to contain a few passengers. None, however, was in evidence as some quite tricky scores were negotiated with apparent ease. From memory, too: not a single scrap of music manuscript was seen all night. Hats off to musical director Sarah Penicke-Smith (at left: click) as well as to all others associated with the venture.

Apart from Peter's and my When We Are Old and Gay, we heard pieces by Australian composers Iain Grandage, Matthew Hindson, Sarah Hopkins, Elena Kats-Chernin, Gordon Kerry and Carl Vine (all good, but I was particularly impressed, in both composition and performance, by Hopkins' Past Life Melodies). Would that other Australian choirs be so aware of Australian music! Would that they realise that it's not only important to perform music of our time and place but that much of this music is wildly popular with audiences.

The event stood up strongly for social, musical, ethnic etc inclusion. Choir patron Michael Kirby talked about the discrimination still practiced against sexual and other minorities in various parts of the world and the continuing need to work to eliminate this. Heady stuff, and the audience lapped it up. All in all, an inspiring concert!
* An article by Amanda Terkel - Afghanistan Becoming War No One Wants: Lawmakers To Press For Strong Drawdown In Coming Weeks - on CommonDreams.org says that the "the vast majority of the American public (favors) a substantial drawdown of U.S. troops. With the death of bin Laden, the growing cost of operations and frustrated constituents, an increasing group of congressional lawmakers is also voicing concerns. Even within the Obama administration, there are reports of some aides pushing for a strong drawdown." Meanwhile, with every death of an Australian soldier in Afghanistan, Australian Prime Minister Julia Gillard repeats the mantra that the situation is improving, that we're making a difference, and that we're in Afghanistan for the long haul. What is likely to happen is that after the deaths of several more Australian soldiers, and the drawdown of American soldiers, Australia will withdraw "with honour", after huge financial and personal cost, whereupon the Taliban will take the country back. What an appalling waste.
* I was hoping that last year's Chicago production of Peter's and my show Boojum! would pick up a Jeff Award or two at Monday night's awards night (it received six nominations). Unfortunately it was not to be:
I am sorry to say that we didn't take home any awards. Two bright spots in the evening: Jimmy McDermott did take home a best director for another show (a play) that he directed (as you'll recall he was nominated for two shows). And each musical that was nominated got to take the stage and perform a number. The Boojum! cast performed Flash and it (was) clear to all in attendance that their performance was far better in execution, quality, wit, and musical composition than the other performances that night (and really, I'm not being biased!!)

I thought of you two throughout the night, and wished you could have been there. It was a pretty significant accomplishment that the show garnered six nominations. People still come up to me six months later and tell me how impressed they were with the production ...
(spokesperson from Chicago Opera Vanguard, writing on facebook)
---
* Thursday June 2 2011:
Proud grandpa news: the good-looking young bloke at left is my talented and charming grandson Bassy (photo by Advanced Life Photography, P O Box 1056 Brookvale NSW 2100; tel: 1300 728 972; email). Amongst other things he's a drummer and excellent tennis and Australian Rules Football player.

The equally good-looking slightly older bloke at right (behind the tree) is his equally talented and not quite so charming (he's a teenager) older brother Oskar (photographer unknown). He's also an excellent Aussie Rules footballer, and played great trumpet till he recently gave it up to concentrate on computer music composition. A recent piece of his, called Mother, can be listened to here.

---

This coming Saturday: The Sydney Gay &amp Lesbian Choir is performing at the Sydney Town Hall. The program includes Peter's and my song When We Are Old and Gay (or, as some of the older members of the choir sing it, Now We Are Old and Gay).
---
* Tuesday May 31 2011:
American pundit Tom Engelhardt is one of my favourite commentators on the state of things, particularly in America. In Dumb Question of the Twenty-first Century: Is It Legal? - Post-Legal America and the National Security Complex, he writes:
Everyone knows that in the United States if you're a robber caught breaking into someone's house, you'll be brought to trial, but if you're caught breaking into someone else's country, you'll be free to take to the lecture circuit, write your memoirs, or become a university professor.

[more]
Australia follows the US in most things, including this one. There seems to me to be a prima facie case against Howard, Downer and others for invading and occupying Iraq despite ample evidence before the event that Iraq did not possess the alleged weapons of mass distortion, but it is clear that they will never be tried as war criminals. Meanwhile, Howard makes a fortune on the lecture circuit (nowhere near, though, the alleged $15 million that George W. Bush made in two years as he "replenished the ol' coffers").
Not long after writing this I read a reader's comment on an article published in Australian on-line journal New Matilda. The article - Will Hicks' Book Profits Be Confiscated?, by Adam Brereton, says that it appears that Australian alleged terrorist David Hicks will lose the estimated $250,000 in profits from his autobiography Guantanamo: A Journey. They will be confiscated under the Australia's Proceeds of Crime Act. As if Hicks hasn't suffered enough!
Jordan wrote:
If the government is serious about preventing criminals from profiteering, there is a much more clear-cut case that they can pursue. The man behind the book "Lazarus Rising" [J. Howard] unambiguously broke international law by attacking the sovereign nation of Iraq, contributing to a decade of violence and bloodshed that makes 9-11 look like a scuffle at the local pub.

But that would require some authority, somewhere, to detain this alleged terrorist and put him on trial. (Surely at the very least we could manage a parliamentary enquiry - at least the Brits pretended). Preposterous, you scoff? Until we take that step, how can we as a nation say that we respect the rule of law?

[more]
Liberal Party Senator George Brandis (Shadow Attorney-General) is pushing hard to have Hicks' book profits confiscated. Reader lelder asked this question:
What does this say about that obnoxious vindictive little shit Brandis?
Ha!
* At 7pm on Sun June 26, at the Canberra School of Music, harpist Alice Giles will premiere Aurora Wynnis, a piece I wrote for her earlier this year. The men from The Thirsty Night Singers were going to sing on the program, but for various reasons that's not now going to happen. The group will, however, perform at the June 14 Ros Dunlop/Ego Lemos concert at the National Art School in East Sydney (click here for details).
---
* Sunday May 22 2011:
I'm a regular reader of T r u t h o u t, which sends me a daily email giving links to articles from what these days is referred to as "the progressive left". This morning I received an email that includes what might well be their credo. It included:
Truly left behind by the mainstream culture, we believe that society - pronounced defunct by Margaret Thatcher in 1987 - is human beings' essential medium, and that its character is the major determinant of our individual and collective well-being. Throw-backs to another era, we believe that the character of a society depends on how it treats its most vulnerable members: children, elders, the poor, minorities, the "stranger." Like pioneers, we want to raise one another's barns, our consciousness, our voices to shelter and protect those who can't buy politicians to do so.

We still accept many "quaint" notions as true and valid: that torture is absolutely wrong under all circumstances, and that being rich and/or powerful should not provide immunity from justice or criticism. We still hold strongly that we must arrest climate change; switch energy, transportation, and food production technologies; create jobs for those who want to work, provide healthcare for all; stop the toxic chemical and radiation poisoning of our air, soils, water and bodies; educate ourselves to be citizens, not consumers; beat our tanks and aircraft carriers and planes and drones and Humvees into ploughshares; pursue justice; restore the commons; delight in the works of our artists and artisans, our intellectuals and our neighbors; live in dignity and peace.

We have not moved on from those antique ideals at Truthout ...
Beautifully written (thank you, Leslie Thatcher).
* I'm gradually uploading as many of my works as possible to the website of The Australian Music Centre. Soprano Cathy Agett asked me to place Mrs Hargreaves Remembers, for soprano &amp piano, which I dutifully did. She then "reviewed" it on-line:
"Mrs Hargreaves Remembers" by Martin Wesley-Smith, with words by Lewis Carroll, Martin Wesley-Smith and Peter Wesley-Smith, is a song with changes in metre, tempo and style (including 'swing'). The delivery of text in this song - always central in a Wesley-Smith song - increases the degree of difficulty of the song. The quirky idea of having Mrs Hargreaves/Alice Liddell - aka Lewis Carroll's 'Alice' - sing (fancifully) about having a degree conferred on her whilst having a massage - wow! The Wesley-Smith boys have definitely asked a lot of a soprano! Will you sing it in a towel? Dare you!

Thank you for answering my plea, Martin, to place this score on the AMC's website. It is a welcome addition to the vocal literature for voice and piano. The range of the song is from A3-G#5. A short appearance in the song of 'For more than sixty years' from Boojum! is timely as the success of the revival of Boojum! was accepted with such acclaim in Chicago so recently.
The text of the piece can be read here. The music uses, in part, my piano piece White Knight Waltz.
* As far as I can tell, the Rapture didn't happen yesterday, perhaps because its chief protagonist hasn't yet learned to spell JUDGEMENT. The end of the world might still happen in October, though, giving me time to get my affairs in order - what a relief! I would hate to be snuffed out leaving correspondence unanswered and bills unpaid. [later: I stand corrected: an anonymous reader wrote to say "In the law the word is frequently indeed usually spelt 'judgment' ..."]

* A couple of days ago I came across this:

When trying to envision the future, I am reminded of this quote that is attributed to hockey legend Wayne Gretzky. It's a good one. When asked how he always seemed to be in the right place at the right time, and consequentially scored more goals than others, he replied, "I don't go where the puck is. I go to where the puck will be."
Orchestras and musicians - maybe we should try to be like Gretzky.
---
* Saturday May 14 2011:
more Murrican propaganda:
Report: Porn found in Osama bin Laden's hideout
by Sahil Kapur

Friday, May 13th, 2011

The American commandos who killed Osama bin Laden found a "stash of pornography" in his hideout, U.S. officials told Reuters.

The news agency reported that the "pornography recovered in bin Laden's compound in Abbottabad, Pakistan, consists of modern, electronically recorded video and is fairly extensive," based on discussions with current and former officials.

No further details were provided, as the officials, who spoke on condition of anonymity, said they did not know how the materials were acquired or where in the compound they were found.

Officials found a trove of information in bin Laden's hideout, including a video of the al Qaeda leader watching himself on TV.
What next? That he liked to pull the wings off butterflies? "Officials, who (speak) on condition of anonymity," can say anything they like. And if they don't say it, it can be placed in their mouths without fear that the lie will be exposed. I suspect that rather than demean bin Laden in the eyes of ordinary Muslims, such propaganda will inspire more people to become jihadists. It's called "blowback", which, it seems, 9/11 was. 'Round and 'round we go ...
* I read a reader response the other day to this 2004 quote (Sydney Morning Herald) from bin Laden: "Contrary to what Bush says and claims - that we hate your freedom. If that were true, then let him explain why did we not attack Sweden":
bin Laden raises a good point - why did Sweden not come under attack? Those people have been plaguing the world with painfully addictive pop tunes and competitively priced furniture for decades. And they get away scot free. Go figure. [Jimmy Loughnan, May 9]
* Timor-Leste fund-raising concert coming up:
Weapons of Mass Distortion, my audio-visual piece about propaganda, will be performed by clarinettist Ros Dunlop at the Cell Block Theatre (National Art School, Darlinghurst, Sydney) in a fund-raising concert at 7pm on Tues June 14. Other pieces of mine on the program: X and Tekee Tokee Tomak, about Timor-Leste, and Papua Merdeka, about West Papua. Special guest: Timorese singer/songwriter Ego Lemos (left). Proceeds will help fund musical and visual arts in Timor-Leste. Tickets: adults $30, concession $20, students $10; enquiries and bookings: 0418 802 757, email. See the poster for the event here.

Ego's MySpace site lets you listen to several of his songs, including Balibo, which he wrote for the film of the same name and for which he won the 2009 APRA Sreen Music Award for best song written for a film. In a 2010 interview with Sarah Hunt, he said:

When I read the story (of Balibo), I thought it wasn't about the five journalists, but about journalism as a whole. If you look in the translation of the lyrics of the Balibo song, I didn't mention the name of any of the journalists or the name of the country. I was thinking about the broader idea that every journalist will risk themselves in the same way."
Ego is also a permaculturalist, having founded, and run for five years, Timor Leste's first permaculture centre, Permatil.

* Today is the 5th anniversary of my brother Jerry's death. He was a talented musician who shone in many fields: as a composer of jazz tunes, and music for theatre; as a classical performer (he played the solo part in a performance of Mendelssohn's Concerto for Violin in E minor), he sang professionally in the ABC's Adelaide Singers, and for several years played French horn in ABC orchestras; and as a jazz performer he played piano and bass in various bands, including the Adelaide dixieland band The Campus Six. He toured South East Asia as accompanist for Robyn Archer, played in A Star is Torn in Sydney and on the West End in London, and played in the pit for several other shows (e.g. A Pack of Women). He had been steadily going downhill from a lung disease for the last five years of his life. I am greatly indebted to him for encouraging me to follow my muse in the early days when I was considering various other "career" options.

Today is also the birthday of harpist Alice Giles and my beautiful daughter-in-law Sally McLennan.

* The vocal group I sing in and direct, The Thirsty Night Singers, has been working for a while on Philip Lawson's arrangement of Freddie Mercury's Bohemian Rhapsody - it's difficult! The other night we got all the way through it without stopping, which was quite an achievement, even though there were a couple of sections where the pitch was somewhat wayward. We will get it, for sure ...

We have applied to sing at this year's Kangaroo Valley Folk Festival (21-23 Oct), where we were a smash hit last year (according to the wife of one of the singers).
---
* Monday May 9 2011:
The Murrican propaganda machine rolls on. In this morning's Sydney Morning Herald (and The Age) there's an article about bin Laden - The man is dead, now it's time to put some of the myths to rest - by Peter Bergen, who we discover is "director of national security studies at the New America Foundation. Originally published by The Washington Post, it concludes: "With bin Laden gone, there is no one of his stature and charisma to become not only the leader and strategic guide of al-Qaeda, but to inspire the group's affiliates across the Middle East and North Africa and the wider jihadi movement around the globe. For that, we can all be grateful." Readers' responses - almost all anti-American - include:
Look at the author of this article - Director of national security studies at the New America Foundation - clearly not an objective perspective.
Having said that, history always has and always will be written by the winning side.....the US can tell the world whatever they like because they are the winning side.
Why would we believe what we are being told in the article? What makes that information more truthful than any other from any other source? Why would we trust our own people more than any others?
I agree with you. Also, that photo above could be any old man. Never trust the yanks, they're all liars. Never trust photos, they could have been photoshopped, and don't trust any news item - I only trust John Pilger and Julian Assange for the real facts. The US government has its own agenda, and a well-oiled propaganda machine.
jon @ 9.27am there are so many versions of events being put out by US Inc. because they are trying to find one that might stick. We proles have always suspected that the version of 'truth' they tell us often has little basis in fact. After Wikileaks we had confirmation of it. They should simply say 'We assassinated OBL for revenge. We did not want to interrogate him to find out as much as we could about Al Quaeda as it might show how much our Saudi and Pakistani friends are implicated. We did not want him to stand trial because it would have been too embarrassing for us so we sent a gang of trigger-happy goons to do our dirty work.' His body should have been brought back to prove he was killed and anyone who did not think it was him could arrange their own DNA testing.
I swear that is Father Christmas in that picture. Or is it Papa Smurf? Oh hang on, here we have the media telling me it is Osama Bin Ladin- well then it must be. Now, where is that dialysis machine he's been attached to for the last 10 years? Would The Age please invest in AUSTRALIAN journalists who can come up with these unsubstantiable conclusions themselves. I fail to see why we need a US think tank to send their story around and be told its credible. Is this journalism or another "embedded" story?
The US funded the mujahideen in Afghanistan to fight the Soviet-aligned government before, and to encourage, the Soviet invasion to, in the words of Reagan's security advisor to "given them [the Soviets] their own Vietnam". The Soviets withdraw, bloody civil war ensues, the Taliban wins, the US seek gas pipeline concessions, OBL does all he can (and successfully) to drive the US and Taliban apart ... and here we are.
The fact that US government took 4 tries to get the story of the killing right, goes to show nobody, absolutely nobody knows anything about the mystery of Osama - and definitely not the author of this article who picks and chooses peppered anecdotes to try and add credibility to his opinion of this mystery.
Let the man rest in peace and if indeed he does find his God then he shall meet due judgment and consequence.
What is the next video ? Osama making an omelette in the kitchen, Osama on the toilet.
Mr CIA, can you please stop with the poor propaganda videos, it has been a week. Time to create a new mythical boogey man.
This author should change his name to Winston Smith as he seems to have been given the job of revision of the well known facts ...
I know one thing for certain! I no longer believe anything the American government says. I have cut them slack many over the years but Obama was meant to be the face of change and there he is in front of the world lying about the how Osama was killed.
Then they wonder why people hate America. Anything that comes out of the American government from now will be considered bullshit first until otherwise proven. You have fooled me for the last time
I thought that the photos of OBL in the goldish clothing showed that as well as dying his hair and beard, that he had a botox treatment too.
I also strongly urge anyone who has had videos taken of them whilst watching TV to destroy them immediately for it would now appear that watching TV and being videoed is an action of a terrorist If these videos and photos can be released by the US govt (propaganda machine) why can't the photos of OBL dead be shown?
It seems that readers of these non-Murdoch newspapers are these days highly suspicious of anything the American government says. The propaganda ain't working the way it used to ...
---
* Sunday May 8 2011:
This morning I attended a recital by recorder virtuoso Genevieve Lacey. And this afternoon I caught some of a recital by harp virtuoso Alice Giles. Both excellent. In between I caught a sculpture exhibition. Alice's recital, plus one by pianist Ian Munro and another one by Ms Lacey, effectively brought the 2011 Kangaroo Valley Arts Festival to a close. It was a marvellous weekend of music-making in beautiful locations in gorgeous late Autumn sunshine - congratulations and thanks to all those whose hard work made it possible. Special thanks to Liz Aitken, Tony Barnett, Jenelle Brangwin, Di Campisi, Pamela Davis, Jeanette Dumbrell, Peter Dumbrell, Helen Gelberman, Elizabeth George, Kathy Harrington, Jennefer Hutton, Trish Jessop, Victoria Levey, Chris Pryor, Bruce Ramsay, Justine Ramsay, Lee Sharam, Tony Strachan, Katrina Thomas, Belinda Webster, Harm Wiemann, Sue Williamson, Denise Wright and John Wright. And to all the other Volunteers who organised parking, put out chairs, made tea and coffee, cleaned dunnies, swept floors, collected tickets, and did all the hundreds of other jobs that running a successful festival demands.
* Again on the subject of the killing of Osama bin Laden, I always find it instructive to get Noam Chomsky's reaction to any situation. For example:
It's increasingly clear that the operation was a planned assassination, multiply violating elementary norms of international law. There appears to have been no attempt to apprehend the unarmed victim, as presumably could have been done by 80 commandos facing virtually no opposition - except, they claim, from his wife, who lunged towards them. In societies that profess some respect for law, suspects are apprehended and brought to fair trial. I stress "suspects." In April 2002, the head of the FBI, Robert Mueller, informed the press that after the most intensive investigation in history, the FBI could say no more than that it "believed" that the plot was hatched in Afghanistan, though implemented in the UAE and Germany. What they only believed in April 2002, they obviously didn't know 8 months earlier, when Washington dismissed tentative offers by the Taliban (how serious, we do not know, because they were instantly dismissed) to extradite bin Laden if they were presented with evidence - which, as we soon learned, Washington didn't have. Thus Obama was simply lying when he said, in his White House statement, that "we quickly learned that the 9/11 attacks were carried out by al Qaeda."

[more]
Noam Chomsky: My Reaction to Osama bin Laden's Death, Reader Supported News, May 7 2011
Here's a view expressed by American reader Wade Crutchfield in response to an article in T r u t h o u t:
Since 9-11, we have become the bullies, acting as if might makes right. We have become the torturers - justifying it as necessary for national security. We have become the killers of babies, of children, of innocent civilians in the countries of Iraq and Afghanistan. In short, we have become the monsters we so despised on the day after 9-11. We did these things under the cover of fighting for freedom, and for justice, but in truth, we have acted blindly and irrationally. We were out for blood and vengeance, like a wounded animal who lashes out at anything that crosses its path. And what of our country? Because of the fear of terrorist actions here at home, we now allow warrant-less wiretaps of our phones, our internet communications, even our library records! We endure hours-long lines at airports in the name of "security." We are "strip searched" by full-body scanners, and we can no longer take a pair of sewing scissors, or too much shampoo on board because they might be used in a terrorist act!! And, most tragically of all, we have submitted to the idea of a perpetual "war on terror," wasting billions of dollars each year on a war machine - money which could be spent right here at home. We have million-dollar missiles, but our wise leaders in Washington say that we can't afford a program to help provide much-needed jobs. We bombed Iraq back to the stone age, and now we are rebuilding it, but we cannot afford to invest in our own crumbling infrastructure. We are coming up on ten years in Afghanistan, spending billions per month, and yet we cannot seem to afford programs which invest in the education, health, and welfare of our own people. So, party on, good patriots. But when the collective hangover is finally gone, look closely: See what we have lost, both here at home, and in the eyes and opinion of the world. Yes, bin Laden is dead, and good riddance to him. But I fear that the price we have paid to get him is far greater than we know.

see here
* I bumped into several people today who asked for a copy of the text of There Is a Time ... (it wasn't printed in last night's concert program). See it here (one page, 32KB). The text up until "the fact that an opinion has been widely held ..." was gathered from various contributions to websites that are hostile to the notion of anthropogenic global warming. The eight-line stanza "there is a time to go the distance" is by Peter Wesley-Smith. The paragraphs that begin "the fact that an opinion ..." and "the whole problem ..." come from Bertrand Russell. Whatever does it all mean?
* Here's John Lennon's take on propaganda, the song Gimme Some Truth:
I'm sick and tired of hearing things
From uptight, short-sighted, narrow-minded hypocrites
All I want is the truth
Just gimme some truth ...
read the rest of the lyric here
---
* Saturday May 7 2011:
Have just got back from a day at the Kangaroo Valley Arts Festival. I was a Volunteer helping out at this afternoon's concert by Aboriginal dance group Yuin Ghudjargah and taiko drummers TaikOz, both brilliant! This evening's concert was by The Song Company, one of the world's finest a cappella vocal ensembles. Their eclectic program found room for a bracket of conservation songs by Peter Wesley-Smith (lyrics) and me, including our new song there is a time ... I've never heard them sing so well, even though they have acquired two new members since I last heard them live: soprano Susannah Lawergren and mezzo Lanneke Wallace-Wells (left), both excellent. The festival concludes tomorrow.

On Friday the festival's Artistic Director, Belinda Webster, was awarded the Australia Council's Don Banks Award for 2011, for her distinguished contribution to the arts in Australia. Belinda's main work so far has been establishing and running the recording label Tall Poppies Records.
On the subject of the killing of Osama bin Laden, I like this contribution to an American website made yesterday by jbell94521:

It is not surprising that the Executive Office had killing Osama as their real intent. I don't think it would serve their interests to risk giving him a chance to testify in an open courtroom. It is too bad that more Americans do not see this as a true danger to what is left of our democracy. From reading the comments here I not am encouraged. Most assume that Osama was the architect of 911. He was NEVER even charged with that crime, let alone tried for it. There has never been an official investigation that evaluated the evidence. What little evidence against Osama has been made public could be countered by a reasonably bright first-year law student. Our government running around the world and assassinating people without any legal justification is a far bigger threat to world security than Al Quaeda could ever be. What hope can there be for us as a democratic nation and supposed leader of the free world when we so easily and thoroughly abandon the rule of law? It is disheartening that so few ask that question. I am all for impeaching Obama for taking this action. He is a political opportunist and no hero for perpetrating this Mafioso-style extrajudicial murder. I am sure that hardly anyone reading this will agree with me. Most Germans at the beginning of WWII did not agree with the few who questioned Hitler, either. We all know the outcome of that mass denial, don't we?

I agree with you, 945. Abandon law, abandon hope. The crimes of the US government (and the British, and Australian, and others) are protected by the most sophisticated propaganda war ever devised, backed by supine right-wing media ...
---
* Friday May 6 2011:
from The New York Times, yesterday:
Data From Raid Links Bin Laden to Newer Terror Plots
After reviewing computer files and documents seized at the compound where Osama bin Laden was killed, American intelligence analysts have concluded that the chief of Al Qaeda played a direct role for years in plotting terror attacks from his hide-out in Abbottabad, Pakistan, United States officials said Thursday.
With Bin Laden's whereabouts and activities a mystery in recent years, many intelligence analysts and terror experts had concluded that he had been relegated to an inspirational figure with little role in current and future Qaeda operations.
A rushed examination of the trove of materials from the compound in Pakistan prompted Obama administration officials on Thursday to issue a warning that Al Qaeda last year had considered attacks on American railroads.
[more]
Well, the American government would say that, wouldn't it? The politics of fear: such an easy card to play, one guaranteed to keep the general populace dependent on you for protection.
The propaganda keeps coming: firstly, bin Laden had a gun, and used one of his wives as a human shield; next, once this has seeped in, and everyone has concluded that bin Laden was a lo-life coward, the truth - that he had no gun and did not hide behind his wife - seeped out.
---
* Thursday May 5 2011:
I don't believe a word of the official accounts of Osama bin Laden's death. One of them might be true - who knows? - but the USA military and government lie so often and so egregiously that one has to suspect everything they say ...
I'm a great fan of journalist Robert Fisk. In an article published in the British newspaper The Independent yesterday, he wrote:
So why are we in Afghanistan? Didn't the Americans and the British go there in 2001 to fight Osama bin Laden? Wasn't he killed on Monday? ...

The gentle hopes of Hamid Karzai and Hillary Clinton - that the Taliban will be so cowed by the killing of Bin Laden that they will want to become pleasant democrats and humbly join the Western-supported and utterly corrupt leadership of Afghanistan - shows just how out of touch they are with the blood-soaked reality of the country ...

Turkish prime minister Erdogan's brilliant address in Istanbul yesterday - calling for the Syrians to stop killing their people and for Gaddafi to leave Libya - was more eloquent, more powerful and more historic than the petty, boastful, Hollywood speeches of Obama and Clinton on Monday ... Of course, there is one positive side for the Arab world. With Bin Laden killed, the Gaddafis and the Salehs and the Assads will find it all the more difficult to claim that a man who is now dead is behind the popular revolutions trying to overthrow them.

[more]
* The Song Company has written to me about the new vocal piece of Peter's and mine - There Is a Time - that they will be premiering on Saturday night:
We broke the back of it today - made minute adjustments ... thanks for doing those swappings in the score. They all work very well actually. Dare I say, the song is terrific (but you knew that already..).
Actually, I didn't know that already. In fact I rarely know how good, or bad, or effective, something of mine is until I've been able to divorce myself from its composition and listen to it as if I were a member of the audience. Needless to say, I'm looking forward to hearing the piece. To the older songs, too, especially one called Nobody Cares Anymore, which is not often done these days.
* I recently acquired two strapping young roosters, named Brewster and Jones (after an early twentieth century Australian composer, the splendidly-named Hooper Brewster-Jones). Unfortunately, Brewster met his Maker the other day in an encounter with a fox. Jones (first name Dave) now has sole responsibility for Fluffy, Zorro, Baker, Beaver, Vera and Chuck, our girl chooks.
* Today, two groups of musicians are atarting to learn/rehearse music of mine: 1. soprano Karen Cummings and pianist Sally Whitwell are working on some songs for a recital for the ABC, and 2. music director Malcolm Cook, and the members of The Belgian Gardens State School Choir in Townsville, begin work on songs they will sing at the Australian Festival of Chamber Music (July 29-Aug 6).
---
* Tuesday May 3 2011:
I wrote yesterday that one occasionally receives a complimentary letter or email. By coincidence, one came yesterday, via facebook:
Hi :)
I can't believe I found you on facebook! I'm a composition student from Australia, and I can't say I'm familiar with your work... but when I was very little, my school choir started learning one of your songs, "I'm A Caterpillar Of Society (Not A Social Butterfly)". I instantly fell in love with this song and tried to find it for years, but because it was very obscure, I couldn't track it down. Only recently I managed to find it, and it's now one of my favourite songs! I'd like to tell you just how much I love this little piece!! Thankyou so much for writing it. :)
Quite a coincidence, given that I've just done a new arrangement of Caterpillar.
I can do without facebook in my life, but it can, of course, be very useful. And I have a couple of friends who regularly post fascinating stuff that I would not otherwise be aware of (thank you Felix, thank you Margaret).
* My new little vocal piece about anthropogenic global warming - there is a time ... - will be performed by The Song Company at the Kangaroo Valley Arts Festival this weekend. They will add it to a bracket of Peter's and my Conservation Songs that includes Billiards, Freddie the Fish, Nobody Cares Anymore and Who Stopped the Rain?.
---
* Monday May 2 2011:
Every now and then one hears or reads something that indicates that it hasn't all been futile. I occasionally receive a complimentary letter or email, which is nice. Brother Peter, too. Yesterday he received an email about a book of verses for children - The Ombley-Gombley - that he wrote forty five years ago:
Just thought I would drop you a line to tell you I still have my Ombley - Gombley I was given as a birthday present from Mum when I was about 7, growing up in Wagga. It is the Angus and Robertson Reprinted 1970 edition, the dust jacket is no longer, and I occasionally take it down from the shelf to reminisce and see how much I can still recite. I loved it as a kid and just today after teasing my 15 yr old son about being a "skinny winny", I had to take it down again just to show what would happen if he decided to take a bath instead of a shower. Some of the poems I put to song in my head and still sing them to my younger kids. Overall, I would have to say that was a great book, it provides me with fantastic memories and it really captured my imagination as a youngen! Is David Fielding [the book's illustrator] still going strong? As a partnership you two produced an ugstabuggle of a book!
* I've been working on new versions of old children's songs for possible performance at this year's Australian Festival of Chamber Music in Townsville, Queensland, where I'm to be Composer-in-Residence. The Festival will run from July 29 to Aug 6. The sheet music of one of them - I Wish I Wasn't Me (updated after the recent royal wedding, and arranged for children's choir'n'piano) - is available here (nine pages, 152KB) as a free download. You can also download I'm a Caterpillar of Society (Not a Social Butterfly) in a version for soloist and piano (seven pages, 292KB).
---
* Thursday April 28 2011:
Have just heard that last year's Chicago production of Peter's and my show Boojum! has been nominated for six non-equity Jeff Awards (Chicago Theatre Awards): Best Production of a Musical, Best Ensemble, Best Director (Jimmy McDermott), Best Musical Actor (two: Alex Balestrieri & Jeremy Trager) and Best Musical Direction (Andrea Velis Simon/Myron Silberstein). The show was produced, brilliantly, by Chicago DCA Theater, Caffeine Theatre and Chicago Opera Vanguard. See here. Congratulations all!
---
* Tuesday April 26 2011:
My Mum, the saintly Sheila Wesley-Smith, died last year. Had she lived on, today would have been her 95th birthday. Read a chronology of her last six or so months here. Read tributes to her here.
Time is running out, I'm afraid, for our old dog Flash (left): he's arthritic, finding it difficult, sometimes painful, to walk, and he's rapidly going blind from cataracts - it's distressing watching him bumping into things. He has been - still is - a magnificent friend. Many people - family, friends, WWOOFers etc - love him dearly, and will be almost as devastated as I will be when the end comes.

Flash - short for Flashman (after English soldier, coward, roué etc, the despicable Sir Harry Flashman) - has his own facebook page. After his most recent birthday (he's 11, which is old for a big dog), he received various messages, including:

"Happy Birthday Flasherino, hope you are getting some treats from those unusual characters who live in your house"
"Happy birthday Flashman...warm snuggles and sleeps on the bed soon."
"happy birthday flash! hope you get a big bone :)"
"Hello handsome!! How's my favourite Facebook Man??"

Watch this space for updates ...
* I'm organizing the next - the ninth - annual Kangaroo Valley Buster Keaton Silent Movie Show, which will be in Kangaroo Valley Hall on Sat Oct 1. The event raises money for education projects in Timor-Leste sponsored by the Kangaroo Valley-Remexio Partnership. Another of this year's fundraisers is our Trek for Timor, which will be run, so to speak, on Sat Sept 24 - click here for more information. Register here.
---
* Monday April 25 2011:
Today is ANZAC Day, a time when most Australians celebrate our nation's "coming of age" at Gallipoli during World War One. I find myself in a dilemma: on one hand I want to acknowledge the efforts of Australians who put their lives on the line defending, they were told, Australian freedom; on the other hand I deplore the militarism that the celebration displays.
Australian journalist/filmmaker John Pilger, who lives in England, writes:
The British assault on the Turkish Dardanelles was one of the essential crimes of imperial war, causing the death and wounding of 392,000 on all sides. The Australian and New Zealander losses were among the highest, proportionally; and 25 April, 1915 was declared not just a day of remembrance but the "birth of the Australian nation". This was based on the belief of Edwardian militarists that true men were made in war, an absurdity about to be celebrated yet again.

Anzac Day has been appropriated by those who manipulate the cult of state violence - militarism - in order to satisfy a psychopathic deference to foreign power and to pursue its aims. And the "legend" has no room for the only war fought on Australian soil: that of the Aboriginal people against the European invaders. In a land of cenotaphs, not one stands for them ...

[more]
Pilger tells it how he sees it, which is invariably at odds with the official view, the one in the propaganda put out by the Government and the media. He's officially pilloried, of course, but I for one look forward to his regular articles. And to his films, which have had enormous impact ...
* Today is also the 25th anniversary of my father Harry's death. He was an old soldier who fought in the Second World War against the Japanese in New Guinea.
* This morning I finished a vocal piece - there is a time ... - about anthropogenic global warming. This will be performed by The Song Company at the Kangaroo Valley Arts Festival the weekend after next. It includes a verse by Peter Wesley-Smith and two quotes from mathematician/philosopher Bertrand Russell:
The fact that an opinion has been widely held is no evidence whatever that it is not utterly absurd; indeed in view of the silliness of the majority of mankind, a widespread belief is more likely to be foolish than sensible.
and
The whole problem with the world is that fools and fanatics are always so certain of themselves but wiser people are so full of doubts.
Russell was one of my heroes growing up ...
---
* Monday April 18 2011:
Sad news: have just heard that Sydney composer Eric Gross (1926-2011) passed away yesterday. He was 84. I didn't know him well, for our paths rarely crossed, but I always liked him and admired the professionalism of his work as a composer, lecturer and advocate for Australian music. There's a good article about him here.
---
* Sunday April 17 2011:

I like this quote, which I've only just seen, by Jonathan Swift:

"It is useless to attempt to reason a man out of a thing he never reasoned into"

And this one, by the late Carl Sagan:

"You can't convince a believer of anything; for their belief is not based on evidence, it's based on a deep-seated need to believe.
"Life is but a momentary glimpse of the wonder of the astonishing universe, and it is sad to see so many dreaming it away on spiritual fantasy."

Both quotes come from a letter by Jim Rogers to scientist and moralist Ian Plimer, Jan 01 2010.

* The other day I came across what is probably the most savage arts review I have ever read. It's of a recent Australian film called A Heart Beat Away, directed by Gale Edwards, it's by Bernard Hemingway, and it includes:

"Edwards serves up a compendium of every trite cinematic device known to mainstream hackery."

see here

I have reason to be less-than-impressed by Ms Edwards (she directed the first production of my music theatre piece Boojum!), but I wouldn't wish such a review on my worst enemy ...
---
* Sunday March 27 2011:
from a private email sent by a friend who knows about these things (plans by mining giant BHP-Billerton to dump radioactive tailings at Roxby Downs in South Australia's north):
70 million tonnes of waste radioactive rock per annum (to extract 19,000 tonnes of uranium oxide for export each year, up from current levels of 5,000 tonnes of uranium oxide to make nuclear power and no doubt nuclear warheads. But we won't sidetrack on that issue). 70 million tonnes of radioactive thorium, polonium, radium, bismuth and radioactive lead every year just dumped at the minesite - not even smothered under tailings dams or three metres of dirt to hold the radioactive dust down - is the equivalent of filling the SCG to the height of the goalposts spilling out into the stands 7 times a week, every week...for the next 50 years at least. That's the reality ... And it's only 1000kms to Melbourne from Roxby, 1650kms to Sydney and Canberra. Remember those red dust storms that hit Sydney Sept 2009? Well they originated in Woomera, right smack bang next to Roxby, where they are going to dump those tailings if the green light is given to BHP-Billerton by Mike Rann and the Fed minister for the Environment ...
70 million tonnes per year? Can't be right, surely. It must be an exaggeration. BHP-B wouldn't do that, would they? And surely the State and Federal Labor governments wouldn't approve ...
Talking of Labor governments, Australia has one less after New South Wales voters threw out the Keneally ALP government. Labor had been in power in New South Wales for sixteen years, which was enough. Politics here will now lurch to the Right.
---
* Thursday March 24 2011:
Yesterday I did an hour-long interview with Kate O'Toole for the program The Guestroom, which goes out live on ABC Radio in Darwin (I was in an ABC studio in Nowra). It went alright, I s'pose. Music of mine that was played included I'm a Caterpillar of Society (Not a Social Butterfly) (from Boojum!), the last section of X, and the last song of Quito. And I sang, live, one of my songs for kids: I'm Walking in the City.
* Prime Minister Gillard recently gave President Obama an iPod packed with Australian popular music. According to Limelight Magazine, "Australia's classical music community has banded together to compile a classical sequel ...", and has sent letters to Gillard and Obama. Here's the one to Gillard:
We, as members of the Australian classical music community, feel that the Australian Government's gift to President Obama of an iPod containing Australian music - while presenting an excellent selection of our rock and folk - has overlooked the rich history and cultural significance of the nation's composers and classical performing artists. We are proud to present you with the gift of a second iPod showcasing Australia's finest classical music as selected by our readers and signatories: from Peter Dawson's operatic rendition of Waltzing Matilda to the most recent developments in Australia's unique compositional landscape, including the music of Peter Sculthorpe, Ross Edwards, Elena Kats-Chernin and didgeridoo player William Barton. The esteemed members of Australia's classical music community who have signed below hope the musical offering on this Australian classical music-themed iPod will be both uplifting and enlightening.
The letter to Obama is almost identical. I wonder if permission was sought from the recording copyright owners? Note how the signatories describe themselves as "esteemed"! Not for them to say, I would've thought. Not surprisingly, they all appear to be represented on the iPod.
The Limelight article included the following:
This gesture of solidarity from some of Australia's most passionate champions of the arts bears an important message to world leaders; a timely reminder of the significance of classical music and its political and cultural relevance.

Gillard has seldom spoken of her taste in music, the only time being a mention of an affection for Bruce Springsteen.
This prompted the following comments from readers:
from Ngaire:
Well if Ms Gillard claims to be a Springsteen fan, perhaps she needs to re-listen to the Ghost of Tom Joad album, which calls for the compassionate treatment of illegal migrants.
from Hiram P Fish:
Can someone tell me what is the "significance of classical music and its political and cultural relevance", exactly? Just wonderin' ...
from Mkharvey:
To be clear - I wasn't consulted to be included on this list. Classical music is a politically dead issue. The millions spent on orchestras, opera and large organizations such as Youth Music Australia and ANAM by the Australian taxpayer is a waste of money. The arrogance of these organizations is their death rattle. I dare you to publish this.
Lovely comment by Ngaire. I note that the question posed by Mr Fish has not been answered in the five days since it was posted. If Mkharvey is the brilliant pianist Michael Kieran Harvey, as it appears to be, then this is a brave statement! I applaud his courage.
---
* Friday March 18 2011:
Have just come across the following review, in Limelight Magazine, of my chamber music CD Merry-Go-Round:
MARTIN WESLEY-SMITH
Merry-Go-Round: Chamber Music
The Australia Ensemble with Timothy Constable
TALL POPPIES TP200

By Ken Page, Jan 18 2011

Whatever motivations a composer may have for creating their music, they are more often than not specified on a superficial level, if at all.

Here though, we have a CD in which the composer's motivations are so intrinsic to understanding his work that you almost find yourself listening intently to each note for what it may tell you about the South Australian Wesley-Smith. More fundamentally, about what he cares about.

Firstly, humanitarianism: Wesley-Smith is music's defender of the rights of the East Timorese people. But what seems like a political statement can just as easily morph into a jazz pastiche. Secondly, a playful response to childhood classics: he worked for years writing music for children's television and radio. These are works composed by a man who finds, wherever he looks in the world, the inspiration to create a sparkling micro-environment of sound.

The performance, largely wind-based, has just the lightness of touch it needs without fudging the depth of feeling embedded in the music. If the track titles themselves sound rather lightweight - Snark-Hunting, Merry-Go-Round, Oom Pah Pah - we can sense this is simply Wesley-Smith's way. He applies a quality of understatement that is lacking in the subjects he tackles. His music is tuneful and harmonic, mordant and inquisitive, suddenly pausing for moments of reflection without resorting to melodic sentimentality. Wesley-Smith does right by his subjects.

An imaginative CD of great warmth and depth.
* In an article by Julian Borger in last Tuesday's Guardian (UK) newspaper, it is claimed that the "UN's nuclear watchdog, the International Atomic Energy Agency, has come under fire for its response to Japan's nuclear crisis and its record in monitoring nuclear safety."
Nuclear officials argued that the fault lay not so much with the agency in Vienna as with its largely toothless mandate, which leaves it dependent on member states for voluntary compliance and control of information.

The fiercest criticism came from a former Soviet nuclear expert who helped organise the clean-up after the Chernobyl disaster in 1986. Iouli Andreev said that corporations had deliberately ignored the lessons of Chernobyl in the pursuit of profit and had been abetted by the negligence of the agency.

"After Chernobyl, all the force of the nuclear industry was directed to hide this event, for not creating damage to their reputation. The Chernobyl experience was not studied properly because who has money for studying? Only industry. But industry doesn't like it," Andreev told Reuters news agency ...

He said the agency was too close to the corporations to enforce standards properly. "This is only a fake organisation because every organisation which depends on the nuclear industry - and the IAEA depends on the nuclear industry - cannot perform properly ... It always will try to hide the reality."

[more]
I've always been sceptical about proponents of nuclear power dismissing past problems by blaming "operator error", "poor design" etc. But people are people, and people make mistakes: there is always likely to be a problem with operator error. At the beginning of the disaster in Fukushima, comparisons with Chernobyl were dismissed by blaming the poor design of the Chernobyl plant - the reactors in Fukushima were made by American company General Electric, and are inherently much safer. But now we're told "well, that's 60s' technology - modern reactors would never have that problem." In every potential disaster, we find that there has been a cover-up by officials anxious not to cause panic or to admit mistakes. Nuclear plants are run by corporations, whose sole motivation is to make money. And so on - one can't be confident that massive disasters won't happen in the future, causing millions of deaths. Rubbish!, says right-wing Murdoch columnist Andrew Bolt. In the worst problem we've ever seen - Chernobyl - only 56 people died, ignoring or downplaying reports saying that an additional 4000 have died, or will die, as a direct result of the release of radiation. According to a review (April 28 2010) by Karl Grossman of a book - Chernobyl: The Consequences of the Catastrophe for People and the Environment - by Alexey V. Yablokov, Vassily B. Nesterenko and Alexey V. Nesterenko:
... based on records now available, some 985,000 people died, mainly of cancer, as a result of the Chernobyl accident. That is between when the accident occurred in 1986 and 2004. More deaths, it projects, will follow.

The book explodes the claim of the International Atomic Energy Agency-- still on its website that the expected death toll from the Chernobyl accident will be 4,000. The IAEA, the new book shows, is under-estimating, to the extreme, the casualties of Chernobyl.

Alice Slater, representative in New York of the Nuclear Age Peace Foundation, comments: "The tragic news uncovered by the comprehensive new research that almost one million people died in the toxic aftermath of Chernobyl should be a wake-up call to people all over the world to petition their governments to put a halt to the current industry-driven 'nuclear renaissance.' Aided by a corrupt IAEA, the world has been subjected to a massive cover-up and deception about the true damages caused by Chernobyl."

Further worsening the situation, she said, has been "the collusive agreement between the IAEA and the World Health Organization in which the WHO is precluded from publishing any research on radiation effects without consultation with the IAEA." WHO, the public health arm of the UN, has supported the IAEA's claim that 4,000 will die as a result of the accident ...

[more]
Apparently Bolt knows more about Chernobyl than do these Russian researchers, just as he knows more about climate change matters than does the scientific community as a whole.
One must retain one's scepticism. My scepticism about the need to retain one's scepticism, however, is slightly less when applied to the Yablokov/Nesterenko claims than it is to Bolt's regular rants in his columns and on television.
---
* Thursday March 17 2011:
Over the last year or so I've subscribed to a website called Brave New Climate, which is an unashamedly pro-nuclear energy site run by Barry Brook, who's a Professor of something or other at the University of Adelaide. I've been impressed by some of his and others' arguments in favour of using nuclear energy to help combat person-made global warming, although I remain sceptical (as I try to be in most areas). Brook claims he developed his pro-nuclear energy stance when he realised that renewable energy simply won't cut the mustard in terms of providing the world with the energy it needs/demands. Providing it using conventional fossil-fuel generation, however, will exacerbate global warming to a disastrous level. Nuclear energy may be odious, but it's the least worst solution.
During the current crisis in Fukushima, Japan, I've read various posts on Brave New Climate and elsewhere claiming that this proves how safe nuclear power plants really are: if they can withstand a force 9 earthquake and a devastating tsunami yet not cause a single human death, then we would be fools not to use them. Professor Brook himself has claimed this. But today, after summing up what we have gleened about the state of the reactors, he concluded:
In sum, this accident is now significantly more severe than Three Mile Island in 1979. It resulted from a unique combination of failures to plant systems caused by the tsunami, and the broad destruction of infrastructure for water and electricity supply which would normally be reestablished within a day or two following a reactor accident. My initial estimates of the extent of the problem, on March 12, did not anticipate the cascading problems that arose from the extended loss of externally sourced AC power to the site, and my prediction that There is no credible risk of a serious accident has been proven quite wrong as a result. It remains to be seen whether my forecast on the possibility of containment breaches and the very low level of danger to the public as a result of this tragic chain of circumstances will be proven correct. For the sake of the people there, I sure hope it does stand the test of time.
---
* Tuesday March 15 2011:
Last Sunday morning I watched ABC television's Insiders program. The experience reminded me of why I rarely do: in what was initially the ABC's desperate attempt to provide "balance", under fierce pressure from the Howard government and its rabid echo chamber, it seems that it has totally capitulated to the Right and eliminated the voice of reason. This morning I came across this (The Failed Estate):
This institutionalised innumeracy is rather unfortunate and perhaps explains why an experienced journalist like Barrie Cassidy, appearing on a taxpayer-funded public broadcaster, can just sit mute as one of Rupert Murdoch's professional trolls is paid to come on the Insiders program and spray deliberate mistruths to support a far right political agenda.

[more]
Murdoch's pernicious influence is everywhere ...
---
* Monday March 14 2011:
I subscribe to facebook. In many ways I wish I didn't, although it does have its uses. Today a friend of mine (a real friend as well as a facebook friend), cellist and music educator Rachel Scott, wrote that she was told by a kid today:
I like music best of all. Not as much as eating though. Or drinking. Or pooing when I really need to. But apart from that, I like music best.
Ha!
Rachel runs a series of concerts that she calls Bach in the Dark. The first one for this year is at 7pm Fri March 25, repeated at 7pm Sat March 26, in St James Church Crypt, King Street, Sydney. Rachel's co-performer on this concert will be harpist Genevieve Lang. They will be playing works by J. S. Bach, Heitor Villa-Lobos, Felix Mendelssohn and others (unusually, there's nothing of mine on this program ...) Call 02 9943 2077 to book.
---
* Saturday March 12 2011:
American economist and New York Times columnist Paul Krugman normally writes columns that seem to me to make perfect sense. An aricle he wrote yesterday, however, titled Military Cutbacks Won't Fix Deficit, seems so un-Krugman-like in what he's saying and how he's saying it that I suspect it's a scam of some sort.
I contributed a response to one of his statements:
I am amazed that Krugman should write "invading Afghanistan made sense in 2001". It made no sense back then, just as it doesn't now: 1. war, with all its suffering, damage, expense etc, should be avoided wherever possible; 2. the stated object of the invasion was to kill bin Laden and other members of al Qaeda - but while using a bloated, lumbering war machine to kill a few individuals might ultimately achieve its aim (it didn't), it comes at huge cost in terms of "collateral damage" (appalling human carnage), anti-Western sentiment, proliferation of al Qaeda elsewhere, and so on; 3. we're told that the Taliban was prepared to hand bin Laden over, but first it wanted proof that he was responsible for 9/11; that proof was not provided then and hasn't been since; and 4. Afghanistan has been called the "graveyard of empires", as the Persians, British, Russians and others found out in previous invasions; reading a history book might have given the Americans pause. As far as I can see, invading Afghanistan made sense only in terms of the profits made by the corporations supplying the invaders.
see here
* I listened on ABC FM today to a recording of a concert given last night by the Western Australian Symphony Orchestra. Of particular interest to me was Brett Dean's Amphitheatre and the first performance of Ross Edwards' Spirit Ground. I enjoyed both, particularly the Edwards. In fact, having listened to it on ABC FM from Sydney, I tuned in to the same broadcast from Adelaide (half an hour later), then, after another half an hour, from Brisbane. It got better and better!
Also broadcast today: music by Australian female composers for International Women's Day, including pieces by Mary Finsterer, Peggy Glanville-Hicks, May Howlett, Zulya Kamalova, Elena Kats-Chernin and Margaret Sutherland.
* I can hardly comprehend the latest natural disaster to devastate a community, this time the earthquake and tsunami in Japan. My thoughts are with all the victims, including the survivors who must now re-build their lives ...
---
* Saturday March 5 2011:
"Hurry up and wait"
The Australian Antarctic Division's website reports that it's resupply time at its Mawson base in Antarctica, where harpist Alice Giles is currently a visitor:
With an iceberg causing the sea ice to remain intact this year the (supply ship) Aurora Australis was forced to remain thirty nautical miles offshore and commence resupply by helicopter. This method of resupplying the station creates more than its fair share of problems; however, with exceptional efforts from the AA team, all expeditioners aboard, the helicopter crews and everyone ashore at Mawson, we now have station shelves that are looking nice and healthy in all departments. At the time of writing the weather has forced a break in proceedings, but it is expected that we shall resume again soon ... This week we saw Mawson station transform into Mawson Concert Hall as Alice Giles fired up her harps for our entertainment. It really was something to behold. The program went for about an hour and there were plenty of eager listeners who showed up to experience this unique Antarctic concert.

Alice is the granddaughter of Dr Cecil T. Madigan, who was a member of the First Australasian Antarctic Expedition of 1911-1914.
Read more, and see photos, here.
Alice is currently waiting for calmer conditions before she can get back to the ship by helicopter. She writes:
The helicopter pilots need good horizon visibility as well as calmer winds. So I have all my equipment packed and am in limbo - "Hurry up and Wait" is one the Antarctic mottos.

Luckily yesterday afternoon there was a slight lull in the winds, and a group of us walked out onto the West Arm of Horseshoe Bay, reached by walking over icy snow around the beach area to arrive at the smooth brown rocks of the arm. I think I was able to get some good recordings of wind through the baby harp strings in a sheltered and dramatic spot overlooking the icy sea and glacial cliffs of the other side of the arm, and continued recording and messing about until the weather changed - a light snow fall turning quickly to higher winds, and I struggled back with harp on my back over the ever increasing iciness ...

[more]
When Alice returns from Antarctica, I'll re-write and extend the piece of mine she played (and narrated and sang) there, Aurora Wynnis (Wynnis Madigan was her grandmother). From Cecil Madigan's Note Book &amp Diary, Sunday March 10 1912:
The wind was blowing a ... gale ... A half moon in the sky, nimbus clouds tearing across it ... stretches of glacier with rocky ridges rising ... the everlasting ice rising to the great plateau ... the sea hissing & roaring with bergs dimly seen ... the barrier forming the bay, white like the horns of a new moon - and by far the most beautiful, wonderful and mysterious of all, the Aurora Australis, stretching in green-white curtains ... across the Northern sky ...
On Wednesday January 3 1912, Madigan quoted from the Rubaiyat of Omar Khayyam:
Ah Love, could thou and I with fate conspire
To grasp this sorry scheme of Things entire
Would we not shatter it - and then
Remould it nearer to the Heart's Desire!
In Aurora Wynnis, Alice reads or sings these and other passages while playing.
Interesting links:

---
* Thursday March 3 2011:
Have been busy, hence no blogging for the past month. Not good enough, I'll admit. Will try to do better ... Am currently working on a new arrangement of a kids' piece - Pip! - that Peter Wesley-Smith and I wrote 20 years ago for trombone Miles Anderson, violin/viola Erica Sharp and live electronics. Miles and Erica performed it over 300 times in schools in California and elsewhere. I later arranged it for narrator and symphony orchestra for the Sydney Youth Orchestra, who performed it at a kids' concert with Monica Trapaga as narrator. The orchestra part was recorded in the 90s by the Sydney Symphony Orchestra, but for some reason unbeknownst to me the project was never completed. I'm now arranging it for narrator, violin, double bass &amp piano for a possible performance at this year's Australian Festival of Chamber Music in Townsville, Queensland, where I'm to be Composer-in-Residence (July 29 to Aug 6).
I was recently in Canberra for an event hosted by the National Film &amp Sound Archive called Beyond Balibo. For details, see the flyer for the event by clicking on the photo at left. The photo is a detail from a photo taken in East Timor in 2005 by my daughter Alice Wesley-Smith.

While in Canberra I attended a superb dance performance by Australian dancer Liz Lea. She presented two of her own works: Blue Bird and 120 Birds (a solo version of the piece she performed at last year's Edinburgh Fringe Festival). I enjoyed both pieces, particularly the latter, which combined various media and showed her abilities as an actor and narrator as well as dancer.

I have recently been avidly following a blog by harpist Alice Giles, who is currently in Antarctica. That's her at right, practising (on a small lever harp) on the ship Aurora Australis as it headed south. She has her "blue harp" (electroacoustic harp) with her, and recording equipment with which she hopes to capture some of the sounds of the Antarctic.
Yesterday she wrote:

I wanted everyone to finally hear the whole AAE Centennial Celebration program including spoken words, rather than just small snippets of visuals with music. It was recorded at sunrise, so you will need to excuse the 'morning voice' in the dry Antarctic air and on 2 hours sleep! Also, pickups on one register of my harp failed on arrival, leaving me only 3 to use with no ability to plug in the 4th for any loop effect for Wesley-Smith - sorry Martin! - and the pieces without effect were then without general reverb, making them less resonant compared to the ones with effect. But hopefully it will give the general feeling for the program as a whole, musically and dramatically, as given for the first performance of harp on the Antarctic continent, and first performance of many of these pieces especially written (see program). The previous evening's performance was marred by adjacent computer hard drive noise, bar fridge noise, and my having just stepped off a helicopter, so I did a repeat performance for some early risers. The sun was rising over the ice plateau and onto the view over Horseshoe Bay - a windswept bay with fast-(ie attached to land)ice amidst the dark brown rocky arms ...

Alice says that the sound file of her performance - which included the first performance of my piece Aurora Wynnis - will soon be available. Watch this space!

Last Saturday I had another first performance, this time in Melbourne. 21 years ago I wrote a song for Jackson Leak, who had just been born to his proud parents Graeme and Caroline (Graeme, who was, I believe, in the same class at the Conservatorium High School in Sydney as Alice Giles, gave the first performance of my piece For Marimba &amp Tape). Last Saturday was Jackson's 21st birthday party, and his father performed the song for the very first time. Yo!
The other day I used Trove - a search engine at the National Library of Australia - to sift through old editions of The Australian Women's Weekly that the NLA has recently scanned. I located an article published in 1964 about a hiking trip I made to New Guinea in 1964 with schoolfriend Tim Tolley. Click on the photo at left to see part of the article.

You can access Trove here.

Here is an old clipping about the folk group I sang and played in when I was at school and university. Even older: a photograph of Peter and me, published in The Advertiser, on our first day at school.

Have been invited to be a guest of, and have one of my audio-visual pieces performed at, the Australasian Computer Music Conference at the University of Auckland in August.
On February 20 I attended a wake for English photojournalist Penny Tweedie at the Balmain Town Hall in Sydney. Although Penny had apparently made a rational decision, at age 70, that she didn't want to continue into old age, a decision I have to respect, it was still a sad occasion. She was a marvellous photographer and a true if feisty friend. We worked together in the 70s on several audio-visual pieces, including Kdadalak (For the Children of Timor) (1977), which in its day was seen in many parts of the world (e.g. at Music Today '78 in Tokyo and at an International Society for Contemporary Music festival in Ghent in the early 80s). Initially for six slide projectors on three screens, for practical purposes we condensed it to two projectors on one screen. As is the way of things, all analogue copies of the four-channel audio tape have degraded beyond resurrection, and I no longer have access to slide projectors or to the Electrosonic ES69 dissolve unit the piece used. Penny's images, however, still survive. One of my next projects is to scan the transparencies and sequence them, on a computer, to the music of VENCEREMOS!, a later piece that includes a digital version of much of the Kdadalak music.

The vocal group I sing in and direct, The Thirsty Night Singers, recently sang at a concert put on by The Kangaroo Valley Remexio Partnership, in honour of Padré David, from Remexio, East Timor. One of the items we sang was The Fighters Who Fell, which started life as a poem written in Portuguese by East Timorese resistance leader (as he was then) Xanana Gusmão. It was translated into English by Agio Pereira and Rob Wesley-Smith then "versified" by Peter Wesley-Smith. I then took it and set it to the melody of East Timorese folk-song Kolele Mai.

The Thirsties are currently learning new repertoire, keeping me busy making MIDI files and adjusting the arrangements to suit our voices. Amongst the new songs are Sting's Fragile, Billy Joel's And So It Goes, a jazz arrangement of Lennon &amp McCartney's I Will, and - get this - Philip Lawson's arrangement of Freddie Mercury's Bohemian Rhapsody, a huge and challenging undertaking (it's long, complicated and difficult, but we're determined to master it).
---
* Monday January 31 2011:
Have just heard that American composer, academic, writer and teacher Milton Babbitt died a couple of days ago, aged 94.

According to Wikipedia, at New York University "Babbitt became interested in the music of the composers of the Second Viennese School, and went on to write a number of articles on twelve-tone music including the first description of combinatoriality and a serial 'time-point' technique ... During the Secomd World War (he) divided his time between mathematical research in Washington, DC, and Princeton, where he became a member of the mathematics faculty from 1943 to 1945 ... In 1948, Babbitt joined Princeton University's music faculty and in 1973, became a member of the faculty at the Julliard School in New York ... Babbitt later became interested in electronic music. He was hired by RCA as consultant composer to work with their RCA Mark II Synthesizer at the Columbia-Princeton Electronic Music Center (known since 1996 as the Columbia University Computer Music Center), and in 1961 produced his Composition for Synthesizer. Babbitt was less interested in producing new timbres than in the rhythmic precision he could achieve using the Mark II synthesizer, a degree of precision previously unobtainable in live performances ..." Babbit's students included Mario Davidovsky, Paul Lansky and, remarkably, Stephen Sondheim. [more]
When I was a young composer, Milton Babbit was one of my gods, along with Karlheinz Stockhausen and others, particularly for his involvement in electronic music. After dabbling for a while in Babbit-inspired serialism, however, I realised that that was not for me. I never met him. He seemed to me to be the quintessential East Coast academic composer - but I later discovered that he loved, amongst other things, Coopers Ale, Australian Rules football (which used to be broadcast on late-night American television), and Broadway musicals (indeed, he once wrote one himself, so I'm told). In New York City in 1979 I went to see Sondheim's Sweeney Todd on Broadway, and was amazed to see in the program that Sondheim had once been a student of Babbit's. I resolved to write a "musical" sort of thing myself. Five and a half years later, Boojum! hit the stage, at the 1986 Adelaide Festival of Arts. In November/December last year - nearly a quarter century on - it received a marvellous production in Chicago by Chicago Opera Vanguard and Caffeine Theatre (see an article I wrote about it called Boojum! in America).
* An obituary of photographer Penny Tweedie appears in today's The Australian newspaper. One appeared the other day in Austrralian Geographic magazine, Jan 25 2011:
AT THE AUSTRALIAN GEOGRAPHIC journal, the question of whether and when we might exchange illustrated covers for photographic ones was the subject of much debate for several years before it happened ... Ultimately the change came easily; a singular photograph [left] that demanded its place on the cover to herald a wonderful body of work on the pages inside.

Penny Tweedie's image of a Yolngu boy, Micky, gazing out from the cover, with a mix of defiance and vulnerability, was a defining moment for Australian Geographic when it appeared on the cover of the October 2006 edition ...

Penny's 28-year photographic record of Arnhem Land leaves us with an unequalled testimony of a people in transition, viewed, not so much with the objectivity of a disinterested recorder, but from a place of deep affection, respect and admiration born of a genuine commitment to tell their stories as they wanted them to be told. [more]
The photograph at right, above, is my favourite Penny Tweedie shot. It's of an Arnhem Land man, Tom Noytuna, encountering a telephone for the first time. Click on the photos for larger versions.
* The other day I came across - in Music Forum magazine (Vol 17 No. 2 Autumn 2011) - a review of the CD Bolmimerie (SHE (Seven Harp Ensemble), Tall Poppies TP 204) by Malcolm Tattersall. This CD contains a couple of pieces of mine: Alice in the Garden of Live Flowers and Seven Widows at the Gates of Sugamo (text by Peter Wesley-Smith). Mr Tattersall writes:
Seven Widows is the stand-out work on the disc, for this listener at least. Many of the brothers' collaborations raise political issues, and Seven Widows takes on a big question indeed. The victorious Allies tried, found guilty and executed nearly 1000 Japanese personnel for war crimes immediately after the Pacific war: what, then, of the guilt of Allied personnel for the tens of thousands of civilian deaths in Hiroshima and Nagasaki? The answer, powerfully implicit in the music, is that no-one is guiltless in war and no-one wins. The sense of desolation is palpable ...
Mr Tattersall concludes his review: "All in all, Bolmimerie is a marvellous achievement: unique pleasures indeed!" The CD may be purchased on-line: go to the Tall Poppies website here and type "Bolmimerie" into the search box.
Apart from seven harps, the recording of Seven Widows involves the vocal group I sing in and direct, The Thirsty Night Singers. After a break during January, we're getting together this week to prepare for a forthcoming concert. We'll be tackling new repertoire this year, including Randy Newman's Short People, Graham Nash's Teach Your Children and Sting's Fragile.
---
* Monday January 24 2011:
Came across this interesting photo today, taken in East Timor in 1975, on a Timor Archives website. It's of Bob Hannan, left, José Ramos-Horta (now President of East Timor), the late Penny Tweedie, and Clive Scollay.

The Timor Archives site is a blog of the Clearing House for Archival Records on Timor (CHART) Project, co-ordinated by John Waddingham, who writes:

In 1999, with East Timor's independence imminent, I began to think more seriously about what should happen to the boxes of papers I had accumulated over twenty five years of Timor watching. Despite being carted across the country, then through four house moves and as many rat attacks in back sheds, the papers were essentially intact. Then there were two packed filing cabinets left in Melbourne in 1984 - a remnant of my Timor Information Service work there from 1975. Not to mention the many other collections of papers held by a myriad of individuals, solidarity groups and more formal non-government organisations ...

A series of discussions ... with others, particularly long-time friend and colleague (the indefatigable) Pat Walsh, led to the formation in 2000 of the CHART Project.

The broad aim of the project was to identify any Australian-based Timor collections in private hands and promote their preservation and access for future generations of Australians and East Timorese ...

Largely unfunded and where my time and personal resources permit, the CHART Project continues. This blog will be, for the predictable future, the primary window into past and ongoing CHART work.
More from Timor Archives:

Penny Tweedie, one of the small pantheon of professional photographers who have contributed greatly to knowing and understanding East Timor's modern history, died tragically in England on 14 January 2011

Her photographs from East Timor in the immediate aftermath of the 1975 civil war are especially important to future generations of East Timorese. Her work and contribution to East Timor's archival record will live on in these images.

Some details of her extraordinary working life can be found in an obituary in The Guardian (UK).

A small number of Penny's 1975 Timor images are well-known - though often circulated on the internet without any attribution to, or knowledge of, the original creator.

Penny was very protective of her professional copyright and was unhappy with unauthorised use of her work. For this reason, we have not reproduced any of those images here.

Some of the 1975 work can be seen on the websites of agencies who handled commercial distribution of Penny's work. The most comprehensive set can be found at Panos.

Some of the 1975 images, along with work from a 2007 visit to Timor Leste, can be found at Alamy. A smaller subset of the Alamy images are at Corbis.
---
* Saturday January 22 2011:
I've sort of finished a first version of a solo harp piece for Alice Giles, to be premiered in Antarctica [!] - if Alice can get it together in the ridiculously short amount of time I've given her - next month. Called Aurora Wynnis, it requires Alice to speak and sing while playing her "Blue harp", an electroacoustic harp with a pick-up on each string that feeds into an Ensoniq DP4 effects unit controlled by foot pedals. Alice's grandfather was C. T. Madigan (Cecil, pictured left), who was the meteorologist on the Mawson Expedition to Antarctica, 1911-13. I've taken the text from his unpublished Note Book &amp Diary, which contains many references to his sweetheart, later wife (and Alice's grandmother), Wynnis. It's a sort of love-song from Grandpa, whom Alice never met (he died before she was born), to Grandma, beyond the grave.

My intention is to expand the piece into a larger, more substantial piece (perhaps even an audio-visual piece if I can get permission to use Frank Hurley's Mawson Expedition photos) for performance at a conference at the Canberra School of Music in June this year. The current version, then, is a sort of out-of-town try-out - as far as try-outs are concerned, this must be just about as most out-of-town as it's possible to get!
Alice is keeping a blog about her Antarctica project. On Jan 17 she posted the following:

Yesterday Martin sent me his piece "Aurora Wynnis" for the Mawson concert. It's an extract or foretaste of a larger piece I'll play in June at the "Antarctica - Music, Sound and Cultural Connections" Conference to be hosted by the ANU School of Music 27 - 29 June. In his words , "a love-song, in effect, from Cecil to Wynnis. Aurora Wynnis: something beautiful, to be admired." Wynnis was my grandmother - CTM's fiancée at the time, waiting for him at home for over 2 years. I have been practicing reciting the words from his diary entry in tempo so I will fit them in the bars while the phrase loops. Luckily not to many notes too learn at this stage and it's going to be very dramatic and fun to perform.

Jim (Cotter) rang this morning to say his piece is finished and I will get it tomorrow. Hopefully I can learn it in a week! Mary Doumany has also let me know about a beautiful piece she wrote some time ago - "Ice" which she performs on her "elemental" CD. I am not sure I will be able to learn this one in a week, but it will be good to include in my Polar repertoire in the future.

The ABC's Karen Barlow is currently on board the ship Aurora Australis as it sails to Antarctica. Read her blog, Breaking the Ice, here.

For information about Cecil T. Madigan, click here.
---
* Friday January 21 2011:
An obituary for photographer Penny Tweedie, written by Mike Wells and Duncan Campbell, was published yesterday in The Guardian newspaper in England. Excerpts:
Penny Tweedie, who has died aged 70, was a pioneering photographer who covered war and conflicts around the world, from Bangladesh and Vietnam to Uganda and East Timor ...

While working in India in 1971, Penny was commissioned by the Sunday Times to cover the Bangladesh war. Although mistakenly arrested as a spy and imprisoned in squalid conditions by the Indian army, she got out in time to secure a shocking set of photos of Bangladeshi intellectuals rounded up and murdered in the brickfields by the retreating Pakistanis in a last-ditch effort to wreck the new country ...

The following year, Penny and colleagues were thrown out of Uganda by Idi Amin during the mass expulsion of Asians. She had a narrow escape on the Golan Heights in the Yom Kippur war in 1973. An Israeli sergeant scooped her up under one arm and sprinted for the shelter of a tank, cameras jangling, as incoming shells just missed.

Penny's long involvement with Australia and its Aboriginal people began in 1975 when she flew to Alice Springs to photograph the filming of the BBC's Explorers: The Story of Burke and Wills. "It turned out to be an experience that changed the direction of my life," she wrote later. It resulted in a major National Geographic story and her books, This, My Country (1985) and Spirit of Arnhem Land (1998), led to exhibitions and the 1999 Walkley award for photojournalism. Always conscientious, she returned to Arnhem Land with the book proofs to ensure that all were happy with their portrayal.

... whether it was on the effects of strip-mining in Ghana, Beirut "between the bombs", the aftermath of the tsunami in the Indian ocean or East Timor's struggle for independence, she was often on the road... (she) saw much of man's inhumanity to man and empathised greatly with the subjects of her photos ...

Penny considered herself a working photographer to the bitter end. She coped resolutely with professional slights but it seems despair at the world's lack of use for her craft finally induced her to take her own life ...

[more]
I was eager to do another audio-visual piece with Penny's photographs, particularly the ones she took in Arnhem Land, but we never quite got it together ...
---
* Sunday January 16 2011:
Penny Tweedie

I received some very upsetting news this morning: a friend of mine, English photojournalist Penny Tweedie, has committed suicide. I find this unutterably sad. My thoughts go out to her mother Anne, her son Ben, and to all other family and friends who valued her friendship as much as I did.

Penny was on the last plane out of Dili, East Timor, in December 1975, just before the Indonesian army invaded. She and I worked together on one of my first audio-visual compositions, Kdadalak (For the Children of Timor), which was commissioned and performed by The Seymour Group in 1977. She had a spectacular career in photojournalism, but in recent years the work had started to dry up, depressing her greatly. She still, however, managed a trip to Australia every couple of years or so, usually for professional as well as personal reasons.

Left: self-portrait. Right: a recent portrait by Penny of East Timor President José Ramos-Horta.
* In an article titled Australian floods: Why were we so surprised?, published in yesterday's Guardian newspaper (UK), Germain Greer, currently living in Queensland, writes:
For weeks now rain has been drumming in my ears, leaping off my corrugated steel roof, frothing through the rocks, spouting off the trees, and running, running, running past my house and down into the gully, into the little creek, into the bigger creek, and on to the Nerang river and out to sea at Southport. We've had more than 350mm in the last four days. My creek is running so high and so fast that I can't get out and my workforce can't get in. I can't even go for a walk under the dripping trees, because I'll come back festooned with leeches ... So, yeah, as Australians say, the problem is rain. The ground is swollen with months of it. The new downpours have nowhere to go but sideways, across the vast floodplains of this ancient continent. We all learned the poem at school, about how ours is "a sunburnt country ... of droughts and flooding rains" ... After 10 years of drought, we are having the inevitable flooding rains. The pattern is repeated regularly and yet Australians are still taken by surprise ... Six months ago the meteorologists thought it was worthwhile to warn people to "get ready for a wet, late winter and a soaked spring and summer". So what did the people do? Nothing. They said, "She'll be right, mate". She wasn't ...

[more]
The shot above of Germaine Greer is another of Penny Tweedie's portraits. Click all the shots here for larger versions.
Where I live (Kangaroo Valley, New South Wales), we know that one day there will be a major bush fire here. Perhaps not this year, or next, but surely, so the evidence suggests, within the next few years. But it is so hard to maintain full preparation, no matter how hard one tries. We are reliant, for example, on two petrol-driven bushfire pumps, which we have to test weekly. But they're always going wrong, for no immediately-apparent reason (well, dirty spark plug, clogged air filter etc), even though they're hardly used. We've put in a large and expensive tank, with sprinklers and hoses surrounding the house so that in the event of fire the house will be deluged. But in a test yesterday, one key sprinkler wasn't working because its nozzle was dirty. Proper nozzles shouldn't be able to get dirty! It has proved almost impossible to buy bushfire-fighting clothes that give proper protection. We managed to do so, but only after a lot of hassle - why doesn't the government make sure that good gear is readily available? Lives are at stake here. What's more, one of them might be mine - this is serious! It's not a question of "She'll be right, mate": if you can't start your bushfire pump, or if you've got a dirty nozzle, then she won't be.
* A shot taken last week of some of the Kangaroo Valley participants in the Kangaroo Valley-Remexio Partnership: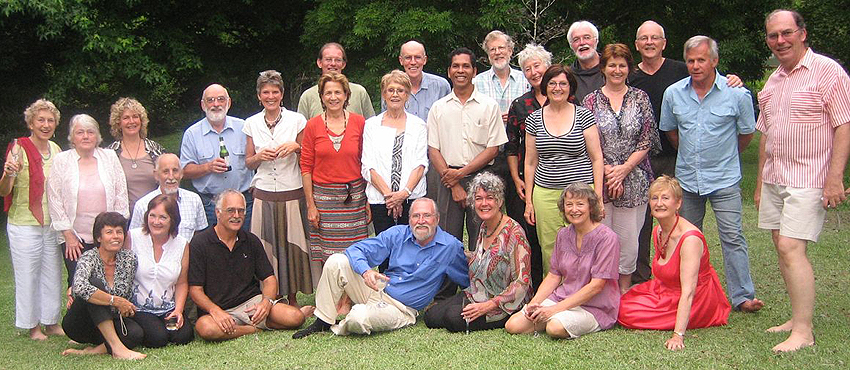 In the middle: Padré David, Catholic priest in Remexio, East Timor, who is visiting Australia for medical treatment.
KVRP has started organising its next Trek for Timor, a fundraising event to be held on Sat September 24 2011. Proceeds will go towards the expansion of the solar lighting project in the Remexio area.
---
* Thursday January 13:
Am working on a piece for solo harp with electronics, but having grave difficulty with it ... It's to be premiered in, of all places, Antarctica by brilliant Australian harpist Alice Giles, and involves her speaking and singing as well as playing. Sometimes inspiration flows; at other times it has to be dug out, bit by bit ...

* The floods in Queensland are perhaps the most devastating natural disaster to have hit this country since records began. My sympathies and condolences go out to all those who have been affected.

* There is a display in the South Australian Museum in Adelaide honouring the work of my aunt Sheila Draper - anthropologist, linguist, author, Baptist missionary etc - who died last year. Click on the graphic below to see a larger shot that includes my cousin Bronwyn Shead, Sheila's daughter.

Amongst the many tributes received, and read at Sheila's funeral, was one from Tim Flannery and this one (excerpt) from Andrew Pawley, Emeritus Professor of Linguistics, Australian National University, Canberra:

It is not often that you hear anthropologists praising missionaries, but clearly Professor Bulmer thought very highly of the Baiyer River Baptists, both for their medical work and for their attitude towards and interest in the culture and language of the Kyaka. He had in mind, in particular, Norm and Sheila Draper.

Sheila, who was 88, was much-loved, and is greatly missed.

* Talented young Sydney composer Anna K. Jacobs is writing musicals in New York. Money is being raised for a "staged reading" of a show she wrote with Bill Nelson called Harmony, Kansas, about the formation of a gay men's choir in rural Kansas. If you wish to assist Anna reach for the stars, discover how to do that by clicking on the graphic at right. Anna has written several musicals and vocal works, including Pop!, about Andy Warhol. She studied at the Music Department, Sydney University, and at New York and Indiana Universities.
---
* Sunday January 2 2011:
Not a great start to 2011: I went out yesterday morning to discover that our donkey Walnut, commonly and lovingly known as Wally, was dead. He'd been fine the day before, with no obvious symptoms of illness. Most likely explanation: snake-bite. RIP, Wally. He was an ornery fella, but much-loved and an essential part of the Road Ends family. He will be greatly missed.

Condolences have been pouring in on facebook, including:

"Rest in Peace Wally" (Jesse Huppenbauer),
"how sad ... mysterious biblical signs ... condolences" (Indija Mahjoeddin),
"Sad, Martin. Sorry to hear that. :/" (Margaret Morgan), and
"I miss him already, but on the upside I'm sure he will be able to eat as much as he likes in the great pasture in the sky with no pesky horses to pull rank." (Olivia Wesley-Smith)

We buried him this morning.
"He cost a dollar to purchase and lots more in occasional vets' fees and feed, but he was worth it. We'll miss him ..." (Peter Wesley-Smith)
"Oh eM, that's very sad news indeed. I hope he went peacefully. To think, I never knew his proper name ..." (Genevieve Lang)
": (" (Annie Chong)
"Miss him" (Jennifer Tang)
"So Sad, Wes will be also. Happy New Year to all" (Audrie Clibbens)
"that is sad. i'm sure he had a really great life though" (Lorna Lander)
"sorry to hear that Martin. Very sad..." (Virginia de Greer)
"Oh no! So sad... R.I.P. Wally" (Rachel Scott)
"Sorry to hear that! very sad, miss him! :(" (Olivia Cheng)
"No! Very, very sorry to hear about this. :(" (Brooke Shelley)
"I'm sorry for u Martin...:(" (Virginie Poirier)
"Oh no wally! I'm really sorry!" (Anne Kriens)
". . . indeed, very sad. But now, what do you do with it?" (Anthony Linden Jones)
We don't do anything with it, Anthony. We've buried him - got Dave and his earth-mover thingy to dig a big hole and push Wally's poor bloated carcass in. I'm planning to plant a tree on top...
"I'm very sorry to hear that, Martin. Love you and thinking of you too, and all the creatures.xx" (Nicole Thomson)
"Weird synchronicity! My cousin Glenn, who lives in Tahmoor, had two donkeys. One died a while back, the other just a few days ago - presumably of old-age. But the snake-bight scenario is a possibility. Glenn had to hire some heavy equipment to move and bury him." (Ian Shanahan)
"So sorry to hear that...Thinking of you... xxx love Anneli with family" (Anneli Thunell)
"Very sorry to hear about Wally. Hope 2011 looks up quickly. Love to you and Peter. X" (Simone Young)
"I too will add my condolences for Wally.. RIP Wally and may donkey heaven be all you could have wished!" (Janette Carter)
---
* "Chicago Off-Loop at its best"
Jonathan Abarbanel, in the Windy City Times, Dec 29 2010, selected Boojum! as one of Chicago's best theatrical experiences for 2010:
There are 200 or so theater companies in Chicago and 'burbs staging upwards of 800 shows a year and no one person can see more than one-third of them and remain sane. Best of 2010? Who the hell knows? I saw, maybe, 200 shows and here's what I thougth best of that relatively narrow sampling. In alphabetical order:

-Billy Elliot the Musical, Broadway In Chicago. A dynamic, hard-edged and faithful stage version of the hit film about a coal-miners boy who wants to dance, with a pounding score by Elton John who now has learned how to write music that's part of a show, not music applied to the show. Gorgeous staging and choreography, and four brilliant boys alternating in the demanding role of Billy.

- Boojum! Nonsense, Truth and Lewis Carroll, Caffeine Theatre and Chicago Opera Vanguard. Co-authored by Australian twin brothers, this chamber opera puts Charles Lutwidge Dodson in confrontation with his literary alter-ego, Lewis Carroll. Somewhat arcane to all but devoted Lewis Carroll fans, it nonetheless featured a brilliant pastiche score straddling the line between pop and opera, and wonderful (and handsome) 10-person cast. It was Chicago Off-Loop at its best.

[more]
What a year 2010 was. Our dear old Mum, Sheila, died on Feb 5, it was confirmed the next day that I had a well-developed bronchioloalveolar carcinoma; this was removed on March 1, after which I had chemotherapy for a few months then given the all-clear (woh!). The last part of the year was taken up by the brilliant success of Boojum! in Chicago. 2011 looks like being busy ...