* Wednesday December 17 2008:
Last night the little choir I sing in and direct presented me with a bottle of whisky (Glenmorangie Single Malt - woo woo!) and a card saying things like "thanks for all those impossible harmonies and challenging lyrics ..." and "thanks for all your patience - I sound fantastic now!!". Nice. Very nice! We'll never be a great group, but we're enjoying singing our eclectic repertoire together and can sometimes make a noise that ain't half bad. But we're not turning professional just yet ...
* Today I went to a performance of a song of mine - My Dog Has Fleas - by kids at Kangaroo Valley School. They sang it well, and it received a good reception from the audience (mostly mums and dads). An SATB version, a cappella, is available here as a free download (pdf, three pages, 64KB).
* I see that Iraqi journalist Muntadhar al-Zaidi, who threw his shoes at President Bush at a press conference in Baghdad the other day, has been badly beaten by Iraqi security agents, suffering a broken arm, broken ribs, and cuts to his eye and arm. Bush is responsible for the deaths of over a million Iraqis yet Iraqi security agents bash someone who merely throws shoes? Seems to me they bashed the wrong man.
for more information, click here
* I haven't yet given up on the the Australian government's Kevin Rudd, Penny Wong, Peter Garrett et al, but I'm getting close. Their recently-released White Paper on the Carbon Pollution Reduction Scheme seems to be a cop-out, satisfying no-one and doing bugger-all to avert, or even ameliorate, catastrophic climate change. For more information, followed by a vigorous discussion, click here (Anna Rose, writing in New Matilda). I like the contribution by GraemeF, who writes:
With complicated issues such as climate change where I don't have any training or expertise I usually follow the scientific majority, which in this case calls for change. The next step is to check who is calling for the alternative ... when someone like Andrew Bolt supports the deniers and I can point out so many areas where he has been completely wrong in the past then that reinforces my view that the majority of scientists are right. Then when crackpots from half way around the world start spouting gobble-de-goop on a little blog in Australia then I really know that I have chosen the right camp. I do hope I'm wrong but even if I am, there is nothing wrong with having cleaner energy and more decentralised sources of energy ... [more]
Right on!
---
* Tuesday December 9 2008:
I enjoyed last Saturday's austraLYSIS concert - Sonic Textuality - a lot. Interesting, innovative, challenging ... the kind of concert everyone should go to at least every now and then if only to remind oneself that music is not just the bland stuff that's projected at us wherever we go. Nor the safe conservative stuff we mostly hear in concert halls. It can be invigorating, a "hunting-ground for the imagination". A revelation to me was an audio-visual piece by Sydney composer Daniel Blinkhorn called jeu fabriqué: beautifully articulated and presented; imaginative; fascinating interplay of sound and image, and of the concrete and the abstract; strong; unpredictable yet cohesive ...
---
* Saturday December 6 2008:
Congratulations to Australian composer Brett Dean, who has just won the prestigious Grawemeyer Award for 2009 with his violin concerto The Lost Art of Letter Writing.
from Sequenza 21/The Contemporary Classical Community:
"The writing of music is a solitary process, and one spends a lot of time immersed in one's own internal sound world," says Dean. "A prize is an acknowledgement that one's work is not only being heard, but appreciated in the big, wide world outside of one's own studio ..." [more]
Am working on material for the annual concert at Kangaroo Valley's Yarrawa Estate, where the performers will include cellist Rachel Scott, soprano Nicole Thompson and mezzo Jenny Duck-Chong. Date: Feb 7 2009. Bookings: 02 4465 1165. Am hoping to have finished by then the third of a trilogy of pieces for singing cellist plus a new work for soprano, mezzo, piano &amp cello and a couple of arrangements of other things.
Yesterday's repeat broadcast on the ABC's Radio National of Tears for Timor received some more very positive responses. See entry below for info on how to download it for free.
A few days ago I bought a chook house. Yesterday I acquired three chooks. This morning I collected my first egg!
Tonight I'm going to a concert at the Sydney Conservatorium of Music by the progressive composition, research, improvisation etc group austraLYSIS. Called Sonic Textuality it will feature Roger Dean, Sandy Evans, Phil Slater, Hazel Smith, Greg White and David Worrall. Recital Hall East, 8:00pm; tickets: $30/$20; bookings: (02) 8256 2222.
---
* Sunday Nov 30 2008:
Yesterday's ABC Radio National program Tears for Timor - about my East Timor audio-visual pieces - was excellent! Producer/narrator Annie Hastwell put together a beautiful mix of music and talk which will be repeated next Friday December 5 at 3.05pm. See http://www.abc.net.au/rn/intothemusic/stories/2008/2377167.htm, where you can click on the LISTEN NOW icon and listen to the program using Real Player or Windows Media Player (which can be downloaded from this site if you don't already have it installed on your computer).
After the broadcast I received the following email:
I have just spent a rather enthralling hour listening to 'Into the music' on radio national and I wanted to email you to say "Thank you"
For many years I lived in despair for this world we live in and there seemed to be nothing one individual could do except rail and rage against all that seemed wrong.
Along with others I have spent time protesting, writing letters, attending meetings, etc, and I still do these things.
A few years ago I decided I needed something that I could do on a small and more personal level, and that was, and is, to say 'thank you' to individuals who I think really have made a difference. You are one of them.
I do not expect a reply to this email
Shalom
Needless to say, I was very moved to receive those kind words. I'm grateful to the ABC for producing and broadcasting such a professional program within a series - Into the Music - that is always interesting, often compelling.
For a strong article about the value of the ABC, and the need for increased government support, see Quentin Dempster's article The Price Of Creative Independence At The ABC in New Matilda, November 10 2008.
Another casualty of the Howard years in Australia was multicultural broadcaster SBS. For a stimulating article by David Ingram, also in New Matilda, see Who Killed SBS?.
Talking of casualties, my two broken ribs are gradually healing, though still giving me grief occasionally. I'm pleased to say that the ride-on mower - the culprit - has not done so well. It is in a local mower hospital, due to return home - and to learn to submit itself to my will - in a week or so. Watch this space ...
I'm hoping that after a few more programs like Tears for Timor, which resulted from a major concert of my works at the National Film and Sound Archive in Canberra earlier this year, I might get a major work performed at a future Kangaroo Valley Arts Festival (the next one, called "Music and Words", will run from May 1 to May 3 next year - see here).
Finally, I've been arranging some songs for the little a cappella choir I sing in and direct. One I finished the other day is an old Ink Spots number called The Gypsy: beautiful! Well, corny, but beautifully so, with a classic talking bass solo.
---
* Sunday Nov 16 2008:
Last Wednesday I had an incident with a rogue ride-on mower which resulted in my being bucked off and hitting my back against a rock. I was a bit sore, but I was determined to teach the mower a lesson so I took off my belt in order to give it a good thrashing - but then my pants fell down! I pulled them up, gave the mower a kick instead, and went up to the house to lick my wounds (metaphorically, I mean, 'cos I couldn't actually reach them with my tongue). Then I carried on with daily life as if nothing had happened, including driving to Sydney to pick up Peter and Sheila from Darwin. But on Friday night my back seized up. On Saturday Peter took me to hospital. I am now nursing two broken ribs and a sore back that spasms at every available opportunity ...
---
* Thursday Nov 13 2008:
At 5.05pm on Saturday November 29, repeated at 3.05pm on Friday December 5, the award-winning ABC Radio National program Into the Music will present Tears for Timor:
Martin Wesley-Smith is a contemporary Australian composer and musician of rare versatility, equally at home composing choral music or creating complex audio-visual productions that highlight political and humanitarian issues, such as the plight of the people of East Timor. In this feature we meet a committed composer honoured in a concert performed in Canberra earlier this year that featured three of his East Timorese inspired works and marked the acquisition of his complete archive by the National Film and Sound Archives. Martin's works about the struggles of East Timor range from opera to classical composition to audio-visual music presentations and have covered a period of almost thirty years. They have also been a Wesley-Smith family affair with his twin brother Peter ... writing the librettos and his older brother Rob, a committed Timor activist, often providing the impetus. Mother Sheila Wesley-Smith was the musical inspiration for her four boys, and presented the legendary ABC program Kindergarten of the Air for many years. President of East Timor Jose Ramos Horta has described Martin Wesley-Smith as "a true creator, activist and humanitarian; he and his brothers are treasures of our country".

produced and narrated by Annie Hastwell; additional narration by Abel Gutterres; sound engineer: Tom Henry; executive producer: Robyn Ravlich
see http://www.abc.net.au/rn/intothemusic/index/subjects_Classical_2008.htm
---
* Monday Nov 10 2008:
Back home, and back on line! Since the previous entry (Sunday Oct 5) I've been in Darwin, where brother Rob (Wes to his friends) has been recovering from serious head injuries sustained in a fall. For a chronicle of events since September 9, click here.
For a review of a recent concert in Canberra that included my piece Papua Merdeka, click here:
With the mood now set for some more serious contemplation, the audience was ushered into the transitional space between galleries for Martin Wesley-Smith's Papua Merdeka. Even with its highly political agenda and sobering subject matter, the composer's distinctively quirky humour was still very much in evidence.

Written in 2006 for clarinettist Ros Dunlop, Papua Merdeka was intended to be premiered at the Asia-Pacific Festival of music in Wellington but was replaced in response to last-minute concerns raised by the Indonesian Embassy. Focusing on the Indonesian occupation of West Papua, the work includes a montage of images celebrating the country and its culture, and sympathising with its plight. Presented at the central point of the concert, the work combined vision and sound in a complementary rapport; one would not have made sense without the other.
It was composed in 2005, in fact.
---
* Sunday Oct 5 2008:
Yesterday the little choir I sing in and direct, The Thirsty Night Singers, participated in a workshop and concert presented by The Idea of North at Bundanon on the Shoalhaven River near Nowra, New South Wales. Other choirs were Food of Love and Raised Voices. Under Idea's direction we all combined to sing, with extra singers, a cappella arrangements of Since You Went Away, by Otto Mortensen, and Down in the River to Pray, by Alison Krauss. Our group sang, in order, I Want to be Ready, When I Fall in Love and Mad World. My thanks to the Bundanon Trust for organising not only the event but a week's residency for TION which enabled them to work on new repertoire in a most beautiful environment.
Today I'm going back to Darwin today to spend more time with brother Rob, whose recovery and rehabilitation after an accident is being documented here.
---
* Tuesday Sept 30 2008:
There was a "review" in today's Sydney Morning Herald - by someone called "Graeme Skinner", who pretends to be a music critic - of The Song Company's program Singing in Tongues. He writes about Peter's and my piece doublethink: "What might have been a worthwhile statement politically was simply devalued (rather than ironically enhanced) by the music's lazy, blandly euphemistic Victorianisms."
Skinner is content to dismiss a major piece by an Australian composer - commissioned by Australia's leading classical vocal ensemble - with a throwaway line of lazy ignorant nonsense (what is a "blandly euphemistic Victorianism"?). doublethink is mostly tonal, which in his narrow world is unfashionable and must therefore be put down without consideration of practical issues, semantics, political intent, political effect, and so on.
The management of the Herald is currently slashing staff numbers in order to stay profitable. I suggest they add Skinner's name to their hit-list. And while they're about it, add "Peter McCallum". And bring back Mike Carlton.
---
* Monday Sept 29 2008:
Yesterday I attended an excellent performance, by SHE at the Third Australian Harp Festival, of my piece Seven Widows at the Gates of Sugamo. The following mention, by "Eric", appears at a site called Canberra Jazz blog:
The Seven Harp Ensemble played music of Larry Sitsky and Martin Wesley-Smith: both Australian composers. The Sitsky was rich with complex chords, altered extensions, modern harmonies: challenging and contemporary. The MW-S piece was sublime. It was difficult to catch the intent at first: one main female vocal and a harmonising voice. Then a male voice appeared from the dress circle above the audience. I listened more carefully. Still not too clear but seemingly women singing of lost husbands, presumably in war. The title was Seven widows at the gates of Sugamo. Touching, plaintive, even excruciating. This is goose-bumps stuff: fabulous.
On Saturday night I attended The Song Company's program Singing in Tongues at the Memorial Hall in Bundanoon (NSW Southern Highlands). There was an astonishing variety of material, from snippets of music and text in Damien Ricketson's In God's Esperanto (text by Christopher Wallace-Crabbe) to Sathane Akanamandla, an African song by Bana Ba Lesedi (the children of Lesedi) which Song Co adapted and extrapolated. Along the way, amidst many other songs and pieces, were two items by Peter Wesley-Smith and me: a kids' song called Hey Diddle Diddle and our 2005 exploration of the "destruction of language and thus of our ability to detect the lies and propaganda of governments and economic oligarchs", doublethink. This was a much more confident, imaginative and theatrical production than the 2005 version, hitting all the right buttons dead centre. The program as a whole was stimulating and entertaining, if a bit weird for some. One of the highlights, for me, was mezzo soprano Lauren Easton singing a Moses Hogan arrangement of a spiritual, Wade in the Water: marvellous!
From Bundanoon to Bundanon: next week I'll be participating in a workshop and concert, at Bundanon on the Shoalhaven River, presented by another outstanding Australian vocal group: The Idea of North.
---
* Friday Sept 26 2008:
Having been in Darwin for a couple of weeks I'm now back home, partly to attend various performances - of, for example, doublethink by The Song Company and Seven Widows at the Gates of Sugamo by Alice Giles' SHE (Seven Harp Ensemble). Brother Peter is in Darwin. I'll be back there in a week or so.
---
* Friday Sept 12 2008:
I'm in Darwin. Rob's still in the induced coma, in intensive care. He has broken ribs 2 to 10 on his right side. His right eye is a mass of black and blue flesh. He has a four-inch gash on the right side of his head which is all stitched up. He has a collapsed lung. The worst of it, though, is the swelling of and bleeding from the brain, which means there will almost certainly be brain damage. He's a forbidding sight, what with the bruises, gashes, tubes coming out from or going into everywhere, lots of machines going ping!, two full-time nurses (one male, one female) monitoring everything ... I'm enormously impressed by the staff here (Royal Darwin Hospital), both nurses and doctors, and by the facilities.
There wasn't a lot we could do today other than hold his hand, tell him to stop malingering, and hope he could hear us. He had a CT scan this afternoon. As a result of that, the doctors will decide when to bring him out of his coma. Probably Sunday. I'm told that people can be very belligerent, even combative, sometimes violently so, when they come out of a coma, confused, not knowing what's going on, thinking that the nurses are out to hurt them. I pointed out that Rob is combative at the best of times, so he could well be doubly so when it all happens. I'll be there when he wakes up to try to calm him down a bit ...
I had a long talk to him tonight. I doubt that he could hear me, but you never know. Told him how we all loved him, about the hundreds of other people who do too, how we expect him to pull through, that there are jobs needing to be doing in Kangaroo Valley, that I've brought his saintly old mother to see him so he'd better be on his best behaviour, and so on. It was good for me if not for him ...
For a page devoted solely to news of Rob's recovery and rehabilitation, please click here.
---
* Thursday Sept 11 2008:
Am going to Darwin tonight. I may be able to blog from there ... we'll see ... I'm taking our dear old Mum Sheila with me. Together we'll sort out brother Rob, who's currently in a coma in Royal Darwin Hospital.
from Jose Teixeira to Peter, today, headed Our Thoughts are with Rob and Family:
Dear Peter

I have been asked on behalf of the Secretary General of FRETILIN, Dr Mari Alkatiri, and Party Parliamentary Leader Aniceto Guterres and the many many others in our party who know him to express our sadness with the concerning news received and our hopes and prayers for his recovery. Please pass this onto the family. Though there is little we can do except support and hope all goes well and he recovers, if there is anything we can do, please do not hesitate to call on us. Warmest regards and solidarity with your family and Rob.

Jose Teixeira
* For an interesting take on 9/11 2001 (seven years ago today), read Was America Attacked by Muslims on 9/11?, by leading 9/11 sceptic David Ray Griffin.
---
* Wednesday Sept 10 2008:
Rob (see yesterday's blog, below) has undergone various tests, with the prognosis unclear as yet, although it appears that the injury is more serious than we first thought. He is being kept in a coma, probably for a few days, to guarantee maximum rest. I'm going to Darwin as soon as possible.
* I was recently nominated for an Australian Regional Arts Australia Volunteer Award in the Sustained Contribution category for my work putting on concerts and other cultural events in my local community (Kangaroo Valley). Have just heard that my nomination was unsuccessful. Sheeesh ...
* This weekend: the Kangaroo Valley Folk Festival. Coming up on Oct 4 in Byron Bay: the Evolve Arts Festival, organised in part by a friend, Emily Edwards. Very interesting eclectic program - but unfortunately I'll miss it (am doing a vocal workshop/concert with The Idea of North in Bundanon that weekend).
---
* Tuesday Sept 9 2008:

Our brother Rob Wesley-Smith, prominent East Timor activist and general ratbag, has been for the past few days in Nhulunbuy, in Australia's Northern Territory, helping a neighbour replace the roof on a house. This morning there was an accident with a load of roofing iron - I don't as yet know the details - resulting in Rob suffering a head injury and being knocked unconscious. He has been put into an induced coma and is being flown tonight by air ambulance to Royal Darwin Hospital, where he'll have a CT scan and appropriate treatment. If there are any significant developments I'll post them here.

* I've come across an excellent article - Lowying the Boom on West Papua: Self-determination Unthinkable for Australia's Leading Foreign Policy Think Tank - by Peter King about a main influence on Australian policy towards Indonesia and its occupation of West Papua. That influence: The Institute for International Policy, established in 2004 with a $30 million grant from Sir Frank Lowy. King writes:
The Lowy goal on the Papua problem is to persuade the Australian and Indonesian political and security establishments to lift their game in handling it-and thus persuade the Papuans and their civil society supporters in Australia to give up any dreams of self-determination or independence for a potential Melanesian Republic of Papua. Instead they should settle for the Jakarta-bestowed special autonomy of 2001 which, however, the Papuans are currently rejecting outright. How, then, is the official Australian and Indonesian game to be lifted?

[more]
Our government needs to listen to a range of opinions - from the Institute for International Policy and, even, from the Indonesian lobby but also from experts like Peter King - before resuming the previous government's supine policy of appeasement towards Indonesia and its outrageous treatment of the indigenous people of West Papua and their natural wealth.
---
* Wednesday Sept 3 2008:
The Charisma performance of db on Sunday was excellent. Not an easy piece, I'll admit, if forced to ... A recording of a live performance of this piece, by The Australia Ensemble, is allegedly coming out soon on a Tall Poppies CD of some of my my chamber music. If you would like to be notified when it has been released, please email me here.
---
* Sunday August 31 2008:
Last night's Sixth Annual Kangaroo Valley Buster Keaton Silent Movie Festival, with pianist Robert Constable, was a great success. It was all good: the sound, the music, the visual presentation, the atmosphere, the supper, and so on ... Robert played for Keaton classics My Wife's Relations, The Paleface and The Seven Chances. To read the program sheet (pdf, 280KB) handed out last night, click here. For the website, click here.
* Am off to Sydney today for a performance of my piece db, for flute, clarinet, piano &amp cello, played by Sydney group Charisma. The "db" refers to Australian composer Don Banks, a colleague and friend who died in 1980.
---
* Monday August 25 2008:
The little choir I sing in and conduct gave a private performance last Saturday night to friends in Kangaroo Valley. Went pretty well! We won't ever be a great choir, even a good one, and we don't intend to perform in public, ever, but we're enjoying singing together, and the audience seemed to enjoy listening to us. There are seven of us: Nell Britton'n'Alex Holliday, sopranos; Janette Carter'n'Patsy Radic, altos; me, tenor; and Peter Morgan'n'Peter Stanton, basses. We sang, in order, I Want to be Ready (a spiritual), Mad World, My Dog Has Fleas (by Peter Wesley-Smith and moi), the Sweet Honey in the Rock arrangement of Sometimes I Feel Like a Motherless Chil' and When I Fall in Love (first bracket), and, second bracket, the barbershop classic Sweet Adeline, our brother Jerry's song Special Days, Peter's and my love song Old Coat, Paul Kelly's Meet Me in the Middle of the Air, and the classic Manhattan Transfer songs A Nightingale Sang in Berkeley Square (arranged by the late Gene Puerling) and Java Jive. We're now about to start on new repertoire, including my a cappella choir [SATB] arrangement of the traditional spiritual Ev'ry Time I Feel da Spirit (it's available here as a free download (five pages, 124KB)).
* Yesterday's www.tomdispatch.com contains an article by Chalmers Johnson called The Smash of Civilisations - The Past Destroyed: Five Years Later. It consists of an article first published in July 2005 plus a new preamble that puts it in today's context. Tom (Tom Engelhardt) writes in his introduction:
"Words disappeared instantly. They simply blinked off the screen of Iraqi history, many of them forever. First, there was the looting of the National Museum. That took care of some of the earliest words on clay, including, possibly, cuneiform tablets with missing parts of the epic of Gilgamesh. Soon after, the great libraries and archives of the capital went up in flames and books, letters, government documents, ancient Korans, religious manuscripts, stretching back centuries -- all those things not pressed into clay, or etched on stone, or engraved on metal, just words on that most precious and perishable of all commonplaces, paper -- vanished forever. What we're talking about, of course, is the flesh of history. And it was no less a victim of the American invasion -- of the Bush administration's lack of attention to, its lack of any sense of the value of what Iraq held (other than oil) -- than the Iraqi people. All of this has been, in that grim phrase created by the Pentagon, 'collateral damage.'"
An excerpt from Johnson's article:
President Bush's supporters have talked endlessly about his global war on terrorism as a "clash of civilizations." But the civilization we are in the process of destroying in Iraq is part of our own heritage. It is also part of the world's patrimony. Before our invasion of Afghanistan, we condemned the Taliban for their dynamiting of the monumental third century A.D. Buddhist statues at Bamiyan in March, 2001. Those were two gigantic statues of remarkable historical value and the barbarism involved in their destruction blazed in headlines and horrified commentaries in our country. Today, our own government is guilty of far greater crimes when it comes to the destruction of a whole universe of antiquity, and few here, when they consider Iraqi attitudes toward the American occupation, even take that into consideration. But what we do not care to remember, others may recall all too well.
to read more, click here
---
* Saturday August 23 2008:
Left: me in 1988, from a shot by Neil Vance posted by him on flickr. Click here to see the whole shot, which includes Australian composer Greg Schiemer and an Australian-made Fairlight Computer Musical Instrument Series III. Back then Greg and I were both lecturers at the Sydney Conservatorium of Music.

In 1980 the Con took delivery of a Fairlight CMI Series I, an instrument I called my own. It was a complete composing and production system, and came with the world's first commercially available digital sampler, an additive synthesis page, a Music Composition Language, and other goodies. I would be working on it in one of the rooms of the Con's Electronic Music Studio (which I'd established in 1974) when one of the Fairlight's designers, Peter Vogel, would pop in with a floppy disk containing the latest system software for us to try out. Thus our machine became, eventually, a Series IIX. In 1986 I presented one, on behalf of the Australian government, to the Central Conservatory of Music in Beijing, People's Republic of China, and taught a class of students how to use it (I was described by the institution's Head back then as "The Father of Chinese Computer Music"). The new Series III, with its 16-bit technology, replaced the 8-bit Series II. But some of the pieces I composed back then - e.g. White Knight &amp Beaver and For Marimba &amp Tape - are still played today, and the tape parts still sound good ...
---
* Monday August 18 2008:
A performance coming up in Sydney: my piece Janet, for flute, percussion &amp piano (1995), to be played by Alexa Still (flute), Daryl Pratt (percussion) &amp Daniel Herscovitch (piano) at 6pm on Monday Sept 15 at Recital Hall West, Sydney Conservatorium of Music. I called it "Janet" because [a] I couldn't think of a musical title, [b] I thought the piece deserved a proper name, [c] the piece had a sort of Janet-ish quality, and [d] I didn't know anyone called Janet and therefore couldn't be accused of painting a personal musical portrait. Funnily enough a couple of years ago I bought a male alpaca called Kerry, a name that for ideological reasons I detested. Looking for a new name I discovered that his original name was "Janet" (don't ask), so he simply took back what was rightfully his ...
* The little choir I sing in, and direct, is preparing for a private performance that's coming up soon. We don't plan on doing public performances, ever, but we needed something to focus on so that we could achieve our best possible standard. The group's diverse repertoire includes the late Gene Puerling's arrangement of A Nightingale Sang in Berkeley Square (as sung by Manhattan Transfer) and my arrangement of my late brother Jerry's beautiful song Special Days.
---
* Sunday August 17 2008:
from an article by Mike Whitney called Putin's Winning Hand, about the current problems in Georgia, in today's Information Clearing House:
The coverage of the western media has been abysmal. Nearly every article and TV news segment begins with accusations of Russian aggression concealing the fact that the Georgian Army bombarded and invaded the capital of South Ossetia one full day before the first Russian even tank crossed the border. By the time the Russians arrived, the city was already in a shambles and thousands were dead.

These facts are not in dispute by those who followed the developments as they took place. Now the media is revising the facts to manage public perceptions, just as they did with the fictional WMD in Iraq. Many people think that the media learned its lesson after they were exposed for using bogus information in the lead up to the war in Iraq. But that is not true. The corporate media - especially FOX News, CNN and PBS (the smug, liberal-sounding channel) - continue to operate like the propaganda arm of the Pentagon ...

In a 2006 referendum, 99% of South Ossetians said they supported independence from Georgia. The voter turnout was 95% and the balloting was monitored by 34 international observers from the west. No one has challenged the results. The province has been under the protection of Russian and Georgian peacekeepers since 1992 and has been a de facto independent state ever since. If Putin applied the same standard as Bush did in Kosovo, he would unilaterally declare South Ossetia independent from Georgia and then thumb his nose at the UN ... But Putin and newly-elected Russian President Dmitry Medvedev have taken a conciliatory attitude towards the international community and tried to resolve the issue through diplomatic channels. So far, they have conducted themselves with restraint and avoided any confrontation ...

[more]
Someone calling him/herself angryaussie, in response:
Most people around the world know that Fox News is part of the worldwide empire of a former Australian named Keith Rupert Murdoch (his father was an Australian newspaper magnate named Keith Arthur Murdoch). Most people reading this would never have met Rupert Murdoch. I have. I have, in fact, known him for more than 50 years. I possibly know more about him that any other person alive today, although 30 years ago I resolved not to have anything to do with him ever again.

There was a time when many journalists shared a pride in their profession and strived to maintain a certain ethical standard in their reporting. This ended when Rupert Murdoch gained a foothold in the media and the distortions began.

As someone who spent a lifetime in news and has studied it the way an entomologist might study ants or bees, I place the blame for the current state of the world on this man who has sunk so low as to present to the world a genial presence that covers a mania for money and power exceeding that of any predecessor in the media or any other field of business.

I believe him to be the principal force which is driving our planet towards extinction.
I agree. Murdoch, and his money and influence, are feted the world over, like war criminals Blair, Downer, Howard, Kissinger et al. There can't be effective democracy when the media are used as propaganda machines by their owners, who are almost always in bed with government.
As so often, I turn to David Michael Green and his The Regressive Antidote, this article called My Army Went To Iraq And All I Got Was This Lousy Airlift: The Bush Doctrine Meets Reality. Reality Wins.:
... idiotic neocon commentators - the same people, mind you, who brought us the Iraq debacle - are already haplessly foaming at the mouth about Russian aggression in the Caucuses, demonstrating as always, but now more emphatically than ever, how irony and hypocrisy coexist so comfortably in the (puffed out) regressive chest.

In fact, Iraq and the Georgia war are joined at the hip in too many ways to recount, and must be understood as just such. Altogether, we are now beginning to see the consequences of the Bush Doctrine of foreign policy in all its full glory. And if you liked Katrina, you're really gonna dig this.

It was, to start with, remarkably jaw-dropping to see the buffoon-in-chief fulminating this week about Russia's transgressions in violating the prime directive of modern international law and politics: Thou shalt not invade another sovereign state's territory. Um, excuse me? Are you freaking joking? Do you mean like, Iraq, for instance? Only George W. Bush could be so practiced in the art of deception so as to say this with a straight face. It's not clear that he any longer even knows when he's lying these days, so routine has it become.

In fact, the two incidents are nearly identical in concept, with the minor exception that Putin's war was slightly more justified by the semi-reckless quasi-provocations of Georgian President Mikheil Saakashvili, who was likely egged on by the Bush loonies and other neocons, including one of John McCain's top advisors. Iraq, alas, was even more of a false pretext. The country had no weapons of mass destruction (and so what if they did, anyhow? - dozens of countries possess these), Bush knew they didn't, knew that the case for war was "thin", knew that Saddam had not attacked nor threatened us, and therefore just plain lied the US into the war.

Your average American is going to have a hard time seeing the Iraq war as morally equivalent to the one in Georgia (let alone even less justified), but that is simply because he or she is American. The rest of the world has no such problem, and never has. An invasion of a sovereign state is an invasion of a sovereign state, pure and simple. It was just that when Hitler invaded Poland and France, when the Soviets invaded Afghanistan, when Saddam invaded Iran (with US encouragement and assistance) and Kuwait, when Bush invaded Iraq, and when Putin invaded Georgia. Of course aggressors are going to make up some bullshit about terrorism or WMD or democracy! My god, what would we expect them to say? Everyone understands that you can't say you're going in for oil or money or real estate anymore. Especially when you are in fact going in for oil or money or real estate.

[more]
see, also, Justin Raimondo's article Mikheil Saakashvili: War Criminal - A politician's hubris causes untold human suffering
---
* Thursday August 7 2008:
Peter Wesley-Smith's and my music theatre piece doublethink, for six singers and bucket [2005], is currently being rehearsed by The Song Company as part of a program they're calling Singing in Tongues. Also on the program: catches from 17th century England, silly songs by Mozart, African and black American songs, Kurt Schwitters' Ur-Sonate and Damien Ricketson's In God's Esperanto. Their tour dates (bookings: 02 8272 9500) are as follows:
| | | | | |
| --- | --- | --- | --- | --- |
| Campelltown Arts Centre | | 7:30pm | | 13 September |
| Canberra National Library | | 7:30pm | | 19 September |
| Sydney Conservatorium of Music | | 7:30pm | | 24 September |
| Newcastle Conservatorium | | 7:30pm | | 25 September |
| Bundanoon | | 7:30pm | | 27 September |
| Sydney Conservatorium of Music | | 3pm | | 28 September |
| Mayfield Winery, Orange | | 5pm | | 19 October |

to read the text of doublethink, click here
* I pay tribute to Australian country music veteran Reg Lindsay, who died recently, aged 79, after a battle with pneumonia. I hadn't seen him since the days of his weekly television show - Reg Lindsay's Country and Western Hour - on which the vocal and instrumental trio of which I was a member frequently performed during the 60s, but I remember him as a cheerful, decent and generous bloke with an uncomplicated view of the world and a love of music that communicated directly. He was the first Australian to be officially recognised with a plaque on Nashville's Walkway of Stars.
---
* Sunday August 3 2008:
If you're in Darwin at 6.30pm on Sunday August 24, check out a choral concert called Cantar Timor being presented as part of the Darwin Festival by the Darwin Chorale and two choirs from East Timor. Held at the StarShell in the Botanical Gardens, it will feature a new piece - Ola Timor! - by Darwin Chorale conductor Nora Lewis.
Before that, if you're in Dili, East Timor, at 4pm next Saturday August 9, check out a choral concert at the Complecxo GMT, Rua Jacinto Candido. This time the Darwin Chorale will be the guest artists, and Ola Timor! will receive its first performance. As Rob Wesley-Smith points out, "These reciprocal concerts are part of the dream for closer cultural exchange between Darwin and Dili. Darwin Festival has been visited by Cinco do Oriente and Galaxie bands with great success. This year Ego Lemos is again visiting doing a special collaboration with an indigenous star (newly discovered by the rest of the world) in Gurrumul Yunupingu, and Galaxie is back by popular demand."
* My favourite musical activist is violinist/composer/improviser Jon Rose, who recently played the Mexico/USA border fence in the Sonoran Desert (he bows, scrapes and hits fences, in Australia, Israel and elsewhere, to which he has attached contact microphones, recording the results). Read his account of this adventure here.
* In the bad old days of my youth, I sang and played in a vocal and instrumental trio called The Wesley Three that during the 60s put out several LPs on the Australian CBS label: two folk song collections called The Wesley Three and City Folk, an LP of children's songs and stories called 'Mr Thwump' and 'Banjo the Singing Rabbit', and a collection of vaudeville songs called Leaning on a Lamp-post. Occasionally, just occasionally, someone remembers:
Sunday Aug 3 2008

I have just had the delightful task of digitising our very old LP of Mr Thwump and Banjo the Singing Rabbit. It is as lovely as I remembered, and the song who stopped the rain is particularly poignant.
Our family LP is old and scratched, though I've filtered out the worst. But are there better recordings available for purchase? And what about the other albums you guys did? There were some lovely renditions. Our family had Leaning on a Lampost, and City Folk but I fear one of my siblings had, and has lost, those ones.
What is your copyright stand on these? I should love to give a copy of Mr Thwump to my niece, and to e-mail Who Stopped the Rain to a few people.
Also, is the sheet music to any of these available? I play the recorder, poorly, and don't do a great job of picking things up by ear. I love the melody to the song of the rabbits breeding up, and the one that begins, "In Sydney Town - ".
I grew up on listening to these albums. Thank you for the wonderful music.
(You beat the s**t out of Abba.)
In 1988 the Sony Corporation of Japan purchased CBS Records internationally. Three years later CBS Records Australia changed its corporate identity to become Sony Music Australia Limited - now Sony Music Entertainment (Australia) Limited. It's unlikely, but possible, that the original master tapes still exist in a basement somewhere. If they haven't crumbled away it might be possible to resurrect the music and re-release some of it on CD or DVD. I'm not myself a great fan of what we did way back then, but in the interests of preserving part of the history of Australia's popular culture I might follow this up ...
---
* Saturday August 2 2008:
The Sydney group Charisma is preparing a concert that will include my piece db, for fl, cl, pno &amp cello. Called House of York, it will consist of pieces by composers associated with the Music Department of The University of York, where I did post-graduate study many years ago: Kirsty Beilharz (Air-Earth-Water-Stars), Steve Ingham (Triple Concerto), Roger Marsh (Ferry Music), the late Wilfred Mellers (Trio) and me. Who? Ros Dunlop, clarinets; James Kortum, flute; David Miller, piano; and Julia Ryder, cello. When? 3pm Sunday Aug 31. Where? Recital Hall West, Sydney Conservatorium of Music. How much? $30, $20 (concession). Bookings &amp enquiries: 02 9810 2253 (email).
db was recorded several years ago by The Australia Ensemble for a CD of my chamber music that Tall Poppies is allegedly going to bring out real soon now (if you would like to be notified when this CD has been released, please email me).
---
* Friday August 1 2008:
Next Monday night on Australian television: Andrew Denton on Enough Rope (ABC 1, 9.35pm) interviews José Ramos-Horta, President of Timor-Leste. Horta has been busy of late, pardoning hardened criminals yet persecuting Angelita Pires, the lover of Reinado and the woman whom Horta accuses of inciting Reinado and his men to murder. No evidence has been presented, and no charges have been laid, but Ms Pires has had to surrender her passport to East Timorese authorities, has had no financial support other than that provided by friends and family, and has received death threats. I hope that Denton asks Horta about what appears to be a gross miscarriage of justice.
There is good news, however: the Australian Government, through its Attorney-General's Department, has agreed to fund up to USD64K of Miss Pires' legal costs (she is an Australian citizen). She wrote to her supporters:
This is for me, the faint light at the end of the tunnel that I so much needed to see. So many days have been so dark, without all of your guidance, kind patience and enormous effort, I would not be here today to write this thank you note. Via all of you, God has finally shown me that he has not forgotten me.
Angelita is the sister of the late Francisco Baptista Pires (nicknamed Quito), who was the subject of Peter Wesley-Smith's and my multimedia piece for six singers, piano and computer sounds and images called Quito. For information about this work, click here.
Author Clinton Fernandes believes that eventually an international tribunal will deal with the crimes against humanity allegedly committed by the Indonesian military in East Timor. He writes in an email dated July 31 2008 and titled SBY's Timorese Triumph:
... no amount of (even genuine) apology can prevent an international tribunal because these are crimes against humanity and crimes of universal jurisdiction. Just ask Radovan Karadzic. As Martin Luther King Jr said, "the arc of the moral universe is long but it bends toward justice". Let's hope Wiranto, Prabowo et al have a good supply of fake beards.
One wonders how the world can take itself seriously when it puts Karadzic in the dock and not those who orchestrated and/or carried out one of the worst genocides of the twentieth century: East Timor, 1975-1999. And how about Bush, Blair, Howard et al, whose decision to invade - illegally - Iraq is responsible for over one million deaths? Kissinger, anyone? Rumsfeld? Cheney? The list is long ...
---
* Tuesday July 22 2008:
I've been reading this year's Manning Clark Lecture, given at Manning Clark House, Canberra, on March 10 2008 by barrister and human rights campaigner Julian Burnside. An excerpt:
Most of the worst aspects of the Howard years can be explained by the lack of decency which infected their approach to government. They could not acknowledge the wrong that was done to the stolen generations; they failed to help David Hicks when it was a moral imperative: they waited until his rescue became a political imperative; they never quite understood the wickedness of imprisoning children who were fleeing persecution; they abandoned ministerial responsibility; they attacked the courts scandalously but unblushing; they argued for the right to detain innocent people for life; they introduced laws which prevent fair trials; they bribed the impoverished Republic of Nauru to warehouse refugees for us. It seemed that they did not understand just how badly they were behaving, or perhaps they just did not care. [more]
An article by Burnside formed the basis of and inspiration for my audio-visual piece Weapons of Mass Distortion, for clarinet &amp Macintosh computer. This piece - about propaganda, doublespeak, lies etc, especially those that led to the invasion of Iraq - is often played on soprano sax, and, on marimba, by American percussionist Mike Crain, amongst others. If you are a potential performer of this piece and wish to enquire about getting the performance materials, email me here.
---
* Thursday July 17 2008:
Excerpts from an article - Little War Criminals Get Punished, Big Ones Don't - by Paul Craig Roberts in yesterday's Information Clearing House:
... an International Criminal Court prosecutor wants to bring charges against Sudan's president, Omar al-Bashir, for crimes against humanity and war crimes. I have no sympathy for people who make others suffer. Nevertheless, I wonder at the International Criminal Court's pick from the assortment of war criminals? Why al-Bashir? Is it because Sudan is a powerless state, and the International Criminal Court hasn't the courage to name George W. Bush and Tony Blair as war criminals? Bush and Blair's crimes against humanity in Iraq and Afghanistan dwarf, at least in the number of deaths and displaced persons, the terrible situation in Darfur ... The leaders of every member of the "coalition of the willing to commit war crimes" are candidates for the dock ... the head of state who launched two wars of naked aggression, resulting in the deaths of more than 1.2 million people, and who has the entire world on edge awaiting his third war of aggression, this time against Iran, is received respectfully by foreign governments. Corporations and trade associations will pay him $100,000 per speech when he leaves office. He will make millions of dollars more from memoirs written by a ghostwriter ... [more]
Australia was only a bit-player in the invasion of Iraq, but we can offer at least two defendants: ex-Prime Minister John Howard and ex-Foreign Minister Alexander Downer. Gentlemen: the time of reckoning is nigh - prepare your defence!
---
* Wednesday July 16 2008:
Went to Sydney today for a Song Company rehearsal of my 2005 piece doublethink, for six singers and bucket, which the group has scheduled for several performances later this year. A highly satirical piece about propaganda, some of its political barbs have been blunted a little by the passage of time, requiring some judicious re-writing ...
Marvellous group, The Song Company! They've recently been performing several songs of mine in their WALTZING MATILDA program, which they're currently touring: She Wore a Black Ribbon (from Black Ribbon), Tommy Tanna (A White Woman to her Kanaka Swain), The Don (from Black Ribbon), The Hunt (from Boojum!), Jubjubby (from Boojum!), We Must Be Off (from Boojum!) and Lines of a Lovelorn Cowhand (from Several Australian Barbershop Quartets). The program has so far this year been performed in Neil St Uniting Church, Ballarat (Jan 13), Orange Civic Theatre (June 27), Bathurst Memorial Entertainment Centre (June 28), Soldiers Memorial Hall, Trangie (June 29), Sydney Conservatorium (July 2), Newcastle Conservatorium (July 3), Arc Theatre, National Film and Sound Archive, Canberra (July 11) and Arts Centre, Campbelltown (July 12). Still to come: Sydney Conservatorium, again (Sun July 20), Frensham School, Mittagong (Sat July 26), Coffs Harbour Conservatorium (Fri Aug 1), Armidale Conservatorium (Sun Aug 3), Inverell (Wed Aug 6) and St Mary's, Ballina (Fri Aug 8). For details - or to purchase a CD of a live recording of the WALTZING MATILDA program (made last year in the Sydney Opera House) - call The Song Company on 02 8272 9500 or email them here.
* I'm currently organising the Sixth Annual Kangaroo Valley Buster Keaton Silent Movie Festival, with pianist Robert Constable, for August 20. A proposed new episode in the continuing saga of Dirty Dan the Pump-Out Man (a series of locally-made silent movies which I've shot and edited) has foundered due to the resignation of one of the key actors, so this year's event will be an all-Keaton affair (My Wife's Relations, The Paleface and The Seven Chances). For details, see here.
---
* Monday July 14 2008:
in today's edition of Crikey, Alan Kennedy writes:
As that buffoonish Clouseau Alexander Downer slinks off the scene the report on Friday of the Indonesian Army's role in the murder and mayhem in East Timor (Crikey, Friday Jul 11, Item 9) in the lead-up to independence reminds us of the role he played during these dreadful times. In 1999, The Bulletin magazine reported that "the Vice-Chief of the Defense Force, Air Marshal Doug Riding, had a collection of satellite pictures, transcripts and intelligence assessments that 'showed beyond doubt that the Indonesian military was complicit in the establishment, fostering, funding, training and coordination of the militia'". The Bulletin reported that Riding confronted the Indonesians with the evidence and yet seven weeks later on August 13, 1999 DFAT Deputy Secretary John Dauth told the Senate Foreign Affairs, Defence and Trade References Committee that he could not confirm reports of Indonesian Kopassus troops in East Timor, saying: ''I am really not able to say, not because I am hiding anything but because we do not have definitive information on that ... I simply do not know whether it is true.'' Presumably this evidence was given at the behest of Downer. A heavy-handed federal police operation was later launched to establish the source of the leaks to The Bulletin. Downer continued to deny any role in this matter or any knowledge of the Indonesians complicity in the bloodshed in East Timor. Perhaps he could enlighten us before he goes.
The transcript includes the revelation that Indonesian Foreign Minister Ali Alatas boasted to Downer that it was legitimate to arm the "auxiliaries" (Timorese militia bribed and threatened into supporting Indonesia in the 1999 referendum, mainly through murdering pro-Independence supporters) and that they were doing so. This was before Downer made his "rogue elements" comments. Two things: [1] Downer's lies paved the way for thousands of innocent Timorese lives to be lost; [2] The Order of Australia awarded to Ali Alatas, no doubt at ex-Australian Foreign Minister Gareth Evans' behest, should be stripped from him forthwith. What a scandal!
---
* Sunday July 13 2008:
Tom Hyland writes in last Friday's The Sydney Morning Herald (July 11 2008):
INDONESIAN soldiers, police and civilian officials were involved in an "organised campaign of violence" that prompted Australian military intervention in East Timor in 1999, says a leaked report by a government inquiry.

It says the Indonesian state bears "institutional responsibility" for atrocities including murder, rape, torture, illegal detention, and forced mass deportations.
Well, well, well, who would've thought it, eh? It has taken nine years, during which time not a single Indonesian citizen has been convicted of any crime to do with Indonesia's illegal occupation of East Timor, to discover that it wasn't just a few "rogue elements", as Alexander Downer repeatedly claimed at the time, but the Indonesian army, police and civilian authorities who "consistently and systematically co-operated with and supported the (pro-Indonesia) militias in ways that contributed to the perpetration of crimes" and that "Indonesia bears state responsibility" for gross violations of human rights.
The world's a funny old place, isn't it? David Hicks, "the worst of the worst", can spend years of his life in Guantanamo Bay in solitary confinement for "supporting terrorism", yet Downer, John Howard et al can support terrorism far more effectively, and blatantly, yet not only remain free men but be richly rewarded. Go figure.
Read the full article here.
---
* Monday July 7 2008:
My librettist/lyricist/brother etc Peter Wesley-Smith once wrote an epic nonsense poem, called The Hunting of the Snark: Second Expedition - a sort of sequel to Lewis Carroll's The Hunting of the Snark. It was published by the now-defunct Cherry Books. It has now been published on the web, in both English and Russian, with illustrations by Paul Stanish. See here. Carroll's poem was the inspiration for and basis of Peter's and my full-length choral music theatre piece Boojum!, a half-hour of which was broadcast the other day on ABC-FM.
* At 1.10pm this coming Wednesday (July 9) at St James Church in Sydney: cellist Rachel Scott gives a recital that includes my piece Uluru Song, for singing cellist.
* At 3pm on the following Wednesday (July 16) in the Concert Hall of the Sydney Opera House, the band Resonaxis will give a concert. Brooke Shelley, an ex-student of mine at the Sydney Conservatorium, who sings in the band, asks: "Who'll play louder: the Gibson Explorer or the SOH Concert Hall Pipe Organ?" Guitarist Michael Sheridan, another ex-student of mine, also plays in the band.
---
* Saturday July 5 2008:
Went to a concert last night put on by blind musicians at a Braille Music Camp at Frensham School, Mittagong. The musical standard varied enormously, but not the level of commitment and enthusiasm: words like "heart-warming" and "inspiring" were heard escaping the lips of the capacity audience ... The choir premiered - to what I thought was a rather underwhelming audience response [!] - Peter's and my song Had We But Eyes To See, which we wrote for the occasion. A version of this, for solo vocalist &amp piano, is available as a free download here. The first verse:
There'd be laughter, there'd be bird-song, and bells ringing out loud and clear
There'd be music, there'd be silence, had we but ears to hear
There'd be rainbows, there'd be sunsets, and stately tall ships at the quay,
There'd be mountains in the moonlight, had we but eyes to see ...
* There was a review by Graeme Skinner of The Song Company's Waltzing Matilda program in yesterday's Sydney Morning Herald. The penultimate paragraph reads:
Half a dozen numbers by Martin Wesley-Smith teetered, as always, nicely between the sentimental and the satirical. And after hundreds of sings by the Song Company, Ian Cooper's 1985 arrangement of Waltzing Matilda is a classic in its own right.
As it happens, Ian Cooper was one of the main organisers of last night's concert.
---
* Sunday June 29 2008:
Last Friday's concert in Kangaroo Valley by brilliant a cappella vocal jazz quartet The Idea of North was stunning! Great voices, great arrangements, precision ensemble-singing at its best, yet superbly presented, with charm and good humour. From an email to my brother Peter, who was Chief Organizer (actually Chief Delegator), from a friend:
Congratulations Peter it was a fantastic concert, (we) are still floating about in their stratosphere of pleasure, what a wonderful act and to come to bloody KV ..... We are so lucky ... so thankyou ... They were utterly charming, entertaining and endearing. I hope they made enough money to want to come down again. Well done, loved it, loved it, loved it.
Not a bad wrap! I heard other people say it was the best concert they'd ever attended. One wrote: "I cant tell you how much I enjoyed hearing/seeing/experiencing The Idea of North ... they were absolutely fantastic ... what more can I say!".
This is them: Nick Begbie (tenor), Andrew Piper (bass), Sally Cameron (soprano) and Naomi Crellin (alto).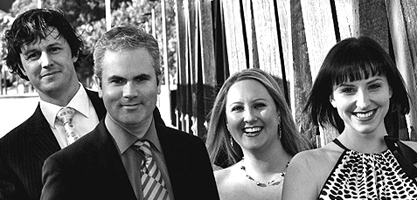 The concert raised funds for the Kangaroo Valley-Remexio Partnership, which works on projects in East Timor.

later: Carl Leddy, reviewing the concert in the July edition of Kangaroo Valley Voice, collected a few more audience reactions:

"This was one of the most enchanting performances I have ever been part of."

"I was surprised at the range and tightness of the group, they never missed a beat."

"There were so many highlights it is difficult to pick one out."

"When they put down the microphones, I was moved to nearly tears by the simple and pure harmonies they presented."

"They were so talented it was incredible. The highlight for me was the Bach Fugue played on kazoos."
---
* Wednesday June 25 2008:
Timothy, Bree and Michael
photograph by Keith Saunders

We had Michael Askill and Bree van Reyk - both members of the percussion group Synergy - for dinner last night. Also sound designer Bob Scott and European percussionist Fritz Hauser. A third member of Synergy, Timothy Constable, was meant to come too, but he was suffering from a tick bite. All the above have been rehearsing at Bundanon, near here, for a concert they're doing in Sydney this coming Friday and Saturday nights. See here:

After their time in residence at Bundanon they will be performing their latest work Space and Time, in late June, at Carriageworks, featuring Fritz Hauser, one of Europe's leading drummers and sound artists.

Synergy Percussion's Michael Askill, Timothy Constable and Bree van Reyk continue their explorations with some of the world's most ancient instruments including gongs from China and singing bowls from the Himalayas. For centuries, these instruments have been used in spiritual and shamanic practices throughout Asia.

Bob Scott, one of Australia's leading sound designers, will use the latest in music software technology to create live transformations of these sounds into liquid landscapes evoking space and time.

There were twelve people, all in all, for dinner, including two Chinese WWOOFers from Hong Kong, who arrived yesterday to stay for a few days (and to help with Friday's The Idea of North concert). Various people cooked, a highlight being my (soon-to-be?) famous ox-tail stew!

I've known Michael Askill since we were students in Adelaide together. It's Timothy Constable's Dad, Robert Constable, who comes to Kangaroo Valley every year to accompany silent movies to raise money for projects in East Timor (see here). Bob Scott is the recording engineer who has been working with The Song Company recording various songs of ours for an eventual CD release.
---
* Saturday June 21 2008:
I didn't know Michel Waisvisz personally, but I had high regard for him as an experimental musician and director - for twenty seven years - of the Dutch music research institute STEIM. He died last Wednesday, just 58 years old. According to an email from STEIM,
Michel was a musician, visionary and occasional gardener - touched by sound and forever happy to be surprised. He was the source of an enormous surge of energy that continues to flow through STEIM into the world. We will miss his touch, crackle, inspiration and constant improvisation of the now.
* I'm currently helping organize a concert in Kangaroo Valley Hall this coming Friday (June 27) of brilliant a cappella vocal jazz quartet The Idea of North. For information about the group, click here. To make a mail order booking, download this form. The concert is being put on by the Kangaroo Valley-Remexio Partnership, which helps initiate and support projects in East Timor.
---
* Wednesday June 18 2008:
One of the highlights of my week is reading the occasional essay written and/or published by Tom Engelhart for his TomDispatch email list. In an article in yesterday's truthout called Love, Tom, Leslie Thatcher quotes Tom:
I'm very influenced by the writers I post at the site, and the writer who has written about hope for TomDispatch is Rebecca Solnit. She first got to me - and changed the way I think about the world - with a piece written just over a month after the Bush administration had launched its invasion of Iraq and the huge antiwar protesters had packed their bags and gone home in despair. It was called Acts of Hope and ultimately became her book, Hope in the Dark. In that piece, she argued that history isn't like a game of checkers, but like the weather: only years later can you see what impact acts of protest may have had. You never know what your effect is and so, rather than being too discouraged, it's simply better to act. If you do nothing, after all, you're more or less guaranteed no effect.
"It's simply better to act". I believe that all the demos and protests in the 1980s against the Indonesian invasion and occupation of East Timor kept a tiny candle of hope alive. No-one knew what impact any of them might have had. Protestors were told, many times, that East Timor's fate was signed and sealed and that protests were a waste of time, effort and resources. But now, years later, we can see that they kept alive a protest infrastructure that was reinvigorated by the Santa Cruz massacre of 1991 and that exerted relentless and effective pressure from then until 1999 when Timor was liberated.
---
* Monday June 16 2008:
Went yesterday to an Open Studio - a one-day exhibit of art works by Catherine Schieve and performance by Warren Burt at the Barracks Arts Studios in Bomaderry, which is not far from Kangaroo Valley. Catherine showed Dirt Paintings, Dirt Poundings, and Miniature "Geo-Haikus" as well as some earthy jewellery and artifacts. Warren played four pieces, including Board Instruments, Transpositions and Delays (2008), which used homemade electro-acoustic percussion board instruments processed by computer. Cool stuff, very enjoyable.
---
* Friday June 13 2008:
Am going today to the funeral of the son of some friends of mine. Apparently Eli Westlake was the victim of a road rage incident in Sydney the other day. A woman allegedly used her car as a weapon in an act of drug-and-alcohol-fuelled stupidity, and has been charged with murder. What a senseless tragedy ... Later: It was a most moving ceremony, provoking a wide range of emotions, a mix of tears, laughter, incredible sadness, and great beauty attended by hundreds of people. The Goldner String Quartet played the Albinoni Adagio and the third movement of String Quartet No.II by Eli's dad Nigel. Current and ex-members of Synergy - Michael Askill, Peter Jacob, Rebecca Lagos and Graeme Leak - played drum music as we walked behind the coffin from St Albans Hall to the cemetery. David Hudson performed a Didgeridoo Dedication, and Eli's brother Joel introduced a song - Will You Miss Me When I'm Gone? - that he and mates Jessie, Stew, Thai &amp Toby had written and recorded only weeks before. Lisa Westlake read a poem she'd written called If I Die, Michael Askill played a Himalayan Singing Bowl Dedication, and Mathew Priestley performed a Traditional Smoking Ceremony at the cemetery. Various family members spoke in farewell to a much-loved young man.
* Have received a commission for an audio-visual piece ...
---
* Tuesday June 10 2008:
Today is my twin brother Peter's birthday. Other prominent June Tenthers include friends of mine pianist/composer Ian Munro and arts administrator/music therapist Peta Williams as well as writer Saul Bellow, model &amp actor Linda Evangelista, Frances Ethel Gumm (otherwise known as actor/singer Judy Garland), harmonica-player Howlin' Wolf, actor Elizabeth Hurley, Prince Philip and writer Maurice Sendak. Composers include Giovanni Battista Polledro (born 1781), W A Remy (1831), Heinrich von Herzogenberg (1843), Pavel Borkovec (1894), Robert Still (1910) &amp Nicolas Roussakis (1934). Geminis do not, of course, believe in astrology (ha!), but one chart I read says "This is a year in which to break new ground and to accomplish great things." Yo! Watch this space ...
---
* Sunday June 8 2008:
Have been working on publicity for the forthcoming Idea of North concert in Kangaroo Valley (Friday June 27). For information about the group, click here. To make a mail order booking, download this form.
The group's CDs and DVD can be bought at the gig as well as at The ABC Shop, Koorong Books, Sanity, Chaos Music and elsewhere.
* Yesterday was the birthday of my late brother Jerry, who died a couple of years ago in Adelaide. The choir I sing in is currently learning my arrangement of his beautiful song Special Days ...
* I went this morning to a wonderful little puppet show put on at a local festival with puppets by Terry Hennessy. The cast included Chris Nobel (Flapper, Willie Wombat) and Patsy Radic (Miss Poppy). The festival raised money for the Kangaroo Valley Pre-School.
---
* Thursday June 5 2008:
Went to Sydney last night to listen to a cappella jazz vocal quartet The Idea of North at The Basement. It was an official farewell to soprano Trish Delaney-Brown, who decided not to re-join the group after maternity leave, and an official welcome to new soprano Sally Cameron. It was, as expected, superb. Great group!
They will be performing in Kangaroo Valley Hall at 7.30pm on Friday June 27 2008. Tickets: $30, $25 (concession) available from Kangaroo Valley Supermarket or by calling 02 4465 1299. Concert presented by The Kangaroo Valley-Remexio Partnership (raising funds for projects in East Timor).
---
* Sunday June 1 2008:
Reviews of the Victorian Opera/Malthouse production of the new Upton/John opera Through the Looking Glass have appeared. Here's an excerpt from one by Michael Magnusson:
Through the Looking Glass is the first collaboration between Malthouse Theatre and Victorian Opera ... astonishing new opera (which) explores perceptions of childhood and growing up ... an intriguing work ... Peter Corrigan's incredible set, costume and puppet design ... as fascinating and confusing as Alice's (and Carroll's) thoughts ... With the likes of David Hobson and Suzanne Johnston, the cast are all wonderful ... However, Dimity Shepherd is outstanding as Alice ... Conductor Richard Gill says, "Shiny new operas are held very close to our hearts." It is indeed rare to see an Australian opera produced ...

The American composer David Del Tredici has made several instrumental and orchestral settings from various Wonderland texts but as far operas go Martin and Peter Wesley-Smith's 1986 psychological choral fantasy Boojum! comes close to being the first. Tom Waits provided songs and music for what sounds like a fascinating 2002 stage adaptation by Robert Wilson called Alice (hint-hint Melbourne Festival). The most notable is Unsuk Chin's 2007 Alice in Wonderland, combining both Alice in Wonderland and Through the Looking Glass, a major operatic work premiered at the Munich Opera Festival. Hard on the heels of the Munich Alice comes this odd little one act opera by Alan John and Andrew Upton that takes Through the Looking Glass as the basis for an imagined account of how Carroll, through his stories and, particularly his notorious photographs of the ten year old Alice, created a myth out of the child that effects her until the end of her life. Trapped forever as 'the girl who was Alice in Wonderland' Liddell seems to be in good company ... [more]

The review is thoughtful, well-written and generally complimentary. I particularly like Melbourne writer Alison Croggon's review in her Theatre Notes, May 22 2008. An excerpt:

... there was, of course, a darker side to Victorian childhood, when children worked in shocking conditions in "dark Satanic mills" from an early age. Only the privileged could afford a childhood. And violence was a major part of life, even for those privileged children - corporal punishment was a parental duty, its threat reinforced by books like Struwwelpeter, in which wicked children met dreadful deaths in a morally satisfying circle. The tension between childish innocence and childish wickedness, idealised childhood and childhood as a state of degradation and powerlessness, was perhaps at its height at this time.

It resulted in some extraordinary literature, of which Lewis Carroll's children's books, Alice in Wonderland and Through the Looking Glass, are probably the most famous. In these stories, first invented by Oxford mathematician Charles Dodgson to entertain the young Alice Liddell during a boatride down a river, enchantment is suffused by a surreal cruelty and callousness. This often discomforting ambiguity is a major part of the books' continuing fascination, and the driving force behind this operatic adaptation by composer Alan John and librettist Andrew Upton.

At the heart of this opera is a photograph Dodgson took of Alice as a child. She appears to have been artfully posed: her head is tilted slightly so she looks over her naked, exposed shoulder, her expression knowing, suggestive of an adult sexuality at odds with her thin, childish body. Whether these and other photos Dodgson took of young girls show him to be a paedophile is a hotly debated question, although there is no evidence that he was. What is beyond doubt, however, is the disturbing power of the image, poised between childish unknowing and adult knowingness and caught in the gaze of the photographer, like those Victorian collections of butterflies pinned under glass.

The opera adapts Through the Looking Glass as a double narrative, exploring the writing of the story, and Alice Pleasance Liddell's subsequent lifelong identification as Carroll's creation, through the strange landscape of Carroll's fantasy. Upton's libretto reaches no conclusions and no judgments about Dodgson himself: rather, he follows Alice through the writer's projections, a confusing mirror-world in which she loses her identity, even her own name; a world in which she exists only as a figment of someone else's imagination. As Tweedle Dum says of the Red King, "why, you're only a sort of thing in his dream!".

John's score exploits the full resources of a small band - harp, piano, harmonium and percussion - and, like the production itself, makes little concession to the tropes of Victorian England. It's inventive theatrical music, which plunges straight into the action: it's always unexpected, diving from dissonant sound into lyric melody, evoking moods from comedy to sorrow to absurdity. In fact, at the end, when only four musicians stood up to bow, I was taken completely by surprise - how had so few made so much and so various music? I should also note Richard Gill's presence, not only as conductor, but for his speaking part ("Hang onto the goat's beard!") which broke an imaginary wall between band and stage, and stirred a ripple of laughter. As Gill is playing a train conductor, it's also a terrible pun ... [more]
It is indeed rare to see an Australian opera produced - hats off to Victorian Opera for their laudable aim of bringing (at least?) one new Australian opera to the stage each year. A pox on all those opera administrators and artistic directors who over the years have done so little to foster home-grown music theatre. I remember asking an Opera Australia person, forty one years ago, about their doing an Australian work or two. His reply: "Ah yes, we would love to, of course, but we need to build up our audience first". Last time I asked an Opera Australia person the same thing was about ten years ago. His reply: "Ah yes, we would love to, of course, but we need to build up our audience first" ...

Talking of Struwwelpeter, brother Peter and I, when we were teenagers, wrote a song called Little Tommy Suck-a-Thumb that was inspired by one of the stories in that book. It was recorded on a CBS LP (large flat round black disc thing with a hole in the middle) by The Wesley Three way back when ...
---
* Wednesday May 28 2008:
Two pieces of mine - Weapons of Mass Distortion and White Knight &amp Beaver - are being performed tonight at a Sydney Eclectic Composers Society concert called CAPTURED! at Recital Hall East, Sydney Conservatorium of Music. Concert starts at 7.30pm. Unfortunately I'm ailing at the moment with a 'flu-type thing so I can't be there (I'm also missing Song Company recording sessions in Sydney of songs of mine). Other pieces on the program include Slippery Crossings by Liz Daley, Fragmemories and Sonar Pulse by Henrique Dib, and Interweave by Cameron Lam. For more information, click here.
I told my mother I was going to a SECS concert and was grounded for a week!
* Like millions of others, I subscribe to many of the campaigns mounted by AVAAZ, "an independent, not-for-profit global campaigning organization that works to ensure that the views and values of the world's people inform global decision-making." Their latest campaign is to ban cluster munitions:
Final negotiations are underway right now in Dublin, Ireland, on a treaty to ban cluster bombs. Arms manufacturers are pushing governments to riddle the treaty with loopholes and delays -- and the final text will be decided in the next 72 hours.

Cluster munitions don't just kill during war. They scatter small, shiny, unexploded "bomblets" on the ground that hold their deadly charge for years. When children pick them up, they are often maimed or killed. Most governments agree that these weapons should be outlawed, but back-room pressure is rising to undercut a strong ban. We're hearing the Australian delegation is one of the problems -- so we need to send an avalanche of messages from Australian Avaaz members to Kevin Rudd (we will forward all your messages to his team!)
I agree, so I went to their web-site and wrote to Mr Rudd:
28-05-2008

Dear Kevin Rudd,

The world tilted on its axis last November when you and your team ended twelve years of darkness. You were a ray of light that raised the hopes of millions of Australians that at last we would have good government that would make common-sense decisions about the big issues e.g. climate change, alternative energy ... and cluster bombs. I can't believe that Australia is dragging its feet in backing a strong international treaty to ban cluster bombs! Do you, as a Christian, think it a good thing to use bombs whose primary target, even if an unintended one, is kids? Let kids be kids, you say - surely you can't refuse to try to stop what is a disaster for kids wherever these horrific weapons are used?

I urge you, sir, to do everything in your power to push for a ban on cluster munitions. Establish Australia as, once again, a country setting the highest moral standards in international relations. Or will your name, like that of your predecessor, elicit expressions of disgust whenever decent men and women of Australia congregate?

Yours sincerely,

Martin Wesley-Smith
A bit over-the-top? I don't think so, especially given that Rudd's government hasn't expressed any reason why cluster bombs should not be banned outright.
---
* Monday May 26 2008:
There's a new opera being performed in Melbourne. It's Through the Looking Glass, it's based on Lewis Carroll's classic children's book, and it's by Andrew Upton (libretto) and Alan John (music). For more information, click here. I'm interested in all Australian opera, music theatre etc, of course, but particularly in this one, partly 'cos I've always enjoyed Alan John's music and partly 'cos there was a previous Australian "opera" sort-of-thing based on Lewis Carroll's work: Peter Wesley-Smith's and my Boojum!, which was premiered at the 1986 Adelaide Festival of Arts. Read Upton's Through the Looking Glass libretto here. For comparison, here's Wesley-Smith's libretto: act one; act two. Buy the Boojum! CD here.
Conducted by Richard Gill, who initiated the project, and directed by Michael Kantor (artistic director of the Malthouse), Through the Looking Glass is on till May 31 in the Merlyn Theatre, CUB Malthouse, Melbourne. It stars Kanen Breen, Margaret Haggart, David Hobson, Suzanne Johnston, Gary Rowley and Dimity Shepherd. See Here's looking at you, kid by Robin Usher, The Age, May 16 2008 ("DIMITY Shepherd enjoys a challenge, but she admits the complexity of playing Alice in an operatic adaptation of Lewis Carroll's classic Through the Looking Glass is 'doing my head in'. 'I mean that in a creative way,' she says. 'The character keeps looking for answers, and I have to work out how I feel as an actor dealing with so many questions.'")
My piece Mrs Hargreaves Remembers, for soprano &amp piano (1997), is also based on Through the Looking Glass. As it happens, it's being recorded this week by Ruth Kilpatrick (soprano) and Roland Peelman (piano) from The Song Company. It will be included on a CD - possibly a double CD - of songs of mine (lyrics by Peter Wesley-Smith) that Song Co is planning to release. Other songs include Our Don (a tribute to Don Bradman), Sticky Wicket (about the British in Hong Kong facing, in 1997, the hand-back of the colony to the Chinese communists), Tommy Tanna (about the love of a white woman, in Queensland in the late nineteenth century, for her black "Kanaka swain"), In the Good Old, Good Old Days (expressing a yearning for how it was before the worst excesses of the Howard Government: "We had youth, hope and pluck/And we didn't give a fig/Back in the good old, good old ways/Of the good old, good old days"), We Thought We'd Lost You, Johnny (about parents discovering their son is gay), Recruiting Song (about the perils of masturbation), It Ain't Natural (about artificial insemination) and Baghdad Baby Boy (a lullaby). Two of the rare songs that don't have a lyric by Peter are Recollections of a Foreign Minister (a setting of excerpts from Lord Downer of Baghdad's testimony to the Cole Inquiry into the Australian Wheat Board scandal) and Hold Hard, Ned (a setting of part of Adam Lindsay Gordon's poem The Sick Stockrider).
---
* Wednesday May 21 2008:
Haven't been able to blog for a while: got back last night from a couple of weeks in Hong Kong, where I went in order to write music, create audio-visual sequences, and do the playback for a Hong Kong Fringe Club production of Ho Chi Minh in Hong Kong - His Persecution and the Triumph of the Glorious Rule of Law, a play by Peter Wesley-Smith. Directed by Peter Jordan, it starred Lee Chun Chow as Ho Chi Minh. Every one of the five scheduled performances was sold out, so a Sunday matinee was put on. That, too, sold out. Audience responses that I heard were enthusiastic. Discussions are being held re possible productions in Singapore and other countries. All in all, a success!

"Hong Kong, 1931. Ho Chi Minh vs. The Hong Kong Government. A true tale of confrontation, an unlikely friendship, near-death and escape that change the course of history."
* After the recent deaths of two musician friends of mine - composer Tristram Cary and clarinettist Gabor Reeves - I was wondering who the third one would be (in my experience, these things often come in threes). While I was away I heard that academic, author, composer, educator, composer and friend Wilfred Mellers had moved on. Born in 1914, he was a good age, but his irrepressible energy, and the perpetual twinkle in his eye, meant that his death still came as a shock. He was the foundation Professor of Music at the University of York, England, where I had the pleasure and privilege to study in the early 1970s.
From an obituary by Peter Dickinson in The Independent, Monday, 19 May 2008:
The list of Mellers' books is long and shows incredible industry, especially after his retirement from York in 1981. Each one was a landmark. He published the first study of Francois Couperin in 1950; he recognised the seminal significance of Erik Satie; and was the first British writer to take American music seriously in Music in a New Found Land (1964), completed after he had spent two years as Visiting Mellon Professor at Pittsburgh.

Mellers raised eyebrows when, as a university professor, he wrote Twilight of the Gods: the Beatles in retrospect (1973). Undeterred, he followed it with A Darker Shade of Pale: a backdrop to Bob Dylan (1984) and Angels of the Night: popular female singers of our time (1986). His mainstream interests were represented by books on music and society as well as monographs such as Bach and the Dance of God (1980), Beethoven and the Voice of God (1983), Vaughan Williams and the Vision of Albion (1989), Percy Grainger (1992) and Francis Poulenc (1993) as well as studies of less familiar figures such as Frederic Mompou (1989).

[more]
I salute the man, his music and his good works.
---
* Monday May 5 2008:
Last Saturday afternoon I attended a workshop conducted by Australia's gospel maestro - singer, composer, vocal arranger, musical director, workshop leader and author - Tony Backhouse. What a buzz! Along with 120 or so other people, I became part of an instant choir that ten minutes after the session started sounded like the congregation of a black Baptist church in the Deep South of the USA. Well, not quite. But we sounded pretty hot, especially to those in it. The next day I attended a concert by The Café of the Gate of Salvation, Australia's leading gospel choir that Tony Backhouse formed in 1986. Brilliant! I loved hearing again some of the old songs - many by Tony - that I enjoyed during the 90s in Sydney. There was some excellent new material, too, and some stunning young singers. It was exuberant, joyous and, dare I say it, inspirational. I think that what we need now is Secular Gospel. OK, maybe that's oxymoronic ... but it should be possible to have exuberant and joyous community choral music that doesn't need to invoke images of a Christian heaven - music that requires and celebrates people from all walks of life, backgrounds and beliefs coming together to pursue, for no material gain, artistic co-operation. That, for me, would be truly inspirational.
Both events were held in Kangaroo Valley Hall. All power to the Kangaroo Valley Arts Festival for organising them.
Back in the early 90s, Tony recorded some songs for the CD of Peter's and my full-length choral piece Boojum!, including I'm a Caterpillar of Society (Not a Social Butterfly) and The "How Can a Barrister Lose?" Blues.
* Last Saturday morning our local East Timor support group, the Kangaroo Valley-Remexio Partnership, received a visit from Jim and Moira Collins from sister group Bega Valley Advocates for Timor Leste (PO Box 480, Bega, NSW 2550 Australia). Both now in their 80s but still incredibly active, they are a real inspiration to all of us. The Bega mob supports the Natarbora community in East Timor. On one of his visits there, Jim issued the following statement:
GREETINGS FROM BEGA
The community of Bega Valley sends you greetings and best wishes for the future as you elect your second government.
We value your friendship and hope the future will see the Natarbora community enjoying all of the basic human rights:-
* A good education for your children
* Health care for all
* Security in your homes
* Adequate supplies of food all year 'round

Our firm desire is that, in time, your community becomes dependent on no-one for these services. Having made friends with many of your amazing young people in your primary and secondary schools, we are confident of your success.
We want to continue to help you in this battle for true independence.
Jim and Moira have poured an enormous amount of their personal funds into assisting the people of Natarbora.
* One thing I enjoy a lot each year is going to an annual concert put on by the Braille Music Camp at Frensham School in Mittagong, New South Wales. Peter and I recently wrote a song called Had We But Eyes to See, which I sent to blind composer/arranger Ian Cooper, who helps organise the camp. I received an email from him yesterday saying that they will be performing the song at this year's concert, which will be on Friday 4th July. Watch this space for details ...
* Have just heard that the funeral of composer Tristram Cary will be held at 11.30am this Friday, May 9, at Heyson Chapel, Centennial Park, Adelaide, followed by a wake.
* More sad news: clarinettist Gabor Reeves died in Adelaide yesterday after a long battle with Parkinson's Disease. He was a lecturer at the University of Adelaide when I was an undergraduate student there back in the 60s. As a member of the University of Adelaide Wind Quintet (along with David Cubbin, flute, Jiri Tancibudek, oboe, Stan Fry, horn, and Tom Wightman, bassoon), he played one of the first pieces I ever wrote: Gum Tears of an Arabian Tree, for tenor &amp wind quintet (a setting of poems by Australian poet Ern Malley). Later we were colleagues at the Sydney Conservatorium of Music. He was an excellent player and teacher who will be sorely missed by many.
* And yet more: I've just heard that singer and arranger Gene Puerling (The Hilos, Singers Unlimited) died a few weeks ago. From mdb11, Google Groups/alt.obituaries, March 29 2008:
As a fan of the SINGERS UNLIMITED for three decades, this is very sad news for me. They recorded only 15 albums - all of which I own - during their years together, but what great works of art they were. Especially the four a capella albums.

In addition to his work as arranger for the Singers Unlimited and the Hi-Los, Puerling also arranged for the Manhattan Transfer on a few occasions, winning a Grammy award in 1982 for that group's a capella rendition of the song A Nightingale Sang In Berkeley Square, and a Grammy nomination for their first Christmas Album. He also arranged backings on a few tracks for Gloria Estefan's Christmas album and the Carpenters' Passage album.

If his d.o.b. as 3/31/1929 is correct, he would have [been] 79 on Monday.

There were many fine vocal-group arrangers in the 1950s-'60s, among them Anita Kerr, Harry Simeone and Ray Conniff. But Puerling really stretched his intricate harmonies to maximum levels not heard before. He formed Singers Unlimited in 1967, and thanks to a jazz pianist who discovered them in 1971, they were signed to the MPS jazz label and their popularity grew, as did Puerling's always brilliant creativity. That pianist, btw, was Oscar Peterson, who passed just 3 months ago ...
The little choir I sing with is currently learning Puerling's Manhattan Transfer arrangement of A Nightingale Sang in Berkeley Square (beautiful arrangement, but hard to sing). I've been a fan of The Hilos since I was 15 or so.
---
* Sunday April 27 2008:
Have just come back from a couple of days in Ungarie and West Wyalong in the Riverina district of New South Wales, and in Canberra. The reason I went there? Along with other members of my extended family I was visiting the site of a 1942 aircraft accident near Ungarie that took the lives of my father's young brother Robbie Wesley-Smith and four navigators training to participate in the Second World War. A cousin, Terry Wesley-Smith, did the sleuthing work that revealed the exact location of the plane's impact. He designed and had made a plaque for the crash site and another one for the Ungarie RSL, and he gave a speech about the accident during last Friday's 11am ANZAC Day service. We were shown wonderful and generous hospitality by the current owner of the crash site - Laurin West - and his family, neighbours and friends, despite the area being in the eighth year of a vicious drought.
I should say here that I'm not a great fan of the nationalism surrounding ANZAC Day ("the one day of the year"), nor of the way it has been hijacked by Christianity. If atheists wish to commemorate those who died defending - so it is claimed - this country, they should be able to do so without having Christian dogma shoved down their throats and without being forced, effectively, to sing such racist rubbish as verse 4 of "The Recessional - Lest We Forget":
If, drunk with power, we loose
Wild tongues that have not thee in awe,
Such boastings as the Gentiles use
Or lesser breeds without the law,
Lord God of Hosts be with us yet,
Lest we forget - lest we forget!
I'm not entirely sure what this actually means, but it's clear that we're not meant to be impressed by Gentiles (which most of us are), and even less so by "lesser breeds without the law" (God's law, I assume) ...
On the way home I stopped off in Canberra, where Alice Giles' SHE (Seven Harp Ensemble) was recording a CD for Tall Poppies Records. They did two pieces of mine: Alice in the Garden of Live Flowers and Seven Widows at the Gates of Sugamo.
* When I got home I received some sad news from John Cary, son of electronic music pioneer Tristram Cary:
Very sadly my father Tristram died early on the morning of Thursday 24th April in Adelaide. He died peacefully in his sleep, after two months of surgery and, we thought, recovery in hospital. It was quite a shock as we thought he was getting stronger ...
I hadn't seen much of Tristram recently (he lived in Adelaide), but we'd been good friends for many years. He built his own electronic music studio after the Second World War and used it for, amongst other things, early episodes of the BBC's Dr Who. Later, he helped develop the Putney VCSIII synthesizer. He was a pioneer of computer music, too, yet his music included film music (e.g. The Ladykillers, Ealing Films, 1955), orchestral music (e.g. Scenes from a Life, 2000) and chamber music (e.g. Narcissus, for flute and two tape recorders). This versatile composer was also a music critic, author and academic. His adventurousness - both musical and technical - was an inspiration to many, including me ... A good short biography can be seen here.
* from Bill Kempster, Director of Choral Activities at the University of New Hampshire, today:
Just letting you know that the UNH Chamber Singers are performing [your piece Who Killed Cock Robin?] tonight at our year's end concert of works by living composers. It's pretty hard for them, but they have worked hard and are enjoying the piece hugely!!
* Have come across a YouTube video of a performance by percussionist Justin R. Stolarik (or is it the appropriately named D A Timpster?) of my piece White Knight &amp Beaver. Miles Anderson, trombonist extraordinaire who commissioned the piece with fiddle-player Erica Sharp, thought the performer did a nice job, although he wondered if the pitch changes had been authorised by the composer ...
The YouTube site contains a blurb by Mr Stolarik which includes the following program note by me:
It is as if the Reverend Charles Lutwidge Dodgson (Lewis Carroll, or the White Knight, as he portrayed himself in Through the Looking Glass) is a [marimbist] showing Alice (the Beaver in The Hunting of the Snark) how one can play nursery rhymes backwards and upside-down on music-boxes (or, in this case, on a Fairlight Computer Musical Instrument, one of the grandest music-boxes of all). He begins with Polly Put the Kettle On and Ride a Cock Horse together, playing some of the snippets of melody that emerge and encouraging her to join in. Tiring of this, he proceeds to demonstrate a musical representation of a thousand or so nucleotides of plasmid pBR322 of Escherichia coli, a bacterium found in the stomach.
The score of this 1984 piece, for one or two soloists and tape, is available, along with a rehearsal CD, from The Australian Music Centre. It was written as a study for my subsequent large-scale choral music theatre work Boojum!, which was premiered at the 1986 Adelaide Festival of Arts before the Queen of England.
---
* Saturday April 19 2008:
One of my favourite commentators on Indonesian matters, novelist, journalist, filmmaker and playwright Andre Vltchek, writes in the Asia Times, April 16 2008:
In Indonesia, a morality crusade misplaced
Here it goes again. Elderly men with husky, over-smoked voices from Indonesia's House of Representatives - a group synonymous with corruption and laziness - droning on about morality and about "how to protect the nation" from the ills of pornography.
This time, they have succeeded. While the nation was off guard, distracted by soaring food prices, a collapsing road system and general hopelessness, the House of Representatives on March 25 passed a bill banning all pornographic websites, threatening to jail users and providers who will now face up to three years in prison or a substantial fine. To be sure, Indonesia is still "softer" than Saudi Arabia, but the new bill is as tough or even tougher than anti-pornography laws in many other Muslim countries. What are the nation's priorities?
Once again, the state's enormous apparatus of surveillance can be put to good use. Those in the security apparatus who feared losing their jobs after the fascist dictator Suharto stepped down almost a decade ago, can breath a sigh of relief. Millions of men, women and children who were spying on their neighbors, denouncing them for being "Chinese" or "communists" or "atheists", or whatever, will now be able to return to their old routine. There is a new challenge, a new enemy that Indonesia has to fight and defeat - pornography ... [more]
* Friday April 18 2008:
I've recently arranged the traditional spiritual Ev'ry Time I Feel da Spirit for a cappella choir [SATB]. It's available here as a free download (five pages, 124KB).
* The Observer, Thurs 17 April, reports that Timorese murderer - now Indonesian citizen - Eurico Guterres, who was responsible for much of the carnage by pro-Indonesian militias in pre-independence East Timor, especially in 1999, has recently set up pro-Indonesian militias all over West Papua from his base in Timika near the location of the giant Freeport gold & copper mine. "Sentenced to a term of 10 years by the Indonesian Supreme Court on 13th March 2006, he was released last week after serving just two years imprisonment. It was always believed that he operated with funding and direction from Kopassus (Komando Pasukan Khusus), the Indonesian special forces. We now know this to be true ... (His) long Taliban-like beard may signify his readiness to wage war for jihad, despite his plans to enter politics to become a regent or even a governor of a province."
Trial Watch reports:
Indonesia ... set up a procedure aimed at prosecuting the atrocities committed in East Timor. A National Commission of Enquiry, whose final report was published on 31 January 2000, levelled accusations directly against 33 individuals, including several military leaders. A Human Rights Tribunal, an ad hoc jurisdiction with the specific task of judging these individuals, was subsequently set up. Of the 33 persons designated by the Commission of Enquiry, only 18 were convicted. 12 were acquitted by the lower court, 4 on appeal and 1 on final appeal before the Supreme Court. The only person to be convicted is Eurico Guterres, whose prison term was fixed at 10 years by the Indonesian Supreme Court on March 13, 2006. In the final outcome, the quasi-totality of those accused of crimes committed in East Timor, were thus acquitted by the Indonesian Human Rights Tribunal. Doubts about the impartiality of this organism were however raised by many human rights organisations, in particular, Amnesty International, Human Rights Watch and Coalition for International Justice.
Great, huh? One of the most blatant acts of mass murder and wanton destruction in recent years is, in effect, given official approval by Indonesia. What is particularly worrying about this is that Guterres and others have a green light to do the same in West Papua ...
* I'm currently writing music, and preparing audio-visual sequences, for a Hong Kong Fringe Club production of Ho Chi Minh in Hong Kong - His Persecution and the Triumph of the Glorious Rule of Law, a play by Peter Wesley-Smith. See here. Directed by Peter Jordan, it will star Lee Chun Chow as Ho Chi Minh.
---
* Wednesday April 9 2008:
Have been writing program notes for a CD of some of my chamber music that will be released shortly by Tall Poppies Records. Called Merry-Go-Round, and performed by members of The Australia Ensemble, it consists of:

db, for flute, clarinet, piano &amp cello [1991]

tab
1. Steps
2. Pat-a-Cake 2

Merry-Go-Round, for clarinet, cello &amp CD [2002]

Snark-Hunting, for flute, percussion, piano, cello &amp CD [1984]

Oom Pah Pah, for flute &amp piano [1996]

fin/début, for flute, clarinet, piano &amp string quartet [2000]

tab
1. tick tock, in which Phyllis Rides Aristotle
2. pp (Farewell to the Hotel Turismo)

db was written in tribute to Australian composer Don Banks (1923-1980), who was a friend of mine. I remain one of his greatest admirers.

pp (Farewell to the Hotel Turismo) was also written in tribute to a late friend: Emeritus Professor Peter Platt (1924-2000). I recently came across a eulogy written by composer/conductor/musicologist Nicholas Routley and read by him at Peter's funeral. An excerpt:

He rescued us firstly from all kinds of intellectual rigidity, intellectual aridity, intellectual absolutism. He resisted the dogmatic tendencies of analysis; the sterility of positivism; any kind of intellectual activity which takes refuge in fixed positions. His intellect was passionate and curious - he wasn't interested in system-building. He said 'We can only have insights' - no grand overviews for him. Peter's mind ... always sought to make connections between things.

Secondly, he rescued us from Eurocentricity ...

Although Merry-Go-Round is an instrumental piece, it contains a song called Afghan Lullaby, about refugees (in the audio-visual version, the words appear on screen in sync with the music). The sheet music of this - for soprano, piano &amp cello (optional) - can be downloaded, for free, here (three pages, 80KB).
db was recorded at an Australia Ensemble concert by the ABC. The other recordings were made by Belinda Webster.

My CD notes begin: "Apart from a few little piano pieces composed when I was 8 or so (Donkey Gallop was one, I remember), my first composition was a song called Old Mrs Polkinghorne (she was a woman who kept cows at Port Willunga near Adelaide, where I grew up). After that there was a juvenile piano piece that I gave to my school music teacher, David Swale, before attending school chapel one morning. As I trooped in with the other kids I heard, as part of a free-flowing organ improvisation, my new piece! I decided then and there to become a composer. What you are holding in your hands is a consequence of that fateful decision ..."

Another CD of my music is in the works, this one containing many of my songs. Watch this space!
---
* Friday April 4 2008:
Have updated the website of the USA multimedia concert tour that clarinettist Ros Dunlop and I are planning for September &amp October this year. See here.
---
* Wednesday April 2 2008:
Here are free downloads of the sheet music of some of my songs for kids (of all ages):
| | |
| --- | --- |
| 1. | My Dog Has Fleas (SATB, a cappella, three pages, 64KB) |
| 2. | There's a Kite! (a round, SATB, a cappella, four pages, 68KB) |
| 3. | sliding, sneaking, squirming snake ... (SATB, a cappella, two pages, 52KB) |
| 4. | Blue Bottle Fly (SATB, a cappella, two pages, 60KB) |
| 5. | I'm a Slug (SATB, a cappella, six pages, 80KB) |
| 6. | Come and Dance with Me (SATB, a cappella, two pages, 52KB) |
| 7. | Lost Snail (high voice + piano, two pages, 50KB) |
---
* Tuesday April 1 2008:
Music &amp politics: excerpts from Musical response to manmade and natural disasters ..., Appalachian State University News, March 31 2008:
Saxophonist John Sampen and composer and pianist Marilyn Shrude will present an 8 p.m. recital titled Voices of Dissent April 14 in Broyhill Music Center's Rosen Concert Hall ... The program is a thematic representation of 21st-century composers' and performers' response to issues of war, violence, corruption and racism.

The recital begins with Les Oiseaux by Japanese composer and saxophonist Ryo Noda. Written in 1977, the composition is intended to address the dangers posed by pollution.

The duo also will perform Lamentations (pour la fin du monde) by Claude Baker which was written in response to the many tragic events of recent years, including tsunamis, hurricanes, earthquakes, famines and wars.

The composition The Fall of the Empire: Angel Shoot was written for Sampen and Shrude by Frederick Rzewski. It explores humankind's confusion of good and evil.

Shrude's composition Lacrimosa ... was written in memory of music students from Bowling Green State University and Indiana University who were killed in a plane crash in 2006.

Sampen and Shrude also will perform Voices of Dissent, which represents "protest" portraits by the composition faculty of Bowling Green State University; Weapons of Mass Distortion, which is Australian composer Martin Wesley-Smith's collage of events and statements leading up to the Iraq invasion; and Vache Sharafyan's Sonata, which evokes an image of Armenia which has been haunted by centuries of invasion, war and holocaust ... [more]
See, also, The Pulse ("Chattanooga's Weekly Alternative"), Wed April 9 2008.
I met John Sampen after a concert that clarinettist Ros Dunlop and I did at Bowling Green State University, Ohio, in 2003, where Weapons of Mass Distortion had just received its premiere performance. He was keen to arrange it for soprano saxophone. He did so, and has subsequently performed it many times. As a result of his having played it at a saxophone congress, many other saxophonists are now playing it ...
Yesterday Ros and I submitted an application for an Australia Council "Pathways" grant to enable us to do more concerts in the USA in September and October of this year. So far we have gigs in art galleries, community halls, university concert halls etc in, amongst others, Wisconsin (Maddison), Illinois (University of West Illinois, University of North Illinois, University of Southern Illinois), Pennsylvania (Pittsburgh), East Lansing (Michigan), Kentucky (Louisville), Kansas, North Carolina, Toronto and Vancouver. If anyone else in the USA (and elsewhere) is interested in a concert of audio-visual works on political themes (Afghanistan, East Timor, Iraq etc), feel free to email me.
---
* Sunday March 30 2008:
Next Tuesday night at 9.30pm on ABC-TV: an episode of Foreign Correspondent called Papua in Peril, about HIV/AIDS in West Papua. Reporter: Helen Vatsikopoulos. Excerpts from the ABC's blurb about the program:
Despite its closeness to Australia, Papua is virtually a closed world to Australian and other international reporters because the Indonesian government fears they'll report on the continuing insurrection by Papuan rebels ... The Australian Government's aid agency, AusAID, says by 2025 the HIV/AIDS infection rate is projected to balloon to seven per cent of the province's people ... HIV/AIDS is spread by high-risk sexual behaviour that can often be traced back to brothels ... It is thought that there are now many more HIV positive housewives than sex workers ... Agus Alua of the Papuan People's Council claims that after four decades of subjugation by the Indonesian military the spread of the HIV virus amounts to an unofficial government strategy ... "behind of this we have illegal logging, illegal mining, illegal fishing ... all of this ... [it] brings prostitute women into Papua ... It cannot survive without any support by military or police, never."
My audio-visual piece Papua Merdeka, for bass clarinet &amp Macintosh computer, is about the literal and metaphorical rape of the West Papuan people by the Indonesian military.
---
* Tuesday March 25 2008:
Have just finished a song, Had I But Eyes to See; lyric by Peter Wesley-Smith.
Message for Mrs Bud, who occasionally reads this page: "What happened in the past remains there, solidified, gradually blurring then fading away ... its ghostly tentacles, having lost their grip, slide harmlessly over us, leaving just a whiff that a breath of fresh air easily blows away ..."
---
* Sunday March 23 2008:
Having just said goodbye to two WWOOFers, we now have three more, with a fourth arriving today. And a couple of friends are camping up the track: FULL HOUSE! The good ol' Easter Bunny is flat out...
"WWOOF" stands for "Willing Workers On Organic Farms". We're not a farm, and if we were then we could not, technically, be called organic, and not all our "workers" are willing, but apart from that we qualify! It's a great institution, leading to good friendships, cultural exchange, lots of laughs, and some good work done (weeding, pulling out lantana, cooking etc). WWOOFers - mostly young, mostly from overseas - do four-to-six hours' work on one's property in exchange for bed and board. For more information, see our WWOOF page.
* Apparently the Vatican has announced another seven deadly sins! This is a boon for composers everywhere who are writing for seven-harp ensembles (one can assign at least two sins per player!). As usual I rely on SF Gate columnist Mark Morford for insight into such phenomena; excerpts:
Thou shalt not kid thyself
Wednesday March 19 2008

This just in: If you're an obscenely wealthy drug-dealing pedophile stem-cell researcher who drives a Hummer and doesn't recycle, you are totally going to hell. Oh please, like you didn't already know.

Hey, the Catholic Church wouldn't lie, mister. The Big Book o' Deadly Sins apparently has a whole new addendum and it looks like it ain't just gluttony and lust and murder and hot porn and witchcraft and coveting thy neighbor's way cool Flickr photo stream anymore. That stuff is for wimps. Serfs. Lutherans.

The Vatican is trying to get serious. Modern. Hip, even. Indeed, Sins 2.0 now includes taking "mind-altering" drugs and polluting the planet and creating poverty and hoarding excessive wealth and messing around with genetics ... yes, I also enjoyed the new sin of excessive wealth, given how the Vatican is one of the most - if not the most - gluttonously wealthy organizations on the planet, oozing with real estate and massive stock portfolios, dripping with cash, billions of dollars in hoarded treasure and unknown gems, icons, art, the solid gold vaginas of 1,000 pagan goddesses locked up in its vaults. The hypocrisy is positively comical. Epic ... To be fair, the church does use some of that massive wealth, once estimated at about $15 billion but likely far, far higher, to fund its various charities and clinics and community centers. But it also uses it to buy more land, to pay out hundreds of millions of dollars in settlements in hundreds of pedophilia cases worldwide, to wield frightening political power, buy favor with the Italian mafia, and to refuse services it deems "sinful," such as providing honest health information and condoms in AIDS-ridden Africa ...
You can read the whole article here.
---
* Thursday March 20 2008:

The little choir I sing in is going to start learning a little love song - Old Coat - that Peter and I wrote in the early 90s, arranged for SATB, a cappella. The score may be downloaded, for free, here (2 A4 pages, 60KB). MIDI files:

Other songs we're having a go at at the moment include a cappella jazz arrangements of When I Fall in Love and A Nightingale Sang in Berkeley Square. They're really too difficult for us, especially Nightingale, but we're making good progress and enjoying the experience.
---
* Monday March 17 2008:
I returned last night from a mini-tour with Alice Giles' Seven-Harp Ensemble (SHE) to Canberra and, in the Riverina, Temora and Narrandera. It all went very well, with good-sized audiences and many appreciative comments. The program included a version of my piece Seven Widows at the Gates of Sugamo for seven singing female harpists and tenor [2008], the tenor on this occasion being me (I'm hardly a good singer, but I stood at the back of the auditorium portraying a ghostly General Tojo singing from beyond the grave, which wasn't too hard ...)
---
* Tuesday March 11 2008:
Have just contributed to an article called Music, Lyrics and Politics for Manning Clark House in Canberra. A précis, more-or-less, of a presentation brother Peter and I made in the house on Monday Feb 18, it starts:
[Our] presentation began with a quote from George Orwell's Why I Write in which he identified "four great motives for writing". These include sheer egoism (the "desire to seem clever, to be talked about, to be remembered after death, to get your own back on grown-ups who snubbed you in childhood ...") and political purpose (the "desire to push the world in a certain direction, to alter other people's idea of the kind of society that they should strive after"). Two more Orwell quotes:

"No [musical work] is genuinely free from political bias"

and

"The opinion that art should have nothing to do with politics is itself a political attitude"
The presentation proceeded with discussion and examples of some of our songs and other pieces that have been accused, by some, of being "political" (gasp!)
---
* Wednesday March 05 2008:
From Australia's Synergy Percussion Quartet gets standing ovation, by Cathalena E. Burch, ARIZONA DAILY STAR, Tucson, Arizona, USA, March 5 2008:
On a stage barely big enough to fit all of its drums, gongs, bongos, bells, xylophone and twin marimbas, Australia's premiere ensemble Synergy Percussion Quartet made its U.S. debut Monday night at Tucson's intimate Leo Rich Theatre .... Synergy's two-hour concert featured all-Australian works, including one from Synergy member Timothy Constable and two composed by founding member Michael Askill, a prolific percussionist and composer Down Under .... Quartet member Alison Pratt sat out the number, reserving her energy for her solo on Martin Wesley Smith's Marimba and Tape. The piece can best be described as Australia's version of computerized art music. Pratt played a marimba as a duet with a sampled version of the instrument on a computerized recording. She impressed with her energy and technical skills and her ability to be the perfect duo partner to a recording. [more]
* I was saddened today to read of the recent death of Ron Edwards, aged 77, "for more than 50 years Australia's most prolific collector and publisher of folk songs, yarns and bushcraft." (see Determined to keep the songs alive in The Sydney Morning Herald, February 7 2008) I first became aware of Ron when, as a teenager, I bought the first LP of folk music recorded and released in Australia, his Australian Goldrush Songs. It helped propel not only my interest in folk music but in Australian culture as well.
---
* Monday March 03 2008:
from Nick Chesterfield (tel: +61(0)409 268 978), Independent Human Security and Media Consultant to the West Papua Movement, March 02:
*URGENT MEDIA ALERT*

*MAJOR UPHEAVAL & PROTESTS IN WEST PAPUA*

Information has received from contacts on the ground in West Papua, indicate that a major shift in the political landscape is occurring in West Papua currently. The MRP (Majelis Rakyat Papua, or People's Consultative Assembly) is set to announce a permanent rejection of Special Autonomy and be alongside the West Papuan people as they call for Referendum. This situation has occurred amidst a climate of intimidation of West Papuan people that has increased exponentially in recent months. Recent meetings indicate that the Indonesian military is mobilising its militias to prevent West Papuan people express their legitimate aspirations.

*CONCURRENT RALLIES IN MANOKWARI, SERUI, AND JAYAPURA*

In Manokwari West Papua on Monday 3 March, West Papua's influential youth and student movement, under the auspice of the West Papua National Authority, is organising one of the biggest public demonstrations against the Indonesian occupation since 1963.

The rally-call referendum! referendum! responds to eight years of Jakarta's 'special autonomy', which was recently described to the Indonesian press by the Governor of Indonesia's Defence Institute as little more than a strategy to retard West Papua's independence movement. During the rally, the Indonesian government will be challenged to set up an 'internal' dialogue with the West Papua National Authority before the issue is formally re-internationalised at the United Nations later this year.

The challenge presents President Yudhoyono opportunity to begin addressing the /political/ (rather than social) issues with West Papuas' /political/ leadership before he leaves office next year. It also provides the four-star general a unique moment to commit the Indonesian Republic to the democratic principles on which he rode into office, and to divorce himself and his nation from the humiliating autocracy established and maintained by former leaders (Yudhoyono's wife's father, for example, was Brigadier-General Sarwo Edhie, the legendary 'bloodhound of Java', who was close to Suharto and Commander of the Indonesian Military in West Papua during the Act of Free Choice in 1969).

enquiries: Dr Jacob Rumbiak, +61 (0)4313 88 976, +61 (0)3 9510 2193
* SHE, Alice Giles' Seven-Harp Ensemble, will be presenting three concerts the weekend after next that include my piece Seven Widows at the Gates of Sugamo. The first one is at 7.30pm on Friday March 14 at the Canberra School of Music. Next day the harp bus travels to Temora for a 7.30pm concert in the Memorial Town Hall there. The final concert of this mini-tour is at 2pm in the Christian Revival Crusade Church in Narrandera. For details, click here.
---
* Sunday March 02 2008:
A friend of mine has written to say that an old vinyl record (large flat black round thing with a hole in the middle) with which I was associated - City Folk by The Wesley Three - is currently up for grabs on eBay. Current bid: $32 (pathetic!). The seller's blurb:
(The) Wesley Three were a part of the 60's folk revolution, and released their album City Folk in 1963. The 12 tracks mixed traditional and Australian folk songs with those written by Pete Seeger (Where have all the Flowers gone?, The Hammer Song), Ewan McColl (Ballad of Springhill) and Australia's own Gary Shearston (The Voyager). An Australian mono pressing on the CBS Label (BP 233276) the record, apart from a couple of minor marks, is of excellent appearance, and plays and sounds superb with a minimum of surface noise. The cover is excellent with a couple of creases only. Payment by direct debit, credit card, money order of Paypal available to Australian buyers - Paypal preferred for overseas customers. Postage within Australia is $7 - U.S. and Asia is $14 by standard Air (7 to 10 days) - slightly more to Europe and elsewhere. View my other auctions for more rare records.
Do your thing for long enough, and eventually your youthful embarrassments get sold on eBay!
Later: It went, finally, for $45, still pathetic but at least respectably so. But any thoughts of selling up my collection of old LPs and going to live on the Riviera will have to be shelved for a few more years ... Incidentally, a copy of an LP I made once with violinist Jon Rose called TANGO (free-form improvisations for violin and Fairlight Computer Musical Instrument) sold a few years ago, so I'm told, for USD500.
The other Wesley Three LPs out there are the first one, called The Wesley Three ("A Fresh New Sound!"), one for children (The Wesley Three presents, in story and song, 'Banjo the Singing Rabbit' and 'Mister Thwump'), and a collection of pseudo-vaudeville songs called Leaning on a Lamp-Post. They were made by CBS, which these days is owned, I believe, by Sony. One could probably distill a "best of" CD from these which would stack up OK, with a bit (actually a lot) of re-mastering. Must ask Sony if they have the original analog tapes and, if so, if they have any oxide left on them ...
* Talking of songs, a male quartet (the three men from The Song Company plus one) has started recording, under the direction of Roland Peelman, some of a collection of "barbershop quartets" that Peter and I wrote a while back. So far three of them are in the can, apparently very successfully (I had to be in Canberra when they were recorded): The Day We Found O'Reilly's Chook in Mrs Burke's Backyard, I Got 'im with a Googly and Paddy O'Rourke from Mudgee. The others will be recorded in May.
---
* Saturday March 01 2008:
An uncle of mine, Les Martin, died this morning in Adelaide at age 85. He'd been suffering from endocarditis, which is an inflammation of the endocardium (the thin smooth membrane that lines the inside of the chambers of the heart and forms the surface of the valves). His older brother Keith is still going strong - he's gonna turn 90 next month. And his older sister - my Mum Sheila - is surging towards 92.
Les was one of my favourite men. An ex-apple-farmer and champion tennis-player, he was big and robust with a great sense of humour. He is survived by his wife Shirley and sons Tim, David and Philip.
---
* Wednesday February 27 2008:
The local vocal group I sing in, and sort of conduct, is about to attempt a Gene Puerling arrangement of A Nightingale Sang in Berkeley Square (lyric: Eric Maschwitz; music: Manning Sherwin). Gene Puerling, formerly of the a cappella group Singers Unlimited and, before that, of the peerless male quartet The Hilos, is one of my favourite musicians. This arrangement is hard! Beyond us, I think. But it's gonna be fun having a go ...
---
* Sunday February 24 2008:
I've been in Canberra for the past week working on two things: a presentation that brother Peter and I gave at Manning Clark House last Monday night on "Music, Lyrics and Politics", and a concert of some of my audio-visual pieces about East Timor and West Papua at ARC cinema, National Film &amp Sound Archive. More on both events soon! In the meantime, here's a photo - by Peter Hislop - of brothers Peter (left) and Rob (centre), with me, taken at the reception after the concert:
Excerpts from Independence movements, by Matthew Westwood, in The Australian newspaper last Friday (February 22 2008):

Among the voices in Australia in the 1970s that gradually became louder and more numerous for an independent East Timor were the Wesley-Smith family. Composer Martin Wesley-Smith, his twin Peter, older brother Robert -- and their mother Sheila -- have been vocal supporters of the East Timorese, each in his own way: Robert through his civil rights activism, Peter through writing, and Martin through music ... One of (Martin's) first pieces was Kdadalak, from 1977: the title means "streams", suggesting the many little rivulets of human action that can become a mighty force ... The work that has been called Wesley-Smith's magnum opus is Quito, a "documentary music drama" with text by Peter Wesley-Smith. The subject is a young East Timorese refugee, Francisco Baptista Pires ("Quito"), a sufferer of schizophrenia who was found hanged in a Darwin hospital. The radiophonic score uses a recording of Quito singing one of his own songs .... Ramos Horta has noted Wesley-Smith's contribution as a "model political artist": "He creates works of art which are political, and manages to make politics artistic. He is a true creator, activist and humanitarian. All at once. He and his brothers are treasures of our country." [more]

Excerpts from Sounds and images of Timor, by Lynne Minion, in The Canberra Times newspaper last Thursday (February 21 2008):

He was a trailblazer in the 1970s who left his folk roots behind and took to a rather cumbersome form of musical expression, using early computer technology to mix electronic tunes with images ... Martin Wesley-Smith was a multimedia pioneer ... (his) work is being acquired and preserved as part of a three-year collaboration by the National Film and Sound Archive and the National Library of Australia ...

There you go: follow your nose, and stick around long enough, and you're a pioneer. Who ever would've thought?
---
* Saturday February 16 2008:
For a list of Tall Poppies CDs containing pieces of mine, that are currently being sold by ArkivMusic.com ("The Source for Classical Music"), click here.
---
* Thursday February 14 2008:
See this, from The Real Cost Of Defeat In Forgettistan by Mike Whitney:
The Taliban's approach is methodical and deliberate. They've shown they can survive the harshest conditions and still achieve tactical victories over a better-equipped enemy. They are highly-motivated and believe their cause is just. After all, they're not fighting to occupy a foreign nation; they're fighting to defend their own country. That strengthens their resolve and keeps morale high. When NATO and American troops leave Afghanistan, the Taliban will remain, just as they did when the Russians left 20 years ago. No difference. The US occupation will just be another grim footnote in the country's tragic history.
My audio-visual piece Merry-Go-Round, for clarinet and cello, with sounds and images on disc [2002], makes exactly that point (except that it wasn't the Taliban that remained, twenty years ago). Afghanistan has had many invasions (in recent times the Persians, the British, the Russians, and now the Americans and their allies in NATO and the Coalition of the Willing), and has repulsed them all. Invading Afghanistan was a disaster for the Russians and will be for the Americans et al.
The music of Merry-Go-Round, played by Catherine McCorkill, clarinet, and Julian Smiles, cello, will be released this year on a Tall Poppies CD of my chamber music. If you would like to be sent an email when the CD becomes available, send an email to this address saying "yes please".
---
* Wednesday February 13 2008:
Today's the day that some of the mean-spiritedness of eleven years of John Howard is put to rest: Prime Minister Kevin Rudd will say "sorry" to the Stolen Generation for the life-shattering abuse so many Aboriginal people suffered under the paternalistic policies of White Australia.
Peter's and my song She Wore a Black Ribbon is apt:
She Wore a Black Ribbon

She wore a black ribbon to tie up her hair
And a black arm-band, black dress, black gloves
She grieved for her children, stolen away
Lost past, lost future, lost culture, lost loves
She wore a black ribbon to tie up her hair
But her hair and her heart were gray
But her hair and her heart were gray

She wore that black ribbon through all of her years
And the black arm-band day after day
Black gin, black heart, black laughter, black tears
Black beauty, black children stolen away
She wore that black ribbon to tie up her hair
But her hair and her heart were grey
But her hair and her heart were grey

© Peter Wesley-Smith 2001

That song is the centrepiece of a large work, Black Ribbon, for soloists, choir &amp orchestra that we did in 2001 to mark the centenary of Australia's Federation. Sixty minutes or so long, it took me the best part of a year to compose. It was performed on a week night in Canberra before an audience of three hundred or so people, it wasn't recorded (the ABC had run out of money in its live concerts recording budget), and it has never been played again, despite a lot of effort having been put into promoting it. A whole chunk of it, finishing with She Wore a Black Ribbon, would have been a perfect accompaniment to this historic day. Sheeeesh ...

Download the sheet music of the song here, for free (high voice and piano). An a cappella version for high voice and choir [SATB] is also available (email me for information).

[later: I thought Rudd's speech was beautiful in content and delivery. Nelson's started off well, but then he just couldn't help himself ... What an emotional event it was! Despite the efforts of some parliamentarians, and despite John Howard's absence, it was a high point in the evolution of Australian society.]
* Various conspiracy theories about the attempted assassinations in East Timor are starting to emerge. But as brother Rob says, nothing is quite what it seems in East Timor. We need to wait longer before the truth, or some version of it, is revealed.
---
* Monday February 11 2008:

Like everyone else I'm appalled at this morning's apparent assassination attempts in Timor-Leste. José Ramos-Horta, whom I often met during the 24-year Indonesian occupation of his country, recently sent a message in response to a request from the National Film &amp Sound Archive in relation to the forthcoming The Tears of Timor concert in Canberra:

Martin Wesley-Smith is the model political artist. He creates art which is political, and manages to make politics artistic. He is a true creator, activist and humanitarian, all at once. He and his brothers are treasures of our country.

The next few days will be a critical period in Timor-Leste's long slow rise from the ashes of Indonesian occupation.
---
* Sunday February 10 2008:
Last night's concert at Yarrawa Estate in Kangaroo Valley, threatened by rain, went ahead (in Upper River Hall) - it was excellent! Musical eclecticism at its best: old favourites by Handel (e.g. Lascia ch'io pianga), Purcell (Dido's Lament) and others sat very comfortably on the same program as Cry Me a River, Gabriel's Oboe (by Ennio Morricone, from The Mission), and my Jerrinja Song, for singing cellist. The talented and engaging performers were Peter Ellis, keyboard, Rachel Scott, cello, who introduced most of the program, Lesa Scully, trumpets, and Nicole Thomson, soprano. The audience loved it!
* I've been writing program notes for a concert of my stuff at the National Film &amp Sound Archive, McCoy Circuit, Acton, Canberra, at 7.30pm on Fri Feb 22 2008 (bookings: 02 6248 2000). The program, called The Tears of Timor, will include three audio-visual pieces of mine - X, for clarinet &amp computer [1999], Welcome to the Hotel Turismo, for cello &amp computer [2000], and Papua Merdeka, for bass clarinet &amp computer [2005] - plus an excerpt from the tape piece VENCEREMOS! [1984]. The performers will be Ros Dunlop, clarinets, and Julia Ryder, cello.
---
* Friday February 8 2008:
The rain has more-or-less stopped, so it looks like tomorrow's concert at Yarrawa Estate, Upper River, Kangaroo Valley, will go ahead after all. I'm looking forward to hearing soprano Nicole Thomson sing some of my songs, including Our Andy's Gone with Cattle, She Wore a Black Ribbon and Tommy Tanna, and to cellist Rachel Scott play (and sing) my Jerrinja Song, for singing cellist.
* There might be a new government in Canberra, but it seems that nothing has changed regarding Australia's relationship with Indonesia. An AAP article titled Rudd to meet Indonesian FM, February 08 2008, reports:
(Indonesian Foreign Minister Hassan Wirajuda) said relations between Australia and Indonesia are at a new level these days, based on friendship, maturity and logic rather than emotion.

But he has admitted relations between the two countries have been a roller-coaster ride at times, particularly during the dark days of the 1999 East Timor crisis.

The initial signing of the Lombok Treaty in November 2006 marked an improvement in relations that had deteriorated again over the issue of Papuan asylum seekers.
I'm all for a strong relationship with Indonesia but not at the expense of turning a blind eye to the problems in West Papua, and not by yet again appeasing powerful politicians and generals who seemingly have no regard for human rights.
The Lombok Treaty (officially an Agreement between Australia and the Republic of Indonesia on the Framework for Security Cooperation) is a disgraceful document designed to stop Australian criticism of Indonesia's treatment of indigenous West Papuans. Article 2, Principles, says:
In their relations with one another, the Parties shall be guided by the following fundamental principles, consistent with the Charter of the United Nations ... 3. The Parties, consistent with their respective domestic laws and international obligations, shall not in any manner support or participate in activities by any person or entity which constitutes a threat to the stability, sovereignty or territorial integrity of the other Party, including by those who seek to use its territory for encouraging or committing such activities, including separatism, in the territory of the other Party.
How do you define "support or participate in"? What constitutes a "threat"? Why shouldn't Australian citizens advocate "separatism" if they believe that that is the best solution to the ongoing Indonesian theft of West Papuan property, resources, human rights and lives? The Parties must act in a way "consistent with their respective domestic laws", but Australians' rights were so eroded by Howard and Ruddock that a fearful Rudd government could easily find a way to silence what under the democracy we used to have would have been legitimate dissent and free speech ...
---
* Thursday February 7 2008:
for a rant by me about Suharto, click here; for one about Keating on Suharto, click here
Perhaps the best article I've read recently about Suharto's legacy has been Indonesia After Suharto - The Last King of Java Forgiven (By Elites) by novelist, journalist and playwright Andre Vltchek (Japan Focus, 5 Feb 2008). Snippets:
Like any good king, (Suharto) left behind no strife that might engender independent thought, no real opposition and no alternative interpretation of his reign ... Hatred directed towards leftists, atheists and people of Chinese origin became the main pillar of Suharto's governance ... no general awareness about the genocide in East Timor or the massacres in Papua ...

Suharto opened the doors to multi-national mining and oil interests, taking substantial cuts for himself from every lucrative deal, amassing in the process what the UN and the World Bank believe to have been over 35 billion dollars. His decisive hatred towards the Communist Party (PKI), trade unions, intellectuals and progressive forces generally, guaranteed crucial support from the US ... The terrorizing and plundering of Aceh, Papua and East Timor were not opposed by major western powers, whose companies had access to Indonesia's natural resources ...

After the 1965 military coup, books were burned (including those of world-famous novelist Pramoedya Ananta Toer), and film studios and theatres closed down ... as much as 40 percent of teachers in some parts of the country were massacred; many others were imprisoned ... Quality of education nose-dived and to date it remains one of the poorest and most under-funded school systems in Asia and the world ... Progressive culture and critical thought almost disappeared ... Most intellectuals vanished or were silenced ...

Indonesia sold off its forests, oil and gas. But it was unable to produce almost anything that it could sell abroad. The Bandung-based civil airplane project simply failed ... the automobile industry settled for assembling outdated foreign models, mainly Toyotas ... A brief visit to any state hospital in the country is enough to shatter any dream of social progress under Suharto and after ... Indonesia is still one of the poorest countries in Asia with extremely unequal distribution of wealth ... only 30% of city dwellers have access to relatively clean water ... Pollution and traffic congestion are reaching epic proportions ... Jakarta is "one of the best golfing destinations" in Southeast Asia ... (but) one turn from the main streets and the real Jakarta exposes its wounds: filthy narrow alleys, channels clogged with garbage, makeshift stores selling unhygienic food, children running barefoot; thousands of big and small mosques, but not a single decent playground for children. Garbage accumulates at every corner and polluted air penetrates throat and eyes. Little girls are offering themselves for a pittance, while boys are sniffing glue from plastic bags ...

All Indonesian airlines have been banned from flying to the European Union since 2007 because of their safety records ... Ferries are sinking at a much higher rate than even in Bangladesh ... The train system has not been overhauled since Dutch colonial administration. Trains are regularly derailed. Passengers trying to save money on fares occasionally fall to their death through the rusty roofs (on which they are traveling) ... The system is surviving on false nationalism, lies, deception, and disinformation. Common citizens have no place to turn for protection or for objective information. Indonesians are not consulted as government and business decide the future of the country, as well as who gets what share of the pie. Blueprints and plans are not shared or open to the public. Local and foreign mass media call it "vibrant democracy" ... Since 1965, here and abroad, we have been told that oppression is democracy, that poverty is development, that censorship is freedom of expression ... [more]
* Tuesday February 5 2008:
In an article for The Independent (UK) titled Suharto: 'One Of The Greatest Mass Murderers Of The 20th Century' (Feb 4 2008), Journalist Chris Kline, whose mother, Rukmini Sukarno, was the daughter of the man Suharto overthrew as Indonesian president, writes:
Suharto's advocates claim he modernised Indonesia and returned the country to the community of nations. Indonesia is now praised as the third-largest democracy on the planet, which has resisted Islamist radicalisation. But what of the estimated $15bn to $30bn Suharto plundered, while 49 million of his people survive on less than $2 a day, deprived of primary education and basic medical care? If Indonesia has moved forward at all, it is despite Suharto, not because of him. I have visited many countries as a foreign correspondent for CNN and Fox, but all my life I have been excluded from Indonesia, because of Suharto. Now that he is gone, I will be able to embrace my own heritage at last. And the man who overthrew my grandfather will take his place beside Pol Pot, Pinochet, Milosevic, Stalin, Idi Amin, Mao and all the other great murderers of their own people. [more]
Joseph Nevins is an associate professor of geography at Vassar College, USA. He is the author of A Not-So-Distant Horror: Mass Violence in East Timor and the forthcoming Dying to Live: A Story of U.S. Immigration in an Age of Global Apartheid. In an article for Newsday.com titled U.S. must atone for aiding Suharto (Feb 03 2008), he writes:
Countless atrocities marked Suharto's rule, and his legacy scars Indonesia's politics as well as the social fabric of neighboring East Timor, which his regime violently annexed. But the United States backed those crimes and, like Indonesia, has never taken responsibility - which has made it that much easier for the Bush administration to strengthen ties with the country's brutal military under the guise of fighting terrorism ... The U.S. embassy in Indonesia encouraged and lauded the military's actions in the 1965-66 killings' early stages. It supplied radio equipment and small arms, and gave the army thousands of names of Communist Party members ... (American) Democratic and Republican administrations alike provided billions of dollars in military weaponry and training and economic aid, as well as diplomatic cover, to Jakarta over Suharto's 32-year reign ... Suharto's legacy deforms the society, especially in terms of the military, which still looms large over the country's political system. As such, there has been no thorough investigation of, nor any accountability among, military or political leaders for any of the countless Suharto-era massacres ... the record of American complicity in atrocities in East Timor has been largely ignored - despite calls by that country's official truth commission that the United States apologize and pay reparations ... [more]
* As I write this, New South Wales is being deluged, with no let-up, according to the forecast, until at least Sunday. Heavy rain is expected in the Sydney metropolitan area, the Illawarra, South Coast and Southern Tablelands, and emergency services are warning people to stay clear of creeks, storm drains and causeways. Several local roads have been closed. Our creek has risen to awesome levels - we might well be flooded in. More on this later, but for now it seems almost certain that Saturday's concert at Yarrawa Estate, with several pieces of mine on the program, will have to be cancelled (the winery, at Upper River, is accessed by a steep, slippery dirt road which will currently be awash ...) [later (Wed Feb 6): it rained all night, but no more ... this morning there were glimpses of blue sky above ... we were flooded in yesterday, but it will be OK today: our creek comes up quickly but goes down quickly, too ... the Yarrawa Estate gig might well happen after all ...]
---
* Monday February 4 2008:
at 8.30pm tomorrow night, on SBS: Indonesia: A Reporter's Journey
Sian Powell writes:
Indonesia through a 40-year-old lens ...
THE demise on January 27 of former Indonesian dictator Suharto was greeted with relief and sorrow, and a hint of anger, across the sprawling archipelago. The strong-arm despot presided over three decades of military oppression: hundreds of thousands of communists and communist sympathisers were purged, elections were farcical, the East Timorese and Papuans were mercilessly crushed, and all the while the Suharto children elevated kleptomania to new heights.
Many believe the bloodthirsty general brought stability to a nation teetering on the verge of famine and strife. But at what price?
As journalist Mike Carlton, the host of this series, says, Suharto rose to power on a sea of blood and on his watch more than one million Indonesians were killed or jailed.
After the dictator was finally ousted in 1998, feeble attempts by the state to claw back some of his ill-gotten billions failed dismally.
Carlton casts a thoughtful eye over Indonesia's history, starting from the days of the nation's first president, Sukarno. As a very young man, the reporter was stationed in Jakarta, working for the ABC, and he saw the iron-willed general Suharto work his early magic, easing Sukarno out of office and gathering power to himself.
The series includes black-and-white footage of Carlton covering the unfolding drama in Indonesia. For this series, Carlton returns to Jakarta for the first time in nearly 40 years and interviews a number of notable Indonesians and Australians closely connected to Indonesia, including Suharto's foreign minister Ali Alatas; the much-feared former chief of the state intelligence agency, Hendropriyono; Jemaah Islamiah spiritual leader Abu Bakar Bashir; and Suharto sympathiser Paul Keating.
The series is superbly researched and includes archive footage of seminal moments in Indonesia's history: the massacre at East Timor's Santa Cruz cemetery, the airborne champagne toast by Alatas and Australia's then foreign affairs minister Gareth Evans on signing the Timor Gap treaty, Gough Whitlam hosting Suharto in Canberra and, of course, the moment Suharto publicly resigned, his words setting off an explosion of rejoicing across Jakarta.
The third episode in the series concentrates on more recent history: the momentous events in the years since Suharto stepped down. East Timor's pugnacious battle for independence and the vast amounts of Australian aid that followed, the explosive arrest and trial of drug-smuggler Schapelle Corby, the Bali bombings and the emergence of Jemaah Islamiah: they all make riveting television.
Many believe the East Timor independence struggle blackened Indonesia's name in Australian eyes, and the terrorist bombings did even more damage. Certainly there are fewer young Australians studying the Indonesian language or people, a point Carlton makes and laments.
This is the same Mike Carlton who wrote in last Saturday's Sydney Morning Herald: "Despite the blood-letting - the purge of the communists, the occupation of East Timor - and beyond the monstrous kleptocracy, the plain truth is that Keating was right, (Suharto's) New Order government was indeed a huge plus for Australia." (see below) I'm looking forward to watching the program to see if he is still attacking those who have tried to alert the world to Indonesia's monstrous crimes in East Timor, West Papua and elsewhere.
---
* Sunday February 3 2008:
The February 2008 edition of local rag The Kangaroo Valley Voice contains the following review by Anne Glading (edited to correct a few errors, typos etc) of the most recent Kangaroo Valley concert put on to raise funds for the East Timor support group The Kangaroo Valley-Remexio Partnership:
Heavenly performance by seven harps in harmony

left to right: Hilary Manning, Lily Dixon, Laura Tanata,
Tegan Peemoeller, Alice Giles, Genevieve Lang &amp Ingrid Bauer in Kangaroo Valley
photo: Roberta McGregor
Formerly known as the the Kioloa Harp Ensemble, SHE stands for Seven Harp Ensemble and all the members just happen to be females! Kangaroo Valley music lovers have eagerly awaited this group's return after their concert two years ago.
Needless to say, the concert was sold out and tickets couldn't be secured for love nor money! A fitting testament to this group's superb talent.
Led by Alice Giles, SHE (comprising Genevieve Lang, Hilary Manning, Lily Dixon, Ingrid Bauer, Laura Tanata and Tegan Peemoeller), offered up a varied menu, with works by Dandrieu, Martini and Debussy. All of these were arranged by harpist and teacher Carlos Salzedo (1885-1961).
In Debussy's Clair de Lune, more colour contrasts were attained as the rich tapestries of the French music (were) realised. Great flourishes of glissandi were used at the penultimate section, as only harps can do so well, closing the main melody with delicate harmonics prior to the coda.
The first of the evening's two world premieres was written by Sydney film, choral and harp composer Sharon Calcraft. Sevenfold Amen was written for this group especially, the number seven being very symbolic. The music represented the sound of cicadas in the Sydney summer and their special buzz, obtained by a sort of thwacking sound, buzzing strings, a tiny violin bow used to scrape against the strings, as well as rhythmic knocking on the wooden casing of the harp.
After interval, a piece Bolmimerie by Carlos Salzedo used images projected upon a cloth screen that began as one thing and slowly morphed into something else entirely. The music had a carnival atmosphere and even contained a fugue at one point.
The second of the world premieres was by Australian composer Martin Wesley-Smith, called Seven Widows at the Gates of Sugamo. Seven Japanese widows bewail the fate of their husbands being tried for war crimes before a tribunal. Tojo, beyond the grave, replies in anger and sorrow to his wife Katsuko Ito. Harpist Tegan Peemoeller produced a pure soprano as Katsuko and Robert Farnham provided a rich-timbered Tojo. The Choir That Dare Not Speak Its Name provided harmonic strength and colour, closing the work.
Wesley-Smith's work contained a meditative ambience at times and successfully represents the story. Likewise, his arrangement of Gabriella's Song from the film As It Is In Heaven performed by the choir with soloist Patsy Radic and harps, was full of emotion. Patsy's easy alto voice glided well over the phrases and the choir's sound rose well above the seven harps.
An exciting concert to witness: it certainly shook any preconceived ideas I may have had about the gracious and sweet-sounding harp. This concert showed a more meaty and percussive side to the instrument without losing any of the beauty, and the performers showed their enjoyment too.
If I had to sum the concert up in one word, it would be Charming! Let's not leave it another two years before we hear this wonderful ensemble again.
This was the last concert I intend to produce - for a while, anyway. I want to concentrate on other things. We will, however, be presenting the Sixth Annual Kangaroo Valley Buster Keaton Silent Movie Festival sometime in October. For information about last year's Fifth Annual Kangaroo Valley Buster Keaton Silent Movie Festival, click here.
SHE is planning to record Sugamo along with my previous piece for them, Alice in the Garden of Live Flowers. If you would like to be notified by email when this is released, email me and I'll put you on my CD notification list.
* Have finished a song - arranged for soprano, trumpet, piano &amp cello - for a concert next Saturday night (Feb 9) at Yarrawa Estate, Upper River, Kangaroo Valley. The performers include Nicole Thomson (soprano) and Rachel Scott (cello). Also on the program: Jerrinja Song, for singing cellist, and some songs, including Our Andy's Gone with Cattle, Black Ribbon and Tommy Tanna. This will be Rachel's first performance of Jerrinja Song. She has played - and sung - its companion piece, Uluru Song, over three hundred times in many parts of the world (including on Albanian television).
* Yesterday at 3pm, ABC-FM broadcast a program called Music of Peter Tahourdin, which - damn it - I missed. Peter was my first composition teacher at the Elder Conservatorium of Music in Adelaide in 1965, and I would've loved to have heard his Sonata for clarinet and piano, Trio for clarinet, piano and violoncello and Music for solo cello. I must confess, however, that it was not the only program I missed yesterday: immediately after Peter's program was Music of Martin Wesley-Smith, featuring members of The Song Company singing Our Andy's Gone with Cattle, The Don, The Duchess, Lord Jim and Me, Black Ribbon, Piggies, Mabo, Sticky Wicket, Tommy Tanna, Hold Hard Ned and After the Storm. I have heard those songs before, but I would've liked to have heard them broadcast as a collection to see how they went together. Producer: Stephen Adams; sound engineer: Christian Huff-Johnston.
* Last Thursday I attended a mixing session in Sydney of a couple of pieces of mine: Snark-Hunting and Merry-Go-Round, both for instruments &amp CD. Performers: members of The Australia Ensemble; editor: Christo Curtis; recording engineer/producer: Belinda Webster. The pieces will be included on a CD of my chamber music that Tall Poppies Records is allegedly planning to release (the CD was publicly announced twelve years or so ago, so I'm not holding my breath ...)
---
* Saturday February 2 2008:

In an article - The nation builder - in today's Sydney Morning Herald, Paul Keating attempts to justify his attendance at Suharto's funeral last week.

Suharto's "judgment, goodwill and good sense" is to be greatly admired: "Had (his) New Order government not displaced the Soekarno government and the massive PKI communist party, the postwar history of Australia would have been completely different." The word "displaced" is Keating's euphemism for the murder of up to a million - possibly many more - PKI members and suspected sympathisers in 1966. Such good judgement, goodwill and good sense!

Keating blames "East Timor and the wilful reporting of Indonesian affairs in Australia by the Australian media", particularly the Fairfax press and the ABC, for Australians regarding Indonesia so suspiciously, especially over the past quarter-century. He believes that "the misrepresentation of the true state of Indonesian social and economic life ... can be attributed to the 'get square' policy of the media in Australia for the deaths of the Balibo Five - the five Australian-based journalists who were encouraged to report from a war zone by their irresponsible proprietors and who were shot and killed by the Indonesian military in East Timor."

Mr Keating:

[a] a democracy cannot function properly if its citizens, and government, are denied the truth. The Balibo Five were in East Timor to tell the truth about Indonesia's covert invasion. It wasn't their bosses who were irresponsible, it was Whitlam's Labor government for not putting pressure on Indonesia not to invade.

[b] I don't believe that there was ever a "misrepresentation of the true state of Indonesian social and economic life". The media were simply asking for the truth behind the Balibo murders - but successive governments, including yours, refused to allow this to come out. What were journalists, whose colleagues were shot, to do? Simply say "Right-oh, then, let's drop the matter"? What if one of your children had been murdered in similar circumstances? Would you have argued vehemently that Australia's national interest - its "strategic stability" - was more important than your child's life? Does justice not matter?

[c] Do you also believe, as you appear to be saying, that Australia's national interest was more important than the deaths of 200,000 or more East Timorese people whose country Suharto illegally invaded with great brutality? Those deaths, incidently, apparently came from Suharto's "goodwill towards neighbouring states".

Keating relies on the old communism bogey to justify Suharto's invasion. In fact a few naive young Timorese leaders romantically wore berets and called each other "comrade" - but that was became the justification for wholesale slaughter, the theft of Timorese property, land and resources, and, now, a basket case for a neighbour that will cost Australia dearly in future. We're told that allegations of Suharto's corruption are "errant nonsense". His kids might have been "rapacious", but this was because he, unfortunately, was not a disciplined father. Anyway, Suharto invaded only one country during his career, and that only a little one. Keating's assertions, in defiance of the evidence, are reminiscent of the man who replaced him as Australian Prime Minister. His claim that Fretilin staged a coup in East Timor in 1975 is the opposite of the truth (note how easy it is to lie when you've spent your prime ministership protecting those who killed the truth in Balibo and in Dili (Australian journalist Roger East)). Keating tells us that Suharto distrusted the political classes, not wanting to hand over to them because, in part, he feared they were corrupt! Finally, what would we know? Keating saw thousands of Indonesian citizens - survivors - mourning the death of their former leader. Therefore he must have been a good guy. Keating "felt honoured ... to have known him" - to have known a man with the blood of millions of innocent people on his hands.

I despair.

Columnist Mike Carlton, in the same newspaper, quotes Keating as saying that you deal with the Indonesia you are given, not the Indonesia you would like to see. I don't have a problem with that. But when you're a private citizen and no longer in government, and you don't have to observe official protocol, then you don't, if you have any shred of decency, get into bed with a vicious murderer.

Carlton: "Despite the blood-letting - the purge of the communists, the occupation of East Timor - and beyond the monstrous kleptocracy, the plain truth is that Keating was right, (Suharto's) New Order government was indeed a huge plus for Australia." Perhaps it was, but perhaps it wasn't. How do Carlton and Keating know? They don't. Yet Keating states, and Carlton implies, that the slaughter of millions of people is justified by Australia's (short-term?) security interests. Out the window goes principle - except for the one that says that the end justifies the means. In through the window comes supreme arrogance. Out goes any pretence of morality along with "Australian values", including the quaint one that says fair go, cobbers, you really shouldn't kill people. But if it's good for Australia, apparently anything goes, including the cold-blooded murder of Australian journalists. This is dangerous stuff, neo-con stuff, imperial hubris, unintelligent war-mongering ... The logic here justifies an attack on any other country as long as you state that your security - or any other - interests will thereby be served. Keating in bed with George W. Bush and John Howard!

Finally, let us turn, as we so often do, to The Australian's Greg Sheridan for elucidation and understanding:
Indonesia's Suharto was an authentic giant of Asia, a nation-builder, a dictator, a changer of history. He was also, for Australia, the most important and beneficial Asian leader in the entire period after World War II ...
There's an unlikely band of brothers for you: Keating, Carlton and Sheridan. They're part of the Jakarta Lobby, whose policy on East Timor proved so disastrous for that country and, ultimately, for Indonesia and Australia. Not only do they refuse to admit they might have got it wrong, they don't seem at all fussed about the millions of deaths ordered by their hero (including genocide in West Papua) or his legacies, which include paralysing corruption, massive environmental destruction, a culture of greed, and an army out of control.
---
* Tuesday January 29 2008:
The concert last Sunday - As It Is In Heaven - by the Seven Harp Ensemble (SHE) was a great success. Kangaroo Valley Hall was packed by people enthusiastic in their acclaim for the performers and who appreciated the delicious and generous free supper provided at interval. My new piece Seven Widows at the Gates of Sugamo, for seven singing harpists and choir (words by Peter Wesley-Smith), was beautifully performed and well received. The Swedish song Gabriella's Song (from the film As It Is In Heaven), which I arranged for choir and seven harps, and conducted, was for some the highlight of the concert (the soloist, local alto Patsy Radic, sang it magnificently, strongly supported by associate artists The Choir That Dare Not Speak Its Name).
Some emailed comments:
"Just wanted to say what a treat it was for me to be part of the audience ..."
A friend who couldn't get a ticket wrote: "We were sad to miss the harp (and choir) concert, which sounded wonderful from reports we've heard so far."
From someone who did get a ticket: "Great concert, great roll up ... lovely party at Jane's too. Sorry I didn't get to do my song, next time eh! ... good on yuz for the concert, the flowers were rubbish but everything else was great. Congratulations."
Finally: "I really enjoyed the choir's contribution to the concert, and it's pretty clear they loved being part of it. Patsy did Gabriella proud."
The concert raised money for projects in East Timor organised by the Kangaroo Valley-Remexio Partnership.

* A recent death that I won't be shedding any tears over is that of Indonesian Ex-President Suharto, one of the worst mass murderers of the second half of the 20th century. He was responsible for up to a million deaths - of, mainly, communists and communist "sympathisers" - in 1965-6 when he came to power. Perhaps a lot more. After that there were genocidal killings in East Timor and West Papua, and massacres in Aceh, the Moluccas, and elsewhere. But as Darwin activist Rob Wesley-Smith points out, Western leaders, Australia's included, competed to fawn and grovel to him. Paul Keating, for example, referred to him fondly as "uncle" (and attended his funeral - unbelievable!). Ex-Deputy Prime Minister Tim Fischer said that he was in the presence of perhaps the greatest leader of the last quarter of the 20th century. Gareth Evans toadied to him at every possible opportunity. The USA supported his brutal acquisition of power, supplying him with lists of "communists" to be eliminated. Much is made of Indonesia's economic development under his dictatorship. But what there was benefitted mostly himself, his family, and his friends - he retired with a personal fortune of c.$30 billion, making him the greatest kleptomaniac of our times. He is responsible for massive destruction of the environment for personal profit. He set up the Indonesian military in a way that guaranteed it would be involved in illegal and corrupt activity within a culture of impunity. And so on ....

For a harrowing description of some of the 1968 killings, see Survivors Detail Suharto-Era Massacres, by Anthony Deutsch (Associated Press).

The USA's National Security Archive has posted a selection of declassified U.S. documents detailing Suharto's record of repression and corruption, and the long-standing U.S. support for his regime. The documents include transcripts of meetings with Presidents Richard M. Nixon, Gerald Ford and Ronald Reagan, as well as Secretary of State Henry Kissinger, Vice-President Walter Mondale, Vice-President George H. W. Bush, and former Assistant Secretary of State Richard Holbrooke. Additional documents detail U.S. perceptions of Suharto from the earliest years of his violent rule, including the 1969 annexation of West Papua, the 1975 invasion of East Timor, and the so-called "Mysterious Killings" of 1983-1984.

"In death Suharto has escaped justice both in Indonesia and East Timor," said Brad Simpson, who directs the Archive's Indonesia and East Timor Documentation Project. "But these declassified documents, detailing the long record of U.S. support for one of the twentieth century's most brutal and corrupt men, will contribute to our understanding both of Suharto's rule and of the U.S. support which helped make it possible."

For more information, visit the Web site of the National Security Archive's website.

Today's Crikey contains an excellent article by Jeff Sparrow (11. The Oz on Suharto: at least the regime ran on time), which begins:
Ever wonder how official history would have assessed Saddam Hussein, had he not rashly interpreted US ambassador April Glaspie's comments ("we have no opinion on the Arab-Arab conflicts, like your border disagreement with Kuwait") as a green light to invade that country?

Check The Australian's obituary for General Suharto and wonder no more. If Saddam had survived throughout the nineties as a loyal counterweight to Iran, he too could have been as a "strong, successful leader who got things done in a way that had rarely happened previously."

"Saddam Hussein was certainly authoritarian," opines the Oz, "and relied on the armed forces for support, but he was also pragmatic, secular and opposed to Islamic extremism."

Oops! The passage above actually refers to Suharto. But you can see how the thing is done ....
Chris Floyd: "One of the most bloodthirsty dictators of the 20th century - who killed up to a million of his own people, then ruthlessly raped a defenseless country, took it over and killed 200,000 more - died last week. The Bush Administation's reaction was swift, and entirely characteristic of a government that has devoted itself to the advancement of human liberty across the globe: they sang the mass murderer a hymn of praise."
ThePoliticalCat: "Suharto, you filthy bloodstained monster. We will never forget the bodies floating in the rivers ... Hopefully, he is spending a long hot time in the worst of hells, suffering all the tortures that he inflicted upon the millions of Indonesians who were so unlucky as to be alive when he, with CIA money and assistance, overthrew Sukarno and sold Indonesia piecemeal to Western capitalists."
re Keating: some might argue that there's a case for a Head of State to observe protocol when it comes to attending state funerals etc, even when mass murderers finally get theirs, but there can be no case, surely, for ex-Prime Minister Keating attending ex-dictator Suharto's funeral. I mean, can there be?? Did Keating attend the funeral of just one of Suharto's victims? Did he attend the funeral of courageous activist Peter McGregor (see below), one of the most moral men I have ever met? Keating stands forever condemned ...
I am thinking of composing a "hymn of praise", a eulogy, to Keating's kindly old friend. Libby Turnock suggests that the last movement feature seven harps accompanying the old murderer as he slowly rises towards Heaven's gate. Yes, I'll do it! No-one will perform it, of course, but, well, most pieces of new music these days never get performed. I'll do a synthesized audio-visual version so that we can see the man as well as hear music composed in tribute to him and to his proud legacy ...
First Stockhausen, then Suharto. Whoever next?
---
* Sunday January 20 2008:
I've finished score and parts for Seven Widows at the Gates of Sugamo, for choir and seven singing female harpists, and am now arranging Gabriella's Song, from the Swedish film As It Is In Heaven, for the same combination.
* Am sending some songs to soprano Nicole Thomson, who's gonna sing a selection at a concert at Yarrawa Estate, Kangaroo Valley, on February 9.
* Credit where credit's due: it appears that this time Telstra really has fixed our lines, at least temporarily. We've had no problems for at least two days now. Glory be!
---
* Friday January 18 2008:
The piece I'm writing for the concert coming up - Seven Widows at the Gates of Sugamo, for seven singing harpists and choir - is nearly finished. It is based on war crimes trials in Tokyo in 1948, culminating in the conviction and execution of seven Japanese war criminals, including General Hideki Tojo. It's victors' justice: atrocities were committed by both sides, but only those who were defeated were tried. The choir sings: "The bomb has fallen on Hiroshima and Nagasaki; the day of reckoning has come". But not for those who committed the ultimate atrocity: using nuclear weapons against innocent civilians ... Text by Peter Wesley-Smith.
---
* Thursday January 17 2008:
The concert I'm organising for next Sunday week (see www.wesley-smith.info/she.html for details) has SOLD OUT! In fact there are so many people clamouring for tickets that I'm thinking of auctioning the half-dozen I kept in reserve ... (not really)
* The appalling Telstra has been more appalling than ever of late, with no serious attempt, it seems, to fix our lines. In the meantime they've lied to us several times, they haven't done what they said they would do, they dare to charge us a fee every time we ring from a public phone to complain, they won't let us use a competing company's mobile to collect messages that have piled up - due to their incompetence - in the Message Bank "service" that we pay for ... and so on. The appalling Sol Trujillo, all set for a bonus of $11,000,000 on top of his already grossly-excessive salary, says that Telstra's business is to make money for its shareholders. Two comments: [a] I thought its primary business was to provide a telephone business that worked; and [b] the way to make money - surely?? - is to give the public a competently-run service, with a smile ...
It might be some time before our modem line has been fixed and I can upload this file.

* from Johanna Trainor last Sunday:
Dear Friends
Unfortunately I have the sad task of letting you know that our beloved Peter McGregor is no longer with us. He ended his life with dignity on (Sunday) 13. He was dearly loved by many for his passionate commitment to political activism and his warm, generous and loving heart. He will be sorely missed.
In love & Rage
Johanna
and yesterday:
Dear Friends

Peter McGregor's memorial & celebration of his life will be held this Saturday 19th January at 11.00am at his home: 21 Lemnos Parade, The Hill (Newcastle) NSW 2300 Instead of flowers or tributes Peter would no doubt prefer a donation to one of the many socially significant organisations that he worked with and supported over the years. These are:

Community Aid Abroad
Oxfam
MMIETS (Mary MacKillop Institute for East Timorese Studies)
AETA (Australia East Timor Association)
Australia West Papua Association
Boomerang Project
APHEDA
Fred Hollows Foundation
Doctors without Borders
Swords Into Ploughshares
Green Left Weekly
Indigenous Social Justice Association
Justice Action

Many thanks for your kind thoughts and words at this time of great sadness.
Think of what those bodies could accomplish with Mr Trujillo's bonus ...
---
* Sunday January 13 2008:
Tragic news: I've just heard that Sydney activist Peter McGregor is dead. On Friday he emailed a media release - Protest the 6th anniversary on indefinite detention & torture at Guantanamo - from which I've taken the following excerpts:
HELPLESS ... has the species amused itself to death ? Or is it time to explore Dietrich Bonhoeffer's path?

Another world is possible ... but not likely. Why not? ... Until we decide to 'take it personally' (Anita Roddick), the world as it is will continue ...

As Jude Conway says, the best people are activists. But there aren't enough of us, and we aren't getting there ... While, as Alice Walker says, "activism is my rent for living on this planet", I'm getting more and more behind on that rent.

When will the Gilbert + SULLIVAN Centre of Public Law (UNSW), the NSW Council for Civil Liberties, Amnesty International Australia (AI), etc, practice what they preach, and bring formal legal charges against the ex-Howard Government for its War Crimes? ... And when will the people stand up ? As Alice McGregor used to say, if you don't stand for something, you'll fall for anything.

As Howard Zinn says, "To be hopeful in bad times is not foolishly romantic. It is based on the fact that human history is a history not only of cruelty, but also of compassion, sacrifice, courage & kindness. What we choose to emphasise in this complex history will determine our lives." And defiance becomes duty when injustice becomes law.

From the US war against Viet Nam to the "War on Terror", we see State terror: "Terrorism is the war of the poor. War is the terrorism of the rich" (Peter Ustinov) - and from South Africa's apartheid to Israel's apartheid, we see the failure of humans to practise what we preach: to be human, and do unto others ... While many Germans, and the world, may not have known what the Nazis were doing, the world, and especially Jews, know what the Zionists have been doing to the Palestinians for the last 60 year. Yet so many Jews seen to have no sense of shame? As Marx said, "Those who ignore history are condemned to repeat it."

And as Hugh Mackay sees it, Australian's DON'T feel involved - they "shrug off any sense of responsibility": Margaret Thatcher's society of the spectacle? We know what is going on, and all we care about is our ... self-interest. But just imagine ... Dietrich Bonhoeffer's path, that ordinary people start to "fight-back" ...

But Daniel Berrigan observes: "Because we want peace with half a heart and half a life and will, the war, of course, continues, because the waging of war, by its nature is total - but the waging of peace, by our cowardice, is partial." The world surely needs to move beyond religion, nationalism, states & governments, to the Eureka Oath of November 1854, Kurt Vonnegut's "man without a country", Alice Walker's "possessing the secret of joy" and the Swords into Ploughshares kind of resistance and civil disobedience.
I saw Peter McGregor - apparently in robust good health and good humour - at the final day of the New South Wales Coroner's enquiry into the death of one of the Balibo Five last November. It is incredibly sad to think that this gentle, courageous man, who confessed to feeling "helpless", might finally have found the going too tough ...
I will write more about this as I discover more. In the meantime I ask Prof George Williams, of the University of New South Wales Law School, to publish his response to Peter McGregor's charges relating to his eviction from the university after he tried, last year, to effect a citizen's arrest of Commonwealth Attorney-General Philip Ruddock. I also ask him, and other legal academics, to press the new Attorney-General to bring war crimes charges against Ruddock, Howard, Downer, Costello, Abbot et al.
* Last night I conducted the Courthouse Choir at a concert in Nowra supporting the brilliant singer Helen Rivero. Went OK.
---
* Tuesday January 8 2008:
Have been too busy to blog of late, and haven't had a lot to say (some would say, unkindly, that that's never stopped me in the past ...) We had a huge family Christmas here, which was pretty special, especially for our old Mum, Sheila, who's loving living here and whose health is generally excellent, all things considered. I'm still working on Seven Widows at the Gates of Sugamo, for seven singing harpists and choir, organising choir rehearsals for the concert, doing publicity, and so on. This coming Saturday night I'm conducting the Courthouse Choir supporting singer Helen Rivero at a concert in Meroogal House in Nowra. See here for details.