* Wednesday December 20 2006: from an article by Joseph L. Galloway in The Miami Herald, Sunday 17 December 2006:

It's ... clear ... that Bush the son is paying no more than lip service to the Baker report. He doesn't want Dad's help, and the idea that he once again needs to be rescued from the consequences of his mistakes - as he had to be so often back in Texas - can only have hardened his resolve to stay the course ... This is akin to a drowning man who pushes away a life preserver just before he sinks for the last time. Can nothing save this man from himself - from the voices that only he hears telling him that he, like George Washington and Abraham Lincoln and Harry Truman, will have his reputation and his place in American history restored and burnished long after his death?

This is the man planning, we're told, to send another 50,000 or so American troops to Baghdad, the man on whom Australian Prime Minister Howard has pinned Australia's aspirations and security ...

For a moment there it looked as though Australia had a viable alternative Prime Minister in new Labor leader Kevin Rudd. But his sell-out on the Tasmanian forests issue - thus pandering to the CFMEU members who during the last election enthusiastically slapped Howard on the back in one of the most disgusting displays of short-term self-interest I have ever witnessed - has lost him any support I would've given him ... [later: I will support him, I've decided, as an alternative to Howard's Coalition government, and will work towards a sustainable forests policy ...]
---
* Sunday December 17 2006: Went last night to a concert at Trackdown Scoring Stage, Fox Studios, Sydney, presented by The Sydney Chamber Choir, who performed an eclectic program quite excellently. I was thrilled with their performance of my songs I'm a Caterpillar of Society, What is the Snark? and The Hunting of the Snark? (from Boojum!), We Thought We'd Lost You, Johnny (from True), and Lost Snail - but with other things, too. Nadia Piave, accompanied by Sally Whitwell on piano, sang a marvellous song called Amor, which had music by William Bolcom, an American composer whose music never fails to delight. Conductor Paul Stanhope (who is also a composer) did a great job. Congratulations to all!
---
* Tuesday December 12 2006: Last night the choir in which I sing gave a concert in Berry, a town near here. We performed a varied repertoire which included the spiritual Deep River, the motet Io ti voria contar by Orlandus Lassus, George Shearing's Who is Silvia?, Bogoroditsye Dyevo (op. 37 no. 6), by Sergei Rachmaninov, a South American song Prende La Vela, by Lucho Bermudez, arranged by our conductor Carlos Alvarado, a song from East Timor that some of us will be singing in a concert in Kangaroo Valley on Australia Day (Jan 26 2007), and a couple of Christmas carols. Went down well.
I've recently been arranging Eric Bogle's classic Australian song And the Band Played "Waltzing Matilda" for soprano (Annalisa Kerrigan), violin (Jennifer Hoy), harp (Genevieve Lang) and singers from our choir. Some other songs, too. Information here.
* Lyricist/librettist brother Peter and I recently wrote a bossa nova-style song for a fashion accessories business in Hanoi - details when the vocal has been added and the song released. I put it together with the help of Score Groove, a new piece of software I bought recently to go with Finale 2007. If you're into dance music, which I'm usually not, this software might be just the ticket ... I also recently bought a Rode stereo video microphone, which I'm planning to use to record the local dawn chorus (particularly noisy and abundant at the moment).
---
* Tuesday December 5 2006: Received an email titled Electroacoustic Saxophone, Dec. 7th, 2006, 8 P.M at An Die Musik LIVE! from American saxophonist Michael Straus:
This Thursday in Baltimore, Maryland, I'll be performing a show of electroacoustic saxophone music including five recent works that involve film.
It's going to be a very exciting evening of music here in Charm City.
Here are the details -

The new direction of new music, where is all this heading?
with saxophonist Michael Straus
Steven Ricks:
V'tor Rua:
Martin Wesley-Smith:
Judith Shatin:
Per Bloland:
Peter V. Swendsen:
Jacob TerVeldhuis:
American Dreamscapes (2006)
Voci di una città immaginaria (U.S. Premier)
Weapons of Mass Distortion (2003)
Grito del corazon (2001)
Quintet (2005)
a sudden change in the consistency of snow (2006)
Billie (2003)
Thursday, December 7th, 8 P.M. at An Die Musik LIVE!
409 North Charles Street Baltimore, MD 21201
Tickets $8/$5 for students
410.385.2638 OR www.andiemusiklive.com
FREE wine reception to follow the event.

---
* Sunday December 3 2006: I wasn't able to get to the first performance today of our new song Condoleezza, Fiddling by Wendy Dixon (soprano) and David Miller (piano) of The Grevillea Ensemble. Wendy wrote: "It started the second half and was well received, some quiet guffaws could be heard from the stage, usually that means there are many more in the hall that we don't get to hear up there ... We are singing In the Good Old, Good Old Days and I Knew Nothing in Campbelltown this coming Saturday at 2:30pm."
---
* Saturday Nov 25 2006: On July 27 2006, Condoleezza Rice was in Kuala Lumpur, Malaysia, at a summit of ASEAN (the Association of South-East Asian Nations). At the time, Israel was blasting parts of Lebanon, including suburbs of Beirut, killing nearly one thousand innocent civilians. Dr Rice, who could've stopped the killing, preferred to play piano at the ASEAN gala dinner. This is traditionally a night of song and dance, but Dr Rice was in a sombre mood following a diplomatic visit to the Middle East to check on Israel's progress. "It's a serious time", she said. According to Times On Line, "Dr Rice, who wore a red and gold outfit, was accompanied by a violinist during the recital at the summit ... She said she would like to 'offer a prayer for peace' before playing Brahms' Sonata for Violin and Piano in D Minor, Opus 108". Some might think that a bit of positive action for peace might be more effective than merely praying for it ... Yesterday I finished a song for soprano and piano called Condoleezza, Fiddling: I took the violin part from the Adagio of the Brahms Sonata, re-fashioned it a bit, and gave it to my in-house lyricist Peter Wesley- Smith, who came up with a lyric indicating what Dr Rice was probably thinking at the time. An excerpt:
Peace will come again
if ev'ry now and then
we step away
and thus let nature take its course and
hey! I'll do an encore if you really want me
to play one
Nero, he is my hero
music can calm the beating heart
if only I had played it from day one
It will be performed on Sunday December 3 by Wendy Dixon (soprano) and David Miller (piano) of The Grevillea Ensemble. For details, see here.
* In today's Sydney Morning Herald, Mike Carlton writes:
With a stunning lack of tact, (John Howard) chose Ho Chi Minh City as the place to declare, last Tuesday, that the Vietnam War had been a good idea ...: "I supported our involvement at the time and I don't intend to recant that ... And if I ever develop reservations, well I hope I would have the grace to keep them to myself ..."

So there. What an exquisite irony it was to see him and George Bush at the Asia-Pacific Economic Co-operation meeting in Hanoi, hobnobbing easily with their hosts, posing in splendid Vietnamese gowns.

Hanoi used to be full of the enemies of freedom intent on destroying our Western way of life, but apparently not any more. They are all in Iraq now. Plus ca change, plus c'est la meme chose, as Vietnam's French colonial masters would say over an absinthe or two in the bars of the Vieux Carre. The more things change, the more they stay the same. Quagmire, anyone?
If I ever develop reservations (hard to imagine) about a previous position I've held on something or other, well I hope I would have the grace to share them with others. Howard's statement is extraordinary, particularly as he's not talking about some arcane aspect of the motivic analysis of Brahms' op.108, say, but about a war that cost millions of lives and devastated a beautiful country and people. That war is still killing today, through Agent Orange and other toxic results of that war, just as Iraq has been effectively destroyed through the use of depleted uranium ammunition. Anyone not prepared to admit to previous mistakes is likely to make them again ...
Excerpts from an article by Robert Scheer titled In the Shadow of Ho Chi Minh, posted November 21 2006:
President Bush has said many dumb things in defense of his Iraq policy. Citing the Vietnam War as a model, however, is perhaps his most ludicrous yet ... Having long and vehemently denied parallels between the invasions of Vietnam and Iraq, he nevertheless admitted now to seeing one.

"Yes," Bush said. "One lesson is that we tend to want there to be instant success in the world, and the task in Iraq is ... just going to take a long period of time to - for the ideology that is hopeful, and that's an ideology of freedom, to overcome an ideology of hate ... We'll succeed, unless we quit."

The lesson of Vietnam is not to keep pouring lives and treasure down a dark and poisonous well, but to patiently use a pragmatic mix of diplomacy and trade with even our ideological competitors ... The lesson of the Vietnam debacle is that yesterday's enemy is more likely to become today's trading partner if we remove the specter of U.S. imperialism and leave the fate of Iraq to the Iraqis.
James Tugend commented: "What Bush was saying to his hosts was 'We should have stayed the course and kept killing you people, so you never would have been running your own government and none of you would be here today'. His comments were greeted by deafening silence ..."
---
* Friday Nov 17 2006: One of the regular pleasures I have is reading columnist Mark Morford in SF Gate. Today's offering starts:
I have right here in my hot little hands ... a brand new lick-ready smooth-as-love Apple MacBook Pro Core 2 Duo Super Orgasm Deluxe Ultrahard Modern Computing Device Designed by God Herself Somewhere in the Deep Moist Vulva of Cupertino Yes Yes Don't Stop Oh My God Yes ...
This might not be everyone's cup of tea, but if it's yours, click here to read the rest of the article and to subscribe (it's free).
Last Monday we said goodbye to 20-y-o German WWOOFer Charlotte, who had been with us for a couple of weeks working in the garden in exchange for bed and board [WWOOF: Willing Workers On Organic Farms]. I have set up a web-site so that all prospective WWOOFers can check us out before they come.
---
* Friday Nov 10 2006: Have just received an email from someone who was at last Sunday's concert by CAMBIATI in St Stanislaus Chapel at the Sisters of Mercy Convent in Singleton, NSW (north of Sydney):
What a wonderful concert by this unusual group! There were about 90 people in the audience, and they loved everything, especially your pieces. Anna Sandstrom brought out all the beauty and sadness of your Afghan Lullaby (was that really its first performance??). Then Rachel Scott was unbelievable in Uluru Song. I think that was the hit of the concert. Rachel has a lovely voice, and she's an excellent cellist - put the two together on such an amazing piece and it's really something! Then Anna sang She Wore a Black Ribbon, which had a cello part I hadn't heard before. Nice! That song always gets to me, especially when sung with such disarming innocence. The organist, Pete Ellis, was good too. Congratulations!
* Great news regarding the "thumpin'" the Republicans received in America! Not long before that, our dear Mr Howard, when asked if he would meet Al Gore when he's in Australia, said probably not - after all, Gore is an enemy of my buddy Dubya. How childish. At this time, Bush needs all the support he can get, but John "A friend in need is a friend indeed" Howard has already started to distance himself ...
On August 15 we took delivery - from local sheep-farmers John and Suzie Ballinger - of a four-day old Border Leicester lamb called Popocatepetl. I've been bottle-feeding her from then until last Tuesday, when I took her back to the Ballingers', about 2km down the road. It was a sad parting, 'cos in those nearly three months we'd become good friends. But, next day, who should turn up but Popo! She'd managed to break out of the paddock she was in and come running home, bleating with joy ...
later: Popo has since gone back to start, again, her new life, one where she's not a dog (as she believes herself to be) and doesn't get to sleep on (and poop on) an old couch on the verandah. In this new life she hangs out with other sheep, and sleeps in a paddock, and doesn't get her ears scratched before bedtime ...
All New Zealander jokes can now cease.
We've also given away our surviving gander, Arthur, who has been disconsolate since the death, a couple of months ago, of his brother Roger. Both Arthur and Roger starred in my audio-visual piece Weapons of Mass Distortion (2003). Popo is a descendant of the sheep that appeared in the film Babe, which was shot mainly at Robertson, not far from here.
* Am working on a concert I'm putting on in Kangaroo Valley on January 26 next year featuring soprano Annalisa Kerrigan, violinist Jennifer Hoy and harpist Genevieve Lang. See here . It will feature a new arrangement I'm doing of Eric Bogle's classic song And the Band Played "Waltzing Matilda" and, possibly, a silent film, about passion and murder, featuring Dirty Dan, Fluff and the milkman, to accompany a performance of Belgian composer and band-leader Jacob Gade's Tango Jalousie.
* Have been commissioned to compose a song for soprano Yvonne Kenny for the inaugural Kangaroo Valley Arts Festival which "will be held 20-22 April 2007 featuring classical and fine contemporary music integrated with the visual arts in events and collaborations never before witnessed at an Australian arts festival".
---
* Sunday Oct 29 2006: Last night's Fourth Annual Kangaroo Valley Buster Keaton Silent Film Festival, with pianist Robert Constable, was its usual brilliant mix of wonderfully imaginative music, humour and film-making. Great supper, too, and gluhwein, and community spirit. The two shorts - The High Sign [1921] and Neighbors [1920] - were hilarious. Not "a laugh a minute", more "a laugh every ten seconds". The feature film The General [1927] was longer, more complex, and more subtle. Not "a laugh every ten seconds", more "a laugh a minute". As Tim Dirks writes, it is "an imaginative masterpiece of dead-pan 'Stone- Face' Buster Keaton comedy, generally regarded as one of the greatest of all silent comedies (and Keaton's own favorite) - and undoubtedly the best train film ever made ... Filled with hilarious sight gags and perfectly timed stunt work ..." The evening raised funds for projects assisting the people of East Timor organised by The Kangaroo Valley-Remexio Partnership.
* This afternoon Charisma played the second movement - pat-a-cake 2 - of my piece db. And Rachel Scott played (and sang) my piece Uluru Song at a concert in Singleton, NSW. But I couldn't make either concert: at exactly the same time I was attending the first performance, in Kangaroo Valley, of a new song brother Peter and I had recently written ....
* A couple of weeks ago the community choir in which I regularly warble found itself joining choirs from Wollongong and Manly in a Wollongong Symphony Orchestra concert called Fantastical Classical. The program included the first bit of Thus Spake Zarathustra (the 2001 - A Space Odyssey theme); the Star Wars theme; a sanitised version of Peter & the Wolf; something from Phantom of the Opera; The Sorcerer's Apprentice; Land of Hope & Glory; O Fortuna from Carmina Burana; and the 1812 Overture. Populist stuff, but generally well-performed. We sang our hearts out, but we needn't have bothered, for the audience could hardly hear us. Why, one wonders, have a choir of 100 or so people from all over the place if you stick 'em up the back in a huge sports stadium and expect 'em to be heard, without sufficient amplification, over a full orchestra going full bore? Another thing: why not include even just one work by an Australian composer? Percy Grainger, for example, who has written plenty of stuff that that audience would've loved. Or perhaps something short and grand (a fanfare, if necessary) by a young Wollongong composer, thus giving her/him a bit of a leg-up and perhaps engendering a bit of pride in a local girl/boy and saying to other local youths that yes, you can do it too ... We were told how wonderful it is that Wollongong now has its own symphony orchestra and how it represents a cultural coming of age - but how proud can Wollongong really be of an occasional band of musos, mostly from Sydney, that plays music by composers who are mostly dead, white, male, and non-Australian? One more thing: people condemn me for writing "political music". But how more political can music get than Land of Hope and Glory?? "Political music" actually means "Music whose politics I either disagree with or don't want to think about" ... My congratulations to the Wollongong Conservatorium, and Symphony Orchestra, for the standards they achieved. Perhaps now they can work towards making the orchestra more culturally relevant to Wollongong, specifically, and to Australia, generally.
---
* Thurs Oct 5 2006: Went to Sydney yesterday for a concert/forum at the University of Technology, Sydney (UTS) with Ros Dunlop (clarinets) and Julia Ryder (cello). The program consisted of my audio-visual pieces Weapons of Mass Distortion, for clarinet &amp computer [2003, about propaganda and the 2003 invasion of Iraq], Welcome to the Hotel Turismo, for cello &amp computer [2000, about the Indonesian occupation of East Timor 1975-1999], Papua Merdeka, for bass clarinet &amp computer [2005, about the plight of the people of West Papua], and Merry-Go-Round, for clarinet, cello &amp computer [2002, about Afghanistan]. For information about these pieces, click here.
* They say it's only a game, but the Sydney Swans' one- point loss to the West Coast Eagles in last week's AFL (Australian Football League) Grand Final was a bitter blow ...
---
* Thurs Sept 28 2006: I went to Sydney yesterday for a Charisma concert that included my audio-visual piece Papua Merdeka. Other pieces on the program included Akoy [2006] and Black &amp Blue [2005] by Stephen Ingham, Mass Destruction [2002] by Bill Alves, Nigel Westlake's classic Onomatopoeia, for bass clarinet &amp delay unit [1984], using a software delay unit written in MAX/MSP by Jon Drummond, and - the highlight for me - the premiere of a new audio-visual piece called Broken Reflections [2006] by Rosie Chase, once a student of mine.
* Last Saturday I attended a birthday party for Antony Jeffrey, an old friend, founding Director of the Music Board of the Australia Council, a man who has done a marvellous job behind the scenes for music in Australia. My brother, Peter Wesley- Smith, and I wrote a special song for him that was performed by The Song Company. Many people asked to see the lyric - here it is:
A. S. A. Jeffrey

(c) 2006 Peter Wesley- Smith


This man we've enshrined
is such a dapper antique
he's one of a kind
he's almost unique

His parents, we've heard
were idle and poor
they fed him on bird-
seed, dog biscuits and straw
he loved it, they say
he was sylph-like and sleek
it gave him today
his splendid physique

He lived in a shack
and played in the street
he was sharp as a tack
but terribly effete
he wandered from home
to home like a mouse
until he did roam
to Price Waterhouse

Accountants are dread-
fully boring and mean
they're often inbred
and better not seen
with gritted teeth, slit
eyes and passionless hearts
they rort clients wit-
less and light their own farts

Yet one fateful year
our hero decamped
and down to the drear
Ozzie Council he tramped
he set up the Music Board
(or) so he'll evince
and every musician's
complained ever since

Undaunted, his pal-
lid weak muscles he flexed
and theatre and bal-
let and opera were next
he caused awful strife
so sooner not later
he moved: that's the life
of an arts administrator

Though we slander him freely
this song's just a teaser
for Antony is really
a splendid old geezer
admiration, esteem
and affection hard-won
the arts world is grateful
for all he has done
The tune was fashioned over excerpts from Beethoven's Sonate for piano op 109 (one of Antony's favourite pieces). The piano part was expertly played by the artistic director of The Song Company, Roland Peelman.
* After the American National Inteligence Estimate - a document prepared by sixteen intelligence agencies involving thousands of intelligence professionals - concluded that the invasion of Iraq had increased terrorism, not decreased it, our beloved Prime Minister John Howard said it was a matter of opinion and that he disagreed. And let us not forget, he said, pulling out a non-sequitur designed to deflect attention from his refusal to face reality, that terrorists had attacked Australians (in Bali in 2002) before the invasion of Iraq. And isn't it great, he said, that more and more reports are being declassified so that now, at last, we can discover the truth?! Words fail ...
---
* Sat Sept 23 2006: More sad news: our dog Fidie, an Australian shepherd, who had been ill for a week or so, passed away yesterday. She had eaten something unknown - probably unmentionable - which had given her an infection that affected her liver, lungs and kidneys ...
* Tomorrow - Sunday Sept 24 - the Grevillea Ensemble (soprano Wendy Dixon and pianist David Miller) will perform my song Recollections of a Foreign Minister, a setting of an edited transcript of Australian Foreign Minister Alexander Downer's recent testimony to the Cole Enquiry into the activities of the Australian Wheat Board. 3pm, Crows Nest Performing Arts Centre, 6 Holtermann Street, Crows Nest, Sydney.
* Part of my essential reading these days is the Australian e-zine New Matilda (trial subscription available h ere). Last Wednesday's edition contained an excellent article on so-called "Australian values" by the wonderfully- named Ezequiel Trumper titled Australian Values: The View from Howard World. Mr Trumper co-hosts a daily news and current affairs program on the only 24/7 Spanish-speaking radio station in Australia. He writes: "Hours after Howard World unleashed its Citizenship Doctrine, we invited our audience to respond", then quotes what several callers said, including the following:
Values? What Australian values? The values of what? Beer? What is so Australian about democracy? About respect for the law? I know more about democracy and the law than they do - I actually had to FIGHT for those values. And they have the gall to pretend that we should learn from them about their 'values'? About compassion? How can these people preach 'compassion' when they showed none in the past ... look at what they did to the Aborigines, look at what they did to the refugees ... What values are they talking about?
* Talking of e-zines, I'm now finally fed up with the daily Australian email bulletin Crikey and won't be renewing my subscription. Their policy of ridiculing, even insulting, subscribers deemed to have left-of-centre views seems to me a strange way to build the dialogue necessary to build the business. Their main culprit, Christian Kerr, is being challenged by several others - principally "Peter Faris, QC" - for the title of Chief Ranting Right-Wing D*ckhead (my brother Peter was once called by one of them a "ranting left-wing d*ckhead").
---
* Mon Sept 11 2006: Over the weekend I attended the inaugural Kangar oo Valley Folk Festival, which had a great atmosphere despite almost continuous rain and wintry conditions. There were some excellent performers on the bill, with Kate Fagan and Chloe &amp Jason Roweth being among those I particularly enjoyed. Yesterday the choir of which I'm 50% of the tenor section sang several songs, including Will Ye Go, Lassie, Go? and the spiritual Deep River.
* Am organising The Fourth Annual Kangaroo Valley Buster Keaton Silent Film Festival for Sat Oct 28 2006, Upper River Hall, Kangaroo Valley. As in previous years, the pianist will be Robert Constable, and proceeds will go to the Kangaroo Valley-Remexio Partnership (assisting projects in East Timor). The main film will be Keaton's classic train movie The General [1927].
* I've recently been in Adelaide, again, helping to sort out family matters after the death of brother Jerry. Am scanning photos and collecting together as much of his music as I can find, aiming to make a tribute DVD for those who loved him.
* Have been invited to give a paper at the 2007 Asia Pacific Conference, hosted by The Composers Association of New Zealand (CANZ), Wellington, NZ, Feb 6-16 2007, and to present a performance of my audio-visual piece Papua Merdeka at the associated festiva l. My paper will be to do with music and politics. Abstract:
George Orwell, in Why I Write: "I think there are four great motives for writing ...", one of them being "Political purpose - using the word 'political' in the widest possible sense. Desire to push the world in a certain direction, to alter other people's idea of the kind of society they should strive after. Once again, no book is completely free from political bias. The opinion that art should have nothing to do with politics is itself a political attitude."

I am often accused of composing "political music" (always, as it happens, by people with vastly different political views). This paper discusses some of the pieces of mine most often attacked and denigrated, particularly the audio-visual pieces that deal with situations in Afghanistan, East Timor and Iraq. Reference is made to other examples of music with an overt political agenda - from the so-called "serious" area (Cardew, Eisler, Nono, Rzewski etc) to the so-called "popular" area (Bragg, Dixie Chicks, Dylan, Springsteen etc), from the right (Toby Keith and others) to the left (everybody else).
---
* Tues Aug 15 2006: Yesterday we received a visit from Hong Kong composer Joshua Chan, an ex-student of mine who now lectures in the Music Department of the University of Hong Kong. We received another visitor, too, although this one will stay here for at least six weeks: Popocatepetl, a Border Leicester lamb who's now four days old. Ker-yute!
---
* Fri Aug 11 2006: Congratulations to Liberal MPs Petro Georgiou and Russell Broadbent for having the courage to cross the floor to vote against the Australian government's toughening of its immigration laws. And to Judi Moylan and Bruce Baird for abstaining. Mr Georgiou: "the most profoundly disturbing piece of legislation I have encountered". Ms Moylan: "I cannot believe that the citizens of this sovereign country would ever cease to wonder, nor would they ever forgive, were we in this House to acquiesce in silence to pressure from a neighbour on a matter so much at the heart of our principles of justice. I for one cannot remain silent."

The bill was passed in the House of Representatives despite Liberal Party defections. There is some hope that it will be defeated in the Senate, where three Coalition senators - Marise Payne, Judith Troeth and Barnaby Joyce - and Family First senator Steve Fielding have said they are unhappy with the bill. [later: at the last minute Mr Howard withdrew the legislation, knowing that it would be defeated - a victory for the forces of reason and compassion ...]
---
* Sat Aug 05 2006: Have just read that ACT Chief Minister Jon Stanhope has nominated Terry Hicks, the father of Guantanamo Bay detainee David Hicks, for the Father of the Year award, a nomination I strongly support. Of course, Federal Attorney-General Philip Ruddock, accuses Mr Stanhope of trying to politicise the awards. My friend Vacy wonders if there's a Low- Life of the Decade award. If so, she will nominate Ruddock. I will second that! In my opinion he is so low that he would have to stand on tippy-toe to kiss a rat's freckle ...

Later (Thurs Aug 10): Mr Stanhope wrote back:

I believe that parenting, one of life's greatest challenges, becomes a particular challenge for those with a child who does not live up to a parent's expectations or the expectations of society. I believe that Terry Hicks, in standing unconditionally by his son and working quietly and persistently to secure justice ... has set an example that warrants recognition.

* Heard about a concert to be given by The Sydney Chamber Choir at 8pm on Sat December 16 2006 at Trackdown Scoring Stage, Fox Studios, Sydney, which will include some "madcap music" of mine (have no idea what ... I wasn't aware I'd written any ...). This marvellous choir, now conducted by Paul Stanhope (no relation, as far as I'm aware, to Jon), commissioned my piece Who Killed Cock Robin? back in 1979.

* STOP PRESS: I went out this afternoon to feed the animals, as one does, and noticed that our old horse, Fargo, wasn't lining up with his mate Jarrah and the donkey, Wally. I went out looking for him, in the rain, and found him down the track, lying on his side, dead. We think he was 37 years old, which is way past the usual life-span of a horse, so his time had come. And he died a natural death. But it's still a sad day. Jarrah, in particular, is distraught ... [later (Thurs Aug 10): yesterday Dave Rebbeck came with his "excavator", dug a hole next to Fargo, pushed him into it, then covered him up. A friend donated a pencil cedar that I will plant on the grave.]
---
* Sat July 29 2006: For those concerned about Flashman, known as Flash, who's a dog and who recently tore an anterior cruciate ligament: he came home from hospital today after an operation to re-attach the ligament; he's as well as could be expected, but miserable at the prospect of spending a month virtually immobile followed by another month with very limited exercise ...
---
* Monday July 24 2006: Heard, yesterday, Wendy Dixon and David Miller give the first performance of Peter's and my song In the Good Old Good Old Days (see text below). Good performance, good reception!

* In The Song Company's July 2006 Newsletter, Artistic Director Roland Peelman had this to say:

In addition, the company also recently presented at Music Viva's Australian music sessions to secondary schools together with Martin Wesley-Smith, a unique voice in Australia and a composer with whom the company has an unparalleled relationship. Yet, even though we know so much about Martin, his expose about the musical building stones of composition and the kind of processes used was enlightening even to us - as well as amusing: Martin brought along to these sessions some archival footage from the late sixties of the band he then played in. Imagine Martin and Peter as fresh faced Adelaide college boys strumming the guitar and the bass resp!

And during the first week of June we faced again the more weathered and wisened version of the twin brothers for a concert in Kangaroo Valley where both of them now live. It looks like this is rapidly becoming an annual event after the truly memorable concert last year. In spite of the almost total absence of Wesley-Smith music, the crowd was again numerous, enthusiastic and warm (warmed up by the mulled wine served during interval) with several Sydney-siders traveling up for the event (and a weekend in Shoalhaven or the Southern Highlands of course). Keep an eye out for the date in early June 2007!
---
* Monday July 17 2006: Yesterday clarinettist Ros Dunlop and I presented a concert of audio-visual works at IDEC (International Democratic Education Conference) in Sydney, an "annual forum for children, teachers, parents, schools, activists, individuals, organisations, government bodies and NGOs to discuss and share their ideas, concerns and experiences around democracy in education". We played and discussed Weapons of Mass Distortion, Welcome to the Hotel Turismo and Papua Merdeka, receiving an overwhelmingly positive response and invitations to present these and other works in various places including Brisbane, New Zealand and the USA.

From the IDEC web-site: "In Australia, as in many other countries, school refusal, disengagement with learning and schools, trouble with families, police and the law, issues of drugs and alcohol, racism, living in poverty, mental illness and suicide are part of many young people's lives despite our general high level of economic and educational prosperity." To find out more, click here.

* Last week I attended a concert put on by participants in the National Braille Music Camp at Frensham School, Mittagong, NSW - a most enjoyable, heart-warming experience. The musical standard was generally very good, with some of it excellent. Many people, including Ian Cooper and Roma Dix, put an enormous amount of effort and love into this annual event, achieving impressive results.

* Peter and I have finished another song for soprano Wendy Dixon and pianist David Miller (The Grevillea Ensemble) called In the Good Old Good Old Days:
In the good old good old days
life was so much simpler then
in those dear departed times
girls were girls and boys were men
when petrol was too cheap to meter
at only 1.30 a litre
when baksheesh was free at the AWB
back in the good old good old days

When the world's out of whack
we yearn to go back

to the good old good old days
we were young enough to dream
of renouncing nuclear war
and the Snowy Hydro Scheme
when John Howard was a wonderful fellow
or so thought young Peter Costello
when we didn't throw stones at that nice Alan Jones
back in the good old good old days

When the world's out of whack
we yearn to go back

to the good old good old days
we were all so immature
the world seemed bright and clear
and Miss Vanstone so demure
our pollies admired Magna Carta
our laws weren't devised in Jakarta
back then woe betide any minister who lied
back in the good old good old days

In the good old good old days
of tempestuous romance
when boys, so cute and smart
didn't show off their underpants
the songs: not from the same hymnals
the Cabinet: not yet war crim'nals
no third degree for the ABC
back in the good old good old days

In the good old good old days
life was better by far - and yet
that's just what I've been told
'cause personally I forget
at least they'd not breached ev'ry tenet
of the purpose and role of the Senate
they've managed to do in
the values we knew in
the good old good old days
when the minimum wage was conceded
and workplace reform wasn't needed
we had youth, hope and pluck
and we didn't give a fig
back in the good old good old ways
of the good old good old days

When the world's out of whack
we yearn to go back
to the good old good old days

(c) 2006 Peter Wesley-Smith
This will be premiered this coming Sunday in Sydney (3pm Sun July 23, Crows Nest Performing Arts Centre, 6 Holtermann St, Crows Nest - for details, click here).
---
* Saturday July 8 2006: Have been in Adelaide for nearly a month helping to organise things following the death, on May 14, of my brother Jerry. In the meantime, The Kioloa Harp Ensemble performed at the American Harp Society's 2006 National Conference in San Francisco, playing my piece Alice in the Garden of Live Flowers. A friend who was at the concert wrote: "Happy reports and glowing praise ... All the pieces went really well, all the harpgirls were really focused, and all the audience loved it!".
I had intended to be in East Timor at this time, but the need to be in Adelaide, plus security concerns in Timor, caused me to cancel the trip.
* Note: an East Timor event, Sat July 15, Petersham Town Hall, Crystal St, Petersham, Sydney: 9.30am to 12.30pm, discussions; 1pm to 4pm: benefit concert; musicians to include Blair Greenberg, Ego Lemos, Jeannie Lewis, Maurie Mulheron &amp Voices from the Vacant Lot; 6pm: special dinner to welcome the new East Timor Ambassador. For more information, call Jefferson Lee, of the Australia-East Timor Association, on [02] 9519 4788.
* A plug for the upcoming production Honour Bound, by Nigel Jamieson with choreography by Garry Stewart, from their blurb:
Honour Bound is an intensely passionate and confronting ... an extraordinary combination of dance, film, theatre and aerial performance ... a culturally and artistically ambitious work that focuses on the experiences of Terry Hicks and his son David - held in Guantanamo Bay, Cuba, for four years without trial. It integrates Terry's personal testimony as a father and draws on letters, internal Pentagon papers and the accounts of former detainees ... (it) is about some of the most important issues we face as a society: law and order, hatred and love, humanity, and human beings pushed beyond their limits ... It has its world premiere at Sydney Opera House on August 2, 2006 and opens at the Malthouse Theatre in Melbourne on 15 September. For more information, and to book, click here.
* On June 29 there was a chamber music concert at Hall of Christ, Chautauqua Institution, USA, featuring alto saxophonist George Wolfe playing my multimedia piece Weapons of Mass Distortion. George, who is Director of the Center for Peace and Conflict Studies at Ball State University, has been described by right-wing extremist David Horowitz as one of the most dangerous academics in America. Gee ....
After a previous performance of Weapons ... as part of a lecture Professor Wolfe gave at Ball State University on Oct 31 2005, Ball State student Kyle Ellis wrote:
... Wolfe went on to present a composition by the Australian musician and left-wing political activist Martin Wesley-Smith. Entitled "Weapons of Mass Distortion," it was a snide and cynical attack on the U.S. liberation of Iraq. Wolfe even played a score on his saxophone to accompany the visual graphics. Discussing the work, Wolfe acknowledged that it was little more than political propaganda. Nonetheless, he stressed that it was "compelling and highly effective."
I should say that there's nothing snide about my "attack on the U.S. 'liberation' of Iraq". And I disagree with George that the piece is "little more than political propaganda". I wrote to him:
Propaganda requires such things as repetition; fabrication; false insinuations; exaggeration; misinformation; disinformation; indoctrination; demonisation of foes; the use of weasel words, euphemisms, doublespeak etc; proclaiming nonsense to be truth; the manufacture of consent; the fracture of dissent; the selling of concepts etc that people otherwise wouldn't accept; and so on. Weapons pleads not guilty to all these charges. A 14' piece for clarinet and visuals, plus a few texts, could not be propaganda if it tried. It puts a certain point of view, of course, like documentaries do, but it aims primarily to stimulate thought and discussion. And it does (Ros Dunlop and I recently did a concert/seminar at the Royal College of Music in London; this and other pieces provoked a very spirited discussion about these and other issues). Its fundamental point of view? A plea for politicians and others to tell the truth - hardly, for most people, a controversial point, and one not needing to be "propagandized" in order to be made.
---
* Thursday June 8 2006: Last Saturday night's concert in Kangaroo Valley Hall, which I organised, by The Song Company was, as we've come to expect, brilliant! Their beauty of tone, their intonation, and their ensemble were heard at their best in the pieces from the 16th century (by Marenzio and Monteverdi, amongst others) and earlier (Machaut, Hildegard). Contemporary pieces included songs by Katy Abbott and Kate Bush as well as Peter's and my Freddie the Fish from Who Killed Cock Robin?.
Seems my letter to members of the New South Wales Legislative Council has, with others, had at least a temporary effect: the legislation (Correctional Services Legislation Amendment Bill 2006) has been referred to the General Purpose Standing Committee Number 3 for inquiry before being put before the parliament again.
Have done a web-site for the Kioloa Harp Ensemble's next concert in Canberra on June 27. For details of the concert, at which they will play my Alice in the Garden of Live Flowers, click here.
Yesterday would have been the 65th birthday of my brother Jerry Wesley-Smith, who died in Adelaide on May 14. For an account of his funeral, click here.
---
* Tuesday May 30 2006: Have been writing to all members of the New South Wales Legislative Council about the Correctional Services Legislation Amendment Bill 2006, which has already passed the Legislative Assembly and is due to go before the Council this week. Amongst other things, it will prohibit so-called "serious indictable offenders" in NSW prisons from having their reproductive material stored, at the State's expense, should they have a life-threatening operation.
I am alarmed by the Correctional Services Legislation Amendment Bill 2006.

While I accept that serious indictable offenders, and other criminals, should lose certain rights, such as the right to liberty, during the period of their punishment, if we deny them the right to store their reproductive material then we also suspend the right of innocent people, such as spouses and other family members, to expand an existing family. If, say, my Dad commits a serious indictable offence, am I to be denied the right, should he die in prison, to have a brother or sister? If, say, my husband commits a serious indictable offence, am to be denied the right, should he die in prison, to give our child a brother or sister?

The Bill seems to me to be a petty, knee-jerk reaction to a newspaper beat-up that prompted outrage from a few people who couldn't see the implications of such a reaction. The rights of innocent people, especially those already suffering because of a relative's crime, must be protected in a decent, caring society, especially now when human rights generally are under attack. Once you start chipping away at the rights that prisoners do have, their other rights will soon be a target, decreasing the rate of rehabilitation and increasing that of recidivism. This will be to society's cost.

If a propensity to commit a serious indictable offence were genetic then perhaps a case could be made for this legislation. But it's not. Why, therefore, a Bill that punishes not only an offender but also innocent relatives? It effectively allows "cruel and unusual punishment" i.e. torture.

I should point out that ova cannot be frozen, making anyone who has already voted for this Bill in its present form, or who votes for it in future, open to ridicule.

I ask that you oppose this bill.
---
* Monday May 29 2006: Attended a performance by Tim Kain of my guitar piece Kolele Mai at Riversdale, Bundanon. Excellent! Its East Timor theme resonated particularly strongly, given the appalling violence that has erupted there. Last night I watched Answered by Fire - about the 1999 UN-supervised referendum in East Timor - on ABC-TV. The music included the folk-song, Kolele Mai, on which my piece was based. The film was beautifully made, strong, very moving ...
---
* Friday May 26 2006: Yesterday's Musica Viva "Australian Music Day" for schools went well. The Song Company sang various things of mine to illustrate the points I was making, doing their usual superb job, everyone sang a round I wrote recently - Little Johnny Longnose (see below), and Roland Peelman played, on piano, the clarinet part to Weapons of Mass Distortion, which worked really well. We did a section of Quito, about East Timor, which reminded us all of the chaos currently enveloping that poor litle country ...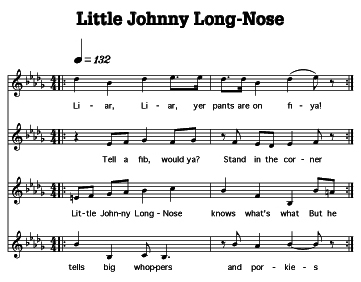 Coming up: a performance of Papua Merdeka at West Papua - What Next?, a seminar on the legal issues facing West Papuans. It's at 5.15pm (refreshments available from 4.45pm) on Thursday June 1 in the Theatrette, Parliament of New South Wales, Macquarie St, Sydney. Entry by donation. It's being put on by the ICJ (International Commission of Jurists Australian section). Chaired by John Dowd AO QC, speakers will include Justice Elizabeth Evatt, AC, ICJ Commissioner; Dr G Peter King, Convenor, West Papua Project, Centre for Peace and Conflict Studies, University of Sydney; Dr Mary Crock, Associate Professor, Faculty of Law, University of Sydney; and two of the recent refugees from West Papua. For more information, email the ICJ or click here.
from the ICJ-Aust web-site:
ICJ Australia calls on all lawyers and other jurists in Australia and around the world to use their specialised knowledge and expertise to forthrightly promote the inalienable rights of all people that can only be truly protected through the rule of law.

ICJ Australia calls on all jurists to advance the cause of the disadvantaged through law; to stand up for the fallen; to raise their voices for the speechless; to hold those who have power accountable to those who have little; and to stand firm against the tide when it threatens to sweep away the fundamental tenets of peace, justice and security in the world. Only through a diligent, persistent, and unwavering commitment to promote the fundamental principles of human rights and the rule of law, can people claim to be truly free.
Brother Peter was due to go to East Timor last Wednesday. Thankfully he didn't (the situation there seems to be worsening by the minute - having just lost one brother I'm not anxious to lose another one) but, instead, went fishing in Darwin, catching, so he claims, a thirty-pound mackerel. Yeah, Pete, sure ...
In today's Crikey:
Samantha Roberts, East Timor resident and co-author of the blog Dili- dallying, writes:
I have an unanswered question: where has the President been throughout this whole sad sorry saga? He has been conspicuously absent ever since the Fretilin Party Congress. Is he in ill health? Does anybody out there know? There has been talk of Jose Ramos-Horta nominating for the presidency if Xanana Gusmao doesn't, however to me it seems he has already assumed the president's duties!
Meanwhile, the problem as I see it with the government of Timor is that it has focused on external or macro issues to the detriment of internal and micro issues. In my estimation, it has done well and continues to do so at the macro level. However, the glaring exception is its lack of willingness to seek justice from Indonesia for the brutal 24-year occupation of Timor. This important exception feeds into the internal and micro issues that the government has neglected.
Neglected, I believe, because most of the government are out of touch with ordinary Timorese concerns. Why? Because most of them didn't live in Timor during the 24-year occupation and despite the fact that many worked tirelessly to obtain Timor's independence, it meant that their focus became international. This, combined with their high levels of education, has set them apart from the ordinary Timorese, most of whom are illiterate, poor and have little idea about the world outside their village, yet alone this small half- island's boundaries. Their concerns are immediate: where to get enough food and water today to feed their family, and access to health and education. Many also want justice from Indonesia, good roads and to see the fruits of their government's work and words as actual impacts in their everyday lives. If the ordinary people had these things, I don't think the ethnic divide we now are seeing would have gathered much momentum.
The second problem confronting the government is the way the F-FDTL (East Timor's defence forces, FALINTIL-Forcas de Defesa de Timor-Leste) and the PNTL (Timorese police) were formed and the continuing lack of rules and procedures concerning them, particularly the former. The higher-ranking officers of the F-FDTL are almost universally from the east and the PNTL is full of people from the west. In a fledgling society such as Timor, its military and police should not be so ethnically divided. This leaves the two security forces open to exploitation and genuine charges of discrimination within their ranks. Political manipulation and exploitation is a particular worry.
When this happens, those angry unemployed young men who belong to martial arts groups are also likely to get in on the act. Thus, tensions rise, different groups take action, and the situation deteriorates rapidly.
---
* Tuesday May 23 2006: Am preparing a talk for a Musica Viva "Australian Music Day" for schools this coming Thursday; have composed a round - Little Johnny Long-Nose - that I want everyone to sing:
Liar, liar, yer pants are on fire!
Tell a fib, would ya?
Little Johnny Long-Nose knows what's what
But he tells big whoppers and porkies.
download it (36KB pdf file) for free here
---
* Monday May 22 2006: Yesterday soprano Wendy Dixon and pianist David Miller (The Grevillea Ensemble) gave the first performance of Peter's and my recent song I Knew Nothing (which sends up Australian Foreign Minister Alexander Downer and his recent appearance at the Cole Enquiry into the activities of the Australian Wheat Board). Someone wrote: "Your song went fantastically. Huge response, lots of laughs, good belly laughs. Big clap. And then after the show finished lots of great comments from the audience ..."
I'll be interested to see if Grevillea's audience continues to appreciate the songs (Peter and I are writing a new, topical, satirical song for each of this year's concerts) and whether the concept can be regarded as a success. Way back in the early 90s I suggested to the Sydney Philharmonia Motet Choir that they do something like this, but they weren't interested. If they had gone for it (with a variety of composers and lyricists), what a fantastic collection of songs there would now be, one that charted Australia's political events of the past fifteen years or so ...
The remaining Grevillea Ensemble concerts this year will be held at 3pm on Sunday July 23, Sunday Sept 24 and Sunday Dec 3 at Crows Nest Performing Arts Centre, 6 Holtermann Street, Crows Nest, Sydney.
---
* Sunday May 21 2006: Just back from Adelaide, where a funeral service for our brother Jerry was held yesterday.

It was a terrible/wonderful/harrowing/beautiful etc experience, the way most funerals are. I appreciate now how funerals play an important role in society, forcing people to get together, to renew friendships, to concentrate on appreciating human qualities (good and bad), to celebrate - ironically - life, to get a handle on one's own mortality, and so on. 300 or so people turned up to the crematorium. A jazz band played as people came into the chapel. When everyone was sitting down, we played a recording of Jerry singing I'll Never Be the Same Again accompanied by his old band The Campus Six and a favourite image of him that slowly changed. By the end of it, many people were sobbing quietly ... MC Bob Lott, old friend/colleague/co-muso of Jerry's, introduced brother Rob, who thanked everyone for coming and told them that after the ceremony they were welcome to pop next door for a cuppa then go to the Thebarton Theatre for a wake, where the first round of drinks - Jerry's favourite tipple, champagne - would be free (we found some money in one of Jerry's pockets, which we thought should be used to pay for a round). Jerry's last shout. Come to think of it, Rob said, it was probably also his first shout, which produced great mirth, the shared experience helping to bring everyone together ... My daughter Olivia spoke, and brother Peter, then Schmoe (Sylvan Elhay, old friend) played a very moving saxophone tribute to Jerry (he stood by the coffin and played directly to him). Adelaide music critic Elizabeth Silsbury spoke, then Keith Conlon, old friend and drummer. Then I showed an audio- visual tribute I'd put together the previous night (Imelda Blackwell had given us a CD of Jerry singing a song he'd written that I'd never heard before ("Thank you for the world so sweet ..."); I put a series of images of Jerry to it, old stuff, recent stuff ... the result was very moving for those who had known and loved him). After that the band played again as people paid their last respects and trooped out for the cuppa.

The wake was excellent: lots of people, mostly old friends I hadn't seen for years, various musos playing ... I think Jerry would have been very pleased. Mum is handling things very well now - she'll have her own journey, of course, with a lot of grief to come later, but she's a tough old sheila so even though this has been the hardest thing she's ever had to endure I think she'll pull through it OK. I'll go back when I can to start sorting out stuff. In the meantime there are lots of regrets - things I did/didn't say, did/didn't do, things I didn't understand about my oldest brother and was never able to sort out when he was alive. It was, and is, an emotional roller-coaster: up one minute, down the next. Jerry was "difficult" in some ways, but also very generous, a superb musician, very vulnerable, a complex being who helped me a lot when I was starting out in music, a man adored by lots of people - including, deep down, me. I wish I'd found a way to express that before he died.

Peter wrote the following:
Jerry Wesley-Smith
7 June 1940 - 14 May 2006
John Jeremy Wesley-Smith, better known as Jerry, was conceived on a ship heading from Australia to Europe. War being declared en route, his parents Harry and Sheila went to stay with family in what was then called Londonderry, where Jerry was born. While the family was returning to Australia by ship across the Pacific, Pearl Harbour was attacked: exciting stuff for a lad aged one and a half years! The family settled back in Adelaide, where Jerry studied piano and violin, developing a particular interest in improvisation. At the Elder Conservatorium his major was violin, but although he performed the Mendelssohn concerto with great flair for his final exam, it was on his second instrument of French horn that he played in various orchestras around Australia. He also did a stint as a tenor in the Adelaide Singers, in the long-gone days when the ABC had the resources to employ them.
For several years Jerry contributed greatly to university revues, writing music, orchestrating, and conducting the players in the pit; he supplied incidental music to the original productions of two Patrick White plays, Night on Bald Mountain and The Ham Funeral; for a time he composed and recorded jingles for commercial radio and television. On the piano he once, memorably, accompanied Miss Gay Abandon in an Adelaide strip club, much to his parents' horror. He was the piano player in a couple of Robyn Archer's shows, including A Star is Torn on the West End, and in a gentlemen's club in London until his return ticket to Australia was about to expire. But Adelaide was always his favourite town and, apart from a sojourn in Bellingen, he lived here nearly all his life.
His first love - and last - was jazz; indeed, he abandoned violin and horn quite early on. Undoubtedly one of Australia's finest jazz pianists, he also excelled on the bass, both acoustic and electric, and was an accomplished singer. The Campus Six, in its various manifestations, usually with Jerry's name attached, was his principal band from 1964 to 1975. He had previously worked with the University Jazz Band and afterwards with a number of groups including Bruce Gray's. Local jazz is much in his debt; many younger players attest to his generous assistance, enthusiasm, and leadership.
The ability to move between musical genres - from classical to show-biz to Dixieland and beyond - and to play several instruments equally well, and to compose and sing and arrange and teach, informed Jerry's music-making in every area. Elizabeth Silsbury wrote privately this week that "He had more musicianship in the parings of his little fingernail than the rest of us put together". His musical achievements were immense.
The two and a half decades from the late 1950s were the most productive period of his life. From about the mid-1980s, however, he gradually retreated from many musical activities. He did gigs (piano and bass) and worked on a collection of tunes which he was writing for his projected "Ayrish Euphony Orchestra", but he no longer directed or composed for musical shows; the distinctive achievements of the Campus Six, and Jerry's role in them, were increasingly distant; classical music had largely lost its charms for him much earlier. His interest in both worldly and unworldly affairs increased. A small block of land in the Adelaide Hills claimed much of his attention. His ambition became more directed to performing a perfect rendition of Sweet Georgia Brown than in making money or securing fame. He lived modestly, unmarried - for the last twenty years with Sheila - and worked quietly on his unpublished and mostly not-quite- finished compositions. This was a period, too, when his health began to deteriorate, perhaps due in part to his long exposure to the smoke in jazz-filled low dives. According to the death certificate he died of chronic obstructive pulmonary disease. Thus was a creative life cut far too short.
Thanks for the music, Jerry, and for everything else. You're here today in body, spirit, loving memory, and audio CD. It's hard to resist the notion that you'll suddenly push off the lid of that cheap coffin and give us a tune - well, this is your last gig. No one else could play better for his own funeral. But you're probably too busy playing jazz licks on a harp somewhere.
Thanks are due to many people for support, assistance and love during this difficult time. Makes one realise, again, that the only important thing, at the end, is family and friends. Special thanks to Bob Lott, who was not only a superb MC at the funeral but who provided the venue for the wake and kept the free drinks flowing for as long as there was someone there to drink to Jerry's memory.
---
* Sunday May 14 2006: Sad news: my oldest brother, Jerry Wesley-Smith, died this morning. It was a shock, for although he'd been unwell for years, his death was totally unexpected.
I will try to post funeral details here as soon as we know them.
Jerry, whose professional name was Jerry Wesley, was a marvellous musician who helped me a lot in the early days, especially in encouraging my own interest and involvement in jazz. I owe him a lot. Thanks, brother J, for it all.
---
* May 11 2006: The Burgundian Consort at the University of New South Wales will include an early piece of mine, Two Shakespeare Songs, in a free concert at 1.15pm on Wednesday May 17 2006 in Ground Floor Room G17, Robert Webster Building, UNSW.
---
* May 9 2006: Organisation of the Song Company concert in Kangaroo Valley (7.30pm Sat June 03 2006) is proceeding (to book tickets by phone, call [02 4465 1299] or email me). Their program Drawing Breath was reviewed on August 27 last year in The Sydney Morning Herald by David Vance:
Drawing Breath
August 27, 2005
Song Company
Sydney Conservatorium of Music, August 25 2005

Inspired? Certainly. My dictionary says inspire can mean to inhale air into the lungs. Another meaning is to stimulate somebody to do something, especially creative work or the making of art. So it seems fair to say that The Song Company's current program, "Drawing Breath", is inspired.

Inspiring? Well, it's that too. The Song Company rarely fails to excite through its consummate artistry, and the wit and intelligence of its programming. Thursday's performance was no exception. It provided an eclectic mix of music, old and new, whose verbal and musical signs explored the inevitable cycle of inhalation and exhalation. It celebrated breaths of all shapes and sizes, first breaths to last gasps, amorous pantings to stifled hiccups, boozy breaths, breaths horrid and honeyed breaths, hallowed breaths, almost every variant except stifled breath, though even that lurked behind Stephen Cronin's The Violence of Work, a sardonic portrait of humanity suffocated by a production-line existence.

The director Roland Peelman, a resuscitator of early music, infused fresh vitality into Guillaume de Machaut's work (c.1350) and the even older Hildegard von Bingen (c.1150) whose sequence O ignis Spiritus began hyperactively but ended the first half with the serenity of plainchant.

The contrapuntal subtleties of the Italian and French madrigalists were audible in works by Marenzio and Monteverdi, the latter deliciously scented with a fragrant chromaticism. The early Flemish polyphonists found a worthy living counterpart in Frank Nuyts, whose short duet setting of a Shakespeare lyric and his assured vocal treatment of an Italian text adapted from Racine were highlights of the program.

Kate Bush in Breathing inhaled the same air as Martin Wesley-Smith in Freddie the Fish, their songs carrying a health warning, while Katy Abbott's Cows' Sweet Breath promoted an amusing if unproved elixir for longevity. Only the video installation by George Khut and John Tonkin giving literal and graphic expression to drawing breath seemed to run out of puff quickly.
---
* May 5 2006: Italian flautist Emilio Galante recently played my piece Balibo, for flute &amp CD, in the Hall of the University for Music in Miskoic, Hungary. He wrote: "the performance was very successful and many found your piece the most interesting in the evening!"
Balibo is about East Timor, which has recently been in the news with some distressing riots in the capital, Dili. Today's The Australian reports (excerpts):
from 20,000 flee Dili fearing civil war, by Stephen Fitzpatrick and Mark Dodd, The Australian, May 05 2006:
More than 20,000 East Timorese, fearing renewed ethnic violence, have fled the riot-torn capital of Dili as the Government made desperate calls for calm yesterday. Trucks, taxis and people pushing handcarts streamed out of the city after reports military infighting was about to explode. At least 11 people are thought to have been killed since last Friday, and the toll is expected to grow ...

Suburbs and the city centre were practically empty by mid- afternoon as people responded to text messages warning that the civil war that followed the 1999 independence vote was about to restart.