a fund-raiser for the Kangaroo Valley-Remexio Partnership,
this unique show has become an annual highlight of Kangaroo Valley life
a family show (kids generally love silent movies),
there will be several hilarious Buster Keaton silent films
accompanied live by pianist Robert Constable
featuring Buster Keaton's classic 1927 silent film The General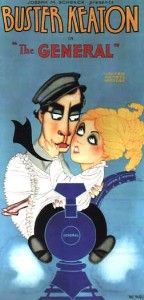 "the best train film ever made ... filled with hilarious sight gags and perfectly timed stunt work"
also The High Sign [1921] and Neighbors [1920]
Arrive early with your own mug and receive a free, warming gluhwein!
Free supper at interval!!
tickets: $20, $10 (concession) from Kangaroo Valley Newsagency, Moss Vale Rd
proceeds to assist projects in East Timor
enquiries: e-mail Martin Wesley-Smith (mwsmith@shoalhaven.net.au) or call (02) 44 651 299

Here's an idea: at 3.30pm on that day, go to the opening
- by Australian artist and cartoonist Bill Leak -
of a photographic exhibition - Folia, by Belinda Webster -

at Café Bella (Moss Vale Rd, Kangaroo Valley - opposite the post office).
At 5.30pm enjoy an alfresco pasta dinner at Bella's ($15 per person; bookings: 4465 1660).
Then, feeling replete, drive leisurely out to Upper River Hall
for a fun-filled evening of edification and enjoyment.
Buster Keaton
When only a few months old, (Buster Keaton) nearly suffocated after being accidentally shut in a costume trunk off stage while his mother and father performed, an incident that encouraged his parents to begin leaving him at whatever boarding house they were residing in. According to family legend, the Keatons then escaped from a series of fires and train wrecks that would have destroyed a less charmed family.


Finally, on one harrowing day when he was nearly three: Buster caught his right forefinger in a clothes wringer, losing the first joint, gashed his head near the eye with a brick that boomeranged after he threw it at a peach tree and was sucked out of an upstairs window by a passing cyclone that carried him floating through the air and conveniently deposited him, unhurt, in the middle of a street a few blocks away.


After that, his parents decided he'd be safer on stage ...


(read more here)

born 4 October 1895 in Piqua, Kansas, as Joseph Frank Keaton Jr.
married to actress Natalie Talmadge; two sons; divorced
married in 1930s; divorced
married Eleanor Ruth Norris in 1940; together until Buster's death on February 1 1966 of lung cancer

began in vaudeville with father Joe Keaton and mother Myra Keaton in 1896
began film work in 1917 for Comique

from http://www.touchstone.freeserve.co.uk/keaton/about.html:

Buster Keaton was one of the greatest screen comedians the world has ever seen.

Born in 1895 when film-making was in its infancy, by the end of the 1920s he had become the most versatile star of the silent era. Actor, comedian, stuntman, writer, director. He excelled at them all.

The most graceful of actors, his films are filled with wonderful moments, from deceptively simple but effective gags through to elaborate and life threatening stunts. He was a pioneer in the use of special effects, appearing on-screen simultaneously nine times in The Playhouse (1921).

By the end of the 1920s he had appeared in over 20 shorts and a dozen features, among them some of the greatest comedies ever seen. The General, his 1926 masterpiece, often appears in lists of the 'Top 100 Films Of All Time'.

At the start of the thirties, with changes in studio structures and the introduction of sound, Buster lost artistic control over his films. He became dependant on alcohol, and as the 1930s and 1940s passed he moved out of the public eye. He continued to make films, but nothing matched the quality of his early work.

During the fifties, with appearances on television and cameos in a handful of major studio films, interest in his silent films began to grow. Prints that hadn't been seen since the 1920s were unearthed and screened to enthusiastic audiences.

Just before his death in 1966, Buster Keaton was finally receiving the recognition he deserved.

see busterkeaton.com
Robert Constable
Robert is a well-known Australian pianist, composer and improviser. He has a particular fascination with improvising accompaniments for silent films (at least three of his great-aunts and -uncles used to play professionally for the "silents" in the period following World War 1) and has been presenting some of the classics in this genre for many years. His work with silent films transcends mere background music, combining his various pianistic, composing and improvising abilities to create an instant soundscape for the images on the screen. With this approach he enters into a genuine artistic partnership with the film. He has a particular affinity with Buster Keaton and over the last ten years has interpreted most of the Keaton classics. He is currently living in Auckland, New Zealand, having recently retired as Professor and Dean of Music at the University of Newcastle.
The General [1927]

from The Greatest Films by Tim Dirks:

The General is an imaginative masterpiece of dead-pan "Stone-Face" Buster Keaton comedy, generally regarded as one of the greatest of all silent comedies (and Keaton's own favorite) - and undoubtedly the best train film ever made. The Civil War adventure-epic classic was made toward the end of the silent era. Posters describing the slapstick film heralded: "Love, Locomotives and Laughs." However, Keaton's greatest picture (arguably) received both poor reviews by critics (it was considered tedious and disappointing) and weak box-office results (about a half million dollars) when initially released in the late 20s, and it led to Keaton's loss of independence as a film-maker and a restrictive deal with MGM. It would take many decades for the film to be hailed as one of the best ever made.

Filled with hilarious sight gags and perfectly timed stunt work, the chase comedy was written and directed by Buster Keaton and Clyde Bruckman, and filmed with a huge budget for its time ($750,000 supplied by Metro chief Joseph Schenck). It is memorable for its strong story-line of a single, brave, but foolish Southern Confederate train engineer doggedly in pursuit of his passionately-loved locomotive ("The General") AND the woman he loves. His stoic, unflappable reactions to fateful calamities, his ingenious and resourceful uses of machines and various objects (water tanks, a large piece of timber, a cowcatcher, a rolling artillery cannon on wheels, and unattached railroad cars), and the unpredictable forces of Nature, provide much of the plot.

The film's fictionalized plot was based on Lieut. William Pittenger's Daring and Suffering: A History of the Great Railway Adventure (aka The Great Locomotive Chase), a true Civil War story of the daring raid/seizure by a group of about two-dozen Union spies (led by civilian spy James J. Andrews) of a Confederate train near Atlanta (at Marietta, Georgia) in April of 1862. They attempted to ride "The General" back into the Union, meanwhile wrecking communications, tracks, and bridges along the return way to Union-occupied Chattanooga (about 140 miles away). Within just 10 miles of safety at the border, the Union group was captured and Andrews and seven of his Raiders were later hanged as spies in Atlanta in June, 1862. Congress created the Medal of Honor in 1861-62 and posthumously awarded it to some of the Raiders (James Andrews, leader of the raiders, was not in the military and therefore not eligible).

The original tale (told from a Northern perspective) was reworked for the film - the tale was told from the point of view of the South and a Southern engineer, a second return train-chase was added, and a heroine named after Edgar Allan Poe's Annabelle Lee was also introduced. A second film was also made to depict the raid - Walt Disney's The Great Locomotive Chase (1956), with Fess Parker as mastermind Union spy James J. Andrews.

The General displays marvelous technical and structural perfection, playful comic inventiveness and realistic romance, and non-chalant graceful, fluid athleticism on the part of Keaton - the Great Stone Face. Realistic stunts (without stuntmen to double for Keaton), uncontrived, free-flowing set-pieces, non-stop motion, and a preoccupation with authenticity make parts of the film a visual history of the American Civil War, with each shot looking like a Matthew Brady photograph. Part of the film was shot near Cowan, Tennessee, between Nashville and Chattanooga. Another locale for the film was around Cottage Grove, Oregon alongside Oregon's Row River, where a half-mile stretch of narrow-gauge track was found for the two ancient, wood-burning, steam locomotives that figured prominently in the film (the "General" and the "Texas"). [The original antique locomotive, the "General", on display in Chattanooga at Union Station since 1911, was not used in the film. The "Texas" was the locomotive that used for the river-gorge crash sequence.]

Each half of the film is predominantly composed of two train chases over the same territory. Each scene in the chase of the first half has a counterpart in the film's second half. In the first chase, loyal Southern engineer Johnnie pursues the blue-coated spies who have stolen "The Genera" and escaped to the North. In the second half, the Union spies chase Johnnie in his re-possessed "General" back to the South. The film concludes with a climactic battle at a river gorge, with the dramatic crash of the pursuit train into the Rock River in the film's most spectacular scene - and the most expensive shot of the entire silent era.
The High Sign [1921]

Buster is thrown off a train near an amusement park. There he gets a job in a shooting gallery run by the Blinking Buzzards mob. Ordered to kill a businessman, he winds up protecting the man and his daughter by outfitting their home with trick devices ...

This was Buster Keaton's first independent two-reeler. He didn't consider it funny enough and had it shelved upon its completion in 1920. It was released the following year when his film output was slowed by a broken leg. But, as Snow Leopard from Ohio points out:

This is the kind of pleasantly silly and very funny film that typifies the very best of these old silent short slapstick comedies. It's fast-paced and filled with clever gags, and a couple of especially hilarious scenes. It starts when Buster tricks everyone into thinking that he is a crack shot, and thus finds himself hired by a rich miser to be his bodyguard, while also being recruited by a gang of criminals (the 'Blinking Buzzards', who go around saluting each other with the 'High Sign') to assassinate the same man. There's not much else to the plot, which is mostly a setup for a lot of zany antics. It's funny all the way through, and there is some especially good use of props and settings in this one. It's just slapstick fun, nothing to take seriously, but slapstick doesn't come much better. This is highly recommended for fans of silent short comedies.

The brutal bungalow of the Blinking Buzzards, a bold bad bunch of blood-thirsty bandits who would break into a bank, blow a battleship to bits or beat up a blue eyed baby blonde ...

Written &amp directed by Edward F. Cline and Buster Keaton

The Keaton Character: Buster Keaton and the Economy of Means

If a picture is worth a thousand words, then sixty seconds of a Buster Keaton film is worth over a million words -- and maybe more than that. A skilled director and editor, Keaton was also a master filmmaker who used mise-en-scène to pack his films with information about his characters and the worlds they inhabited. Using intertitles sparingly, Keaton was able to create pictures that spoke for themselves -- and still speak, after more than sixty years.

The High Sign (1921), Our Hospitality (1923), and College (1927) are three films that run the Keaton gamut. As Keaton's first solo two-reeler, The High Sign is a comparatively primitive comedy, with a barebones plot and a central character known only as "Our Hero". Released as Keaton's second full-length feature, Our Hospitality is a different film entirely, a historical comedy with a well-developed story and a defined central character. By the time he produced College, Keaton had clearly perfected his formula for using the central character to shape and drive forward his films.

In The High Sign, Keaton plays "Our Hero", a man who arrives in Scene One when he is tossed out of a moving train. By the end of the film, Keaton has not only survived a stint working at a mob-operated shooting gallery, but he has averted a mob hit on one of the town's leading citizens -- a mob hit he was supposed to carry out! One of the central themes of this film -- if indeed there is any theme at all, given the simplicity of the plot -- seems to be the utter absurdity of the universe in which Keaton's character operates. His character literally lands in the town out of nowhere, emphasizing the notion that he has been placed in a world to which he does not belong.

Keaton's first scene establishes this fact in less than a minute. Immediately after arriving in town, "Our Hero" walks over to a fast-moving carrousel, stretches out his arm, and pulls out a newspaper, apparently snatched from one of the spinning townsfolk. Keaton quickly walks over to a bench, the first of a series of benches set up in a column, like the pews of a church. Sitting down and crossing his legs, Keaton picks up the paper and begins to read. He unfolds the paper once. He unfolds the paper twice. Then he unfolds it again. And then again. This paper is as big as a bed sheet!

Unable to handle the situation sitting down, Keaton mounts the bench, continues unfolding, and finds himself entangled in a mass of paper. He loses his balance and collapses in a heap, knocking over two benches in the process and burying his body in paper. Keaton's head pops through displaying a look of surprise. Suddenly, via a point-of-view shot, the audience sees what Keaton sees and realizes what he was looking for at the start of this adventure -- a job from the help wanted section.

This brief scene does much to prefigure the story to follow. Keaton's character obviously had planned on getting a paper and finding a job, but he probably did not foresee the extreme difficulty he would find in actually reaching the help wanted section. How was he to know that he was picking up not the regular morning edition but the surrealist edition? The string of absurd situations in this film has only just begun, and already the audience has had a full taste.

Presented in long shot and comprising only a single take (minus the POV at the end), the portion of this scene that takes place on the bench is an excellent example of the way Keaton preferred to present his gags -- and his characters. Rather than drawing attention to a single portion of the action or the character (e.g. his hands as he unfolds the paper) or expanding the narrative to include multiple perspectives (e.g. townspeople watching this absurd situation unfold), Keaton uses the film to present what mattered most to him as a director and a comedian -- seeing the gag unfold. According to Robert Benayoun,

"[Keaton] was a brilliant film cutter, yet he invariably knew when not to cut, insisting that even the humblest gags must have complete integrity on screen. Keaton in fact was adamant about this, for he realized that comic business must never be unnecessarily fragmented in the editing if it is to be effective; rather, continuity must be preserved".

While Keaton's shorts hinge on a relatively undeveloped, often nameless character -- a young man in a porkpie hat, baggy pants, and slapshoes -- his features, produced later on, focus on a variety of fleshed-out characters, each with his own personality, history, and environment. No longer was the central figure simply an ordinary man functioning in an absurd world; he was a very specific man functioning in an absurd world.
Neighbors [1920, 18']

The Romeo and Juliet story played out in a tenement neighborhood with Buster and Virginia's families hating each other over the fence separating their buildings.

A comment by rick_7 from Manchester, England:

If I were King of the World, I would force everybody to begin the day with a cup of tea and a Buster short, such is the powerful joyousness of his comedy. Neighbors is among his best: a frenetic mixture of farce and stuntwork, hung - of course - on the thinnest of plots. Buster and Virginia Fox are lovers from warring families, living in opposite tenement buildings, separated by a large wooden fence. In their desire to communicate they unsurprisingly raise hell, and we're treated to astonishing wire-work and acrobatics, ingenious slapstick and some dated but decent "blackface" gags.

All in all, a must-see.

Written &amp directed by Edward F. Cline and Buster Keaton

cast &amp crew:
Buster Keaton:
Virginia Fox:
Joe Roberts:
Joe Keaton:
Edward F. Cline:
James Duffy:
The Flying Escalantes:

Joseph M. Schenck:
Fred Gabourie:
Elgin Lesslie:
Metro Pictures Corporation:

The Boy
The Girl
Her Father
His Father
The Cop
The Judge
themselves


producer
technical director
cinematography
production company
The Art of Buster Keaton
During the early comedies of most screen comedians, you can see them working on their characters, trying certain characteristics as they honed their on-screen personas. Harold Lloyd would imitate Charlie Chaplin in his Lonesome Luke comedies before perfecting his bespectacled, everyman character. And Chaplin would play a variety of rambunctious characters in his early films at Keystone. However, from his first comedies, Buster Keaton's trademark stone face was evident. During three years of apprentice work with Fatty Arbuckle, Keaton would occasionally smile, and even laugh, but even then, Keaton fought against reactions. His character's most recognizable trait--an unwavering dead pan expression--had already taken firm root, and by the time he began making his own shorts in 1920, Keaton's screen persona was set. In a very real sense, however, Keaton had been working on his screen persona since he was only four years old. It was at this young age that Keaton had entered the family vaudeville act. Wielding a mop, his father would smack young Buster in the face, and Buster would stare dumbfounded for several seconds before muttering "ow." The stone face was born. When he was 25 years old, Keaton received an offer from producer Joseph Schenck to make his own solo comedies. After watching Arbuckle make movies during their three years together, Keaton was ready to go it alone. He'd paid close attention to Arbuckle and the mechanics of filmmaking. The subsequent movies that Keaton made for Schenck are among the greatest screen comedies ever created ...
by Gary Johnson, more
| | |
| --- | --- |
| | The Kangaroo Valley-Remexio Partnership |
After the destruction and killing which swept East Timor in September 1999, a small group of KV residents felt a need to do something. A partnership was discussed with an East Timorese village and the Kangaroo Valley-Remexio Partnership was formed. Now three years on, we have a mix of vital local and district people working with many East Timorese in Australia and East Timor.
Remexio is a small village in the hills about one hour's drive south of Dili.
The KV-RP is a "bottom up" or "grass roots" approach to helping the East Timorese help themselves. We hope to assist the East Timorese achieve dignified living through health, education, justice and ecologically sustainable industry. We selectively try to help in ways that are different from those of the UN and other NGOs.
Rather than large single projects, we pursue a multitude of small, personal and usually integrated activities. Being substantially self-funded, and consistent with our philosophy, our material contributions are small. Instead, we rely on sharing our existing skills in day to day situations.
We pursue long-term personal relationships with the East Timorese and actively encourage this approach in others. That part which is conducted in Australia is the provision of education and training to those who have appropriate interests and aptitudes for leadership and mentoring roles back in East Timor.
We now enjoy the beginnings of likely long-term relationships with numerous on-going activities. In addition, much of our involvement is outside of Remexio, in other parts of East Timor, as well as in active networking within Australia. Along the way we have tried to identify the best and worst of our respective Australian and East Timorese lifestyles, to better influence both our paths into the future.
left: kids in Remexio, March 2002

Note:

KV-RP is largely self-funded but donations are always very helpful. If made to "AFAP KV-Remexio Partnership" they will be tax deductible (AFAP - Australian Foundation for the Peoples of Asia and the Pacific Ltd - is our umbrella group, which is recognised by the ATO for tax deductibility).

We cover all our own expenses such as air fares, accommodation etc as well as all administration overheads. 100% of funds raised from the public go directly towards helping the East Timorese and are fully accounted for. Donors may request that their funds be directed towards particular areas of their own special interest, such as health, education, etc.
for more information, see http://www.shoal.net.au/~easttimor/
Paul Turnock (02 4465 1357)
a review of "Buster Keaton Goes to Timor" (the First Annual Kangaroo Valley Buster Keaton Silent Film Festival), Sat Aug 2 2003:
The "Buster Keaton Goes to Timor" film show last Saturday night was a great success. And what a great night it was! Film buffs from far and wide packed Upper River Hall for a selection of Buster Keaton silent films accompanied by excellent pianist Robert Constable. But for most people - especially for this reviewer - the highlight of the evening was the new Kangaroo Valley film "Dirty Dan the Pump-Out Man"!
We all laughed ourselves sick as the dreaded and dreadful Dirty Dan (artfully, and with great style, played by Paul Turnock) absconded with the delightful Fluff the Magic Virgin (Helen George in a stunning debut on the silver screen), only to be forced, by the pursuing mob of angry townsfolk, to leap from Hampden Bridge.
There were two problems, however: [1] the script called for Fluff to leap too, causing the audience great consternation; and [2] the film makers obviously had no idea how to finish the thing, so they turned it into part one of a serial. It seems that we'll all have to wait for the next episode to find out what happened in the end. Generally, though, it was a cinematic triumph, possibly one of the finest films to have been produced in Kangaroo Valley so far this month.
I was lucky enough to be given a sneak preview as it turned out that I had to be elsewhere and couldn't actually get there on the night. Many thanks to the Voice for allowing me - due to copy deadline problems - to submit this review beforehand.
Ken Park, Sat July 26 2003
---
from post-event e-mails received (about "Buster Keaton Goes to Timor"):

1. "I went to the Buster Keaton film night ... it was amazing! I really needed the laugh and it was sheer pure fun ... Having the music live was another masterstroke - from the angle I was sitting, Robert's back was in the darkness and the small lamp illuminated his hands, beyond lay the screen. It was truly a classic memorable night. I overheard people commenting on having a great night the next morning near the Bella Cafe."

2. "It was a great night. For us, it was worth all your work; we hope it was worth it for you. The music really made the Buster Keaton films. Robert Constable did it very well and the films were much funnier because of it ... Am looking forward to the sequel (of "Dirty Dan"); another film with the two newly discovered and talented stars enhanced by judicious editing ..."

3. "Chris the mulled wine was just gorgeous ... Terry the dummies were just incredible, if only Paul Turnock was that good looking, such a lot of work and spectacular results. Martin, who'd have thought such a creative mind could not only direct but pull off such a smooth and well oiled performance, the bats were a touch of genius and trained in such a short time. It all went so well and was such a pleasure to sit back and watch. And Peter, such profound and provoking words, even though everyone else thinks you are a slack bastard and left the ship, I recognized your genius all over that dirty movie. Congrats to you all, laugh? thought I'd never stop ..."

4. "It really was quite amazing. The creativity was striking ... the night was a tour de force of cooperative creativity - incredible when one reflects that the whole night emerged from the human mind ... ideas and energy ... it was brilliant to assimilate the KV community into Keaton's slapstick. I loved the written quips between scenes and the masterstroke of fusing film and reality ... plus the plus of live music. Terrific to make it an annual event."
Back from the brink!

Fluff pulls Dan off
the bridge ...


[click the photo for a
larger, better view]


photo: Peter Stanton
a review of "The Second Annual Kangaroo Valley Buster Keaton Silent Film Festival", Sat Aug 28 2004:
On Friday August 27, a packed Upper River Hall thrilled to the further adventures of Dirty Dan the Pump-Out Man and his delicious young sweetheart Fluff the Magic Virgin. What a great night! The new Kangaroo Valley-made silent movie, "Dirty Dan: The Old Grey Mayor", features Dan (Paul Turnock) as the new Mayor of Kangaroo Council and Fluff (Helen George) as the Lady Mayoress. Local residents, having welcomed them enthusiastically, soon tire of their petty corruption and chase them out of town. Accompanied brilliantly by pianist Robert Constable, the movie provoked continuous laughter, particularly when Dan set out to disprove the adage "There's no such thing as a free lunch".
The occasion was the first night of "The Second Kangaroo Valley Buster Keaton Film Festival". Robert Constable repeated last year's success with superb accompaniments to all the movies shown (Buster Keaton's "Sherlock Junior" and "Cops" as well as both episodes of the Dirty Dan saga). The following night he did it all again, this time with different Keaton movies ("The Playhouse", "The Blacksmith" and "One Week"). His playing adds another level of humour to what's on screen as well as helping to maintain the drama. Much of the humour is abstract, with kids often seeing things that were missed by the adults. A real family night!
It is hoped that a silent film festival such as this will become an annual event, attracting devotees from far and wide. The Kangaroo Valley-Remexio Partnership, which mounted the festival to raise money for projects in East Timor, is to be congratulated for its initiative here.
I'm giving the event four and a half out of five! I'd give it five except I haven't actually seen it yet - these Valley Voice deadlines are impossible ...
Margaret Pomegranate
---
from post-event e-mails received (about The Second Annual Kangaroo Valley Buster Keaton Silent Film Festival):

"Congratulations on anther fine production, I laughed myself into a state of wheeziness, always a good sign I think because I actually have to laugh an awful lot to reach the wheeze. Hopefully tightened up a few abdominal muscles as well ... but that could be a short-term benefit only. I think Cipi should get an award for the loudest laugher, she certainly did some serious thigh slapping and I saw her slap H. George across the back several times. Laughing is such a happy little side effect isn't it? Great medicine for us all. I loved seeing HG's chubby little legs sticking out of that wheelbarrow, isn't she a great sport? I thought she and Paul were beautifully under-stated. Olivia was just gorgeous as the threatening flirting tart. Great film editing Martin, obliviously a great script ... whoever wrote it ... Really guys it was just great."

Fourth Kangaroo Valley Buster Keaton Silent Film Festival

Upper River Hall, Kangaroo Valley
7.30pm Sat October 28 2006

enquiries: e-mail Martin Wesley-Smith (mwsmith@shoalhaven.net.au)

or call (02) 44 651 299




Free Web Counter

html by Dirty Dan Pump-Out
page last updated Oct 3 2006