Currently, there are three main projects being pursued:

1. concerts by Dunlop and/or Charisma and/or Wesley-Smith (see concert web-site). In 2002, Dunlop and Wesley-Smith toured East Timor twice, giving concerts and making contact with local people. On their return they and Ryder gave three concerts of, mainly, multimedia pieces about East Timor. In 2003 they toured the UK and the USA. In 2005 they toured to England, Holland, Ireland, Lithuania, Scotland and the USA (see here).

"a spirited and thought-provoking evening of words, music and pictures"
[Harriet Cunningham, writing for the Sydney Morning Herald, Dec 4 2002]

In March/April 2004 Ros Dunlop toured the USA doing the East Timor presentation (see 2. below) and performing East Timor-inspired multimedia concerts. Gigs include a high school in Los Angeles; a New Music Festival at Michigan State University; a "Fresh Ears" family concert at the Music Gallery Institute, Toronto, Canada; the University of Carbondale, Indiana; Grand Valley State University, Allendale, Michigan; and MIT, Boston.

2. an audio-visual presentation about East Timor to school students, involving video and live performance.

3. the ambitious Tekee Tokee Tomak Music Recovery Project, designed to collect (record, transcribe), arrange, publish and perform traditional music of East Timor, especially nursery songs.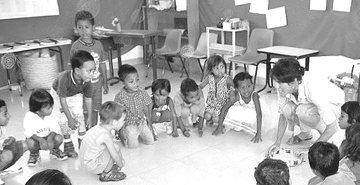 Ros with kids in East Timor
[click photo to see a larger version in colour]
Part of Tekee Media Inc's brief is to raise funds to support these projects. Donations (most welcome!) are tax deductible, are put into a separate "public fund" account (called "Tekee Tokee Tomak"), and are fully accounted for. If you would like to assist, please contact Ros Dunlop at the address below.
---
Tekee Media Inc is also supporting a young art student from East Timor. José de Jesus Amaral ("Tony"), from Arte Moris in Dili, has been offered a place in the Bachelor of Fine Art degree course at the National Art School in Sydney, to commence in 2008. In preparation for this, he is currently (2007) in Sydney doing an intensive English course at TAFE.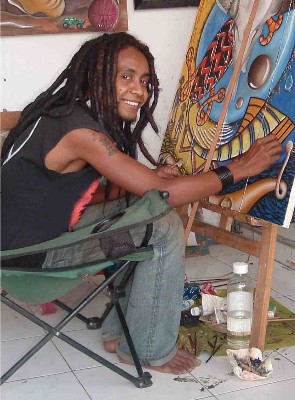 Tony studied at Arte Moris, a free art school in Dili.
---
sponsors
Tekee Media Inc is most grateful to the following bodies for their support:
Air North, AusAudio, City of Sydney Council, Digidesign, Flight Centre, Intelliware, Kangaroo Valley-Remexio Partnership, Leichhardt Municipal Council, Mary McKillop Institute of East Timorese Studies, PARADISEC, Reeds Australia, Sydney Guitar Centre, University of Sydney
---