appendix 2
MAX STAHL
tel/fax: +44 1200 446018, +44 208 758 0937
e-mail: maxstahl@gn.apc.org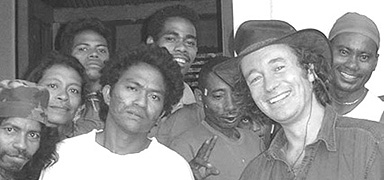 Max Stahl (second right) with militia members in West Timor
[click on image to see larger version (104k) in colour]

Max Stahl is an award-winning cameraman, writer, director and producer who has worked in front of and behind the camera on television worldwide. For more than twenty years his films - for UK's ITV Channels 3 &amp 4, the BBC, and national broadcasters in France, Germany, Scandinavia, Australia, Canada and the USA - have been shown around the world. He has lived and filmed in Central America, the Far East, the former USSR, the Middle East and Europe. As producer, director, writer and cameraman he has worked with major US companies Discovery, National Geographic, and PBS, with NHK (Japan), NRK (Norway), ZDF &amp NDR (Germany), Gamma/AntenneII (France), RTP (Portugal) as well as the major UK & Australian broadcasters.
Max won a scholarship to Oxford University, then began in the theatre as actor and director in the UK. He presented the BBC's most popular children's program, Blue Peter, for two years. Then he formed an independent company and made documentaries, news and features for UK, European and Worldwide TV, in Latin America, the former communist countries , the Caucasus, Baltic and the Balkans, and wrote scripts for feature films.
Max is perhaps best known worldwide for films on Indonesia and East Timor. He filmed the 1991 Dili massacre when more than 400 peaceful demonstrators were killed by Indonesian troops, 'breaking' the East Timor story internationally. His images in four major documentaries there over ten years and scores of news reports played a key part in forcing the referendum eventually granted - nine years later - to East Timor. His images from the mountains - where he alone stayed in September 1999 when all other TV journalists fled the murderous attacks of Indonesian-sponsored militia - played a key role in forcing the UN intervention which finally brought an end to Timor's occupation.
In 1999 Max taught film-making and produced a series of short films made from different perspectives in the Balkan conflict authored by local people from different communities in conflict. 2000 through 2002 he has been backed by NGOs working in the area on a project examining Justice and the UN role following the killings there.
In that year and the next Max won a series of major awards at the New York Film festival and at the UK Royal Television Society, and then won the world's premier award for independent camera journalism, the Rory Peck Award, backed by UK and world broadcasters.
major awards:
Walkley Award (Australia) (2002)
Rory Peck Award (UK International) (2000)
Royal Television Society Award (RTS, UK) Best Feature Documentary (1993)
RTS 'Technician (Cameraman) Of The Year' Runner-Up (2000)
Amnesty International Film Award (1992)
Kagoshima (Japan) (1992)
Barcelona documentary prize (Spain)
Oporto (Portugal) Festival Of The Americas Grand Jury Prize (US) (1984)
gold awards:
Houston International (three times: 1984, 87, 91)
San Francisco (1982)
New York Film Festival (two gold, two silver, three bronze: 1982, 98, 99, 2000, 03)
documentary films and key work:
2003 BHHRG (Uzbekistan) UNESCO (Max Stahl Award-winning Audio-Visual Archive, Timor)
2002 Justice Denied (Channel 9, Australia); New York Film Fest Gold Award 2003, Timor Rise (UN)
2001 Terror In Reserve, Ming (feature script), Investigative News for ITN (contract)
2000 (ITN, APTV) runner-up, Royal Television Society Cameraman of the Year; winner, Rory Peck Award for Independent Camera Journalism; investigative filming in Indonesia and East Timor on 'The Reconciliation' and 'Terror In Reserve'
1999 'The Return' (28 mins) (Kosova/Macedonia); exec producer: six films in Macedonia; series of prize-winning news stories for ITN Channel 4 News in Albania, Macedonia, Kosova (two awards, New York Film Festival 2000); East Timor Mountains, Aug-Oct
1998 fiction scripts, news stories in Kosova (Channel 4) (finalist in France, and Rory Peck Award UK)
1996-7 'Sometimes I Must Speak Out Strongly' (52' 26", NRK, Norway, Australia, prod/dir/cam, portrait of Nobel Peace Prize Winner Bishop Belo of East Timor); news: Channel 4 (UK ITN)
1994 'The Second Massacre' (East Timor, ABC Australia, 20', prod/dir/camera)
1994 'Death Of A Nation' (Central UK, 78', prod/camera, Indonesia and EastTimor) 1993 'Out Of The Shadows: Shevardnadze' (52', prod/dir/cam, Georgia, Chechnia, Fuji (Japan), ORF(Austria), Discovery(USA))
1992-3 'The Hunt For Red Mercury'(prod/dir/cam, ex-USSR KGB and nuclear materials)
1991-2 'In Cold Blood: The Massacre Of East Timor'(52', YTV (UK) &amp worldwide, dir/cam)
1990 'Plunder' (looting archeological cities, Guatemala's jungle, C4 (UK)); 'Dispatches' (WGBH (USA), NDR (Germany), 52' &amp 40', prod/dir/camera)
1988 'Hashish Connection' (drugs &amp war, Lebanon, C4 GammaTV, France, Nat.Geo (US))
Also: 'Labour of Love' (Thames TV); BBC War Series: 'Irregular', 'Front Line' (78') &amp 'El Salvador's Crucified Church' (C4 (UK), WGBH (USA), G (Fr)); 'Poor' (series, King TV (USA))
Max speaks and works in six languages and has written a number of feature film scripts, at various times in development in the UK, USA and Portugal involving international stars Emma Thompson &amp Martin Sheen. He has also written extensively for newspapers and radio in Britain, US, Canada, Australia and Europe.