| | | | | |
| --- | --- | --- | --- | --- |
| Keaton | + | Constable | = | Steamboat Bill Jr |
The Fifth Annual Kangaroo Valley
Buster Keaton Silent Movie Festival
Upper River Hall, Kangaroo Valley
7.30pm Sat October 27 2007
---
DONE!
A great success, the event raised nearly $3000 for projects in East Timor.
From a post-event email received:
"The house was bursting with laughter and happiness"
For more comments, click here.
---
a fund-raiser for the Kangaroo Valley-Remexio Partnership,
this unique show has become an annual highlight of Kangaroo Valley life
a family show (kids generally love silent movies),
there will be two hilarious Buster Keaton classics
accompanied live by pianist
Robert Constable
featuring Buster Keaton's classic 1928 silent feature Steamboat Bill Jr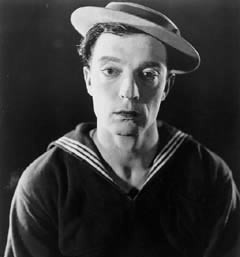 and his 1921 short The Goat , described as
"Nonstop laughter"

Wait - there's more! Also the glittering première
of the final version of the Kangaroo Valley classic
Dirty Dan - the Trilogy [2003-7]
"Possibly one of the finest movies produced
in Kangaroo Valley so far this month"

Free supper at interval!!
Arrive early with your own mug and
receive a free, warming gluhwein!


tickets: $20, $15 (concession) from
Kangaroo Valley Supermarket, Moss Vale Road
[proceeds to assist projects in East Timor]

enquiries: e-mail Martin Wesley-Smith (mwsmith@shoalhaven.net.au)

or call (02) 44 651 299




program:

The Goat [1921]
Dirty Dan - the Trilogy [2007]

interval

Steamboat Bill Jr [1928]




Buster Keaton
When only a few months old, (Buster Keaton) nearly suffocated after being accidentally shut in a costume trunk off stage while his mother and father performed, an incident that encouraged his parents to begin leaving him at whatever boarding house they were residing in. According to family legend, the Keatons then escaped from a series of fires and train wrecks that would have destroyed a less charmed family.


Finally, on one harrowing day when he was nearly three: Buster caught his right forefinger in a clothes wringer, losing the first joint, gashed his head near the eye with a brick that boomeranged after he threw it at a peach tree and was sucked out of an upstairs window by a passing cyclone that carried him floating through the air and conveniently deposited him, unhurt, in the middle of a street a few blocks away.


After that, his parents decided he'd be safer on stage ...


(read more here)

born 4 October 1895 in Piqua, Kansas, as Joseph Frank Keaton Jr.
married to actress Natalie Talmadge; two sons; divorced
married in 1930s; divorced
married Eleanor Ruth Norris in 1940; together until Buster's death on February 1 1966 of lung cancer

began in vaudeville with father Joe Keaton and mother Myra Keaton in 1896
began film work in 1917 for Comique

from http://www.touchstone.freeserve.co.uk/keaton/about.html:

Buster Keaton was one of the greatest screen comedians the world has ever seen.

Born in 1895 when film-making was in its infancy, by the end of the 1920s he had become the most versatile star of the silent era. Actor, comedian, stuntman, writer, director. He excelled at them all.

The most graceful of actors, his films are filled with wonderful moments, from deceptively simple but effective gags through to elaborate and life threatening stunts. He was a pioneer in the use of special effects, appearing on-screen simultaneously nine times in The Playhouse (1921).

By the end of the 1920s he had appeared in over 20 shorts and a dozen features, among them some of the greatest comedies ever seen. The General, his 1926 masterpiece, often appears in lists of the 'Top 100 Films Of All Time'.

At the start of the thirties, with changes in studio structures and the introduction of sound, Buster lost artistic control over his films. He became dependant on alcohol, and as the 1930s and 1940s passed he moved out of the public eye. He continued to make films, but nothing matched the quality of his early work.

During the fifties, with appearances on television and cameos in a handful of major studio films, interest in his silent films began to grow. Prints that hadn't been seen since the 1920s were unearthed and screened to enthusiastic audiences.

Just before his death in 1966, Buster Keaton was finally receiving the recognition he deserved.

see busterkeaton.com
Robert Constable
Robert is a well-known Australian pianist, composer and improviser. He has a particular fascination with improvising accompaniments for silent films (at least three of his great-aunts and -uncles used to play professionally for the "silents" in the period following World War 1) and has been presenting some of the classics in this genre for many years. His work with silent films transcends mere background music, combining his various pianistic, composing and improvising abilities to create an instant soundscape for the images on the screen. With this approach he enters into a genuine artistic partnership with the film. He has a particular affinity with Buster Keaton and over the last ten years has interpreted most of the Keaton classics. Having retired as Professor and Dean of Music at the University of Newcastle, Robert is now Head of the School of Music, University of Auckland.
Steamboat Bill, Jr. [1928]

from a review (edited) by Tim Dirks:

Steamboat Bill, Jr. (1928) is the last of physical comedian Buster Keaton's (the Great Stone Face) nine independent feature films and one of the last silent comedies. The film - actually co-written, co-produced, and co-directed by actor Keaton (with director Chas. F. Reisner) - was derived from a story by Carl Harbaugh, although Keaton took credit only for acting.

The two most amazing sequences: (1) Keaton's dare-devil, death-defying stunt (he performed his own stunts) when a three-story building facade crashes down on top of him, saving him because the third floor window opening clears his head, and (2) the destructive cyclone sequence.

This farcical film, probably Keaton's funniest, was his third last silent feature film. He followed it with two final silent comedies at MGM: The Cameraman (1928) and Spite Marriage (1929). His independent feature films for producer Joseph Schenck (from 1923 to 1928) were:
| | | |
| --- | --- | --- |
| Three Ages | 1923 | with Wallace Beery and Oliver Hardy |
| Our Hospitality | 1923 | with Natalie Talmadge (Keaton's real-life wife) |
| Sherlock, Jr. | 1924 | with Kathryn McGuire |
| The Navigator | 1924 | with Kathryn McGuire |
| Seven Chances | 1925 | with Ruth Dwyer |
| Go West | 1925 | with Kathleen Myers |
| The General | 1927 | with Marion Mack |
| College | 1927 | with Ann Cornwall |
| Steamboat Bill, Jr | 1927 | with Marion Byron |
This was Keaton's last independent film for producer Schenck. He went on to make a few films for MGM, but none of them (except possibly for The Cameraman (1928)) reached the same heights of innovative brilliance.

The story involves the father-son tale of an educated, effeminate, accident-prone, college-educated but simple-minded son - an archetypal underdog American hero - who ultimately is transformed and triumphs when he assists and impresses his burly, red-necked, hard-working Mississippi steamboat captain father in combating the threatening efforts of a rival tycoon to take over the Mississippi steamboat business in the South - and also wins over the business rival's daughter.

The opening - a slow pan from right to left - sets the locale in the small, riverside town of River Junction, Mississippi, in the Deep South. A fancy and modern "new steamer" paddle-wheeling on the Mississippi River, named the King, approaches the town's waterfront dock on its inaugural cruise. The handsome riverboat is owned by formally-dressed John James King (Tom McGuire). Already moored at the dock is "the old steamer," a dilapidated and ancient Mississippi boat named Stonewall Jackson which is owned by tough and brawny captain William Canfield (Ernest Torrence), better known as Steamboat Bill. During the festivities, he smokes a pipe and spits to the side, showing his disgust for the competition. Bill's "first and last mate" is round-faced and rotund Tom (Tom Lewis).

After "King" is tied up, J. J. King delivers a speech to the large crowd of bystanders assembled on the bunting-decorated dock. He boasts how his successful enterprise will ruin Bill Canfield's business:

King: This floating palace should put an end to that thing Steamboat Bill is running.

Tom: (dour-faced, to Bill): Looks like you'll have to look for a new river.

Bill: I'll run on this river if I'm the only passenger on the boat.

After a fade-out, Bill receives a vaguely-worded telegram (that arrived four days earlier) from his son, announcing the time of his arrival and how he can't be mistaken:

William Canfield Sr.
Steamboat Stonewall Jackson
River Junction Miss

Dear Dad

It was Mothers wish that when I had finished school to pay you a visit. I think I arrive Saturday Ten A M. You can't mistake me. I'll be wearing a white carnation. Regards

William Canfield Jr.

Bill hasn't seen his son for many years: "It's from my Willie, I haven't seen him since he was a baby." The telegram (and Bill's reaction) hints at the separation that young Steamboat Bill (Willie) Canfield Jr. (Buster Keaton) has had from his father, while he grew up and attended school in the East (Boston). Bill is hopeful that his grown-up son will be a muscular giant ("Must be a big lad by now" and "I'll bet he's bigger'n me") who will aid him in his conflict with the rich J. J. King. Both Tom and Bill realize that it is already Saturday and the time of the train's arrival, so they hop on the Stonewall Jackson's multi-seated, open-air, free shuttle vehicle to the train depot ...
The Goat [27', 1921]

Madcap chases and hilarious displays of physical agility are the highlights of this frenetic Buster Keaton short. Dumb luck sets some policemen on his trail -- after a series of innovative escapes, he gets mistaken for a murderer ("Dead Shot Dan") with a price on his head, which means the people that aren't chasing him are fleeing from him. Nonstop laughter.

This short contains one of Keaton's more memorable images: A shot of a distant, speeding train which approaches the camera, and stops with a close-up of Keaton who has been sitting on the front of the train.

starring Buster Keaton with Edward F. Cline, Virginia Fox, Jean C. Havez, Joe Roberts &amp Malcolm St Clair
written &amp directed by Buster Keaton &amp Malcolm St Clair
cinematography by Elgin Lessley
produced by Joseph M. Schenck
released by Metro Pictures Corporation on May 18 1921

some viewers' reviews:

"Great movie. This was the first silent movie I watched and I found it very interested how in many ways the lack of sound made it better not worse, just as a book can be better than movie because it leaves more to the imagination."

"Excellent. This was my first exposure to Buster Keaton and i must say i was quite impressed. i watched it a number of times and showed it to my friends, many of whom also enjoyed Keaton for the first time ... Overall I would sum it up by saying that I spent a higher percentage of the movie's runtime laughing than most any movie."

"Forget modern movies - I just love this film. Each scene is great and is worth to be watched all over again and again. Great one!"

"The Best Keaton Flick Yet! ... The Goat had more chuckles per reel than any of his other flicks I have seen to date. This one is a keeper!"

"It got the kids going: a group of ten third graders watched The Goat yesterday ... Giggles and laughter from all of them exuded with obvious enjoyment. When I stopped the movie about half way through, announcing it was time for lunch they begged to stay. One kid muttered he'd never seen a movie like that without talking and just music ..."
Dirty Dan - The Trilogy [2003-2007]

TAB1. Dirty Dan the Pump-Out Man [2003]
TAB2. Interlude [2004]
TAB3. Dirty Dan the Old Grey Mayor [2004]
TAB4. Son of Dirty Dan [2007]

starring Paul Turnock as Dirty Dan, Helen George as Fluff the Magic Virgin, and John George as Froth

Dirty Dan absconds with Kangaroo Valley's last-remaining virgin, Fluff. Pursued by angry townsfolk, the lovers escape by leaping from Hampden Bridge into the icy torrent of the mighty Kangaroo River! Later, Dan saves the Valley from flood, thus earning the love of the local inhabitants who elect him Mayor. But his corrupt ways see him pursued again. He gives up being Mayor and has, with Fluff, a baby boy - Sod - instead. Fifi, a waitress, has a baby girl called Puff, who looks like Fluff, and Sod'n'Puff grow up as friends. They both become accomplished actors, starring in many local productions, including innovative outdoor versions of Hamlet and Romeo &amp Juliet, and a movie - It Takes Three - in which Sod plays Paul Turnock and Puff plays Helen George. Puff dramatically re-interprets the Marilyn Monroe role in The Seven Year Itch. At the end it appears - or does it? - that this movie-within-the-movie is in fact a movie-within-a-movie-within-a-movie being watched (created?) by the aptly-named Froth, who's Fluff's dad, and Fifi, raising troubling questions to do with regression, retrograde inversion, and the inter-relationship of art, love and life.
"Possibly one of the finest movies to have been produced in Kangaroo Valley so far this month"
[local film critic Ken Park, October 15 2007]
Dirty Dan, Sod, Paul Turnock:
Fluff, Puff, Helen George:
Froth, Merry Man:
Fifi, woman in telephone box:
Maitre D:
Red:
Postmaster:
Postmistress:
gravedigger, Ted Tonk:
pie-thrower:
Little Sod:
man in woodshop, Merry Man:
other Merry Men:
extras:



graphics, posters:
models, special FX:
voice-over:
stunts, stunt-driving:
lighting:
wardrobe:
live music impro:
script:
camera, editing:
additional camera for It Takes Three:
direction:

thanks be to:





apologies to:

in the making of this film there was:
Paul Turnock
Helen George
John George
Olivia Wesley-Smith
Guy Novich
"Li'l Rippa"
Bryan Barger
Esther Barger
Les Mitchell
Derek Lucas
Jacob Radic
Keith Learn
Nigel Lewis, Chris Nobel, Sue Prescott
citizens of Kangaroo Valley,
including passers-by, eager would-be film stars,
East Timor supporters, and some very clever dogs

Diana Jaffray
Terry Hennessy, assisted by Chris Nobel
Peter Stanton
Terry Hennessy, Libby Turnock, Paul Turnock
Helen George, Paul Turnock, the sun, whoever
Libby Turnock and others
Robert Constable
various people, including, for some of it, Peter Wesley-Smith
Martin Wesley-Smith
Belinda Webster
what's that?

Bryan &amp Esther Barger of the Kangaroo Valley Post Office
Tom & Michael Rehkopf of the old Kangaroo Valley Newsagency
Keith Learn of Valley Woodcrafts
Red Shed Rural Supplies
Kangaroo Valley Supermarket
FYRE (Fresh Youth Regional Entertainment)
anyone inadvertently not properly acknowledged

no cruelty to animals;
no resemblance to any person living, deceased, or as yet unborn;
no cholesterol;
no talent, integrity, or originality;
no product placement;
no previous experience;
no offence intended or taken;
no plagiarism, theft, or breach of any law, more or less (mainly less); and
no casting couch (except for the role of the Virgin)
| | |
| --- | --- |
| | The Kangaroo Valley-Remexio Partnership |
After the destruction and killing which swept East Timor in September 1999, a small group of KV residents felt a need to do something. A partnership was discussed with an East Timorese village and the Kangaroo Valley-Remexio Partnership was formed. Now three years on, we have a mix of vital local and district people working with many East Timorese in Australia and East Timor.
Remexio is a small village in the hills about one hour's drive south of Dili.
The KV-RP is a "bottom up" or "grass roots" approach to helping the East Timorese help themselves. We hope to assist the East Timorese achieve dignified living through health, education, justice and ecologically sustainable industry. We selectively try to help in ways that are different from those of the UN and other NGOs.
Rather than large single projects, we pursue a multitude of small, personal and usually integrated activities. Being substantially self-funded, and consistent with our philosophy, our material contributions are small. Instead, we rely on sharing our existing skills in day to day situations.
We pursue long-term personal relationships with the East Timorese and actively encourage this approach in others. That part which is conducted in Australia is the provision of education and training to those who have appropriate interests and aptitudes for leadership and mentoring roles back in East Timor.
We now enjoy the beginnings of likely long-term relationships with numerous on-going activities. In addition, much of our involvement is outside of Remexio, in other parts of East Timor, as well as in active networking within Australia. Along the way we have tried to identify the best and worst of our respective Australian and East Timorese lifestyles, to better influence both our paths into the future.
left: kids in Remexio, March 2002

Note:

KV-RP is largely self-funded but donations are always very helpful. If made to "AFAP KV-Remexio Partnership" they will be tax deductible (AFAP - Australian Foundation for the Peoples of Asia and the Pacific Ltd - is our umbrella group, which is recognised by the ATO for tax deductibility).

We cover all our own expenses such as air fares, accommodation etc as well as all administration overheads. 100% of funds raised from the public go directly towards helping the East Timorese and are fully accounted for. Donors may request that their funds be directed towards particular areas of their own special interest, such as health, education, etc.
for more information, see http://www.shoal.net.au/~easttimor/
Paul Turnock (02 4465 1357)
a review of "Buster Keaton Goes to Timor" (the First Annual Kangaroo Valley Buster Keaton Silent Movie Festival), Sat Aug 2 2003:
The "Buster Keaton Goes to Timor" film show last Saturday night was a great success. And what a great night it was! Film buffs from far and wide packed Upper River Hall for a selection of Buster Keaton silent films accompanied by excellent pianist Robert Constable. But for most people - especially for this reviewer - the highlight of the evening was the new Kangaroo Valley film "Dirty Dan the Pump-Out Man"!
We all laughed ourselves sick as the dreaded and dreadful Dirty Dan (artfully, and with great style, played by Paul Turnock) absconded with the delightful Fluff the Magic Virgin (Helen George in a stunning debut on the silver screen), only to be forced, by the pursuing mob of angry townsfolk, to leap from Hampden Bridge.
There were two problems, however: [1] the script called for Fluff to leap too, causing the audience great consternation; and [2] the film makers obviously had no idea how to finish the thing, so they turned it into part one of a serial. It seems that we'll all have to wait for the next episode to find out what happened in the end. Generally, though, it was a cinematic triumph, possibly one of the finest films to have been produced in Kangaroo Valley so far this month.
I was lucky enough to be given a sneak preview as it turned out that I had to be elsewhere and couldn't actually get there on the night. Many thanks to the Voice for allowing me - due to copy deadline problems - to submit this review beforehand.
Ken Park, Sat July 26 2003
---
from post-event e-mails received about "Buster Keaton Goes to Timor":

1. "I went to the Buster Keaton film night ... it was amazing! I really needed the laugh and it was sheer pure fun ... Having the music live was another masterstroke - from the angle I was sitting, Robert's back was in the darkness and the small lamp illuminated his hands, beyond lay the screen. It was truly a classic memorable night. I overheard people commenting on having a great night the next morning near the Bella Cafe."

2. "It was a great night. For us, it was worth all your work; we hope it was worth it for you. The music really made the Buster Keaton films. Robert Constable did it very well and the films were much funnier because of it ... Am looking forward to the sequel (of "Dirty Dan"); another film with the two newly discovered and talented stars enhanced by judicious editing ..."

3. "Chris the mulled wine was just gorgeous ... Terry the dummies were just incredible, if only Paul Turnock was that good looking, such a lot of work and spectacular results. Martin, who'd have thought such a creative mind could not only direct but pull off such a smooth and well oiled performance, the bats were a touch of genius and trained in such a short time. It all went so well and was such a pleasure to sit back and watch. And Peter, such profound and provoking words, even though everyone else thinks you are a slack bastard and left the ship, I recognized your genius all over that dirty movie. Congrats to you all, laugh? thought I'd never stop ..."

4. "It really was quite amazing. The creativity was striking ... the night was a tour de force of cooperative creativity - incredible when one reflects that the whole night emerged from the human mind ... ideas and energy ... it was brilliant to assimilate the KV community into Keaton's slapstick. I loved the written quips between scenes and the masterstroke of fusing film and reality ... plus the plus of live music. Terrific to make it an annual event."
Back from the brink!

Fluff pulls Dan off
the bridge ...


[click the photo for a
larger, better view]


photo: Peter Stanton
a review of the Second Annual Kangaroo Valley Buster Keaton Silent Movie Festival, Sat Aug 28 2004:
On Friday August 27, a packed Upper River Hall thrilled to the further adventures of Dirty Dan the Pump-Out Man and his delicious young sweetheart Fluff the Magic Virgin. What a great night! The new Kangaroo Valley-made silent movie, "Dirty Dan: The Old Grey Mayor", features Dan (Paul Turnock) as the new Mayor of Kangaroo Council and Fluff (Helen George) as the Lady Mayoress. Local residents, having welcomed them enthusiastically, soon tire of their petty corruption and chase them out of town. Accompanied brilliantly by pianist Robert Constable, the movie provoked continuous laughter, particularly when Dan set out to disprove the adage "There's no such thing as a free lunch".
The occasion was the first night of "The Second Kangaroo Valley Buster Keaton Film Festival". Robert Constable repeated last year's success with superb accompaniments to all the movies shown (Buster Keaton's "Sherlock Junior" and "Cops" as well as both episodes of the Dirty Dan saga). The following night he did it all again, this time with different Keaton movies ("The Playhouse", "The Blacksmith" and "One Week"). His playing adds another level of humour to what's on screen as well as helping to maintain the drama. Much of the humour is abstract, with kids often seeing things that were missed by the adults. A real family night!
It is hoped that a silent film festival such as this will become an annual event, attracting devotees from far and wide. The Kangaroo Valley-Remexio Partnership, which mounted the festival to raise money for projects in East Timor, is to be congratulated for its initiative here.
I'm giving the event four and a half out of five! I'd give it five except I haven't actually seen it yet - these Valley Voice deadlines are impossible ...
Margaret Pomegranate
---
from post-event e-mails received about the Second Annual Kangaroo Valley Buster Keaton Silent Movie Festival:

"Congratulations on anther fine production, I laughed myself into a state of wheeziness, always a good sign I think because I actually have to laugh an awful lot to reach the wheeze. Hopefully tightened up a few abdominal muscles as well ... but that could be a short-term benefit only. I think Cipi should get an award for the loudest laugher, she certainly did some serious thigh slapping and I saw her slap H. George across the back several times. Laughing is such a happy little side effect isn't it? Great medicine for us all. I loved seeing HG's chubby little legs sticking out of that wheelbarrow, isn't she a great sport? I thought she and Paul were beautifully under-stated. Olivia was just gorgeous as the threatening flirting tart. Great film editing Martin, obliviously a great script ... whoever wrote it ... Really guys it was just great."
from post-event e-mails received about the Fourth Annual Kangaroo Valley Buster Keaton Silent Movie Festival, Sat 28 October 2006:
"I loved the whole evening. Particularly 'the general'. What an incredible talent and matched by Robert whose playing was so inspired. I feel so lucky to live in this valley."
---
"I was sitting beside X and was aware, at times, that he was often looking at Robert. I'm afraid I was the opposite: I was engrossed in the film and kept forgetting that the music was live - at one stage thinking, when I heard the bridal march, "Oh, they must have had the same music for weddings then, too ..." Y said he was like X, watching Robert a lot, and being worried that his fingers were flying so fast that at any moment they would overtake the action and get out of sync (or that his fingers might fall off!) ... So we all enjoyed it in separate ways, but enjoy it we did. By next year (if Robert is willing) we may have a final Dirty Dan with which to challenge his creative hands?"
---
"Thankyou for a thoroughly enjoyable evening at the Upper KV Hall last Saturday. Every so often I realised I was listening to a live pianist playing live music and the wow factor seeped through my body and made me feel so lucky to be exposed to this level of talent and generosity. Please pass on my appreciation to him."
---
"The film night was wonderful. I think knowing what to expect now makes it more enjoyable because I arrive so relaxed and knowing that I can kick back and truly enjoy the music and film. What a luxury, you operate the film and Robert plays his heart out and surely wears out his fingers, and all I have to do his support my sides whilst belly laughing for 2 hours. Bloody brilliant. Cant wait for the next Buster night."
a review of the Fifth Annual Kangaroo Valley Buster Keaton Silent Movie Festival, Sat 27 October 2007:
Dirty Dan the Pump-Out Man was a highlight of the Fifth Annual Kangaroo Valley Buster Keaton Silent Movie Festival, held recently in Upper River Hall.
It stars many local residents, including Paul Turnock as Dirty Dan, Helen George as Fluff, and John George as Froth - but in many ways the most prominent star on the night was pianist Robert Constable, whose nimble fingers made sense of the nonsense we saw on screen.
No small task: this movie has matured into a deep and complex window into the human condition. No mere collection of slapstick antics here. I mean, plenty of slapstick antics, to be sure, and very funny, but all interconnected and revolving around a central point. That point? If you didn't see it then I don't want to spoil the fun of deciphering it for yourself when the DVD is released.
Also on the program were Buster Keaton's The Goat [1921], in which not a single goat was to be seen, and his 1928 feature film Steamboat Bill Jr. Non-stop laughter!
The Kangaroo Valley-Remexio Partnership is to be congratulated on another fine event put on to raise funds for its projects in East Timor.
---
from post-event e-mails:
"everyone at tennis, at yoga, and in Spanish class who attended (= most of them) was full of enthusiasm and hopeful Buster Keaton and Robert will be back next year"
---
"What a great night that was! The pianist was so good and so funny - I don't know how he does it, playing at that level for so long."
---
"Wasn't that the most fabulous on Saturday night? We had such fun!"
---
"I had trouble seeing the screen properly, but the music was so good it didn't really matter."
---
"The atmosphere was fantastic, and really makes you appreciate living in Kangaroo Valley. I heard several visitors comment on how friendly everyone was. There was a real buzz about the place."
---
"You've done it again, East Timor people. I don't know how you manage to persuade that marvellous pianist to come each year - he's so clever being able to do that, without one mistake."
---
"In a world of films filled with noise and destructive, violent images, how refreshing and delightful it was to watch a master of silence and gentleness be embellished by a master of musical interpretation."
---
"As I have known for a while now, you really are an imaginative and talented bunch at Kangaroo Valley. What a fantastic idea for a fundraiser. This was the first of your film festivals I have been to and was probably the first time I had ever seen a silent movie, let alone one made in Australia. Congratulations on Dirty Dan - there were some very funny antics going on there.
"I am now a big Buster Keaton fan and a Robert Constable fan as well. Please tell the latter what an amazing job he did. I loved the music - so light and lively, it fitted with the movies perfectly and it was good to hear a few familiar tunes woven in ... It's amazing to think he can play non-stop like that for over an hour!"
---
"the house was bursting with laughter and happiness"
The Fifth Annual Kangaroo Valley
Buster Keaton Silent Movie Festival
Upper River Hall, Kangaroo Valley
7.30pm Sat October 27 2007
enquiries: e-mail Martin Wesley-Smith (mwsmith@shoalhaven.net.au) or call (02) 44 651 299
get tickets ($20, $15 (concession)) by mail order: go to www.wesley-smith.info/concerts.html
or pick up your tickets at Kangaroo Valley Supermarket (this event will sell out!)

free web counter

html by Dirty Dan Pump-Out
page last updated Oct 29 2007